21 Clutter Busting Items KonMari Fans Go Crazy Over
This post may contain affiliate links for your convenience. That means that if you make a purchase, I will receive a small commission at no extra cost to you. Read more here.
Rock stars are out, Marie Kondo is in — the KonMari method has become an international phenomenon. Millions of fans are going gaga over her book and tuning in to her show, Tidying Up with Marie Kondo,  just to get a taste of the tidy life and all her best organization tips.
The KonMari method is so simple that literally, anyone can do it with a little guidance and a few strategic items!
After consulting with some KonMari-crazy friends and fellow professionals who specialize decluttering and organizing, I have rounded up this list of the twenty-one BEST clutter-busting items that fans of the KonMari method are crazy over.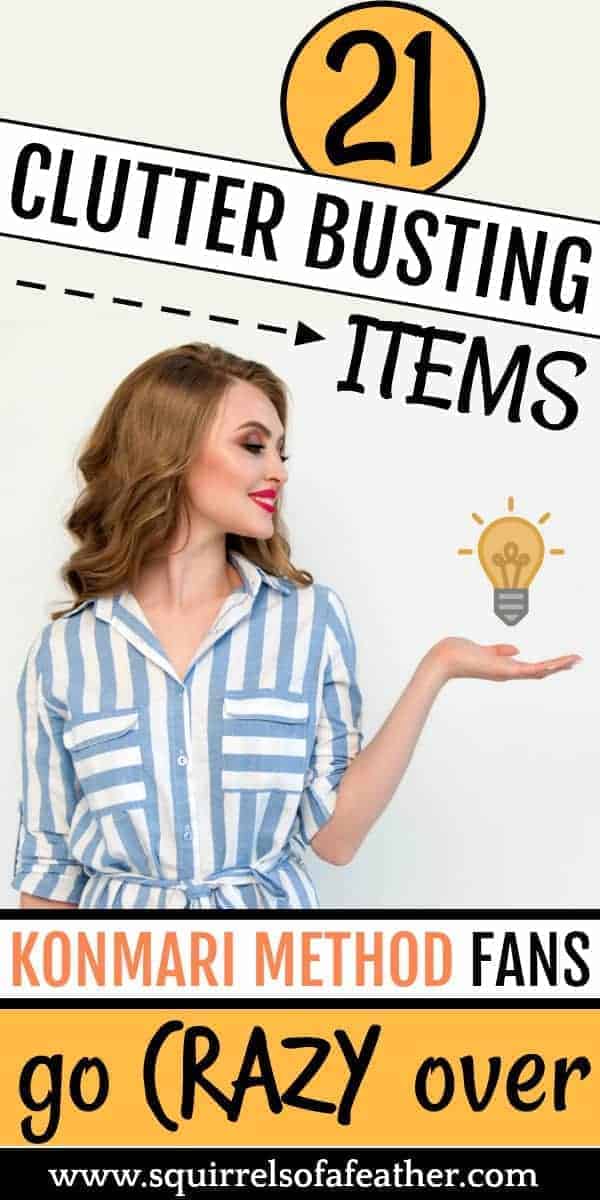 This post may contain affiliate links for your convenience. That means that if you make a purchase, I will receive a small commission at no extra cost to you. Read more here.
21 Items KonMari Fans Go Crazy Over
Here are all the best and most minimalist KonMari method items that can keep your whole home organized.
Boxes, boxes, you can never have too many boxes! That's because the KonMari method is all about vertical folding and storage with open tops, allowing you to see everything in one glance.
These plastic storage boxes have a cute woven knit pattern and handles on each end for easy pickup.
These would be great for clothing, towels, linens, and many other items!
If you have a small kitchen with limited cabinet space (yes, even after decluttering) then these adjustable storage shelves are great to take your storage vertical!
After I decluttered my kitchen with the KonMari method I used these shelves in my cabinets and instantly doubled the storage space!
While the KonMari method does tend to emphasize a vertical folding method for clothing, Marie Kondo also lays ground rules for hanging clothing.
The KonMari method is all about treating your clothes with love and thanking them — what better way to show them care and respect than with some luxurious velvet clothes hangers?
It's basically a spa-treatment for clothes in your closet! (Read more about the KonMari rules for your closet.)
I left scratchy IKEA wooden hangers for these white velvet hangers and I will NEVER look back!
These zen bamboo drawer organizers will finally bring peace to your junk drawer!
I use them in my kitchen and I love how you can rearrange them to fit different drawers.
Kondo strictly forbids garbage bags for storage.
She says if you use plastic bags your beloved items get treated like "gomi", the Japanese word for trash.
If you have excess items to store, like off-season clothing or holiday items, clear plastic storage bins are the way to go!
Pick sturdy clear plastic with good handles and a nice, tight lid like these below.
Even your bathroom should bring you joy!
Store items like cotton balls, bath salts, and Q-Tips in chic apothecary jars that serve double duty by bringing style and order to your toiletries!
Command hooks are useful for hanging up miscellaneous items you have floating around, like grilling utensils or bathrobes (that was one of my favorite hot tips from my interview with a professional organizer).
What good is it to tidy up if you don't get to enjoy the tidiness?
The whole philosophy of the KonMari method is to surround yourself with items that bring joy and peace to your life.
Here is an excerpt from a woman in Tidying Up vividly imagining her ideal lifestyle:
Well, when I come home from work, the floor would be clear of clutter…and my room, as tidy as a hotel suite with nothing obstructing the line of sight. I'd have a pink bedspread and a white antique-style lamp. Before going to bed I would have a bath, burn aromatherapy oils, and listen to clasical piano or violin while doing yoga and drinking herbal tea.
If your vision of your ideal home involves relaxation, treat yourself after tidying with this blissful bathroom bamboo caddy!
This is an item for the most hardcore KonMari fans.
Marie Kondo doesn't actually recommend having items like shampoos and soaps in your shower or bath; instead, she likes to have a shower caddy that can be stored out of sight under the bathroom cabinets until it's time to wash up.
(These also work great if you have a communal shower, like in dorms.)
Just like with the shower caddy, this under the sink organizer will keep your bathroom and kitchen items out of sight, out of mind, and super tidy!
When you designate a specific place for your items, they will return there as if pulled by a magnet.
Trays like the one below are not only beautiful but also help delineate clear locations for items stored on your shelves or dresser!
Bright, open, and tidy is the motto!
I am almost positive this is the toy storage unit that the Friend family used in Episode One of Tidying Up with Marie Kondo.
It's both lovely and functional, ideal for toy storage after you declutter toys.
13. Energy Clearing Resonant Sound Therapy
Kondo often strikes a small tuning fork(called an onsa) to elicit a sweet sound, which she feels resonates and clears the air of negative energies through vibration.
While Kondo uses a small tuning fork, my husband and I are partial to Tibetian Singing Bowls (my husband likes to use them in his meditations).
Choose whichever item resonates with you. 😉 (LOL)
Drawer organizers are perfect for corraling small items in your dresser or kitchen drawers, such as coins and pencils.
Here is a modern clear plastic option!
These gray drawer organizers interlock to prevent slipping and sliding around as you open and close!
Finally, if you like a more natural feel, these handy organizers are adjustable and warmly bamboo.
After you declutter paper you will need to keep your desk or office tidy.
These vertical desktop organizers are just what the doctor ordered (Dr. Tidy, that is).
Keep your drawers tidy in more ways than one with these pretty drawer organizers.
These are great for small items like socks, bras, and underwear especially!
Need I say more? CHANGE YOUR LIFE!!!
Considering that Kondo's philosophy towards paper basically to get rid of it all, this paper shredder comes in handy…it made it through 25 pounds of papers without a hiccup when I used it!
Keep your house tidy and your identity safe!
Even your refrigerator can stay tidy with these clear and easy-to-clean plastic storage bins! Great for organizing bottles, cans, and condiments in your kitchen.
Want more ideas on how to get things in order? You might also like to check out these posts!
Psst! Don't forget to sign up to get your FREE Ultimate KonMari Checklist — it's 5 pages of pure decluttering joy!
Pin this!