10 Memory Boxes That Are PERFECT to Store Your Keepsakes
This post may contain affiliate links for your convenience. That means that if you make a purchase, I will receive a small commission at no extra cost to you. Read more here.
Here are ten special memory box ideas to store your keepsakes with love. These memory boxes are great for kids or adults who want a place to store and protect their precious memories.
Any of these would make a wonderful memory box idea for storing keepsakes, artwork, and other treasures to delight you or your loved one for years to come.
This makes a great present for that sentimental person in your life or to preserve your own memories.
10 Best Memory Boxes to Store Your Keepsakes
Below you will find ten amazing memory boxes to store your precious keepsakes.
Keep in mind, you need to shop for a memory box that fits the stuff you want to put inside of it!
What do people put in memory boxes?
Baby memorabilia, like hospital hats or nametags
School artwork or homework
Photographs
Small collectibles
Childhood toys or special clothing
Travel souvenirs
Wedding memorabilia
And so much more…
As a former emotional hoarder turned minimalist mom, I just want to remind you that not EVERYTHING should go inside a memory box.
In fact, I would encourage you to look for places in your home to use or display sentimental items from loved ones.
Memory boxes are for those special or more private memories you want to keep yourself and revisit from time to time.
All ready?
Don't worry, the perfect memory box is right here on this list, just waiting for you or your loved one to fill it up!
This list can really help you think outside of the box when it comes to memory boxes (see what I did there?)
Let's go!
💡 GOOD IDEA: Remember, you can also upcycle memory boxes from boxes or bins you have laying around or go to the thrift store!
---
1. Handwoven Rattan Storage Box with Lid
This pretty rattan-lidded storage box is handwoven in Vietnam and it's both beautiful and practical.
If you have an open floor plan or utilize visual storage, this is an aesthetic way to store precious memories while still keeping them private.
Honestly, I had my hand on the trigger to buy TWO of these for my sons, until my husband told me he had the perfect DIY box for me to upcycle instead.
(Not gonna lie, I like this so much I might buy it for something else in the future – I've got my eye on you!)
READ MORE: How to Make a DIY Memory Box in 5 Simple Steps
---
2. Vintage Personalized Leather Suitcase-Style Memory Box
How sweet would this be as a meaningful baby shower gift, christening gift, or as a child's birthday present?
This case has tons of handy storage features, like the small fabric pockets in the lid and a lift-out tray for storing smaller items safely.
✨ BONUS: This trunk can also be personalized; just makes sure to make a note to the seller at checkout (they can fit 8 characters across and 15 characters maximum.)
---
3. Small White + Wood Keepsake Box with Hinged Lid
This expertly handcrafted wooden box features a 90-degree hinged lid and is perfect for storing and organizing collectibles, keepsakes, photos, jewelry, and more.
The box is carefully made so that the inner lip creates a tight seal to keep dust, moisture, and other pollutants out of the box and away from your treasured keepsakes!
Box dimensions are 11" long, 8" wide, and 5.25" tall; inside dimensions are 10" long, 7.5" wide, and 5" tall. All wood was sourced from eco-friendly and sustainable sources.
This box also comes in Black, Natural Dark Oak, and Heritage Red!
---
4. Extra-Large Wooden Keepsake Memory Box – Personalized
A beautiful take on the classic wooden memory box, this timeless keepsake box is made from unstained hardwoods and makes a very special heirloom piece!
Honestly, it reminds me of the cedar chest full of treasures that my grandmother used to keep at the foot of her bed!
This extra-large box can be personalized by adding a handy inner storage tray for smaller items or even a lock for safekeeping.
They also offer laser engraving, but you have to make sure to message the seller and let them know exactly what you want.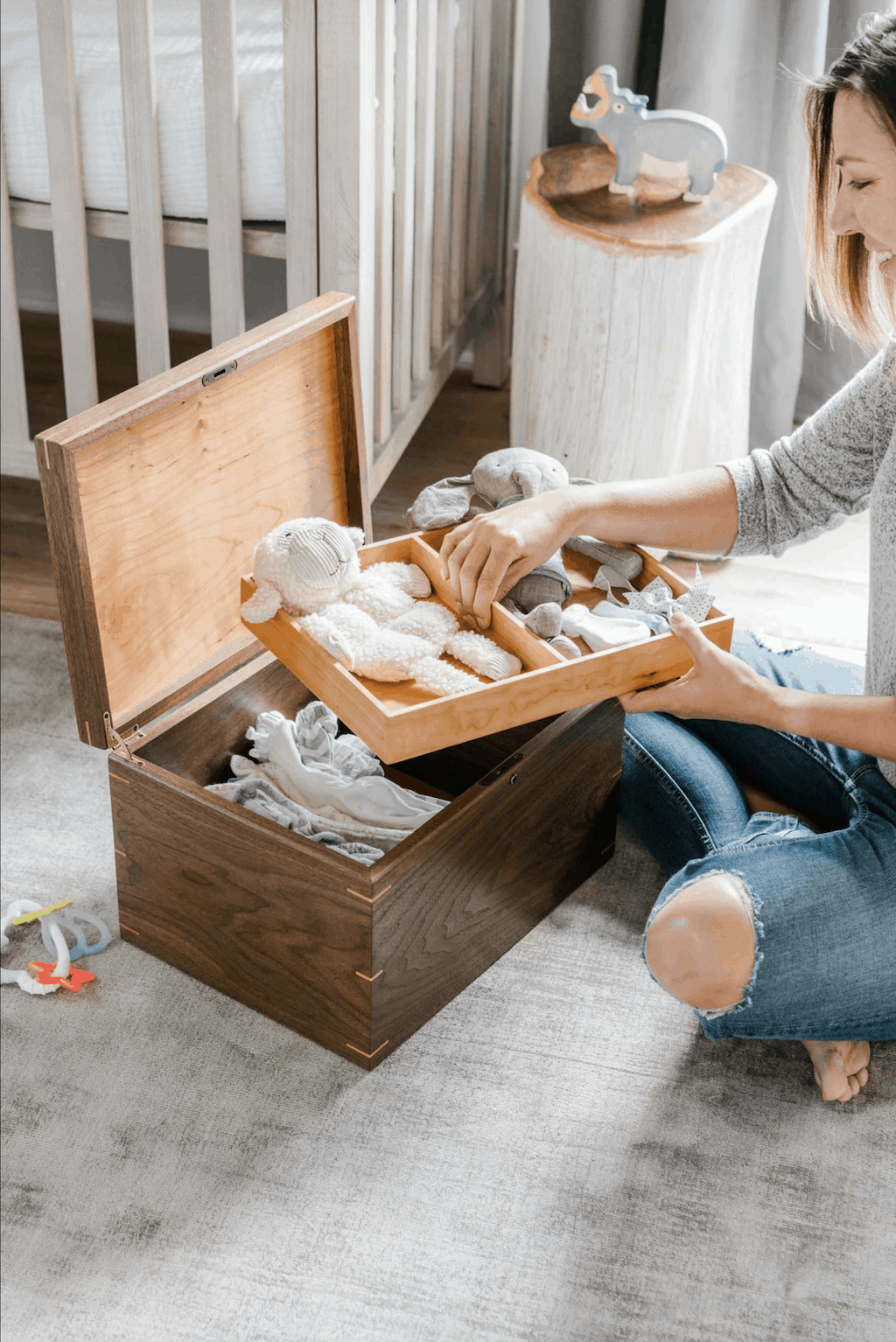 5. Plastic Faux Wicker Storage Bin with Lid
This small faux wicker storage bin comes with a nice lid and handles; it would be great in a college dorm or stacked on open shelving.
It's simple, affordable, and pretty enough to put on display while still keeping things private.
---
6. Wicker Storage Basket with Handly Lift-Off Lid
This wicker basket would be great if you have larger or heavier items or need to move your memory box frequently.
The elegant basket is made of natural rattan and features a nice lift-off lid and three different basketing weaving styles over a sturdy pole frame and durable wood bottom.
It also has a nice fabric liner on the inside so that soft or delicate items won't get caught on the wicker fibers. Smart!
---
7. Chic Tufted Ottoman with Hidden Storage & Safety Hinge (Grey)
This is seriously thinking outside of the box! After all, who says a memory box has to be a box at all?
Why not kill two birds with one stone and have a memory box that doubles as a handy seating space for your hallway, bedroom, or living room?
That's a nod to the basic principle of minimalist living: do more with less!
This chic tufted ottoman with hidden storage has a safety hinge and comes in a variety of pretty hues; there's so much space you might also have room for extra blankets and other items inside.
Shhh – no one has to know!
---
8. Rubbermaid Plastic Lidded Storage Bin (Clear)
If you are going to be storing your memory box in a place that has moisture or that might be in danger from flooding, such as a basement or garage, consider a plastic memory box.
This Rubbermaid storage bin is waterproof and has a tight lid to protect your precious treasures.
Choose a clear plastic bin like this one if you have a lot of stuff and you need to be able to quickly see it at a glance, or choose opaque if you want to keep the things inside your box private.
---
9. Lovely Caboodle Storage & Organizer with Handle
Ah, the humble caboodle – silly name, but smart for storage!
Caboodles like this cute rose gold model offer a great opportunity for cleverly compartmentalized storage; this works especially well for jewelry, watches, or other small treasures.
---
10. Giant 8-Section Accordion Art Portfolio with Handles to Organize Art & Schoolwork
If you want to store and organize art and schoolwork, accordion portfolios like the one below are an awesome tool!
This one has eight sections and you can sort by age or school year.
It's great because sometimes you don't want to put the paper inside memory boxes and risk it getting crumpled – this folder will keep even large artwork nice and flat so you can enjoy it for years to come.
READ MORE: 10 Best Minimalist Toys for Smarter, Happier, and More Creative Kids!
---
Final thoughts on memory boxes
Remember, a memory box is for your very special items.
You should definitely think about where you are going to store your keepsake box.
You may choose differently depending on if your memory box will be on full display in your minimalist apartment versus if you are keeping it tucked away in your basement for your eyes only.
Remember, the key is to keep your most special treasures – after all, if you consider everything as special, really nothing is.
If you need more help with ideas on how decluttering, organizing, or minimalist living, be sure to check out these posts.
Pin these memory box ideas!