50+ Minimalist Apartment Tips to Balance Simplicity & Style [Checklist]
This post may contain affiliate links for your convenience. That means that if you make a purchase, I will receive a small commission at no extra cost to you. Read more here.
No matter if your apartment is big or small, old or new, north or south, ANY apartment can be a minimalist apartment! If you want to create a clutter-free space to live a simple lifestyle, you will love this guide to creating your perfect minimalist home.
Your apartment is your sanctuary, a cozy place where you can relax and find peace.
A place of freedom.
If this is your first time decorating an apartment you might be at a loss for how to get started.
This list of minimalist apartment ideas will guide you as you get started figuring out how to decorate your apartment.
Think of it as your complete minimalist apartment checklist — tick things off as you need them or don't. The great thing about minimalist decor is that less is more!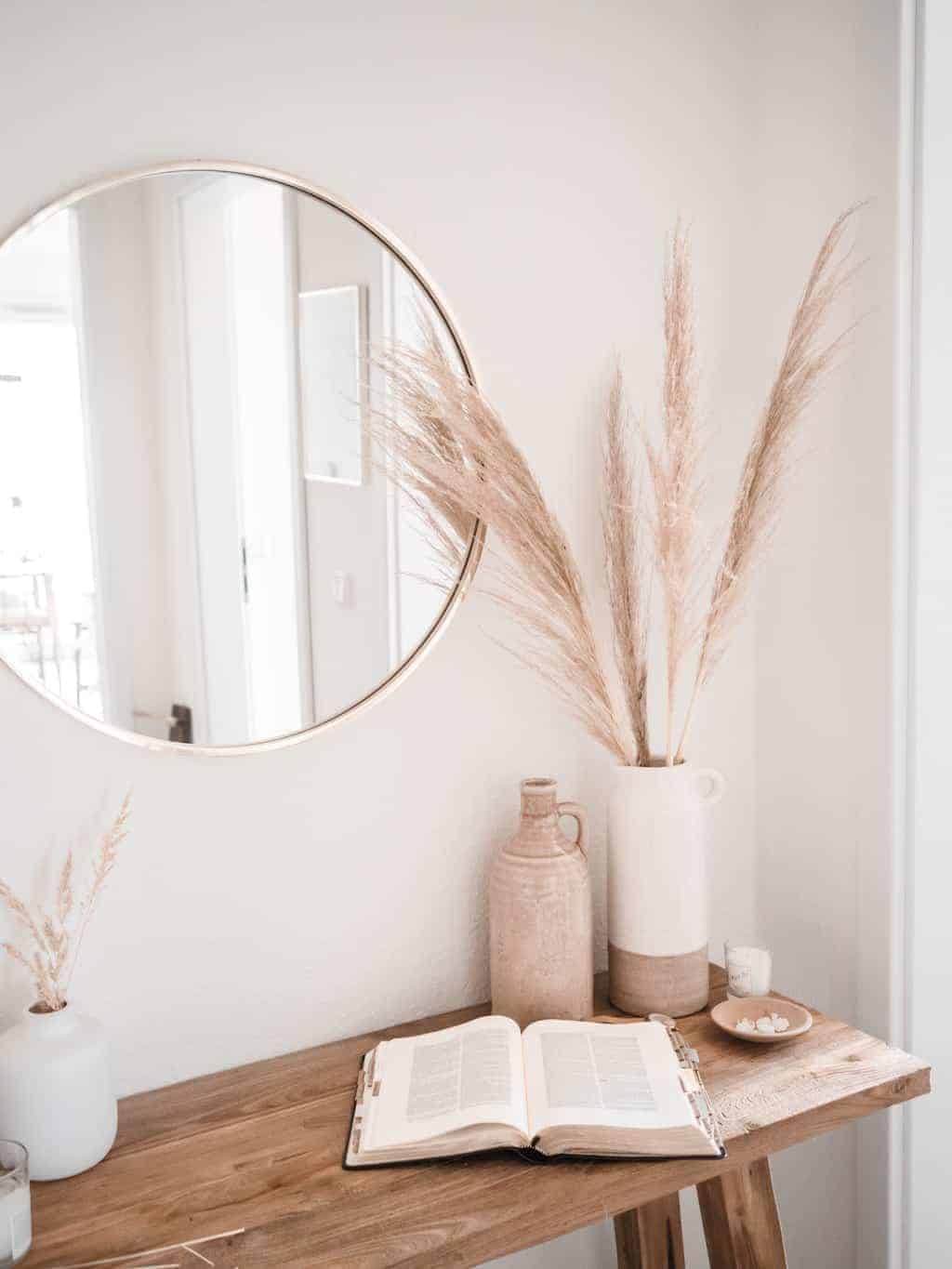 What Is A Minimalist Apartment?
A minimalist apartment celebrates and protects that which you love and value.
Even though there are physical attributes that many minimalist apartments share, there isn't a single set of rules that all minimalists must follow.
Minimalism is about making priorities based on your principles, after all.
Even so, there are still lots of attributes that many minimalist apartments will have in common, such as:
lots of empty space & a neutral color palette
simple decor and accents, often in a modern style
natural and quality furniture built to last
surfaces and corners are free of clutter
a focus on quality over quantity
READ MORE: 10 Benefits of Minimalism That Are Surprising but True
How to decorate on a budget
Wouldn't it be super ironic if you blew your budget spending money to decorate minimally?
Don't think that you need to spend a lot of money to get the minimalist look you are after! After all, one of the great things about minimalism is that it can also save you money!
Here are a few budget minimalist apartment ideas:
Think carefully before you buy anything (see checklist below).
Comparison shop – you can often find similar dupes at big discounts!
Negotiate, negotiate, negotiate – everything is negotiable.
Take your clutter & turn it into cash by selling it online (don't scoff – I made $50k doing just that).
Sign up for cashback sites so you can get money back on everything you spend – it's literally free money.
Shop secondhand stores and you can not only save money but also feel good about living more sustainably.
MINIMALIST APARTMENT CHECKLIST
Start to declutter your stuff

Declutter in each room or by category
If you don't love it, don't keep it!
Decluttering makes moving MUCH easier
Look at the space you are moving into

Print the floor layout if you have one (look at the realtor's website)
Take accurate measurements with measuring tape in each room
Write measurements on your floor plan or in a notebook

This will help ensure everything will fit – nothing worse than picking out a dining room table to find it's too long for your space
Check the natural light

The minimalist aesthetic embraces natural light
Go through each room and notice the lighting
Is the natural light strong or weak?

Is the light coming from the north, south, east, or west?
Southern light is the strongest; northern light is the weakest
Are you painting? If so, know that wall paint may look different depending on the direction the light shines
What to do if the light is weak?

Minimalist apartments always have good lighting
If the light is weak, you may need to consider lamps or lights
Are there ceiling lights?
Plugs on the walls for floor lamps?
Look at where the plugs are located – if you need lamps, they will need to go there
Consider the function of each room

If you have a one-bedroom or larger, this is easy
Minimalist kitchens are for cooking and eating and usually include clever and aesthetic storage solutions
Minimalist living rooms are cozy and inviting, with a couch and perhaps small side tables
Storage ottomans or coffee tables with hidden storage are also great for the living room so you can hide extra blankets or board games
You can save money by picking multi-purpose furniture that does double duty!
Map out where you want things to go.

Use a free website or app to map where you want your stuff to go
You can even take actual pictures of your apartment and upload them to the app and add the furniture you are thinking of buying!
Use painter's tape on the floor to map where the furniture will go (just don't leave it on there TOO long!)
Pick a minimalist color palette

Minimalist apartments make copious use of neutral colors like creams, grays, and lots and LOTS of white!
Pick 1-2 accent colors and use those sparingly in each room
Plants in modern planters are a nice way to add pops of color or texture to your home
Minimalist Apartment Ideas by Room
What are the minimalist apartment essentials for each room of your home?
Hahaha, gotcha there!
That was a trick question!
The truth is there is no such thing as minimalist essentials – that's because each and every minimalist is different and has different values and aesthetics.
What we know now as minimalism actually got its start as an extreme form of art in the 1960s and has continuously evolved since then.
(There are even extreme minimalists that live without any furniture, like beds or couches, and sleep on hammocks or mats on the floor!)
I'm going to assume you aren't one of these extreme minimalists and we can just cover the basics as to what most people would expect to have in each room, even if they practice a minimalist lifestyle.
Minimalist Living Room
The living room is where you spend most of your time…and most of your living. When you spend time and energy making this space more minimal, it can truly change your entire home.
Here is what to put in your minimalist living room.
Couch or futon
Having a comfy place to sit and chat with friends or curl up with a good book is a must-have. I like to have one that converts to a bed so guests can stay over. This pretty rose gold and gray futon has clean lines and is timelessly fashionable too.
Coffee table or small ottoman
Minimalists are huge fans of lift-up coffee tables thanks to the ample storage and function they provide. This wood coffee table lifts up and also has a hidden storage compartment to keep things tucked away and your space tidy.
This is perfect for small work-from-home minimalists that live in smaller apartments without a dedicated office space.
Chairs or benches for guests
It's always nice to have extra seating on hand, particularly if it can serve multiple purposes. These storage ottomans can act as a side table, extra seating, or simply as, well, an ottoman.
Plus, the storage area is the perfect spot to keep throw blankets.
TV and/or TV stand (optional)
Does a television fit your minimalist lifestyle?
If the answer is yes, you'll want somewhere for it to live. This Scandinavian-style console has just a touch of open storage if you want to show off a plant or two—or leave it empty and just utilize the hidden storage areas.
Other Living Room Pieces
These are the optional accessories—things that may make your apartment seem more like home. Some of my favorite recommendations include:
floor lamps – lighting is everything in a minimalist space! I always prefer natural light, but in the evening a cozy floor lamp can be useful.
plants and planters – a couple of plants will go a long way in keeping your space fresh, especially housed in some ceramic planters.
art for the walls – art is certainly subjective, but if you have an empty space you'd like to fill,

a piece with clean lines

may be just the thing you need.
Minimalist Dining Room
Your dining area can serve multiple purposes. Besides being a space to dine in, it can also become somewhere to sit and work if your apartment does not have space for an office.
Here are some ideas to keep the room furnished minimally.
Dining Room Table
The dining table is the anchor for the entire space. Choose something that has clean lines and is simple in nature. A dining table with an extension can provide more seating when needed and keep a smaller profile when it's not.
Dining Room Chairs
When it comes to everyday dining, a set of 2-4 neutral dining chairs should be plenty.
One option I love is to utilize club chairs as end chairs. These attractive seats can be kept in the living room when extra seats aren't needed at the table and moved into the dining room as necessary.
Dining Room Accessories
See pendant lighting @mybaliliving
Minimalist Bedroom
A bedroom should be a place of serenity and calm. By opting for a minimalist style, your space will be free from clutter and stress, making rest come naturally.
Headboard
The bed is typically the focal point of the bedroom. Choose something that will work in all seasons. For example, a wooden and iron bed like this is both timeless and elegant.
Side Tables
These narrow side tables don't take up too much space but offer hidden storage. Pair these thin tables with wall-mounted light fixtures to keep the surface clutter-free.
Bedroom Dresser
A dresser with clean lines is the perfect place to store your clothing. Style the top with a few meaningful items that bring you joy, or leave it bare.
Capsule Wardrobe
Speaking of clothes, let's talk about how to pare down your wardrobe. This is a bonus tip, but if you want a surefire way to keep your space orderly, maintaining a capsule wardrobe like the one below is key!
Take a closer look @LittleDeerInteriors
Minimalist Kitchen
Most of what you need for the kitchen like pots, pans, spices, plates, bowls, etc. can be tucked away in the cabinets. Here are some other items to consider that are more visible.
Rug
An anti-fatigue mat with a simple pattern or a natural colored rug can add a splash of style but also serve the valuable function of comfort as you cook or do dishes. (It also protects your floor!)
Fruit Bowl
Rather than let your fruit sit anywhere on your counter, a minimalist wire fruit basket corrals them in one spot, keeping your space tidy.
Other Kitchen Accessories
plants – whether you prefer to keep potted fresh herbs or a zero-maintenance faux plant, plants are a welcome addition to the kitchen.
containers – ceramic canisters or glass apothecary jars look amazing as functional storage pieces
tea kettle – if you are a tea drinker your kettle will be out on the stove most of the time. Make sure to choose a tea kettle that fits your aesthetic.
Pin these minimalist apartment ideas!
I hope you enjoyed this guide to creating a minimalist apartment!
Congratulations on taking the first steps towards creating a space where you can fully be yourself. Make sure to pin all these great minimalist decor ideas so you can remember them for the future!