25 Powerful Organization Tips From an NYC Professional Organizer
This post may contain affiliate links for your convenience. That means that if you make a purchase, I will receive a small commission at no extra cost to you. Read more here.
Organization fever is sweeping the nation! If you are ready to take control of your household clutter and finally get your life in order, here are twenty-five powerful organization tips that can help you on your quest. Not only that, these tips come DIRECTLY from the perfect source; a professional organizer based out of New York City!
Bring Big Apple organization know-how to your sweet home with these organization tips, today!
Interview and Organization Tips from an NYC Professional Organizer
Today I am bringing you an interview with the awesome Andrea Montali.
Andrea and I met through a mutual friend when we decided to organize a decluttering challenge on Facebook, which was an AMAZING experience. I told myself, I need to get an interview from her, along with some organizing tips for my readers!!!
Let's find out more about her qualified background as a professional organizer and get all her hot organization tips that will help you get your life in order!
Tell us a little bit about yourself and what you like to do outside of organizing?
Hi there, I am Andrea! I am a New York native that loves closets, organization, sports, music, traveling and my dog, Otis!
On my days off you can catch me drinking a latte in the dog park with Otis and plotting my next travel adventure!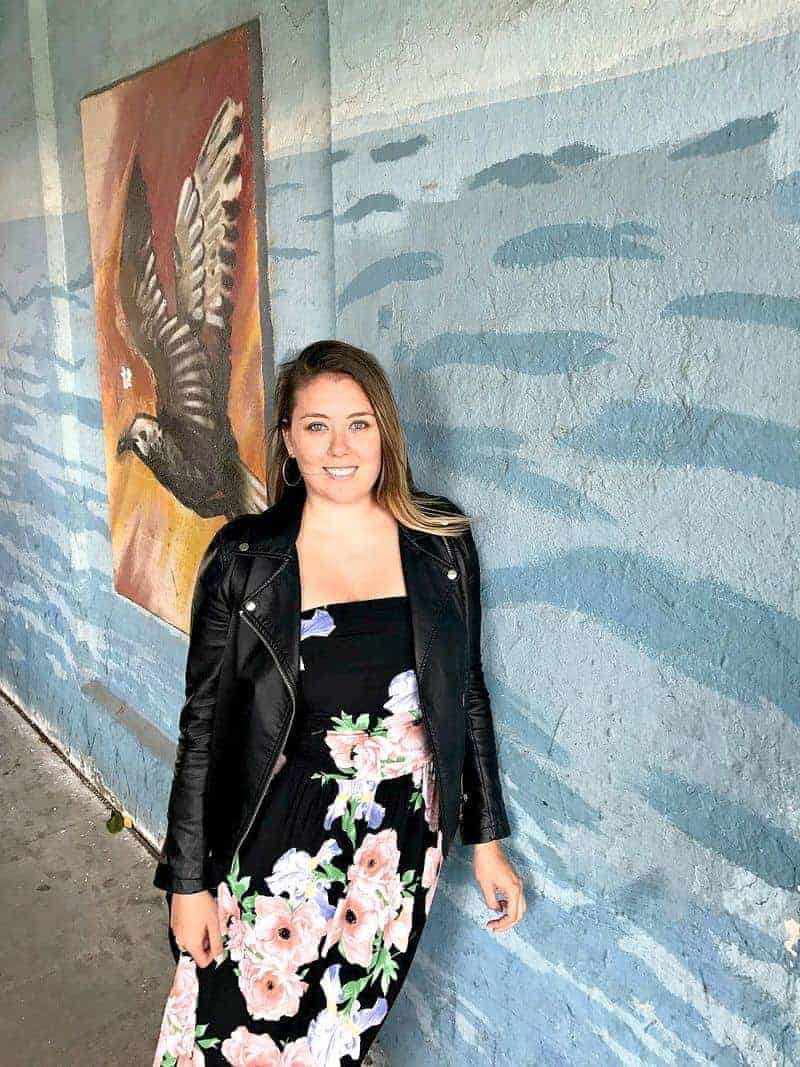 This post may contain affiliate links for your convenience. That means that if you make a purchase, I will receive a small commission at no extra cost to you. I only recommend products or services that I fully believe in and use myself. Read more here.
What motivated you to become a professional organizer?
For most of my life, I have shared an apartment with someone. Whether it was living with my mom and grandma, many roommates, and now my husband, I needed to learn how to store all my stuff mainly in one bedroom.
That involved a lot of inventory editing, maximization of space and learning to live pretty minimally. I worked in retail for a long time and always loved folding and organizing clothing.
I became a Visual Merchandiser and then Closet Designer for California Closets and at that point, I realized I could apply the merchandising techniques I learned in retail to people's closets and homes!
I merged all these different experiences together to create a professional organizing business called Dream Organization!
My goal is to make my client's organizing dreams come true.
Do you use and recommend a particular method of decluttering or organization? Or a little bit of whatever works?
I would say in my own life, I definitely applied a lot of Marie Kondo's "spark joy" philosophy.
Moving around a lot really helped me access my inventory and I learned to hang onto the things that really make me happy.
I also like to treat my own closet as a personal retail store. When my closet looks great, I love my clothes more and don't feel the urge to shop as much.
When I work with clients, it's all situational and I do whatever makes my client most comfortable.
Sometimes I will meet with a new client and they tell me they are scared I am going to tell them to throw all their things away. That's not my style. I go with your flow and if you need help organizing and are not ready to let go of many things, that's totally OK.
(If you want to know more about the KonMari method that Andrea mentions, you might want to check out this post.)
Now the part everyone has been waiting for!
Can you share some of your best organization tips for people who want to DIY their organization?
Sure! Here are my 25 best organization tips:
1. Take a deep breath!
This is always my first tip. Just the thought of beginning a decluttering and organizing project can be overwhelming.
Breathing is important and will help reduce or alleviate the physical stress you may experience before and during the process.
2. Envision what your dream space looks like
.
I recommend doing a walkthrough of the areas you want to organize and envision what you really want the space to look like. This will help you discover the problem areas and what your decluttering and organizing game plan will be.
(Note from Marissa: this is one of the first steps in the KonMari method too!)
3. Do your research and find a decluttering style that works for you.
There are quite a few methods for organizing and decluttering out there. Find one that works best for you and your household!
Marie Kondo and her method of Sparking Joy has been very popular in 2019. Check out her book "The Magical Art of Tidying Up." for some decluttering inspiration.
4. Make a decluttering plan.
Before you organize and find a home for all your belongings, you may want to take time to declutter first. This is a perfect time to go through your belongings and see what you want to keep, donate or toss.
5. Start small.
If you are new to decluttering and organizing you may want to do a test run first. I recommend picking a small category or maybe even one drawer and organize it.
Make a goal to finish this one space no matter what. You can then gauge how much you can take on at a time and if you need additional help like hiring a pro.
6. Find charities you are passionate about.
Sometimes my clients are reluctant to let go of certain items go because they don't know where they will end up.
If you find charities that you trust and are passionate about, you will be more generous and let go of more unwanted items.
Related post: 49 Eco-Friendly Ways to Get Rid of Stuff After Decluttering
7. Be aware of things you always misplace
.
If you find yourself saying "where are my keys" fairly often, it's safe to say they need a better home.
We spend about a year of our life looking for things. Having designated places for things will help you get some of that time back.
8. Discover all your categories.
When organizing, categorizing is huge!
While sorting through your items, make piles of all the different categories you have. Some examples are: books, sentimental items, shoes, toys, clothing, paperwork, office supplies, electronics etc.
9. Utilize hooks
.
Hooks these days are so decorative and also make for great storage! You can store things like keys, jewelry, coats or utility items.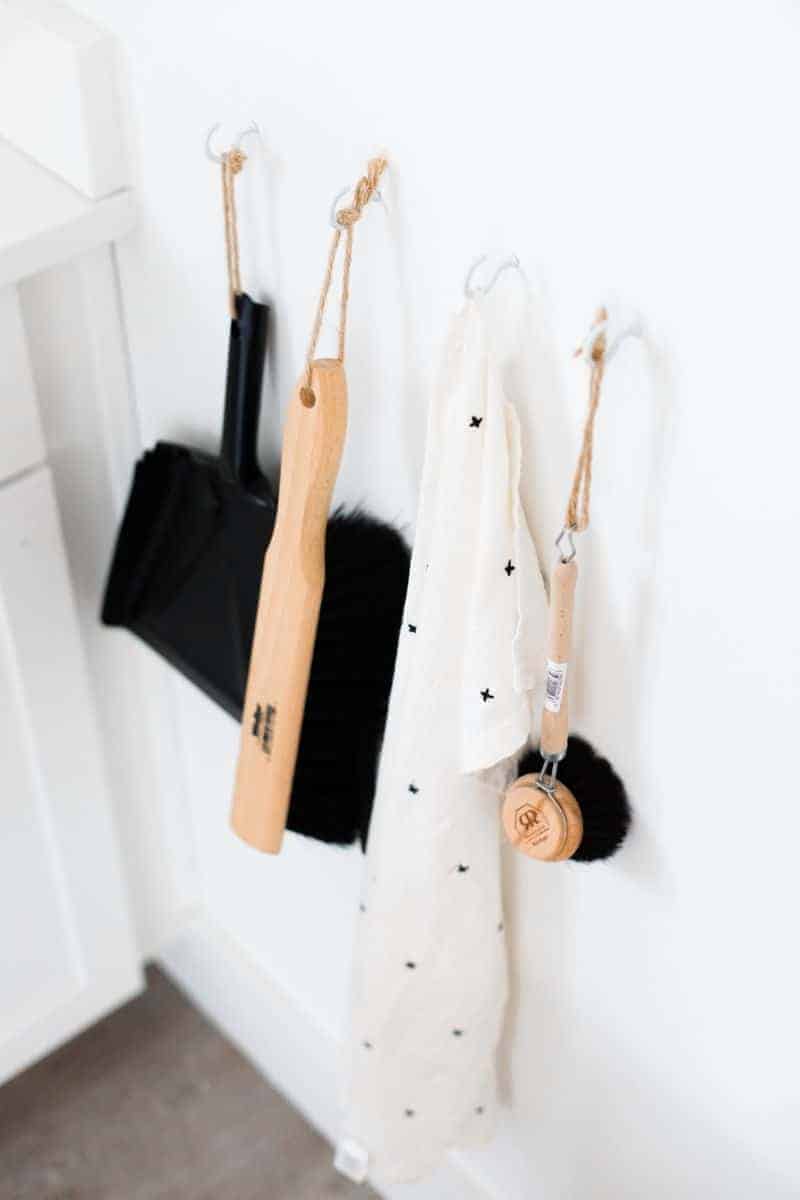 10. Love your closets.
Closets are your home's built-in storage. Often I find that closets aren't being utilized to their full potential.
Whether it's investing in a custom closet system or closet organizing products like shoe boxes, do what you can to make the best use of that space first.
The more that can fit into the closets, the less you need outside in your living areas.
11. Look up!
You'd be surprised how much height doesn't get used in homes.
How tall of a bookcase can you fit? Is there any room on the top of your closet for off-season clothing or shoes you don't wear often?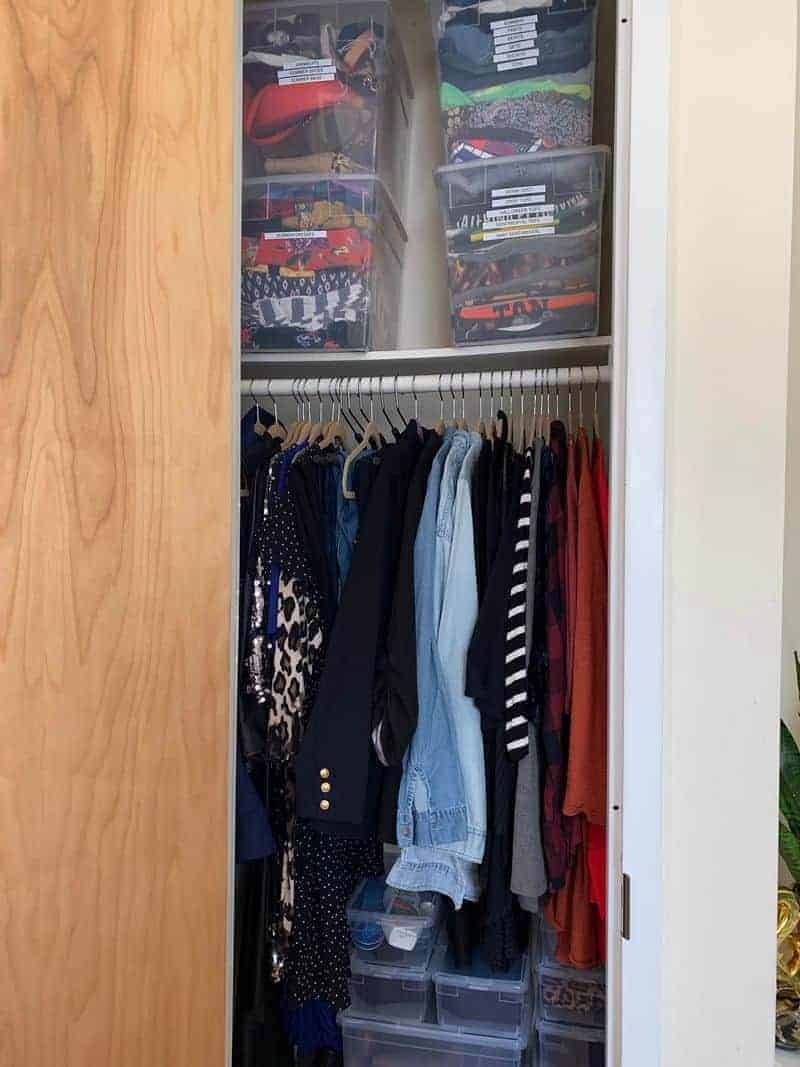 12. Keep your cooking products categorized.
I love using these bins for organizing things like oils, spices, and sauces. Doing this will prevent overspending and accidentally repeat buying of something you already have.
(Note from Marissa: that's how I once ended up with three bottles of maple syrup!)
It will also make cooking less stressful since you'll be able to find things easily.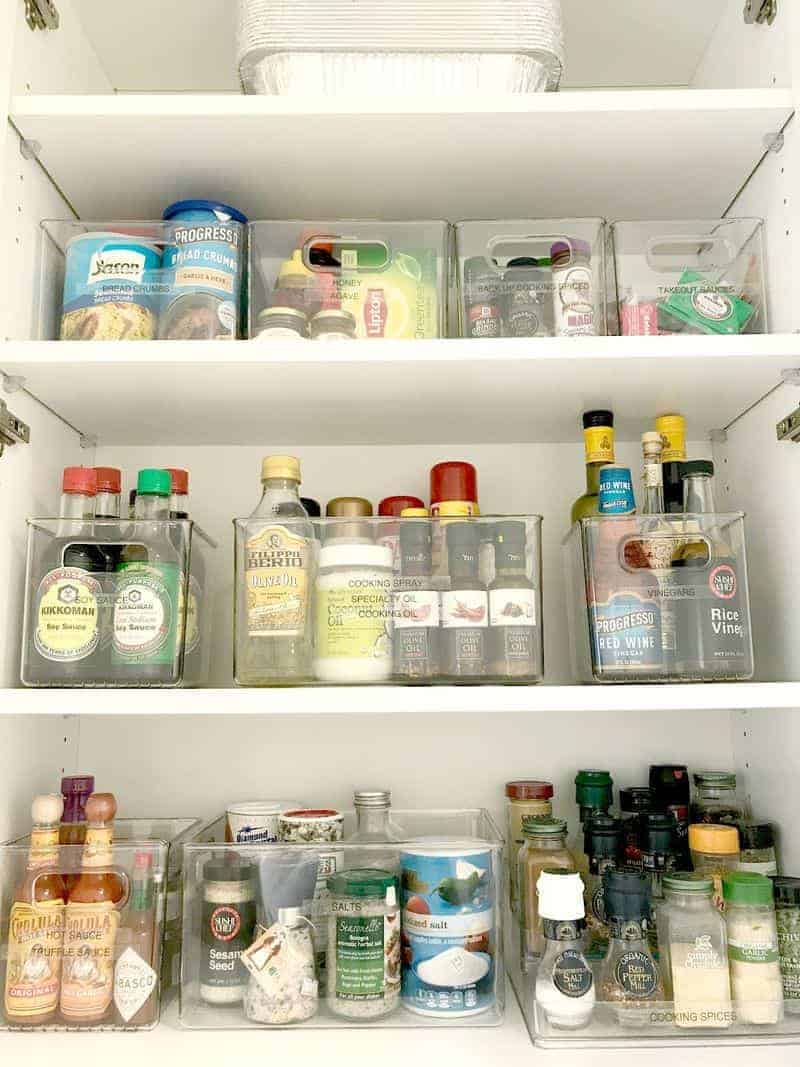 13. Invest in uniform shoe boxes.
It's amazing how much unnecessary space shoe box packaging take up. By getting uniform boxes, you gain a bunch of space back and can stack them neatly.
Added tip: clear boxes are my favorite because you can see your shoes. Makes picking outfits much more visual.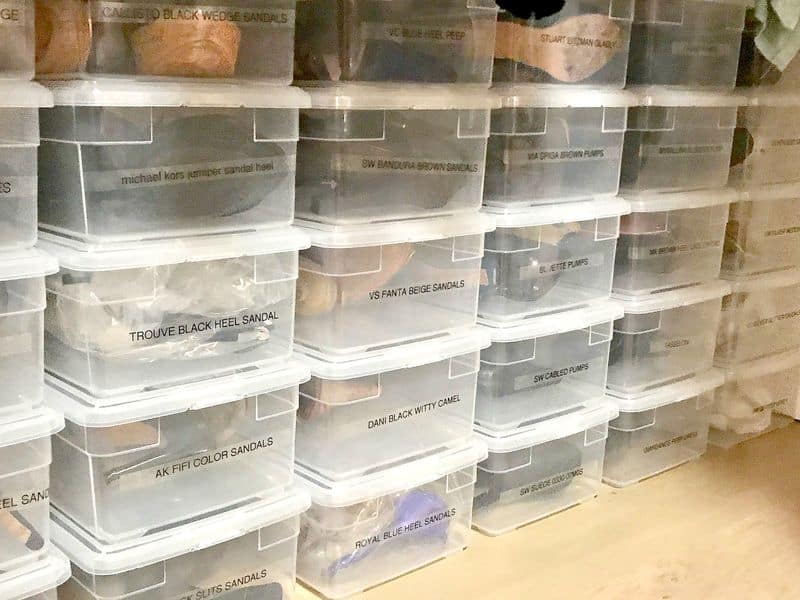 14. Maximize under the sink space.
These areas are sometimes neglected and seem inconvenient. But once you organize them, they become super handy. I recommend using drawers with labels if your space allows.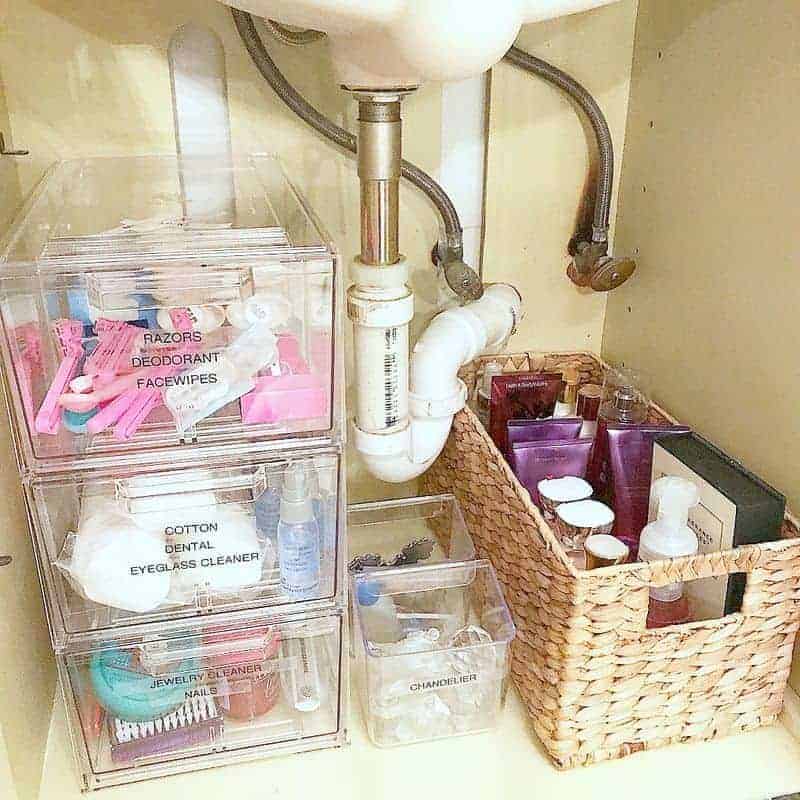 15. Let's talk labels!
As a Professional Organizer, I never leave a home that I organize without labeling. The main reason is that they help maintain organization.
Your family members, kids, nannies, and housekeepers will easily be able to put things away in the correct places.
16. Color code folded and hanging clothing.
There are two reasons why I love color coding clothing.
One is because it helps save time when you pick out outfits. You know exactly where to go for what.
Two is that you become more aware of your inventory and may not shop as much. And when you do shop, you have a better understanding of what your wardrobe is missing. I recommend color coding folded clothing and hanging from light to dark.
17. Figure out what your product style is!
There are so many products out there with all different aesthetics.
If you are familiar with Marie Kondo's method of Sparking Joy, I think the products you choose to organize with should spark joy as well.
18. Fold your clothes vertically when possible
.
Learning to fold and organize your clothing vertically is definitely life-changing.
You will love being able to see all your shirts just be opening up a drawer and not having to rummage through piles!
(Note from Marissa: agree, vertical storage of clothing is totally life-changing! Find out how to fold literally anything, today!)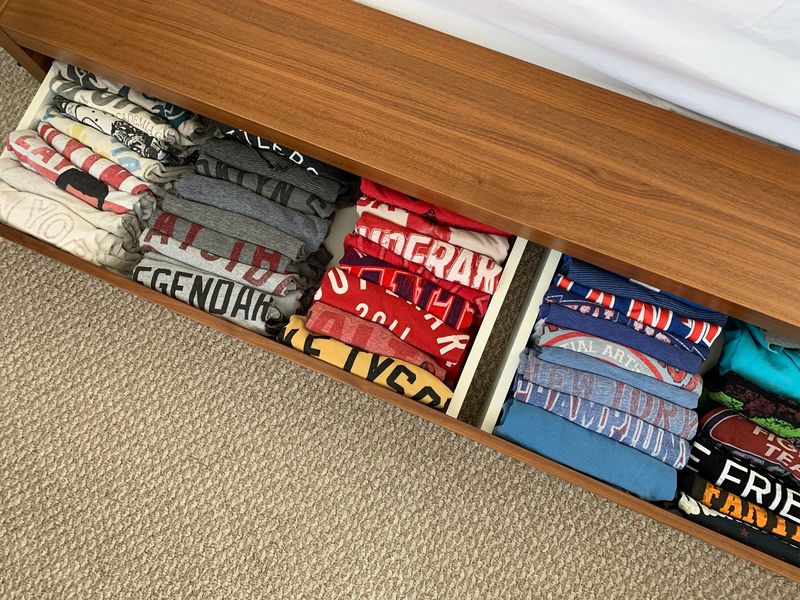 19. What is your book organization method?
There are a few ways you can organize your books. Think about how you use them and what would be most beneficial for you.
Clever way to organize your books may include arranging them by color, genre, shape, author or alphabetically.
20. Get rid of cardboard boxes.
Keeping a cardboard box with one package of oatmeal is a total waste of space. Declutter and organize your pantry by tossing any packaging that is taking up unnecessary space.
21. Invest in uniform hangers
.
Uniform hangers really up the ante when it comes to closet organization. They are visually pleasing and take up even amount of space vs. having all different size hangers.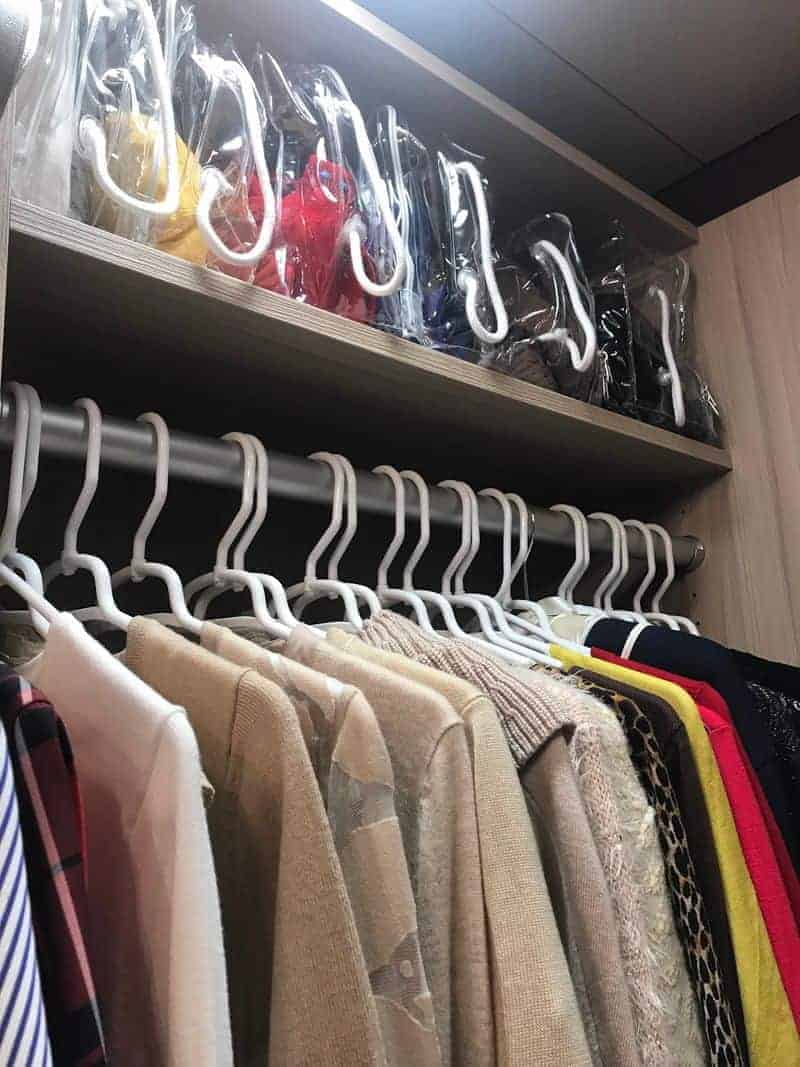 22. Find a good home for your sentimental items
.
Sentimental items can be a hodgepodge of different things. Create an area in your home where they will be kept safe and use containers that work for your items.
23. Keep toys categorized and in labeled bins.
Toys can be a pain in the butt to keep organized. Using labeled bins will help keep like items together and also make clean up time more fun for your little ones.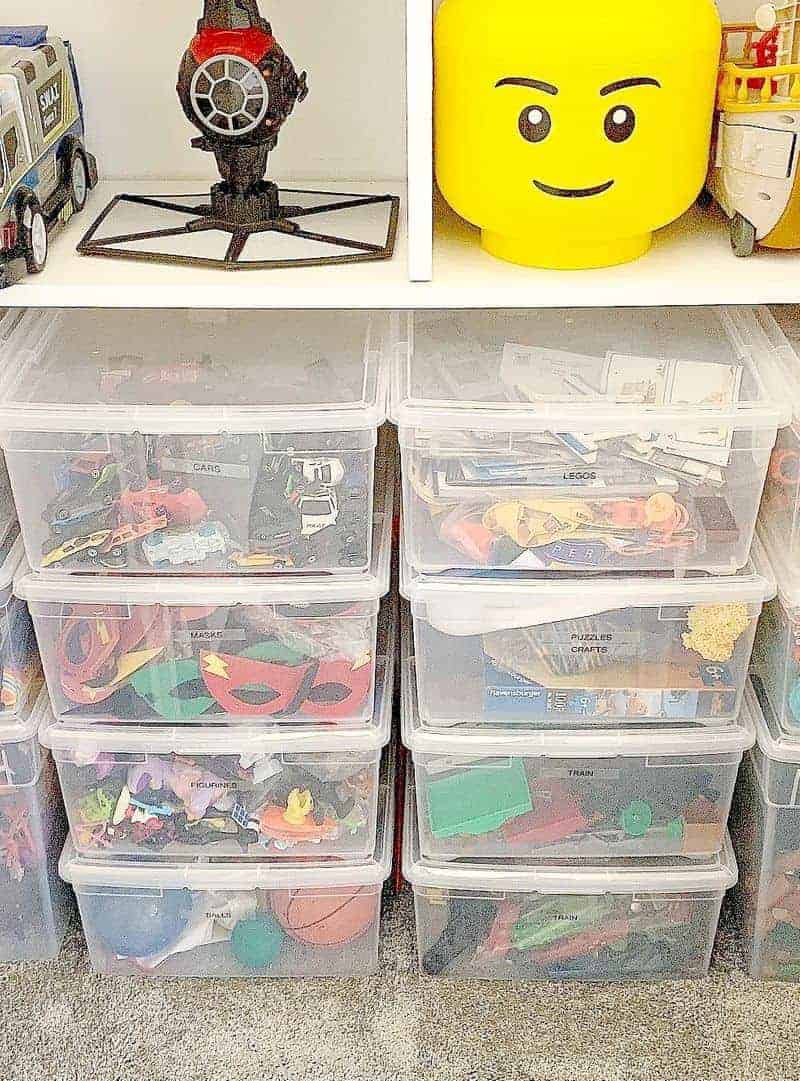 24. Invest in furniture that can also be utilized as storage.
Storage benches, ottomans, and bar carts are examples of furniture that is both decorative and functional. These are particularly great for apartment living.
25. Gadgets are your friends!
There are so many great organizing gadgets out there such as tie racks, belt racks and jewelry organizers that are here to make your organizing journey a lot easier.
But professional organizers exist for a reason — at what point do people take a look around and call you to say, "I need help!"?
Again, each situation is different.
Some of my clients are pretty organized already but just need help to physically go through everything and declutter. Other times clients are OK to declutter themselves but need another set of eyes to help find a home for everything that is staying.
Another reason people will call in a Professional Organizer is that they just don't have the time to do it all themselves. When doing this type of work, an extra set of hands can make all the difference.
Lastly, Professional Organizers see all different types of spaces and closets. We really know how to maximize every inch of space to its full potential!
What's the best part about being a professional organizer?
I adore seeing my clients fall in love with their home and belongings again. It's really rewarding and gratifying.
I also love all the different people and families I meet. We build a lifelong bond.
What's the hardest part about being a professional organizer?
I honestly am having a hard time answering this question! The first thing that popped in my head was being able to fit all the organizing products into my car. That is definitely a challenge at times!
Finally, how can people contact you if they want your organization services?
The best way to contact me is through the contact form on my website, Dream Organization.
I offer an in-home complimentary consultation within my travel range. We assess your space together, create a shopping wishlist for organizing products in your budget and style, and pick an organizing package that best suits your needs.
I also offer virtual organizing services via phone/email for those who are out of state or just need some guidance on how to best organize their home! You receive a DIY kit with instructions on where to put what and product recommendations to best maximize your space.
Another place to follow is my Instagram page, @dream_organization, where I share tons of before and after photos from my latest projects, as well as organizing tips and tricks.
Wow, totally loving all these amazing organization tips!
Thanks so much to Andrea for taking the time to share her tips from the view of a professional organizer with us!
If you have any questions for Andrea I suggest that you contact her through her website above or start asking on Instagram!
If you have any questions for me, drop them in the comment section below and I will get back to you!
If you are interested in reading more about the KonMari method, here are some resources:
Pin this for later!