12-Step Program to Save on Groceries Without Coupons
This post may contain affiliate links for your convenience. That means that if you make a purchase, I will receive a small commission at no extra cost to you. Read more here.
Want to cut your grocery bill but don't know where to start? If you are spending too much on groceries, find out this easy 12-step program that can help you save money on groceries without coupons!
My budgeting wake-up call
The biggest wake-up call I received in my quest for frugality had to be when I first started tracking our spending and realized how much of our money went to food!
After realizing the stupidly expensive amount we were spending at the grocery store, I made big changes that allowed me to slash around $250 per month from our grocery bill.
Related posts:
What is a "normal" grocery budget?
Today, I want to share the 12-step program that I follow that helps me save big at the grocery store. Not only that, these steps will slash your spending without sacrificing healthy foods over processed junk food.
But first, let's talk about what most people spend a month on food.
Here is a snapshot of the United States Department of Agriculture (USDA) Food Plans latest data for February 2021, which shows the average monthly spending for four different levels of American households.
These are:
Thrifty
Low-cost
Moderate-cost
Liberal
We used to fall slightly above the number shown in the Liberal category…by implementing this 12-step program, I cut our grocery spending so that it now hovers between the "moderate-cost" and "low-cost" averages (for our family of four, two kids between 2-5).
Follow these 12 steps to repeat my results
Download grocery app for your local store
Most of the grocery stores now provide free apps that will help you in the following steps. Simply go to your app store or app search engine in cell phone and download the apps for the stores that you use most frequently.
Check the weekly ads
You no longer need to rely on going to the grocery store to pick up an ad or wait for an ad to be mailed to you!
Instead, simply log on to your grocery store app and check out the ads for your store (mine is ShopRite; we also go to Costco, which we do not have app for).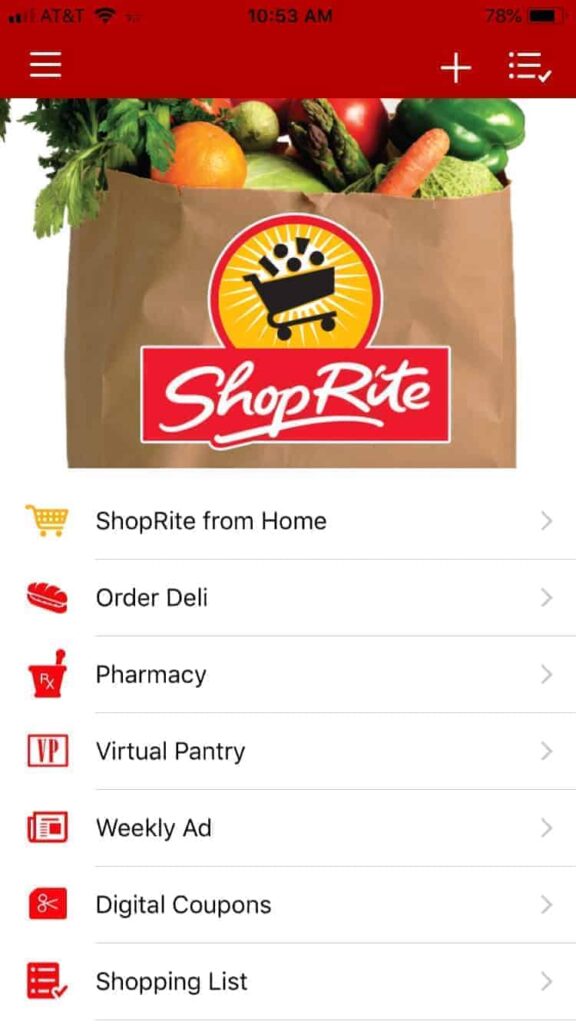 See what is on sale
I have a confession to make; I hate couponing. Who wants to scour 10 different sources just to save 50 cents on a toothbrush?
I find that it is usually just a waste of my time, because the coupons are not for things that I buy, just lots of canned food, frozen food, or junk food.
The real way to save money is to shop based on the store sales. See what offers there are that week, and move to step 4.
Write a menu
On your meal planning day (I like to make it Friday and shop on the weekend) after you open up your weekly ad and see what is on sale, start making a menu for the week.
Base your meal plan off of the sales.
You can also grab digital coupons from the same app to increase your savings! I don't mind looking for those, because they are right inside the app I am using anyway.
Create a shopping list
Now that you have your meal plan, take that meal plan and write a grocery list.
Is cauliflower on sale? I see roasted cauliflower in your future! Big discount on ground pork? Buy it up and freeze the extra.
It is imperative that you stick to the list. The only two reasons you should deviate is 1) if you notice a flash sale that will help you save more buying in bulk at that moment and 2) to fill in the gaps for meals by items not on sale (like basil, for example, which rarely goes on sale).
Trim the fat aka meat
We Americans love meat, I get it. But meat is EXPENSIVE!!! Even more so if you sometimes buy organic meats like we do.
Even if you make no changes other than this one, cutting your meat consumption will make a huge difference in your grocery spending. You should aim to cut meat from 3-5 meals per week to see a big change. You can stick to meat-free staples like spaghetti and pizza, or branch out to try new things, like tofu!
Just because it's vegetarian doesn't mean it isn't tasty! You can check out a delicious collection of Vegetarian and Vegan recipe ideas here.
Avoid "high-risk" aisles
Now you are ready to go to the grocery store. Armed with your shopping list, you are ready to navigate any peril and save tons of cash.
If you want to save money, you should avoid the soda, juice, and snack aisles. Not only will your waistline thank you, your wallet will too! These unnecessary items add extra calories and extra cash.
If you really need some healthy snacks, pick items like celery, pretzels, and cheese sticks. We do occasionally buy nuts in bulk from Costco…much cheaper there!
Besides avoiding these aisles, you should also look above and below eye level for your purchases. Stores always put the most expensive items right at your eye level to encourage spending.
Tricky, tricky!
Buy non-perishable items in bulk sales
If you happen upon a great sale for items that won't expire, by all means, go for it! It will save you extra in the long run.
I was able to get an amazing deal on toilet bowl cleaner, basically getting four for the price of two!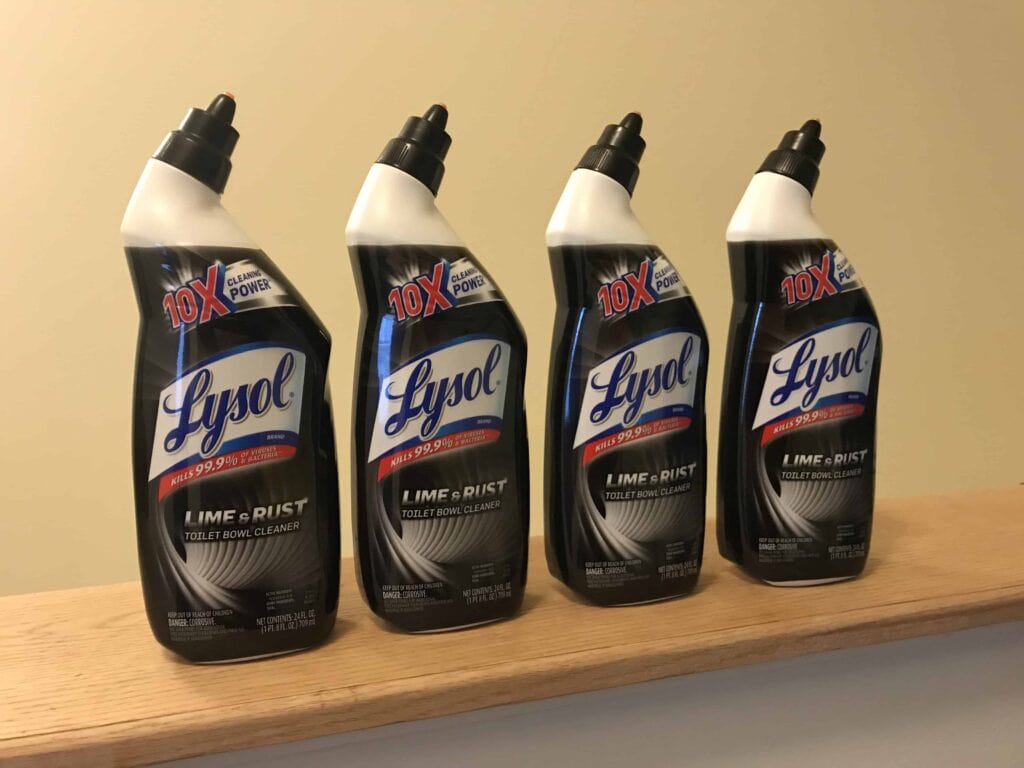 Stop wasting your food
Can you believe that Americans waste 40% of their food? That's like taking ten $1 bills and throwing $4 straight in the trash!
According to this NDRC report, food waste accounts for a household loss of $1,800 every year!
How can you cut down on your food waste?
Know what is in your fridge and pantry before shopping
Start with smaller serving on your plates (especially for kids)…you can always go back for a second helping!
Learn what items can be frozen to cut on waste
Don't buy more than you can use
I plan on doing a post all about what items can be frozen to save cash. Not only leftovers, but also things like cheese, fruits, and homemade waffles! Freezing can save you time and money!
Play Chopped at the end of the month
The final week of every month, I like to play a little game of Chopped, just like the TV show. Only not as icky 😉
Take stock of what is left in your pantry and try to use as much as that as possible in creating your menu, only shopping for items to fill in the gaps. It's less about creating crazy meals as it is about cooking smart and using what you have.
Fried rice is a great way to use leftover rice and lots of veggies. Use up eggs by making a quiche. You can put just about anything on a pizza.
Shop online and get money back with Ebates
Ebates is my newest obsession and they have a fantastic program that allows you to shop online at your favorite store and get money back just by buying the things you were already going to buy!
It doesn't cost you anything extra — they give YOU money! (While you cannot purchase things like cold meats and dairy with this program, it works for everything from boxed dry good, to dried fruits, to non-food items.)
Here's how it works.
Sign up for an Ebates account
Enter their website and search for "Walmart"
Click through to Walmart from Ebates and start shopping!
Note it can take up to a day for you to see your savings.
Repeat from Step 2
Now that you know how to save mad cash on groceries, just keep doing it over and over! If you save $250/month, that will equal a savings of $3,000 each year! Just on groceries!
Let me know if YOU have any great saving tips I didn't mention. Happy saving <3
SaveSave
SaveSave
SaveSave