55 Spring Cleaning Tips & Hacks to Deep Clean the Easy Way
This post may contain affiliate links for your convenience. That means that if you make a purchase, I will receive a small commission at no extra cost to you. Read more here.
Time to get your clean on! These 55 spring cleaning tips and hacks will give you that deep-down spring clean-up feeling that you crave with minimal effort. Get all the best spring cleaning tips, spring cleaning hacks, and spring cleaning checklists, and even find out how to make your own homemade cleaning solutions with these DIY cleaning recipes!
55 Spring Cleaning Tips and Hacks for a Deep Down Clean
Here are 55 of the best spring cleaning secrets for the cleanest and greenest homes!
These busy women understand that we want — nay, we demand — spring cleaning solutions that help us get our cleaning done fast so we can get back to having fun!
(Find the images that correspond to each post by looking at the collage top to bottom, left to right.)
Spring Cleaning Lists and Checklists
Here are six spring cleaning and decluttering checklists so that you can organize your cleaning routine.
Free Spring Cleaning Checklist for Every Room –

One Crazy Mom
Kathy's pretty printable spring cleaning checklist will help you check off those boxes in each room of the house.
Free Complete Spring Cleaning Checklist –

Clutter Keeper
Not only does Carrie share this fabulous spring cleaning checklist at Clutter Keeper, but she also walks you through all the steps you need to take for your spring clean up! She leaves no space uncleaned, not even the garage!
My good friend Sue is so smart — she lets you customize your spring cleaning experience by giving you this Spring Daily To Do List worksheet that helps you time block your cleaning around your schedule! So smart!
25 Day Spring Cleaning Checklist –

DIY Decor Mom
Annie knows that some moms are so busy they need to spread their spring cleaning out a bit. That's why she serves up this spring cleaning checklist in bite-sized portions so that you can do a little bit every day! (It is also super cute and color-blocked.)
5-Page KonMari Spring Decluttering Checklist –

Squirrels of a Feather
My personal spring cleaning philosophy is it helps to get rid of the clutter before you even start your spring cleaning — after all, why bother cleaning up things you don't even need?
If you are a fan of the KonMari method, you will LOVE this 5-page decluttering checklist — it's the most complete decluttering checklist available!
Stephanie's minimalist spring cleaning checklist will help keep you on track as you spring clean your home.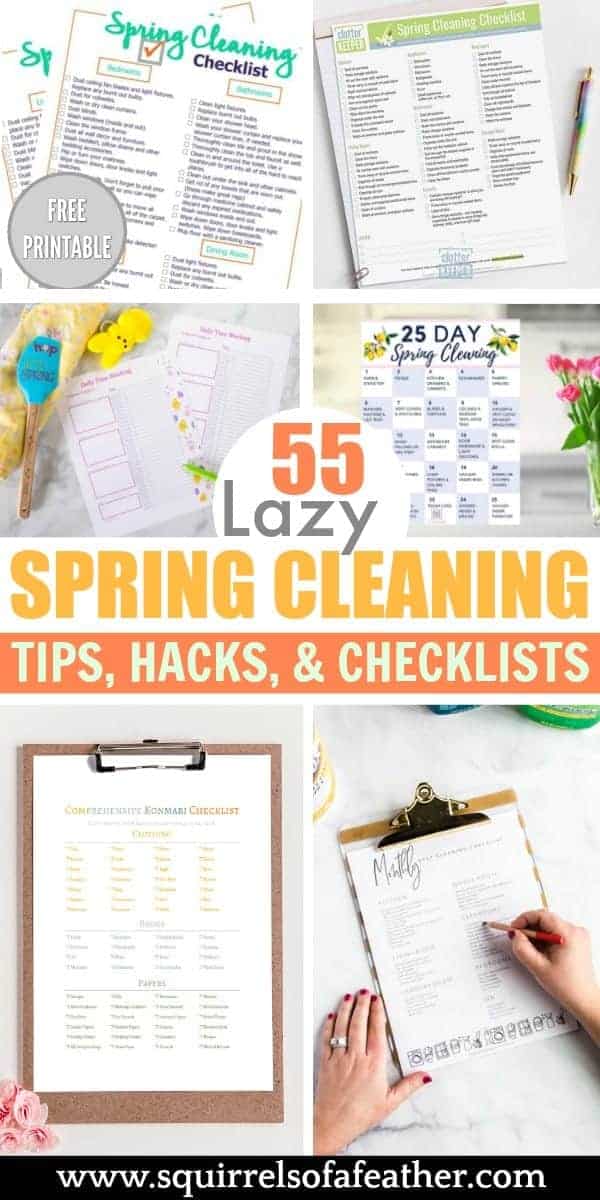 Spring Cleaning Tips
Here are 8 awesome spring cleaning tips that will help get those hard to clean places spotless!
How to Spring Clean Wood Floors –

This Mama Cooks
Anne-Marie is going to show you how to make those wood floors of yours shine with this complete guide to cleaning hardwood floors!
How to Clean Your Washing Machine –

Making Manzanita
Chelsea is very thorough when she shows you how to give your washing machine a good scrubbing (I actually need to try this, our washer has started stinking for unknown reasons!)
How gross can a diaper bag get? How about two kids and five years of gross? Find out how to clean even the most disgusting diaper bags with this easy guide.
How to Clean REAL Houseplants –

Meegan Makes
If you have a green thumb you will appreciate Meegan's guide to cleaning real houseplants — give those plants the TLC they deserve!
Clean a Vinyl Shower Curtain Liner –

Chatfield Court
I don't know if Kristi knows this or not, but she just changed my life with this post! Great tips on how to clean a vinyl shower curtain instead of tossing them every 4-6 months!
Mattresses are one of the most important and neglected spaces in our home when it comes to cleaning. Make sure and show your mattress lots of love with this guide from Lisa on how to clean your mattress.
I would have never, ever believed that the stains on this outdoor cushion could have come out! Find out exactly how Jamie was able to clean that stain and get all her best tips for cleaning outdoor upholstery.
If you are lucky enough to have sidewalks, Jenna from Rain on a Tin Roof is going to show you how to clean your sidewalks with this helpful article!
Spring Cleaning Hacks
Here are some great cleaning hacks that help you spring clean fast!
5-Minute Hack for Cleaning Stainless Steel Appliances –

Squirrels of a Feather
Find out the secret weapon that will get your stainless steel appliances sparkling again in five minutes, flat.
Multiple Spring Cleaning Hacks – What's Up Fagans?
Katelyn had so many amazing spring cleaning hacks and tips I almost couldn't decide on which to share, so I chose to group them all together! This mom of four kids seriously knows how to go to town on all manner of mold, dirt, dust, and grime!
Check out these awesome spring cleaning posts from Katelyn:
The Easiest Way to Clean the Bottom of Dirty Faucets –

Green with Decor
Meg shares her clever hack for cleaning the bottom of dirty faucets — it's a very hands-off cleaning trick!
The Right Way to Remove Mold in the Shower –

Pink Fortitude
Holly has some great tips for getting rid of mold in the shower — without even breaking a sweat!
How to Clean Dirty Baseboards the EASY Way! –

DIY Beautify
Ugh, dirty baseboards are the bane of my existence! Find out how to get gross baseboards looking good again.
Transform Your Deck with Deck Cleaner and Brightener –

The Handyman's Daughter
Can you believe that before and after? Your old deck will look brand new again with this neat guide from The Handyman's Daughter.
Love these great tips from Shirley on all the ways you can use your vacuum cleaner attachment to clean nearly every square inch of your home (question — does it work on the actual cat?)
How to Deep Clean Your Pantry in 15 Minutes –

The Gracious Wife
Michelle is going to show you how you can get your pantry spring-cleaned up in 15 minutes! 
DIY Spring Cleaners
Here are six homemade cleaner recipes to freshen up your home, naturally.
Can cleaning toilets make you feel fancy? I sure think so after seeing these ADORABLE toilet bowl bombs from Angie! Make sure and go get her recipe.
Nothing says "clean" quite like the smell of citrus. Bring all that clean to your fridge with this DIY deodorizer recipe from Lisa!
Tons of DIY Spring Cleaner Recipes from Amy at DIY Candy
I realized that Amy is pretty much the Queen of Clean! Here are four awesome DIY cleaner recipes from her blog:
Non-Toxic Homemade Kitchen Cleaner –

Boxwood Avenue
Chloe is all about green living and she shares her awesome recipe for creating a non-toxic kitchen cleaner for your home — because getting your home clean should make you worry less, not more.
This DIY cleaner from Stacey will get you unbent about how dirty your yoga mat is — seriously, those things can get YUCKY!
Finally, Ellen is going to make your home smell so fresh and so clean with this DIY Febreeze cleaner spray! Head over to her blog to get the ingredients.
I hope you enjoyed this list of spring cleaning tips and hacks!
Now you are ready to be a lean, mean, cleaning machine!
If you enjoyed reading this post, I would really, really appreciate it if you shared it on social media or Pinterest! Spread the cleaning joy!
Pin this helpful guide!