20 Genius Command Center Ideas to Help You Stay Organized 24/7
This post may contain affiliate links for your convenience. That means that if you make a purchase, I will receive a small commission at no extra cost to you. Read more here.
It can be tough to stay organized and on time as a busy family. If you are looking to get your family running like a well-oiled machine with a family command center, here are twenty awesome DIY command center ideas that can help you finally get your entire life in order!
Twenty genius command center ideas to stay organized
Here are twenty DIY command centers by some amazingly talented bloggers who have mastered the art of organizing their whole life.
Personalized Command Center – Home by Jenn (guest post by Lacey from One Day of Honey)
These ladies obviously have an eye for organization, just check out this perfectly arranged family command center. Make sure you read to see the five benefits of having a family command center in YOUR home!
Take command of the school year with this excellent post from Jen at iHeart Organizing!
5 Tips for a Command Center – Bless'er House
I was so lucky to have Lauren as my mentor at the Haven blogging conference.
I obviously have a LOT to learn from her when it comes to organizing…luckily, she shares her five amazing tips for creating a command center on her blog, Bless'er House!
Fellow trash whisperer Emily from Table to Hearth shares how she took some chippy old shutters and turned them into the perfect command center!
Parent Command Center for Busy Moms – Aileen Cooks
I love how Aileen has labeled all of her command center sections, so it's no mystery exactly what goes where! Obviously, Aileen does more than cook. 😉
The way that Ashley from Domestic Imperfection used a map to make her command center even more gorgeous is honestly sheer poetry.
Not only does Charlotte from At Charlotte's House have an amazing sense of style, but she also has a great sense of humor, as you can see from her command center title.
Organization Board Family Command Center – Girl Loves Glam
McKenzie from Girl Loves Glam used a nice piece of walnut-stained pine to serve as the basis for her command center! Gorgeous!
This project from Valerie at The Caldwell Project was a "labor of love" for her — but a total piece of eye candy for us!
Thanks to her hubby for demonstrating how it works.
This command center was awesome enough to get Jenna featured in the Better Homes and Gardens January 2014 edition magazine! How cool is that?
I really appreciate the minimalist feel of Annie's command center…I feel like this is really a command center that anyone could emulate! Score for relatability!
This command center from Andrea at One Creative Housewife has got it goin' on. All those parts working together in perfect harmony. Organizing heaven!
Farmhouse Style Family Command Center – Little Vintage Nest
I love Sarah's use of baskets here in her farmhouse style family command center! Also the metal "home" cutout on the shutter at the top — genius.
I adore everything about this vertical command center from Lindi at Love Create Celebrate, but especially those metal envelopes for papers!
So glad that Laura from Little Yellow Wheelbarrow thought to cater to farmhouse style with a small-space twist! Honestly, this rustic command center is totally fabulous.
Everything that Jenn at Clean and Scentsible does is, well — clean and sensible! The way she organized her command center not only makes sense, it's beautiful to look at as well.
Coastal Farmhouse Command Center – Sand Dollar Lane
Time to get a little nautical with this coastal farmhouse command center from Leen and James at Sand Dollar Lane. Not only is it perfectly organized, but it's also perfectly styled.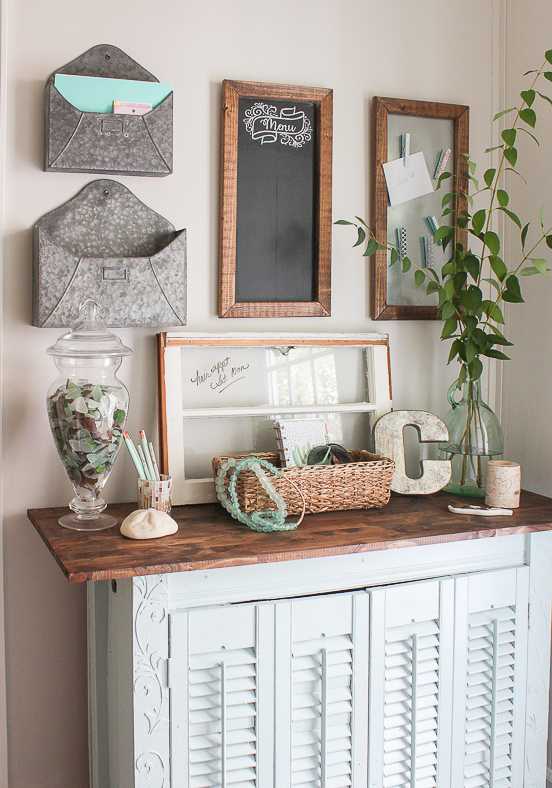 I love how Chelsea upgraded her fridge by turning it into the family's command center! I especially appreciate the magnetic "to-do" and "done" list.
Chris from Just a Girl Blog turned a cabinet into an organized drop space…she even put pegboard and a decorative magnetic sheet inside the doors to make them functional! Talk about optimizing space!
Farmhouse Shiplap Wall Key Holder – Sawdust Sisters
This farmhouse wall unit can hold your keys and papers. Fixer Upper fans will like the rustic minimalist aesthetic that the Sawdust Sisters employ here.
There you go! Twenty amazing command centers to get your family organized.
Leave me a comment in the comment section below and let me know which one is YOUR favorite.
Related posts:
Pin this!
SaveSave
SaveSave
SaveSave
SaveSave
SaveSave
SaveSave
SaveSave
SaveSave
SaveSave
SaveSave
SaveSave
SaveSave
SaveSave