Decluttr Review: Is the Decluttr App Really Worth Your Time?
This post may contain affiliate links for your convenience. That means that if you make a purchase, I will receive a small commission at no extra cost to you. Read more here.
Have you been searching for a way to get rid of unwanted items around your home — and perhaps even to make a little cash while doing so? Decluttr lets you sell your unwanted media and tech on an easy-to-use platform — but is the Decluttr app really worth your time?
Read this thorough Decluttr review and see how Decluttr compares to its competitors, like eBay.
Decluttr Review: Is the Decluttr App Worth Your Time?
The answer to deciding if the Decluttr app is really worth your time reads not unlike your Facebook relationship status back in college; in short, it's complicated.
Today you will find out how to set up a Decluttr app account, how to sell items on Decluttr, compare how much money you can make on Decluttr versus its competitors, and finally decide if the Decluttr app is a legit way to make money.
So let's dive in!
What can you sell on Decluttr?
There are multiple tech and media selling options on Decluttr. You can sell:
Books
DVDs
CDs
Blu-Rays
Video games
Video game consoles
Cellphones
Computers
Tablets
iPods
Kindles
Wearable tech (like smartwatches)
As far as rules and requirements for selling on Decluttr, there are quite a few but basically, you want the media or tech to be in good+original condition and have all original parts (like accompanying CDs for textbooks).
That means any modifications that you have done (such as modifying Playstations to accept pirated disks or sticking on decals) may result in them rejecting your items.
If your items are rejected by Decluttr, they will not send them back to you (they would lose money shipping by doing so); instead, they will recycle the items (except for tech).
That means that you really want to make sure your items are in good condition, because if they are rejected, not only do you not get paid, but you won't get the item back either!
Check your books for wear and tear and open all DVDs and CDs to ensure that all of the disks are still in place!
Evaluating the Decluttr App
There are two basic questions you need to consider when deciding if you want to use the Decluttr App. Those questions are:
Is the Decluttr app easy to use?
Can I make good money on the Decluttr app?
The short and sweet answer to the first question is yes, the Decluttr app is very easy to use. The question of how much money you can make on the app is a little less clear cut.
In order to answer this question, we are going to compare two other common options for selling multi-media: eBay and resale bookstores (in our area we have Half-Price books, so that is what I am going to use as an example for books.
My street cred
In case you are wondering if I am qualified to make this comparison rest assured I have plenty of experience on both platforms.
After using the KonMari method to declutter my home I started making over $15,000 on eBay selling my unwanted junk and maintain a 100% customer satisfaction rating for hundreds of sales.
How to use the Decluttr app
The Decluttr app is incredibly easy to use and is much more user-friendly than eBay, which has a much steeper learning curve.
You can set up your entire account, scan your items for sale, and print the shipping label all from your cellphone!
Here is how to get started with a Decluttr account.
1. Download the Decluttr app from the App Store on your mobile device
Simply go to the App Store on your mobile device and search for "Decluttr" and then hit "Get" and "Open" once the download has completed.
2. Create a Decluttr account
Once you have opened the app you will see this screen. You can then tap "register here", followed by "create an account".
At that point, you will see a long screen that asks you to fill in your name, street address, email address, etc. Fill in all the required information and tap "create an account".
Once you get all that completed you are ready to start selling!
How to use the Decluttr app
Now that you have your account all set up, it's time to start selling! Grab all the items that you want to potentially sell on Decluttr and have them close at hand.
I had an entire plastic bin full of DVDs and books to go through.
One by one, take your items and open a selling window for tech or media, depending on what you are selling.
At that point, you will see a square with a moving line inside of it. This is what you are going to use to scan the barcode. (Compared to eBay where you must search for and list items one by one Decluttr is much faster and easier to use.)
Unfortunately, the items that you scan may not all be accepted.
Out of 17 DVDs that I scanned with the Decluttr app, only 7 were accepted — and they certainly weren't ones that I thought would be preferred!
The top row of DVDs were the ones rejected by Decluttr and the bottom row features the 7 that were accepted.
You will know immediately when scanning if an item is rejected because you will see a red notification at the top. Accepted items will show the offer price from Deluttr in green!
You can keep scanning and switch between media and tech for the same order. Once you have completed your scanning, you will see a final window open up with a list of the items and their offer price.
To remove items from the sell list all you have to do is place your finger on the item name and drag left to see a red "delete" button. That item can then be deleted.
Here are some of the price offers I received for my DVDs:
Revolutionary Girl Utena: The Movie – $0.93
Come Drink with Me – $0.60
Crunch – The Perfect Yoga Workout – $0.20
Power Yoga – Total Body Workout – $0.21
A League of Their Own – $0.23
Bio-Dome – $0.82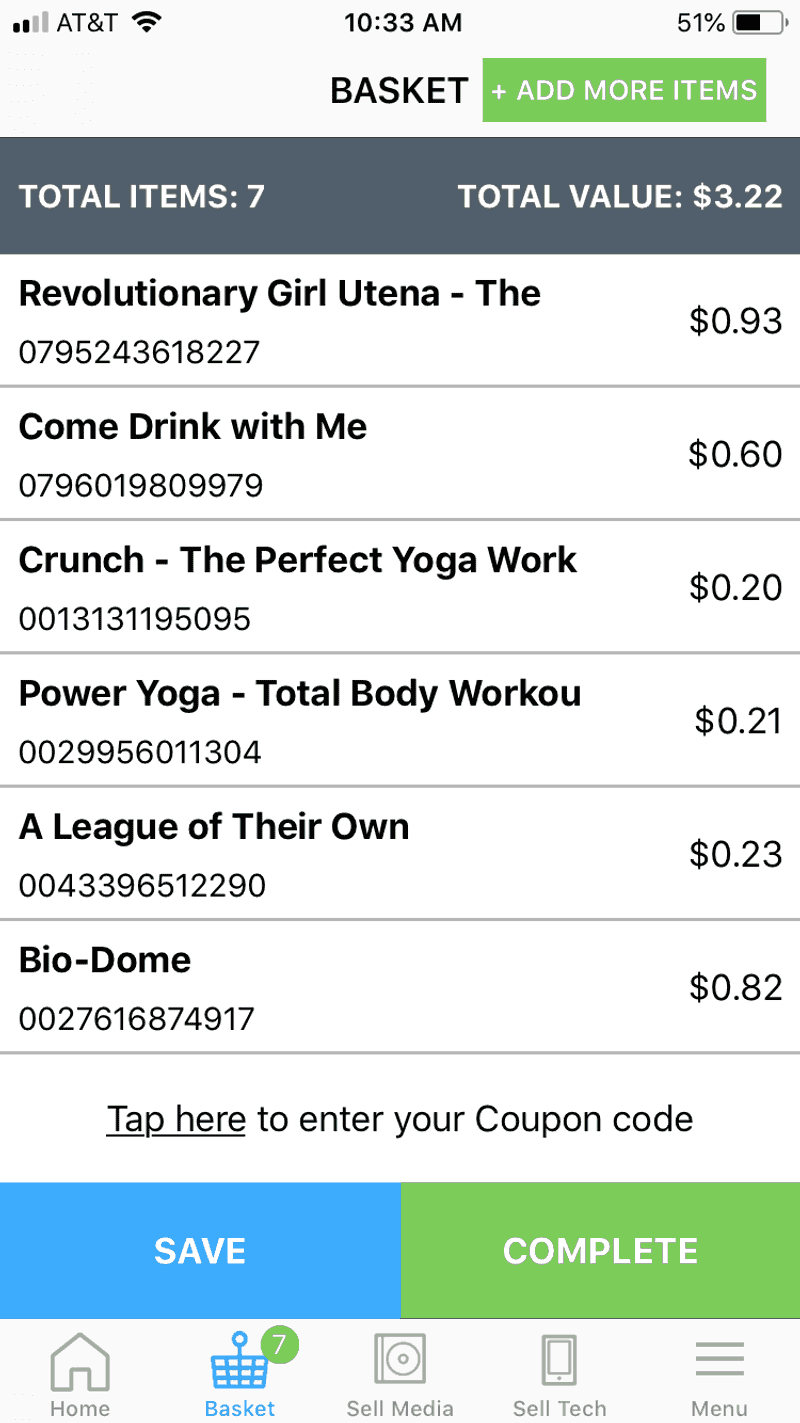 How much money can you make on Decluttr?
Let's compare how much you can make selling books, DVDs, and gaming consoles on Decluttr versus its competitor, eBay.
Selling books on Decluttr
Out of the entire bin that I had full of books, very few were accepted by Decluttr.
Of the ones that were accepted, the offer price was quite low.
However given that other book resale options like eBay and Half-Price books also low-ball offers, the prices that Decluttr offered weren't too bad.
I did feel that it was a little frustrating to see book after the book get rejected by Declutter.
You can see here three stacks of books; the top stack was rejected by Decluttr and the bottom two stacks were accepted.
However, after seeing the price offer from Decluttr I decided to separate some of the books (bottom right stack) to sell on eBay instead; here's why.
Can you make more on eBay or Decluttr?
Here are examples of the books that I removed for sale on eBay instead of Decluttr. Notice the big price discrepancy.
Evaluation and Treatment of Swallowing Disorders
Declutter offer = $9.00
eBay range = $31 – $76
Culture Eats Strategy for Lunch
Decluttr offer = $1.13
eBay range = $23 – $43
40,000 Selected Words
Decluttr offer = $3.00
eBay sell range = $75 – $140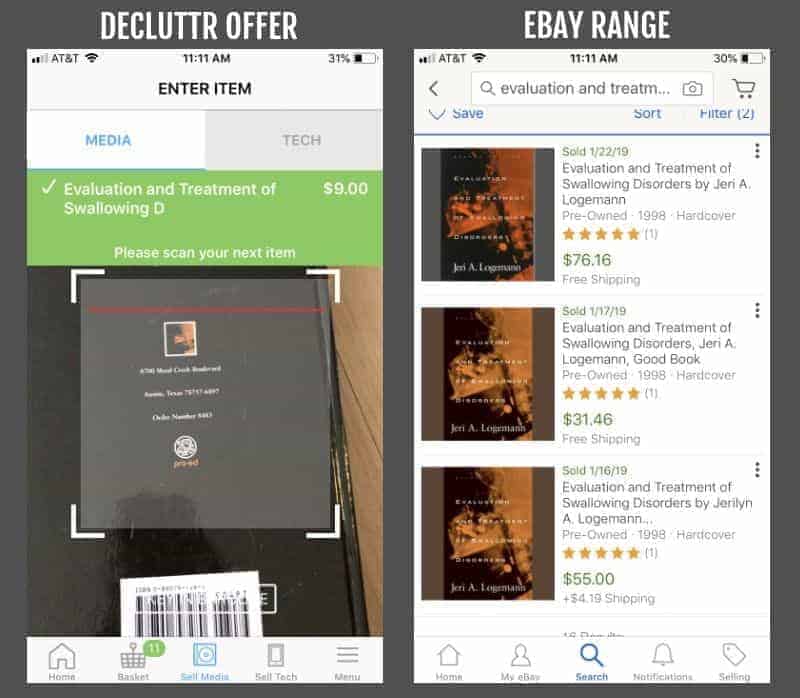 Is eBay or Decluttr better?
There was a pretty big difference in how much I could make selling my books in bulk on Decluttr versus selling them one by one on eBay.
I discovered that if Decluttr offered me anything over $1 I should take a look at eBay and see how much more I could sell it for there.
Usually, there was a pretty big price difference in favor of eBay. That is why I decided to separate my books, pulling out the ones worth $20+ on eBay.
However, when decided which to use yourself, you have to consider that eBay will also take more time because you have to create each listing one-by-one, weigh the item, package the item, wait for it to sell, ship it, etc. These things take time and resources.
You will need to decide for yourself if the price difference between eBay and Decluttr offsets the time you will need to put in when comparing the two platforms.
When comparing Decluttr to a brick-and-mortar resale bookstore like Half Price Books, it's a no-brainer; Decluttr wins hands down! I have taken huge boxes of excellent books to HPB and gotten only a few bucks for my troubles.
Considering I got $5.47 for the 15 DVDs and books that were accepted, I thought it was not bad.
(You could also choose to donate your items if you don't feel like either platform is worth the effort!)
Selling DVDs on Decluttr
I didn't see a big price difference between one platform and another, although Decluttr did reject 10/17 DVDs the time you would need to put into creating a listing on eBay and shipping the DVDs doesn't really seem to be worth it.
I decided to donate the DVDs that were not accepted by Declutter.
Selling gaming consoles on Decluttr
Although I had zero intention of selling my precious PlayStation 2 I decided to scope out the difference in offer prices between eBay and Decluttr for you (you're welcome).
This round was a tie; the offer prices on eBay versus Decluttr were equal. So it seems like Decluttr might be a great place to sell gaming consoles and other tech!
Definitely do a cost comparison analysis if you are thinking of selling one, as prices may differ by make, model, and age. In the case of older units, eBay buyers might be a little more forgiving than Decluttr, since you will be able to note any defects or wear in the listing.
Decluttr = $28
eBay = $29.99 + shipping
How does Decluttr pay?
After finalizing your order for selling you have several options on how you want to get paid. You can choose to get paid via PayPal, check, or direct deposit. I went with Paypal because that is how I receive my payments through eBay.
I received payment once Decluttr received my shipment; the full amount, with no issues.
Decluttr pros and cons
Decluttr has both pros and cons, especially when you compare it to its competitors.
Decluttr pros:
Easy to use, especially compared to eBay
Fast; can do entire box quickly
Shipping is paid for; you just need to drop it off
The price you see it the price you get; no auctions or waiting to sell
Trustworthy; no dealing with potential scammers (B+ BBB ranking)
Decluttr cons:
Not all items are accepted
You don't know until they receive it if the condition is acceptable (they will return tech)
Price is often much lower than eBay
Look, I know the amount I received wasn't mind-boggling but then again I was selling a lot of low-end items. It would be different if I was looking to flip some pricier items.
If I needed to sell a game console, cellphone, or other high-end tech I might choose to go with Decluttr over eBay simply because those kinds of deals are known for attracting scammers who know how to exploit every loophole on eBay! (I'm not saying you will get scammed if you sell these things on eBay, just that it's more likely.)
(Looking to make more money online? Check out this list with 75 things that can get you good money on eBay  — some are worth hundreds!)
I hope you enjoyed this Decluttr app review!
Let me know if you have any questions in the comments section below…and happy decluttering!
Pin this!