75 Best Things To Sell on eBay
This post may contain affiliate links for your convenience. That means that if you make a purchase, I will receive a small commission at no extra cost to you. Read more here.
Are you interested in turning your household clutter into cold hard cash or make money by thrift flipping, but not sure what items sell well on eBay? Got you covered! Check out this list with 75 of the best things to sell on eBay for high profits — some are worth hundreds!
Start treasure hunting in your very own home today with this list of the best things to sell on eBay as a guide, and get ideas for things to resell on eBay that you can find at thrift stores, garage sales, and flea markets.
Who knows, maybe you even have what it takes to start a six-figure thrift flipping business.
75 Best things to sell on eBay – you may be surprised!
This list of the best things to sell on eBay has been built from personal experience selling on eBay and observing thousands of listings on that selling platform.
Some of these items can be found for free and sold for pure profit; others are worth hundreds or even THOUSANDS on eBay.
All for stuff you just have lying around your house or at your local thrift store.
Mind. Blown.
---
What you need to sell on eBay
Before we dive into the best items to sell on eBay, let's talk about what you need to turn your home into a money-making machine equipped to sell on eBay.
While you don't need much stuff to start selling on eBay, having these items around will help keep your profits high and save you time.
(Since we all know time is money, that is pretty important.)
What you need to make money on eBay (best tools list):
The best phone for selling on eBay – your very own smartphone, of course!
A free photo-editing app (I like Snapseed)
An accurate and reliable scale – this one weighs per ounce up to 86 lbs
Measuring tape – for measuring shipping dimensions

Packaging tap

e – for closing boxes and packages
Boxes, envelope mailers, and other packing supplies
Mannequins are a great investment you can always resell later – there are torso mannequins (I used this one), adjustable torso mannequins, and even leg mannequins!
How to make the most money on eBay
If you want to make money on eBay, the Advanced Search feature is the most valuable tool you have in your eBay arsenal.
It allows you to check Sold Prices for similar items so that you can see what other people (read, competitors) are charging for the exact same things.
Don't try and sell something without first checking to see the value of the item on eBay (especially if you are thrift flipping for profit).
Knowing the approximate value of the item you are selling will help in pricing it to sell fast for a tidy profit.
Remember, always check items for their SOLD PRICE and not by current list prices.
People could charge any price for anything on eBay if they want; that doesn't mean it will sell!
If something is not selling either the price is too high or that is not a desirable item.
Whenever you are digging around your home searching for treasures or browsing secondhand items, have the eBay app open so you can quickly check recent sale prices for items you find!
How to use the eBay app advanced search function on your mobile phone:
Open the eBay app
Click the magnifying glass at the bottom to open the search bar
Type your keyword in the search bar – it will automatically open the results for that keyword
Hit the "Filter" button at the top right of the app
Scroll down to toggle the button for Sold Items until it turns green
Click done and see recently sold items (green)
Look for prices in green and check the cha-ching!
Are you still feeling confused?
See a complete video demonstration on how to use the eBay advanced search function and watch how I find high-profit items at the thrift store!
What to sell on eBay – 75 surprising ideas!
This list is SURPRISING things that sell well on eBay — I'm not going to go over things like iPhones, MacBooks, and Yeezy shoes because — duh — obviously, those things are going to sell well.
Here are some of the best selling items on eBay that you can find laying around your home or easily at the thrift store!
Items have been separated into similar categories for your convenience.
Toys and collectibles to sell on eBay
1: Swarovski crystals and crystal figurines
These are worth more if you have the original box, but can also be sold without — I have even successfully sold crystal figurines that were broken!
2: Disney Items
Almost anything Disney sells well on eBay. If you have multiple items within a category (like a bunch of DVDs) it's great to bundle them together.
Here are some Disney items to sell:
Vintage mugs
Funko pop Disney characters
Figurines
Snowglobes
Dolls
DVD lots
3: Barbies
Barbies can be sold individually or in related lots, such as "Christmas Barbies" or "Gone with the Wind Barbies".
Even if you have Barbies with missing parts or in poor condition you can sell those as a lot — some people use them for arts and craft projects.
4: Barbie accessories
Barbie clothing and accessories can be sold on eBay separately. Barbie shoes, purses, houses, cars, pets, hair care items, etc, it's all sellable.
5: Almost anything Star Wars
Vintage Star Wars toys can be worth a lot, especially if they are still mint condition in the box. However, anything with a Star Wars theme can do well, like Star Wars lunch boxes.
6: LEGOs
LEGO lots and collectible LEGOs (especially vintage LEGO sets that are still in the box) are great items to sell. If you can find unopened vintage LEGO sets you could be sitting on a gold mine. However, even assorted LEGOs can be sold, even in small lots.
7: On-trend toys
Pay attention to trending items and you can really make big money! At one point Hatchimals were being snapped up by resellers for Christmas for $79.99 at stores like Walmart and then being resold for $200-$500 on eBay!
Trends come and go, so try to keep your eyes peeled for any opportunities to get on board.
8: Vintage toys
With the advent of shows like Stranger Things, vintage nostalgia is at an all-time high! Cash in by looking for retro and vintage items from the '80s, '90s, or even earlier!
Here are just a few types of vintage toys that I have seen sell well on eBay:
My Little Pony
Vintage He-Man and She-Ra dolls
Kenner Shimmers
Teddy Ruxbin
Cabbage Patch
Furbies
Teenage Mutant Ninja Turtles
9: Vinyl records
Especially for in-demand idols like The Beatles or Bruce Springsteen, vinyl records are a great item to watch out for and sell on eBay. (It's best to make sure it is in working condition before selling.)
10: Board games
Board games can be pretty expensive. If you can find a vintage board game in good condition with all it's pieces or new board games that are unopened those can be sold for good prices. Unopened vintage board games are probably worth the most.
11: Head vases
Popularized in the 1950s, ceramic head vases can go for HUNDREDS on eBay, especially if you have a beloved person or character (like Jackie O or Dorothy from the Wizard of Oz) or an ultra-rare head vase.
One of my prized possessions is a head vase given to me by my grandmother.
When I started selling on eBay, I decided to look her up, just to see what she is worth. Mine looks just like this one below.
My grandma's old head vase is worth $440!!! Can you believe it?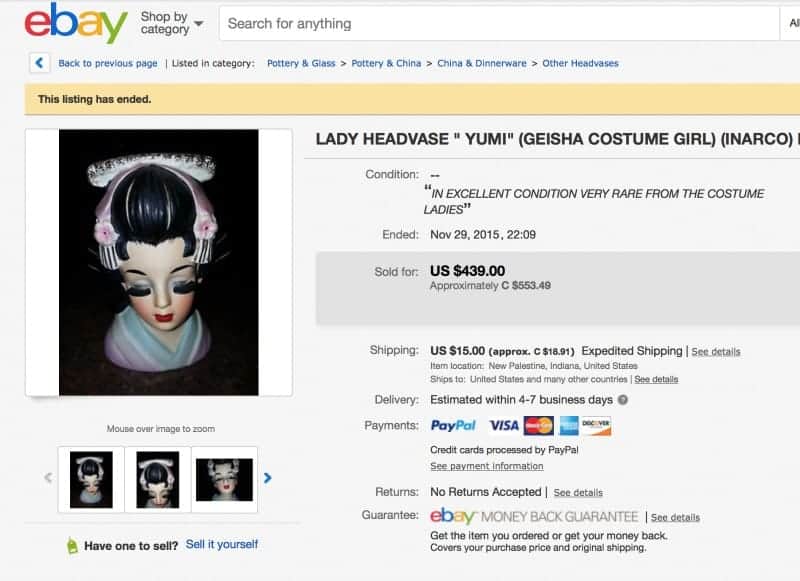 Household items to sell on eBay
12: High-End or Vintage Tableware
High-end brands like West Elm and Better Homes and Gardens can sell for up to $50/plate, even in pre-owned condition with some wear. Also, pay attention to current trends because these items can often be snapped up and resold for higher prices (I am seeing this with brands like Rae Dunn, currently).
(Check for the brand or maker's mark stamped at the bottom of any plates or bowls to get an idea of the price.)
13: Teacups
Teacups seem to be worth either nothing or a lot. Check the makers stamp on the bottom of your teacups and compare to the ones online. I saw one teacup go for over $800! *Sips tea*.
(Check for the brand or maker's mark stamped at the bottom of any plates or bowls to get an idea of the price.)
14: Fenton and carnival glass
Not all Fenton or carnival glasses command high prices. Certain colors, collections, and sizes are worth more. Any damage will also reduce the price — watch out for chips or hairline fractures on these items, which can be hard to miss.
15: Cookware
People LOVE to look for deals on high-end cookware available for resale on eBay! For example, wannabe chefs can score this 5-Quart Le Creuset braiser for 1/3 to 1/2 price on eBay!
Other kitchen brands to watch for:
All-Clad
Nordic Ware
Pampered Chef
Emile Henry
16: Jadite
Jadite is a highly desirable a radiation-green looking type glass and you can often find plates, bowls, saucers, and vases at thrift stores.
While always popular with niche buyers, Jadite seems to be making a mainstream comeback recently thanks to Chip and Jo from Fixer Upper. I recently saw that they had some Jadite-style cups and other items for sale at Target for their Hearth and Hand line!
17: Pyrex
If you have some old Pyrex sets in good condition (especially certain colors like turquoise and pink or patterns like the atomic eye) you can sell them for a tidy profit.
If you find them while thrifting, refer to competitor listings and make sure you aren't missing any pieces, like a lid to a dish or bowl, which may reduce the expected price.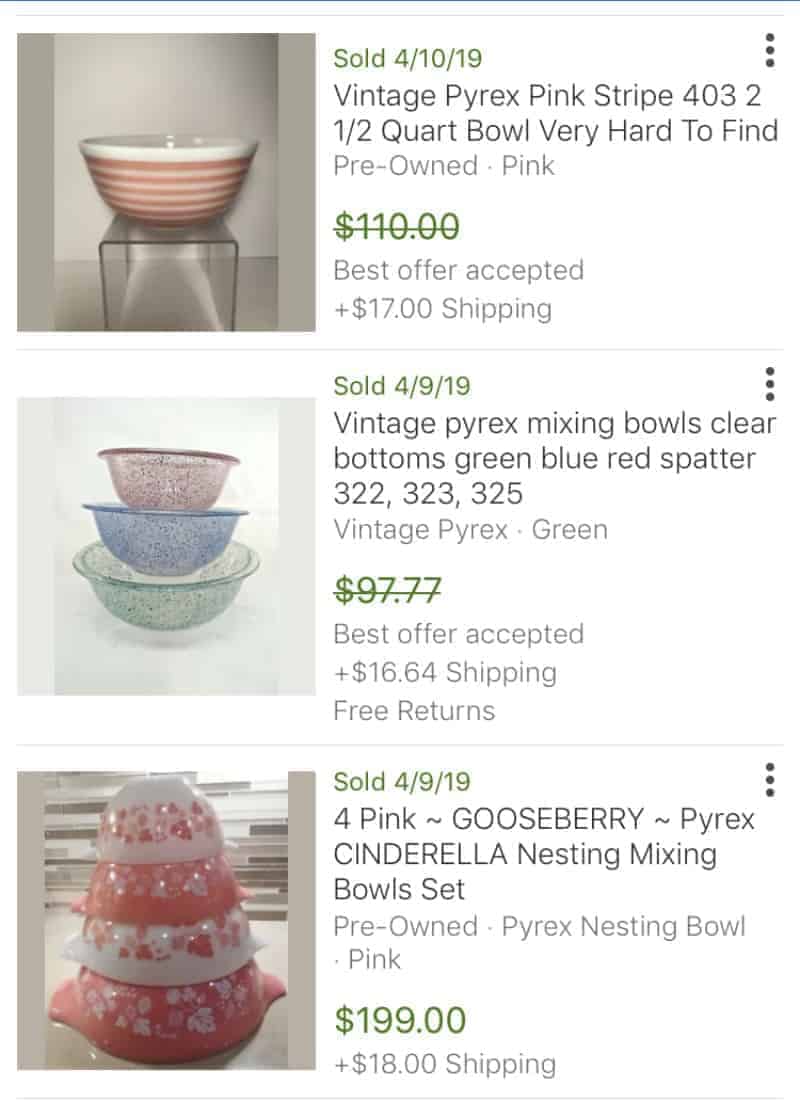 Shoes, Apparel, and Accessories
If you have a lot of clothes or high-end clothing, you might make more money selling your clothes, shoes, or accessories at one of these websites that are specially for selling clothes online.
18: Name brand and lots of clothing
Brand name clothing can sell well on eBay, depending on the time of the year and the brand. While new with tags items usually perform better, your item doesn't necessarily need to be in perfect condition if it is highly desirable!
Here are some brand names that sell well:
J. Crew
Ralph Lauren
Burberry
Johnny Was
Rag and Bone
Anthropologie
Free People
If you don't have highly desirable brands, even regular brands can be sold in bulk, like lots of Old Navy summer clothes in the same size.
(Always be open and honest about the condition of the item, which will reduce the chances of having returned items or negative reviews.)
19: Athletic clothing
Both new and vintage name brand sportswear sell well on eBay. The condition is important; less visible wear is preferred.
Here are some great brands to sell:
Nike
Adidas
Under Armour
Lululemon
Alo yoga wear
20: Lilly Pulitzer stuff
Lilly Pulitzer is a popular brand with women that produces colorful clothing and other wares, such as bedding and even picnic baskets!
21. Women's handbags
Name brand handbags in good condition, such as Coach, Louis Vuitton, Chanel, and Kate Spade to name a few, can go for hundreds or even thousands!
22: Suits and blazers
Women's and men's suits do well, depending on the brand. I am more familiar with women's suits and see a lot of Kay Unger, Talbots, Tahari, etc.
23: Wedding and formal dress wear
New, used, and vintage dresses for prom, quinceañera, or weddings sell great!
One of my best friends bought a Monique Lhuillier lace dress for her wedding from eBay for $1,500 — and she sold it after her wedding for the same price! Now that's thrifty.
24: Levi's jeans
Levi's jeans are one of those niche things certain people seem to love. They are very popular in Europe — my husband said people in Germany went crazy for them when he was living there. Vintage Levi's can go for over $100!
25: Watches
Watches are a good thing to watch out for (see what I did there?) Watches can go anywhere from a couple of bucks up to tens of thousands of dollars!
(Read about the guy who bought a watch from Goodwill for $6 and sold it for $35,000.)
26: Engagement rings
Broken engagement? Unloved gift? Ring doesn't fit anymore? Sell it!
27. Jewelry
Since necklaces are very light in weight and can be shipped with minimal cost, nice necklaces, earrings, and other types of jewelry can be sold for a nice profit.
Estate sales are especially great places to grab sweet deals on jewelry. You can also sell jewelry lots with random pieces as a "junk jewelry' sale.
28: Men's leather shoes
If you have unwanted leather shoes, those can sell really quickly. Look for desirable brands with minimal wear — larger men's sizes can sell particularly well because men with larger feet often have a hard time finding shoes that fit (look for wide sizes like EEE)!
Here are some brands that sell well:
Allen Edmonds
Ralph Lauren
Cole Haan
Prada
Dolce Gabbana
Timberland
Salvatore Ferragamo
Outdoor Clothing and Gear
28: Outdoor clothing
Start listing and selling clothing at least one season before — if you want to sell winter items on eBay, begin to list them towards the end of summer and early fall.
Here are a few brands and items that sell well:
The North Face
Patagonia
Kathmandu
Pendleton
29: Snowboarding gear
Anything from snowboarding pants to anti-glare goggles to actual snowboards can be sold on eBay. Don't forget to start prior to snowboarding season!
30: Bicycle parts
Frames, seats, handlebars, and wheels, almost all parts of a bicycle can be sold for a great price on eBay, if you have a high-quality bike.
31: Picnic baskets
Almost every time I go to Goodwill I see vintage picnic baskets, which are quickly snapped up! If you can find a wicker picnic basket with all the tableware and accessories still inside that can fetch a great price on eBay!
Infant and child care
32: Pack 'n Play parts
If you had kids, chances are you probably have a Pack 'n Play laying around somewhere (one of the most useful baby shower gifts I EVER received).
A PNP can be broken down into parts and sold piece by piece for the same price as a brand new model!
33: Infant sleepwear
Infant sleep (or lack thereof) is a big deal for parents. If you have any Halo sleepsacks or Zipadee-zips laying around, sell them for a quick profit.
34: Fertility monitors
Fertility monitors and accessories to track fertility are very, very expensive. You can recoup some of that cost by reselling your fertility monitor, unused fertility monitor sticks, fertility bracelets, ovulation testers, and more on eBay!
35: Infant car seats and accessories
Even if you only have the base, you can make good money. Make sure that you know the manufacture date (should be somewhere on the car seat) because they have a limited shelf life (mine was a Chicco Keyfit 30, good for 8 years).
36: Baby carriers
Again, pretty much all moms have owned at least one (and sometimes many) types of wearable baby carriers (I had an organic Ergo). When you don't need it anymore, sell it on eBay!
37: Niche baby items
Niche baby care items can also sell well. I had this pillow to help remediate my son's plagiocephaly (flat head) and after he was finished using it, that used pillow went for $90 on eBay!
I also sold some wedge-shaped pillows that were meant to be placed under mattresses to help children with reflux issues.
If you have any specialty items that your children used and have outgrown they can be passed on to a new family for a good price.
38: Trains and train sets
Not only more recent train sets like Thomas and Chuggington but also vintage toy trains can be sold on eBay. You don't have to have the entire set either; people often buy replacement tracks and parts for items that get broken or lost.
39: Diaper bags and accessories
I converted my Ju-Ju-Be BFF diaper bag into a camera bag (you can pry it out of my cold, dead hands), but I could have just as easily sold it on eBay.
Brands like JuJuBe and Petunia Picklebottom sell very well on eBay, even if they are in used condition.
(Find out how to clean your JuJuBe diaper bag or when you are done lugging diapers around turn it into a camera bag with this sweet hack!)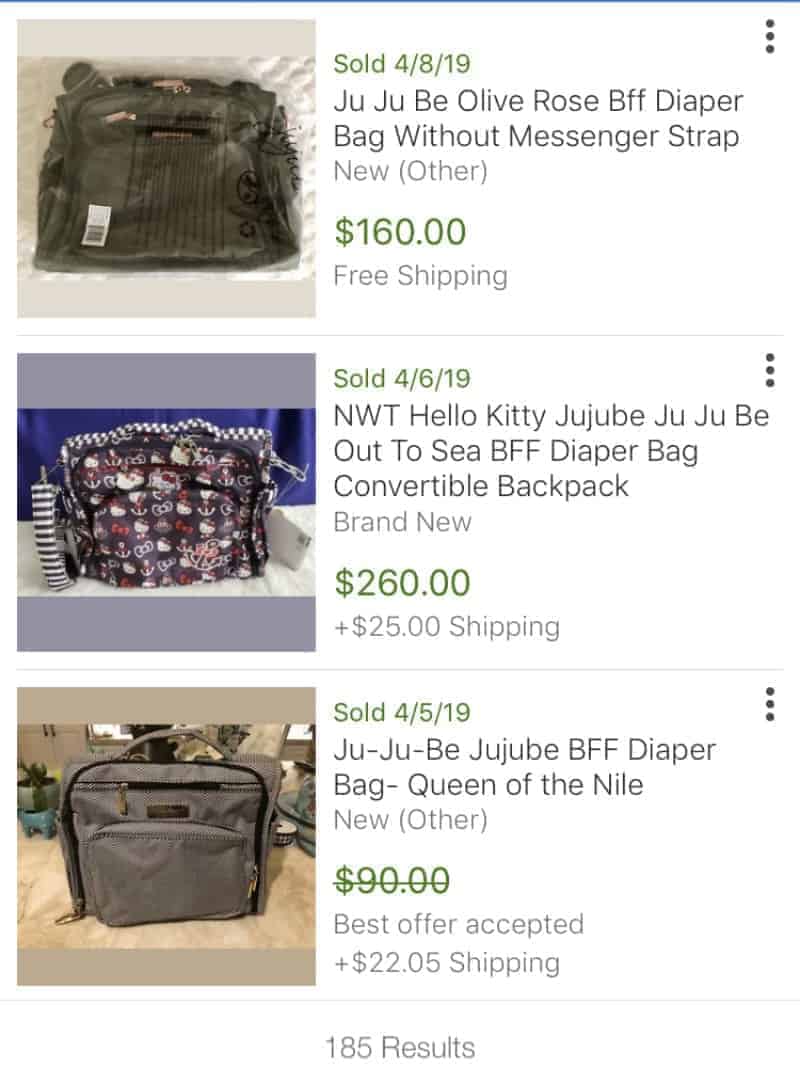 Sporting gear
40: Baseball mitts
Start selling your old mitts before or during baseball season and you can make a pretty penny. Vintage mitts can go for hundreds, depending on the brand and specific model.
Take a look at the palm, the stitching, inside the mitt, etc to assess the quality and note the specific mitt type and use the eBay Advanced Search feature to try and look up the specific mitt on eBay.
You can also check the maker's website or run an online search. There are websites that specifically list different baseball mitts by serial number to help people identify their value.
41: Golf shoes
Both new, used, and vintage golf shoes can be sold quickly for the right price. Try and clean any dirt, grass, or other debris off before photographing and selling.
42: Team sports apparel and collectibles
Jerseys, shot glasses, bobbleheads, all sorts of team collectibles can be resold on eBay.
Tech and electronics
43: Broken phones
If you got a new phone because your old one broke you can sell your broken phone! Some people buy broken phones specifically to flip.
Just BE SAFE and wipe your phone of all data before selling!
44: Phone accessories
Because phones are so expensive nowadays there is a big market for replacement phone parts and accessories, like cords.
Protective phone and iPad cases, like Otterbox, can sell well, even in used condition.
45: Video game consoles
If you are a lucky soul that has an original, working Atari or Nintendo, there is a great market out there for that.
46: Video Games
From vintage to brand new, video games are in hot demand. Check individual games on the eBay app to see what they are worth — make sure they are in working order before you sell (unless they are new in the box, in which case don't open them!)
47: Video Game controllers
Video game controllers can get expensive so if you have any extras lying around they can be sold on eBay for a decent amount.
48: Cameras and accessories
Cameras and camera accessories are very expensive; a lens alone can cost hundreds or thousands of dollars. People like to watch out for deals on costly camera equipment like Nikon and Canon DSLRs so they don't have to pay full price.
49: Polaroid cameras and accessories
While you can buy new Polaroid camera models now online, vintage Polaroids and Polaroid film can also be sold on eBay. Check out how much someone paid for that that Polaroid film below!
Beauty products
50: Perfume and cologne
As long as you have more than 90% of a desirable type of perfume or cologne, you can sell it!
Highly valued and discontinued perfumes can go for even more, and people might even still be will to buy if it's 50% full or less.
51: Unused makeup
If you have some MAC eyeshadows or Estee Lauder lipsticks you have never used, turn those into cash in a heartbeat.
52: Makeup brushes
Makeup brushes can also be sold on eBay. MAC is one brand that seems to be consistently in high demand on eBay.
53: Empty perfume bottles and makeup containers
Colorful, vintage, or high-ticket items like MAC, Christian Dior, Guerlain, and more can sell even if the containers are empty!
54: Special Edition makeup collectibles
Makeup or makeup accessories that are sold as part of a "special edition" series can be sold for high prices! I once sold an empty Estee Lauder compact that was covered in Swarovski crystals for over $60!
Cars and Motorcycles
55: Entire cars
Yes, you can sell entire cars and motorcycles on eBay. Buyers may even be willing to drive long distances to acquire specialty vehicles or antiques.
56: Car and motorcycle parts and accessories
Anything from replacement seats to engine parts can be sold on eBay. People who buy cars as donors for cars they are trying to update can break down the entire car into parts to resell on eBay.
57: Bike wheels
I don't get it, but bike wheels go for tons. Make sure you know the specific brand, size, etc.
Miscellaneous items
58: Empty Boxes
It may seem unbelievable but people will actually pay for empty boxes on eBay. Here are some empty boxes that you can sell for high prices on eBay:
Shoe boxes (like Converse, Nike, Adidas, etc)
American Girl boxes
Apple iPhone or computer boxes
Cigar boxes
Swarovski crystal boxes
59: Empty bottles
Just like empty boxes, empty bottles can also sell well. Desirable bottles include:
Hennessey bottles
Tequila bottles
Dom Perignon bottles
60: Vacuum cleaner parts
Same idea as the PNP, if you have a defunct vacuum or upgraded to a new vacuum recently, that old vacuum is worth more in parts than it would be to sell as a whole.
61: Vintage Playboy magazines
Not my thing, but these seem to do well on eBay. I know a guy whose dad had boxes and boxes of these!
62: Used Crayons
Crafters love to buy crayons in bulk to melt down and make all sorts of different projects.
63: Toilet Paper Rolls
Also used for various crafts.
64: Power tools and accessories
Vroom vroom! Power tools and power tool accessories, like drill bits, can all be sold on eBay.
65: Gold or silver by weight
If you have a lot of gold or silver items, you can also sell them by the oz on eBay.
66: Discontinued items
If you have discontinued items you might be sitting on a goldmine. Even food items that have been discontinued can sell for a pretty penny. The McDonald's Szechuan sauce was trending a while back because of a Rick and Moriarty episode!
67: Pinecones
Large pine cones sell great on eBay, especially during the holidays. Crafters and home decor pros love pinecones for DIY projects and home decor, the bigger the better!
Since you can find pinecones for free this item is pure profit.
68: Wine Corks
Like pinecones, wine corks are popular for all kinds of crafts, like corkboards or kitchen chargers.
69: Ugly or Funky Christmas sweaters
Keep your eyes peeled all year round for ugly or funky Christmas sweaters because these babies sell like hotcakes for the holidays. Tons of people specifically buy ugly sweaters to get a laugh out of their pals at Christmas bashes.
Look for tons of sequins, crazy knits, and lots of personalities. List for sale well before Christmas, even as early as Halloween.
70: Foreign Language items
People who want to learn another language (or give their children toys to help them their native language) will appreciate the opportunity to buy cool products in a different language, like foreign language books, newspapers, toys, music, and more.
71: Airplane amenity kits
No joke, these items that you get for free when traveling by plane can be sold on eBay! The biggest profit will be for First and Business Class kits, especially names like United Polaris or Delta Tumi, but you can also sell lots of amenity kits for a decent price.
Books and papers
72: Book lots
It can be hard to make decent money with individual books on eBay, as the market is saturated — unless you have high-demand, antique, rare, or signed books.
However, if you have a group of many similar books, like Stephen King horror novels, the Harry Potter complete series, or even vegan cookbooks, your listing could do very well. I have also sold manga lots (Japanese comics), books related to Montessori-style teaching, etc.
With books, take care to note any wear or damage. Common book wear includes wear marks on the spines, bleaching of the cover due to sun exposure, or missing pages.
73: Textbooks
Old textbooks often fetch a high price; if you are a student, it's better to sell them right after waiting many years (like I did), as the price tends to lower as new editions are published. However, if you can find vintage textbooks from decades past those might also command high prices!
74: Instruction manuals
Instruction manuals are easy to lose or misplace. If you have instruction manuals for cars or appliances that you don't need anymore you can sell them on eBay.
75: Box Tops and coupons
If you are someone who goes through a lot of packaging, newspapers, mail, and catalogs you can collect Box Tops for Education and coupons and sell those online!
Ready to start selling?
Okay, you got the goods – now what?
WHERE TO GO NEXT:
SAVE + MAKE MORE MONEY
Pin for later!