80 End of the Year Quotes to Inspire You in 2022
This post may contain affiliate links for your convenience. That means that if you make a purchase, I will receive a small commission at no extra cost to you. Read more here.
What are the best end-of-year quotes to ring in the New Year? Here's a list of eighty of them!
As we reflect on the past twelve months and set personal goals we want to achieve in the coming year, we can't help but think about all of the wonderful things that have happened, the challenges we encountered, and feel hopeful about what's to come.
In honor of this special time of year, here is a collection with 80 of the best quotes for the end of the year to help you reflect upon and celebrate the past 365 days of your life.
You'll also find quotes to motivate, inspire, or make you chuckle – let's start 2022 with a bang!
READ MORE: 101 Positive Thinking Quotes for Good Thoughts and Vibes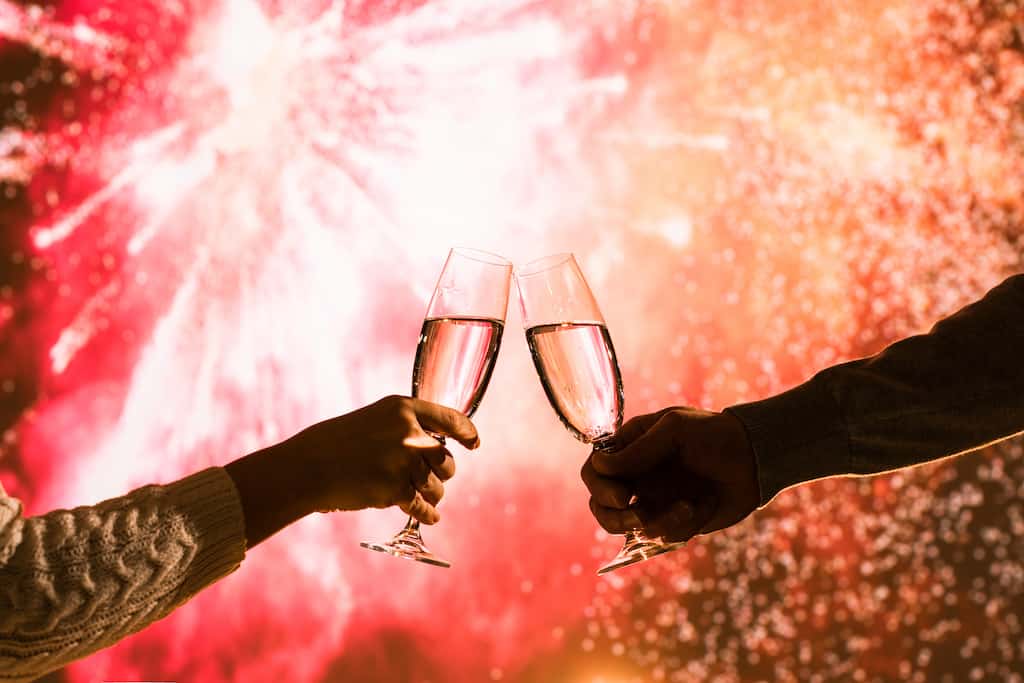 The best end-of-year quoteS
Inspirational quotes for the last day of the year
1. "The future belongs to those who believe in the beauty of their dreams." – Eleanor Roosevelt
2. "It is never too late to be what you might have been." – George Eliot
3. "Write it on your heart that every day is the best day in the year." – Ralph Waldo Emerson
4. "Your present circumstances don't determine where you can go. They merely determine where you start." – Nido Qubein
5. "One day you will wake up and there won't be any more time to do the things you've always wanted. Do it now." – Paolo Coelho
RELATED POST: 75+ Quotes About the Importance of Not Wasting Time and Life
6. "The bad news is time flies. The good news is you're the pilot."- Michael Altshuler
7. "Life is 10% what happens to you and 90% how you react to it." – Charles R. Swindoll
8. "A year from now you will wish you had started today" – Karen Lamb
9. Life can only be understood backwards; but it must be lived forwards. – Søren Kierkegaard
10. "Year's end is neither an end nor a beginning but a going on, with all the wisdom that experience can instill in us." – Hal Borland
11. "If you're brave enough to say goodbye, life will reward you with a new hello." – Paulo Coehlo
12. "The beginning is the most important part of the work." – Plato
13. "Live as if you were to die tomorrow. Learn as if you were to live forever." – Mahatma Gandhi
14. "Wherever you go, go with all your heart." – Confucius
15. "Everything you've ever wanted is on the other side of fear." – George Addair
16. "The secret of change is to focus all of your energy, not on fighting the old, but on building the new." – Socrates
17. "Don't be afraid to go out on a limb. That's where the fruit is." – Frank Scully
18. "On New Year's Eve, the whole world celebrates the fact that a date changes. Let us celebrate the dates on which we change the world." – Akilnathan Logeswaran
19. "Just when the caterpillar thought her life was over, she became a butterfly." – Unknown
20. "Tomorrow is the first blank page of a 365-page book. Write a good one." – Brad Paisley
READ MORE: 120 Minimalist Quotes to Simply Live Your Best Life in 2022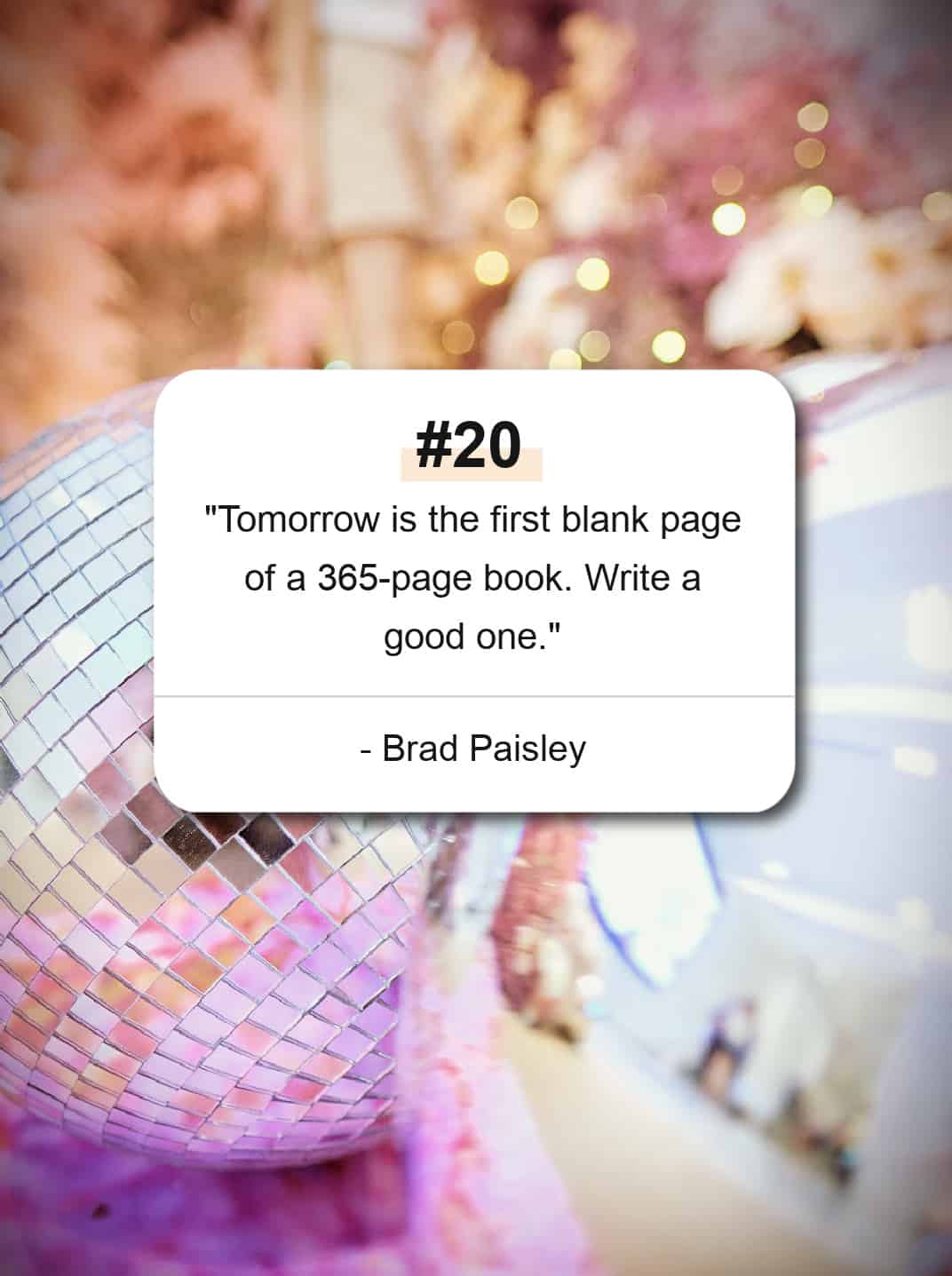 End of year reflection quotes
21. "New year—a new chapter, new verse, or just the same old story? Ultimately we write it. The choice is ours." – Alex Morritt
22. "Let all the failures of your past year be your best guide in the New Year." – Mehmet Murat Ildan
READ MORE: 90 Letting Go Quotes to Move On with Your Life This Year
23. "Learn from yesterday, live for today, hope for tomorrow." – Albert Einstein
24. "Yesterday I was clever, so I wanted to change the world. Today I am wise, so I am changing myself." – Rumi
25. "The secret to having it all is knowing you already do." – Unknown
26. "Every new beginning comes from some other beginning's end." – Seneca
27. "Can you remember who you were, before the world told you who you should be?" – Charles Bukowski
28. "Before you act, listen. Before you react, think. Before you spend, earn. Before you criticize, wait. Before you quit, try." – William Arthur Ward
29. "Follow effective action with quiet reflection. From the quiet reflection will come even more effective action." – Peter F. Drucker
30. "Without reflection, we go blindly on our way, creating more unintended consequences, and failing to achieve anything useful." – Margaret J. Wheatley
31. "One resolution I have made, and try always to keep, is this: To rise above the little things." – John Burroughs
32. "If plan A didn't work, the alphabet has 25 more letters." – Unknown
33. "Reflect upon your present blessings – of which every man has many – not on your past misfortunes, of which all men have some." – Charles Dickens
34. "When life is sweet, say thank you and celebrate. When life is bitter, say thank you and grow." – Shauna Niequist
35. "You do not become good by trying to be good, but by finding the goodness that is already within you." – Eckhart Tolle
36. "I have found that if you love life, life will love you back." – Arthur Rubenstein
37. "The first step towards getting somewhere is to decide you're not going to stay where you are." – J.P. Morgan
38. "I close my eyes to old ends. And open my heart to new beginnings." -Nick Frederickson
39. "Making New Year resolutions is one thing. Remaining resolute and seeing them through is quite another." – Alex Morritt
40. "Reflection is one of the most underused yet powerful tools for success." – Richard Carlson
BE INSPIRED: Top 20 Be Yourself Quotes to Embrace the Skin You're In!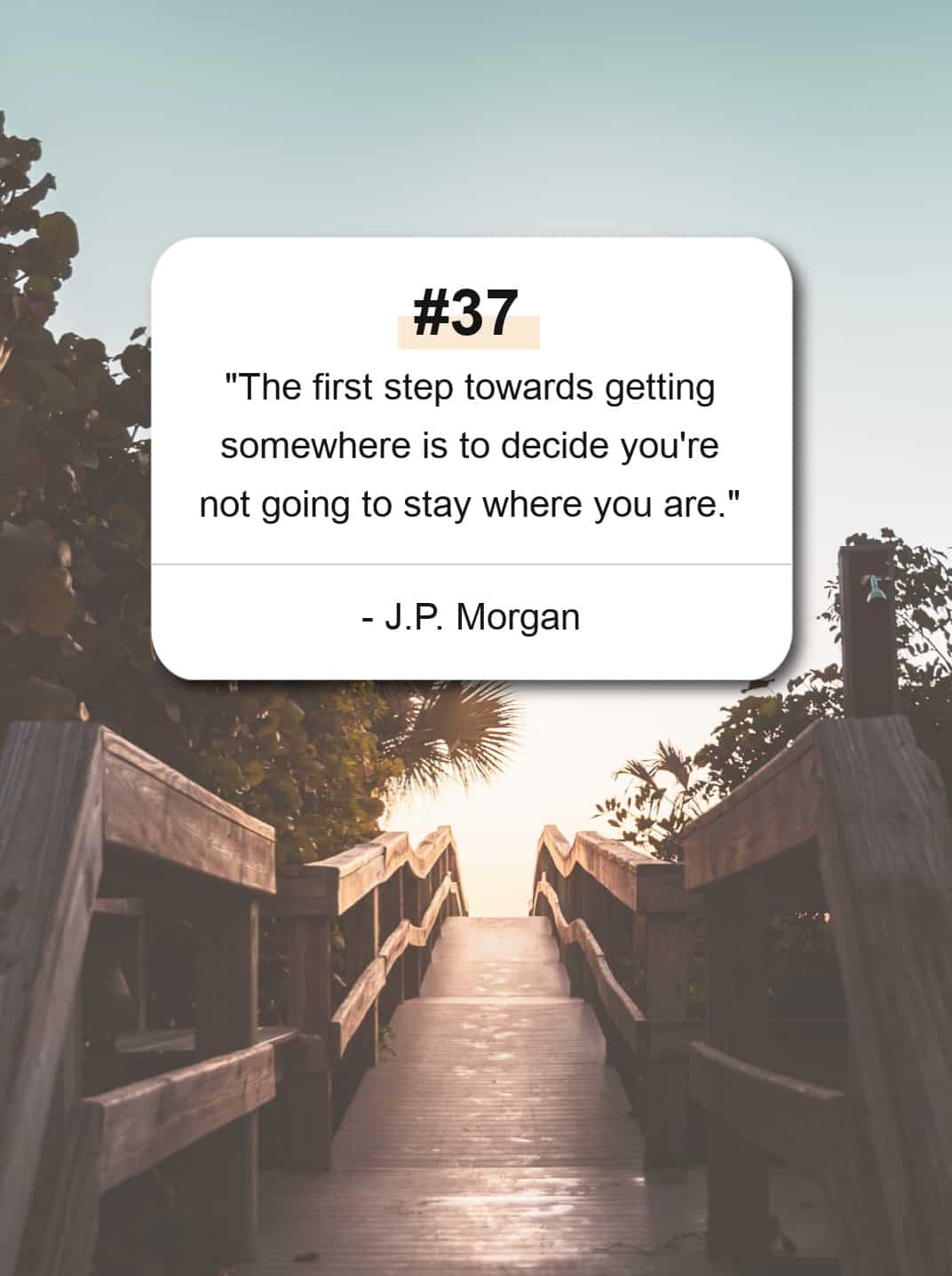 Funny end of the year quotes
41. "Last year's resolution was to lose 20 pounds by Christmas. Only 30 pounds to go." – Unknown
42. "My New Year's resolution is to tolerate fools more gladly, provided this does not encourage them to take up more of my time." – Hunar Hali
43. "Youth is when you're allowed to stay up late on New Year's Eve. Middle age is when you're forced to." – Bill Vaughan
44. "It's time to make old mistakes in new ways!" – Unknown
45. "Don't live the same year 75 times and call it a life." – Robin Sharma
46. "I would say happy new year, but it's not happy; it's exactly the same as last year except colder." – Robert Clark
47. "New Year's Day now is the accepted time to make your regular annual good resolutions. Next week you can begin paving hell with them as usual." – Mark Twain
48. "Good resolutions are simply checks that men draw on a bank where they have no account." – Oscar Wilde
49. "The proper behavior all through the holiday season is to be drunk. This drunkenness culminates on New Year's Eve, when you get so drunk you kiss the person you're married to." – P.J. O'Rourke
50. "An optimist stays up until midnight to see the New Year in. A pessimist stays up to make sure the old year leaves." – Bill Vaughan
51. "A New Year's resolution is something that goes in one year and out the other." – Unknown
52. "Be at war with your vices, at peace with your neighbors, and let every New Year find you a better person." – Benjamin Franklin
53. "No matter how dirty your past is, your future is still spotless." – Drake
54. "I have not failed. I've just found 10,000 ways that won't work." – Thomas Edison
55. "New Year's Day is every man's birthday." – Charles Lamb
56. "I've become fascinated by the idea that it's really achievable to make two or three small improvements in a week and by the end of the year, it's 150 improvements." – Darrell Hammond
57. "Never make a resolution which won't be as important on the eighth of April or the tenth of July as it is on the first of January." – Cary Grant
58. "Life is change. Growth is optional. Choose wisely." – Karen Kaiser Clark
59. "Tonight's December thirty-first, Something is about to burst. The clock is crouching, dark and small, Like a time bomb in the hall. Hark, it's midnight, children dear. Duck! Here comes another year!" – Ogden Nash
60. "Out with the old, in with the new" is a fitting expression for a holiday that is based on vomiting." – Andy Borowitz
BE INSPIRED: 200+ You Are Amazing Quotes to Delight a Loved One (or Yourself!)
Hopeful New Year quotes
61. "Cheers to a new year and another chance for us to get it right." – Oprah Winfrey
62. "Celebrate endings—for they precede new beginnings." – Jonathan Lockwood Huie
63. "Each year's regrets are envelopes in which messages of hope are found for the New Year." – John R. Dallas Jr.
64. "Hope smiles from the threshold of the year to come, Whispering 'it will be happier." – Alfred Lord Tennyson
65. "The magic in new beginnings is truly the most powerful of them all." – Josiyah Martin
66. "Don't ever feel like your best days are behind you. Reinvention is the purest form of hope. Make today your best yet!" – Phil Wohl
67. "For last year's words belong to last year's language and next year's words await another voice. And to make an end is to make a beginning." – T.S. Eliot
68. "Identify your problems but give your power and energy to solutions." – Tony Robbins
69. "The object of a New Year is not that we should have a new year. It is that we should have a new soul…" -Gilbert K. Chesterton
70. "And now we welcome the new year. Full of things that have never been." Rainer Maria Rilke
71. "Never underestimate the power you have to take your life in a new direction." – Germany Kent
72. "Whatever it is you're scared of doing, do it. Make your mistakes, next year and forever." – Neil Gaiman
73. "What a wonderful thought it is that some of the best days of our lives haven't even happened yet." – Anne Frank
74. "I like the dreams of the future better than the history of the past." – Thomas Jefferson
75. "What the new year brings to you will depend a great deal on what you bring to the new year." – Vern McLellan
76. "Success is getting what you want. Happiness is wanting what you get." – W. P. Kinsella
77. "Change can be scary, but you know what's scarier? Allowing fear to stop you from growing, evolving, and progressing." – Mandy Hale
78. "Don't let today's disappointments cast a shadow on tomorrow's dreams." – Unknown
79. "Every single year, we're a different person. I don't think we're the same person all of our lives." – Steven Spielberg
80. "There are better things ahead than any we leave behind." – C.S. Lewis
READ MORE: 10 Toxic Fantasy Self Items to Declutter Right Now
Ideas to make the end of the year better?
Are you feeling inspired and ready for the new year?
Now is your chance for a brand new beginning, to work towards your biggest goals, and achieve your dreams.
Here are a few more ideas on how to start New Year's the right way:
PIN THESE NEW YEAR QUOTES TO READ AGAIN!