75+ Wasting Time Quotes to Remind You to Cherish Each Moment
This post may contain affiliate links for your convenience. That means that if you make a purchase, I will receive a small commission at no extra cost to you. Read more here.

If you're sick and tired of feeling like your life is a waste, here are 75+ quotes about wasting time to help you put things into perspective and remind you of the importance of making the most of each day.
It's so easy to lose track of time and end up wasting it on meaningless activities that don't move the needle to increase your happiness or life satisfaction levels. That's why every once in a while, it's important to remind yourself how valuable your life is and to cherish every moment. And that's where this collection of wasting time quotes and sayings come into play!
It isn't a coincidence you have landed upon this page; heed these quotes and sayings from sages both past and present so you do not waste any more time.
Why Read Quotes About Wasting Time?
Most of us want to live the life of our dreams but struggle to stay motivated and inspired on the path to reaching those goals.
What better way to stay inspired than by having a few motivational quotes about not wasting time to help beat procrastination and pick you up when you're feeling dow?
One of the biggest truths about time is that the more you waste it, the more you waste your life. With that being said, let's look at some of the best quotes about wasting time that will nudge you in the right direction and make you a go-getter!
Wasting Time Quotes
1. "You may delay, but time will not."

– Benjamin Franklin
2. "Wasting time is robbing oneself."

– Estonian Proverb
3. "It's bad enough wasting time without killing it."

– Norton Juster
4. "Determine never to be idle. No person will have occasion to complain of the want of time who never loses any. It is wonderful how much can be done if we are always doing."

– Thomas Jefferson
5. "There is one kind of robber whom the law does not strike at, and who steals what is most precious to men: time."

– Napoleon I
6. "I do not want to waste any time. And if you are not working on important things, you are wasting time."

– Dean Kamen
7. "Don't waste your time looking back, you're not going that way."

– Ragnar Lothbrok
8. "I'm very direct, I don't believe in wasting time, in wasting words."

– Deborah Meanden
9. "Know the difference between being patient and wasting your time."

– Anonymous
10. "If everybody knows where everything is kept, you can avoid wasting time looking for things."

– Anthea Turner
11. "We live in the midst of plenty but always seem to want more. We feel that we do not have enough time, and yet we waste the precious time we have on video games, text messaging, reading about the lives of talentless celebrities, or earning more money to buy things we don't need."

– Karl Pillemer
12. "Watch less TV and spend less time surfing the web. Cut down on these time-wasting activities and replace them with productive activities which will help you realize your financial goals."

– C.J. Carlsen
13. "Don't spend time beating on a wall hoping to transform it into a door."

– Coco Chanel
14. "Don't spend your precious time asking, "Why isn't the world a better place?" It will only be time wasted. The question to ask is, "How can I make it better?" To that, there is an answer."

– Leo Buscaglia
15. "I'm not running around as a continual ray of sunshine. It's just I don't believe in wasting time feeling sorry for myself."

– Aimee Mullins
16. "If you worry about something that you have no control over, or can absolutely do nothing about, then you are wasting your time, energy, and emotion."

– Byron Pulsifer
17. "Any time you have an opportunity to make a difference in this world and you don't, then you are wasting your time on Earth."

– Roberto Clemente
18. "Realise deeply that the present moment is all you ever have."

– Eckhart Tolle
19. "The greatest amount of wasted time is the time getting started."

– Dawson Trotman
20. "I wasted time, and now doth time waste me."

– William Shakespeare, Richard II
RELATED POST: 30 Ambition Quotes to Motivate You to Succeed in Life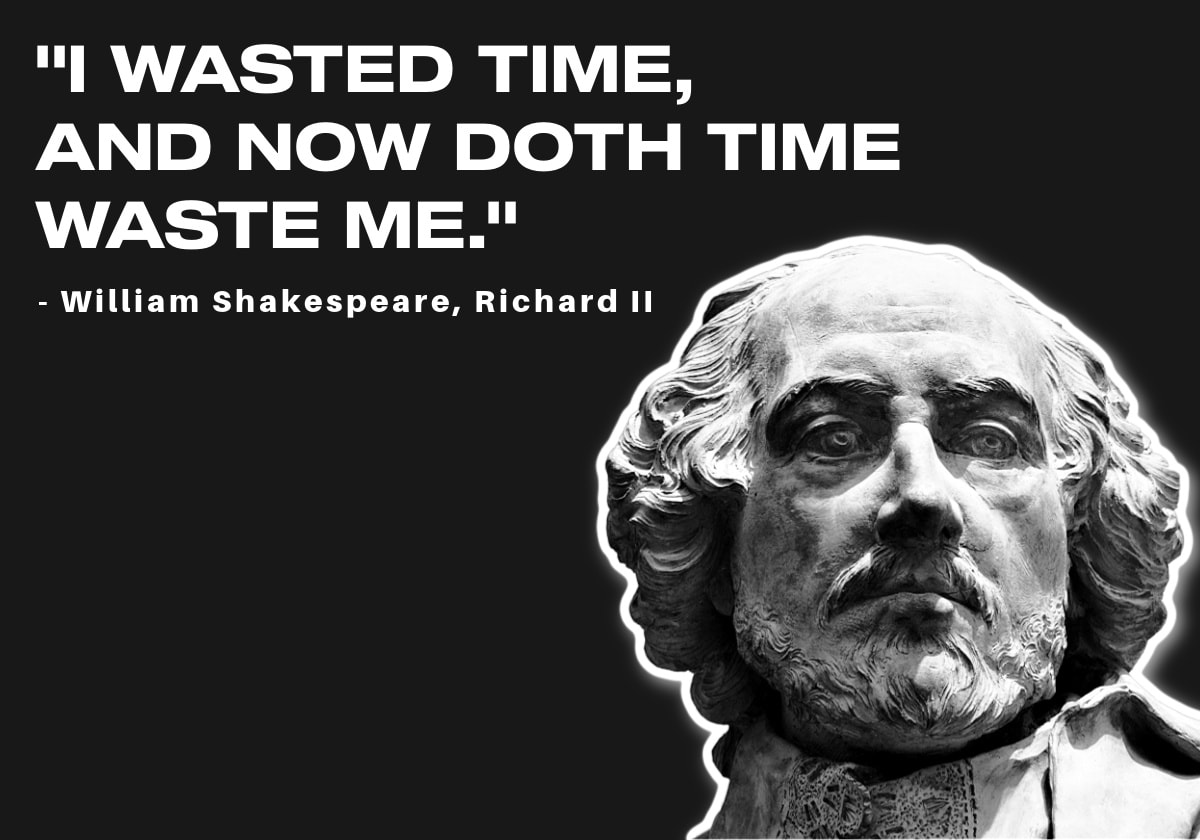 Quotes about Wasting Time on Someone
21. "Wasting time with the wrong person is just time wasted."

– Greg Behrendt
22. "Your time is limited, so don't waste it living someone else's life."

– Steve Jobs
23. "Comparing yourself to someone else is a massive waste of time."

– Steve Errey
24. "Be picky with who you invest your time in, wasted time is worse than wasted money."

– Anonymous
25. "Waste no more time arguing about what a good man should be. Be one."

– Marcus Aurelius
26. "Your time is way too valuable to be wasting on people that can't accept who you are."

– Turcois Ominek
27. "Don't waste your time with explanations: people only hear what they want to hear."
28. "You need to associate with people who inspire you, people that challenge you to raise higher, people that make you better. Don't waste your valuable time with people that are not adding to your growth. Your destiny is too important."

– Joel Osteen
29. "We're all guilty of dedicating time to people who didn't value it."

– Turcois Ominek
30. "Don't waste your time being what someone wants you to become, in order to feed their list of rules, boundaries, and insecurities. Find your tribe. They will allow you to be you, while you dance in the rain."

– Shannon L. Alder
31. "While there are issues that cannot be negotiated or compromised, there are petty things that are not worth getting worked up about. Consider whether something is really worth your time and energy."

– James Christiansen
32. "Don't let the noise of other's opinions drown out your own inner voice."

– Steve Jobs
33. "Never let anyone belittle your efforts to better yourself. Let them stand back or stand aside, but you move forward no matter who tries to stop you."

– Toni Sorenson
34. "No relationship is ever a waste of time. If it didn't bring you what you want, it taught you what you don't want."

– Unknown
35. "Don't waste words on people who deserve your silence. Sometimes the most powerful thing you can say is nothing at all."

– Mandy Hale
36. "If you don't plan your time, someone else will help you waste it."

– Zig Zigler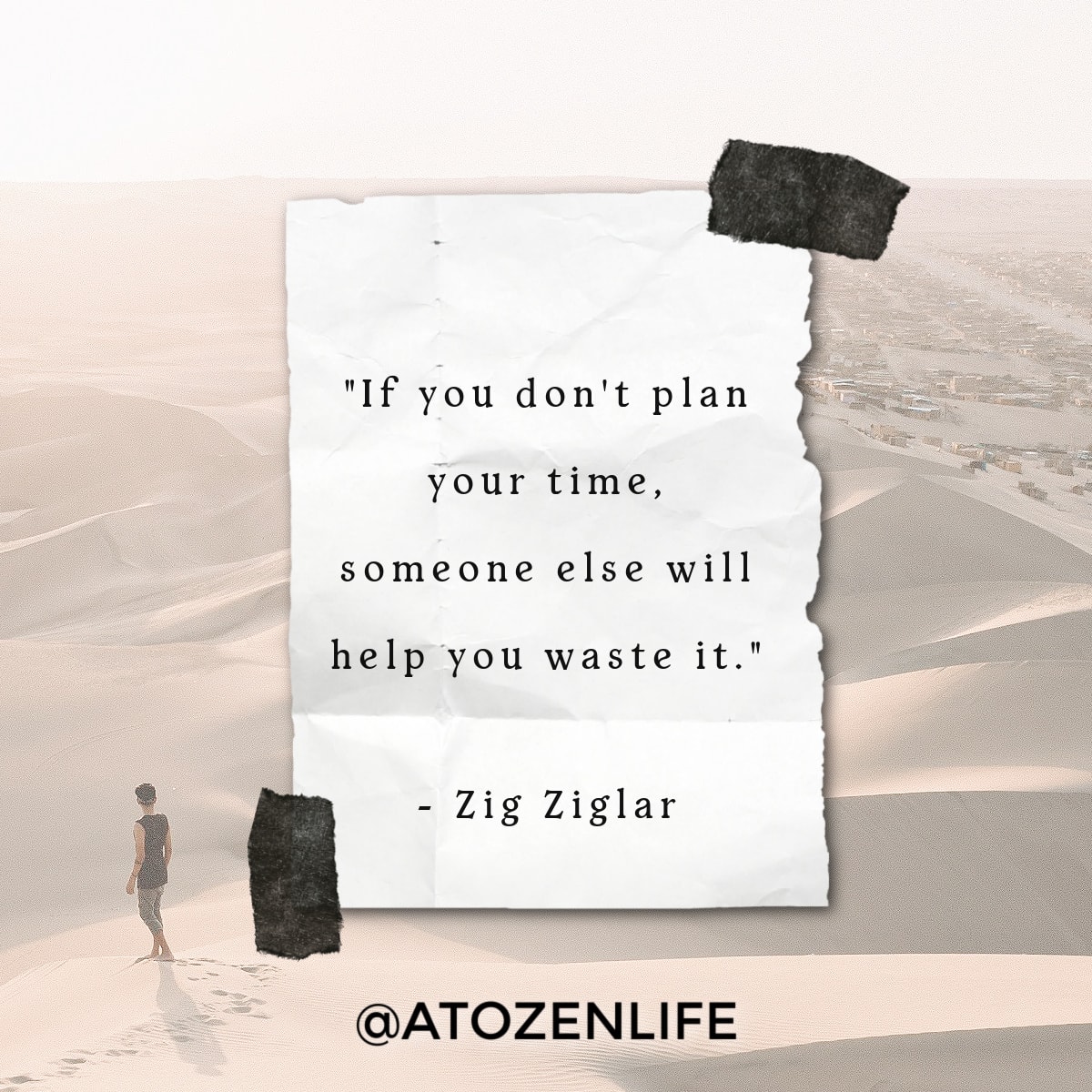 RELATED POST: 30 Signs of Toxic People That Are IMMEDIATE Red Flags
Quotes About Losing Time
37. "What I do is keep trying to focus on what I am doing now, instead of wasting time thinking about what went wrong in the past or will happen in the future."

– HoYeon Jung
38. "Write it on your heart that every day is the best day in the year."

– Ralph Waldo Emerson
39. "It's only when we truly know and understand that we have a limited time on earth – and that we have no way of knowing when our time is up – that we will begin to live each day to the fullest, as if it was the only one we had."

– Elisabeth Kübler-Ross
40. "Lost time is like a run in a stocking. It always gets worse."

– Anne Morrow Lindbergh
41. "Time is a resource that is non-renewable and non-transferable. You cannot store it, slow it up, hold it up, divide it up, or give it up. You can't hoard it up or save it for a rainy day – when it's lost, it is unrecoverable. When you kill time, remember that it has no resurrection.

– Aiden Wilson Tozer
42. "Prioritization is a critical aspect of improving our productivity. If we are not productive, then we may not be making the most of the time and energy that we have to get things done."

– Lisa Kardos
43. "A year from now you will wish you had started today."

– Karen Lamb.
44. "The truth is that all of the time in the world is not going to help us if we don't get our lives in order. We need to get our priorities straight, and we need to stop wasting time."

– David A. Hunter
45. "Time is one of the commodities that we can not buy back; we can not exchange anything we possess to trade for time that has been wasted or squandered."

– Catherine Pulsifer
46. "Are you taking your life for granted? Are you allowing your days to be consumed with boredom and frustration? Time is your most precious gift, not to be dwindled away in idleness or negativity."

– Les Brown
47. "Lost time is never found again."

– Benjamin Franklin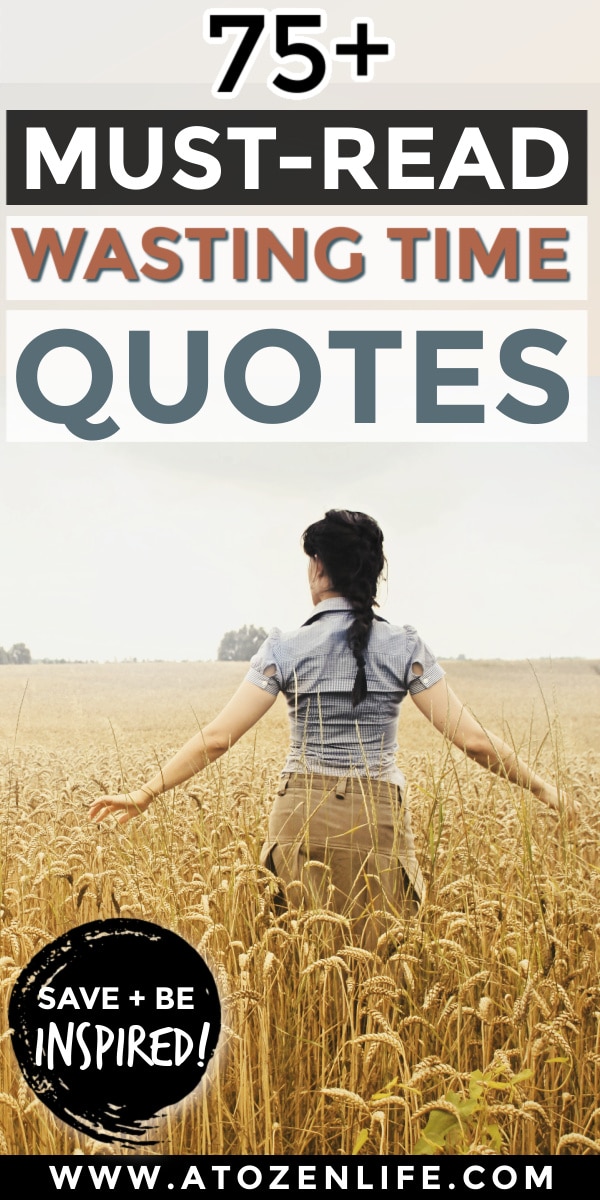 Waste Life Quotes
48. "A man who dares to waste one hour of time has not discovered the value of life."

– Charles Darwin
49. "You know, you only get to live life once, so there are two things that yield. One is that there's no point in crying over spilt milk, but secondly, you hate wasting time, energy, and whatever talent you've got."

– David Miliband
50. "If you love life, don't waste time, for time is what life is made up of."

– Bruce Lee
51. "Stop wasting time with trivial matters that don't add value to your life or push you one step closer to your goals."

– Edith Henderson
52. "Time is free, but it's priceless. You can't own it, but you can use it. You can't keep it, but you can spend it. Once you've lost it, you can never get it back."

– Harvey Mackay
53. "What's the worst thing I've stolen? Probably little pieces of other people's lives. Where I've either wasted their time or hurt them in some way. That's the worst thing you can steal, the time of other people. You just can't get that back."

– Chester Bennington
54. "You learn something out of everything, and you come to realize more than ever that we're all here for a certain space of time, and then it's going to be over, and you better make this count."

– Nancy Reagan
55. "Don't keep your own schedule – that will eat too much of your time keeping your own schedule. And when you are tired, stop. Because if you are too tired, you become not productive, and you are wasting time."

– Christine Quinn
56. "Time is one of your most valuable commodities, and how you spend it determines what your life will be. You can either waste it, invest it, or give it away."

– David Khalil
57. "Perhaps the biggest tragedy of our lives is that freedom is possible yet we can pass our years trapped in the same old patterns."

– Tara Brach
58. "Each day you wake up, you wake up with billions around the world, but when the sun sets, not all retire. It is a joyful privilege to note that you are a unique person among billions of people who wake up each day to walk on the surface of the earth. It is a noble responsibility to note that you have to use this privilege effectively."

– Ernest Agyemang Yeboah
59. "Life is short, and if we enjoy every moment of every day, then we will be happy no matter what happens or what changes along the way."

– Gretchen Bleiler
60. "You can't have a better tomorrow if you are thinking about yesterday all the time."

– Charles F. Kettering
61. "I have to pick myself up every day and say, "The show must go on," meaning life as I know it must go on, whatever the obstacle is, I know I can handle it, and I can get through it.."

– Jennie Garth
62. "There will be two dates on your tombstone and all your friends will read 'em but all that's gonna matter is that little dash between 'em."

– Kevin Welch
63. "It's not enough to be busy, so are the ants. The question is, what are we busy about?"

– Henry David Thoreau
64. "Life is what happens to you while you're busy making other plans."

– John Lennon
65. "Life doesn't have to be perfect, it just has to be lived."

– Dexter Morgan
66. "Today, many will break through the barriers of the past by looking at the blessings of the present. Why not you?"

– Steve Maraboli
67. "I think every day is a new day, every day is a new opportunity, and every day is a new chance."

– Jennifer Winget
68. "Making each day count like it's your last day to fulfill your dreams is arguably the master key to a future full of great rewards."

– Edmond Mbiaka
69. "Time is the coin of your life. It is the only coin you have, and the only you can determine how it will be spent. Be careful lest you let other people spend it for you."

– Carl Sandburg
70. "The biggest mistake you can make in life is to waste your time."

– Jerry Bruckner
71. "Are you taking your life for granted? Are you allowing your days to be consumed with boredom and frustration? Time is your most precious gift, not to be dwindled away in idleness or negativity."

– Les Brown
72. "If you want life to roll by without accomplishing anything you want, simply keep throwing away your time. You will never get it back."

– Byron Pulsifer
73. "One thing is for sure, procrastinators waste the most precious asset a human can have: time."

– K. Collins
74. "Time is a cruel thief to rob us of our former selves. We lose as much to life as we do to death."

– Elizabeth Forsythe Hailey
75. "Twenty years from now, you will be more disappointed by the things you didn't do than by the things you did."

– Mark Twain
76. "Because you are alive, everything is possible."

– Thich Nhat Hanh
77. "It has been my observation that most people get ahead during the time that others waste."

– Henry Ford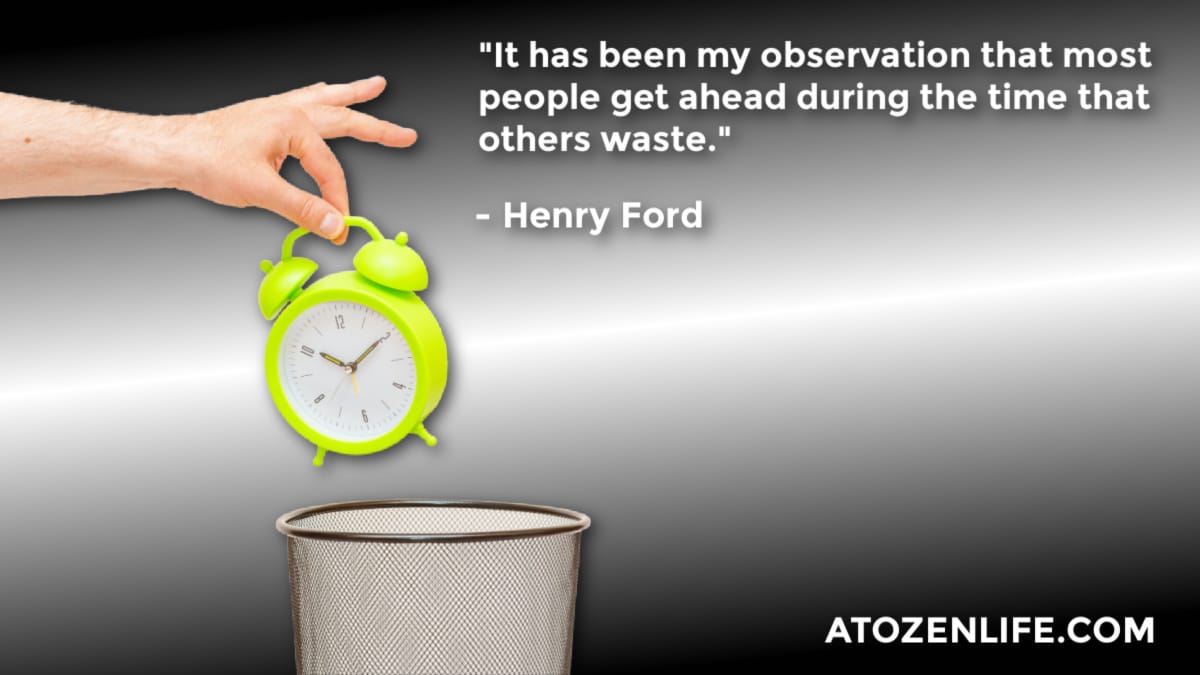 What to Do After Reading These Quotes about Not Wasting Time
After reading all of these amazing quotes, it's important to take action and not let them simply be words on a screen.
Here are a few things you can do to make sure you're making the most of your time: