Declutter Toys (and Make Your Kids Smarter) with the KonMari Method
This post may contain affiliate links for your convenience. That means that if you make a purchase, I will receive a small commission at no extra cost to you. Read more here.
If you are fed up with all the toys laying around the house, unloved and unplayed-with, I invite you to join me in breathing a collective sigh of relief; you can use the KonMari method to declutter toys and FINALLY reclaim your space.
You might even notice some exciting side effects of decluttering — read on to find out what they might be!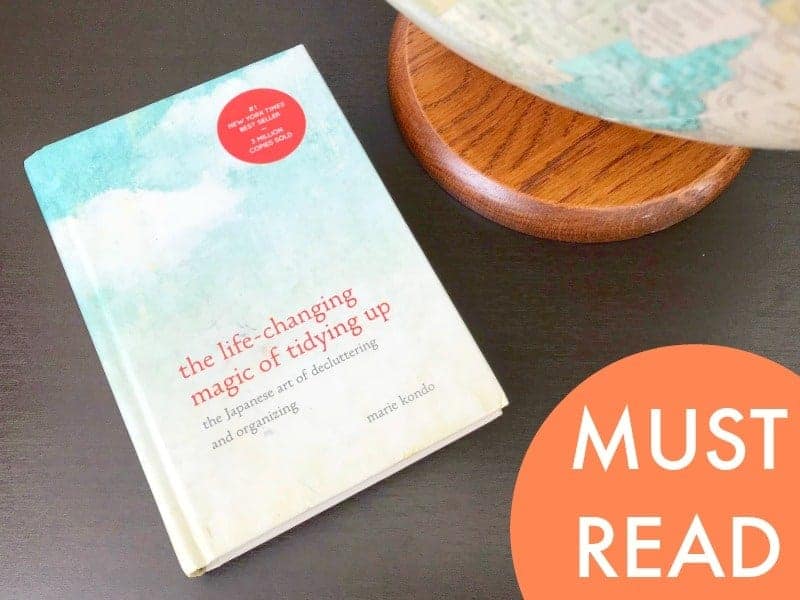 Declutter toys with the KonMari Method
It's time to do some soul searching…and by that, I mean COUCH searching.
We will be reaching deep, deep, under the depths of your couch and finding things that haven't seen the light of day in eons.
Scary things, like mummified grapes and toys you have no recollection of buying (I find that the long end of a Swiffer mop works well for this. 😉 )
But in all seriousness, did you know that children in the USA only make up 3.7% of the global world's population of children — and yet they account for 47% of all the children's books and toys ON THE PLANET?
That is an INSANE statistic.
Can decluttering make your kids smarter?
Interestingly, a recent study has shown that children who have fewer toys are happier and engage in more creative playtime.
During this study, researchers viewed 36 toddlers (ages 18-30 months) for two 30 minutes periods; one in a room with four toys, and one in a room with 16 toys.
Here were the results:
Researchers found that when the toddlers were in the room with fewer toys, they were actively engaged for a longer period of time. Because there were less toys to choose from, the children used their creative instincts and explored different ways to use the same toy, further developing their cognitive skills."
I'm not going to climb up on my high horse because I got rid of that when I was decluttering.
Here's the deal, chances are that if you declutter toys, not only will your children be happier, have better attention spans, and become more creative — you will also be less stressed out from having to constantly pick up after your kids.
If you are new to the KonMari method of decluttering I highly recommend you check out Marie Kondo's book, The Life-Changing Magic of Tidying Up: The Japanese Art of Decluttering and Organizing.
It's called Life-Changing for a reason; it has literally changed my life and helped me move on after decades of grief. You can read more about how we extreme decluttered our entire home down to eight suitcases in this blog post.
Important tips for decluttering kids toys
Broken toys should be automatically discarded unless they are truly loved
Focus on keeping multi-use toys that inspire creative play
Search everywhere around the house and gather toys all in one place
Have boxes ready labeled "donate, sell, trash, keep"
In her book, Marie Kondo says that children as young as three have the ability to decide what brings them joy and what doesn't.
However, if I went by what MY children said brings them joy, I would be surrounded by piles of torn papers, broken cars, and scattered plastic bits and bobbles, probably gibbering like a loon.
Therefore, I decided that I was going to do this on my own; I see what they play with and I know what they truly like and what they don't.
If your kids are more autonomous than mine and can chip in, feel free to get them involved!
I do have friends with children who participate in the decluttering process — a lot will depend upon the individual child's personality and familiarity with the concept of tidying.
Psst! Sign up to get your FREE copy of the most comprehensive KonMari checklist ever so you don't miss decluttering a single item!
READ MORE: 10 Things Marie Kondo Go WRONG – Agree or Disagree?
Toys before decluttering with KonMari
Who doesn't love a good decluttering before and after photo?
Below you can see all the toys decluttered with the KonMari method.
I always felt we didn't have that many toys to start with, but once I gathered them all in one place I was nearly overwhelmed.
However, a key step in the KonMari method is gathering all your items that are being sorted in one place.
That makes the next step easier, which is holding each item in your hand to see if it sparks joy.
UPDATE (SUMMER 2020): We extreme decluttered our entire home down to 8 suitcases and moved to Europe! We have even fewer toys now — 95% of what you see below is GONE! Watch the full video here!
Steps to declutter toys
Here are all the steps I followed to declutter toys using the KonMari method.
Gather all toys in one place
Hold each toy in your hand and ask "Does this spark joy?" (I did this on my children's behalf)
Place each item in the appropriate box to keep or discard
Repeat until all items are finished
Discard toys
Replace toys in an organized fashion
What to keep after decluttering toys
I have to say, it felt REALLY good to get rid of these toys.
That giant play kitchen especially had been a thorn in my side for a long time.
I purchased it for my oldest when he was 2.5 years old; he LOVED the play kitchens in other people's houses — I quickly found out, he wasn't so interested in playing with them in his home. Neither was Little Brother when he got old enough to try.
I'm glad to be rid of it, as I don't have to listen to my husband's smug assertions that I shouldn't have bought it in the first place. 🙂
Below are all the toys we decided to keep.
As you can see, we kept a lot of building toys, such as LEGOs, sweet vintage Little Tykes waffle blocks set I found on eBay that was a total steal and our beloved giant bugs.
Likewise, I knew that my son might spontaneously combust if I got rid of a single Thomas the Train engine…but the unloved Chuggington train set is going to get sold.
The skeleton fish at the bottom right?
He's not out for Halloween, he's a member of the family! Little Brother carries him around and sleeps with him…he goes by the name Yorick.
I kept most of the toys that encourage creative play and imaginative thinking.
What to do with toys after decluttering?
Obviously, you are going to have a lot of stuff you are going to need to get rid of after decluttering.
If you want to find out all the eco-friendly places that will take your old junk (torn kid's clothing, old toothbrushes, worn shoes, EVERYTHING) check out this post that lists 49 eco-friendly ways to discard items after decluttering.
I use a combination of selling, recycling, and donation to get rid of my toy clutter — in fact, I started making $1,200/month by cashing in on my old clutter (baby stuff sells especially well)!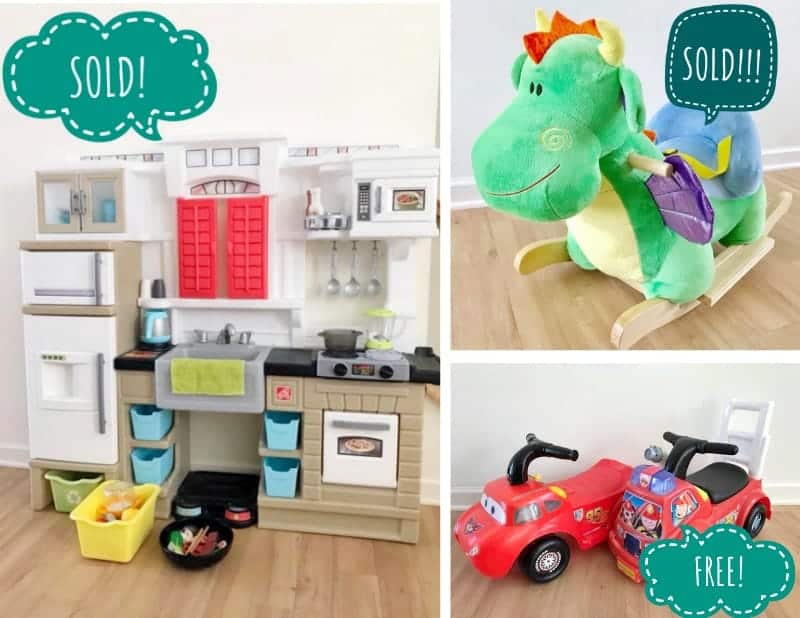 How to organize your toys after decluttering
After you have finished decluttering your toys, depending on how many toys you have left you may want to consider a toy rotation system to keep your children interested in the toys they have left.
This works by keeping a small about of toys out for your children to play with, such as 10 or 20 at a time, and then storing the other ones out of sight.
After playing for 2 weeks, you can switch out the toys!
If you have a very small amount of toys left, you may be able to store them all in one location.
When it comes to storage, Marie Kondo favors storage options that allow you to see everything in its place; that means choosing storage options like clear plastic bins or open shelving.
In fact, this seems to be the exact toy storage unit the Friend family uses in their playroom in Episode 1 of Netflix's show, Tidying Up with Marie Kondo.
How my kids reacted to toy decluttering
When they walked up the stairs, they immediately noticed something was up.
Little Brother (3) walked around peering at toys and murmuring, "Something's different." Big Brother (5) was quiet, but also on high alert as he toured the toys.
Then they sat down and played for HOURS in ways I have never seen them play.
They took the plastic trays that I usually use for containing learning projects and painting and layered them to make a track to race their cars over.
I would say this toy decluttering adventure was a great success and definitely has helped us on our path to adopting a more minimalist lifestyle!
Preventing future toy clutter
I know you didn't do all that work just to regress back to stress and mess!
Going forward, think about how you want to handle future toy purchases and getting rid of items with your children.
Talk with them about minimalism and wants versus needs.
Instead of going toy crazy for birthdays and holidays consider gifting with meaningful experiences or functional items rather than toys
Remember, this is a process and NO ONE is expecting perfection — stay focused on creating more time and joy as a family.
What are your thoughts on using the KonMari method for toys?
Is toy clutter a struggle for you? Have you started to declutter your child's toys yet?
Let me know what your issues and thoughts are in the comment section below!
Pin this!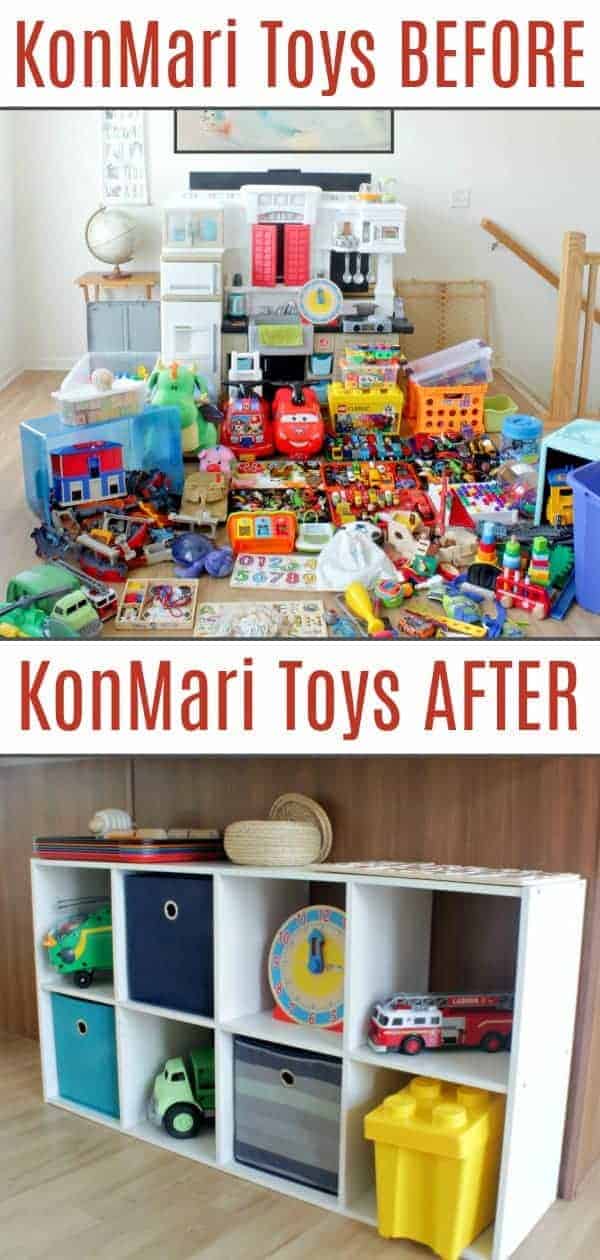 SaveSave
SaveSave
SaveSave
SaveSave
SaveSave
SaveSave