Minimalist Travel: 20 Genius Tips for Normal People to Pack Light
This post may contain affiliate links for your convenience. That means that if you make a purchase, I will receive a small commission at no extra cost to you. Read more here.
Are you looking to travel light and avoid the headache of packing and lugging around too much stuff? If so, this guide to minimalist travel is for you! From packing smart to choosing the right luggage, here are the best minimalist packing and travel tips to help make your trip a breeze.
So, what are you waiting for? It's time to start planning your next minimalist vacation today!
What does "minimalist travel" mean?
Minimalist travel means applying the principles of minimalism to your trip, packing light, and traveling with only the essentials. It can also mean being intentional with how you spend your time, money, and energy on your vacation.
Consider this the complete guide on how to pack like a minimalist, whether you're a family who wants to pack minimally for your next trip or an extreme minimalist who wants to travel around the world with only a backpack!
After you read these minimalist packing tips, you'll be able to decide how much to bring and what to leave off your list to pack less and have more fun.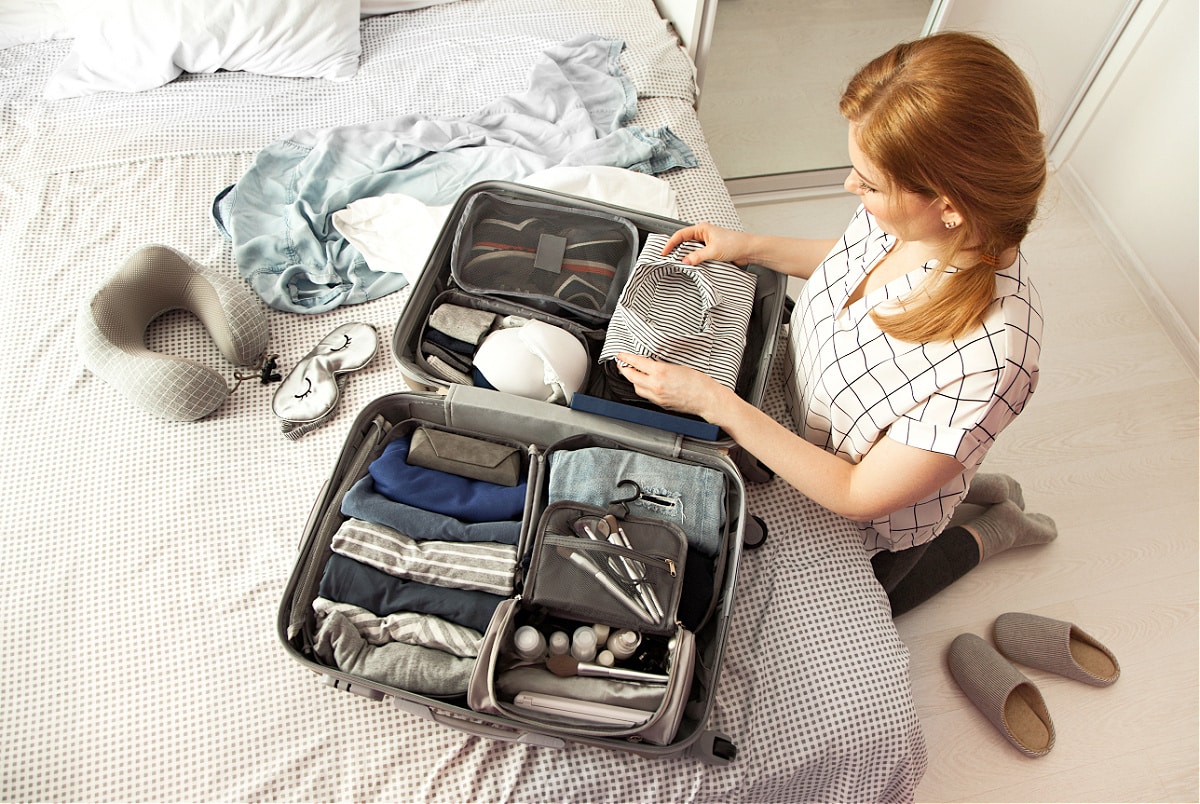 The Best Minimalist Packing Tips
1. Bring carry-on only
This minimalist packing tip is number one for a reason. It's the simplest way to travel lighter! By bringing only a carry-on bag, you have no choice but to downsize your list and pack minimally.
After all, you can't bring everything when you're limited to such a small space.
Not only do you avoid the extra fees for checked baggage, but it also helps ensure your luggage doesn't get lost! Trying to find and get your stuff back would be a headache; if you don't, it could cost you a pretty penny to replace everything.
Given that claims for stranded baggage have jumped as much as 30% since 2019, it's a good idea to keep luggage close at hand to reduce the likelihood that it gets lost or mishandled.
2. Choose the right minimalist luggage
One of the most critical minimalist travel tips is to choose the right luggage. You want something durable, easy to carry, and lightweight – the lighter, the better!
Airline standards for carry-on are 21 inches or 55 cm max height but check with your airline before you fly to ensure you comply with their requirements.
Keeping these factors in mind, here are a few popular minimalist luggage options:
3. Keep a minimal list
It can be tempting to over-pack when you're going on a trip but resist the urge! One of the best minimalist travel tips is to make a packing list and then edit it until you're only bringing the essentials.
Start by brainstorming everything you think you might need for your trip. Then, go through each item and ask yourself: "Do I really need this?" You'd be surprised how much you can eliminate from your list of things to pack when you get honest about what is and isn't essential.
One of my favorite minimalist packing hacks is to use the Google Keep app to create my list.
I create separate lists for each family member and check them off as I pack. Make sure to keep the list instead of deleting it because you can repurpose the same list to make sure you don't forget anything when you're packing to go home!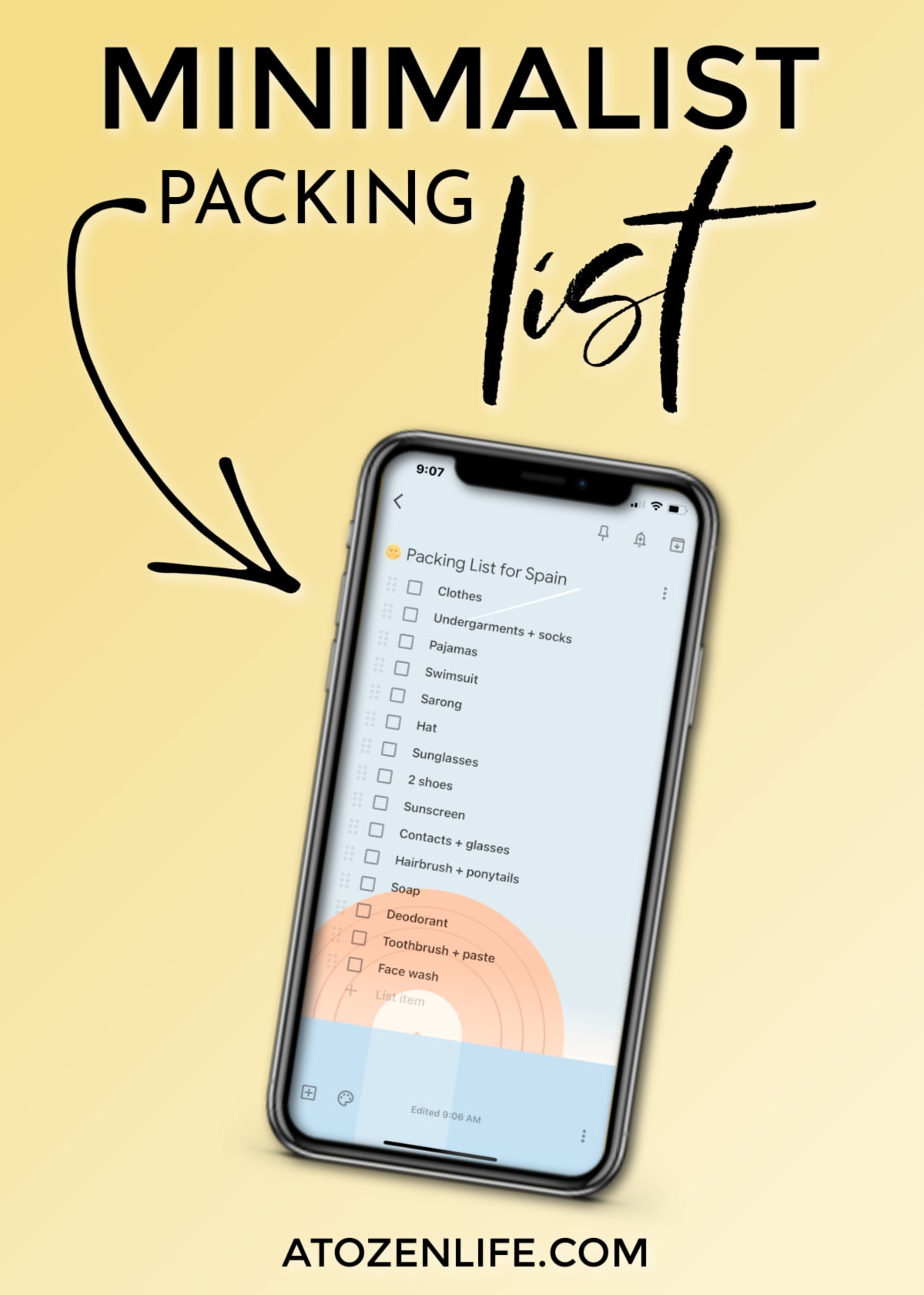 4. Limit electronics
Electronics are often heavy, so limiting yourself to 1-2 devices can lighten the load. Luckily, for most people, a smartphone is all you need to perform most of your daily tasks.
However, if you are traveling for work, you might need to bring a lightweight laptop and charger. Likewise, a small camera, lens, and a few accessories might be on the must-bring list for serious photographers or videographers.
5. Travel adaptors
If you're relying on your smartphone for communication and navigation, bring a travel adaptor to keep it charged. Make sure you choose the correct adaptor for the location you are traveling.
6. Minimize your toiletries
For shorter trips, you don't need to bring an entire bottle of shampoo or body wash when a smaller amount will do. You can save a lot of luggage space by choosing travel-sized toiletries or decanting your liquids into smaller bottles.
The standard travel container size for liquids, gels, and aerosols is 3.4 ounces or 100 milliliters. Place all of your liquid containers in a transparent and resealable plastic bag of up to 1 liter in size.
If your hotel or Airbnb includes these items or they can easily be purchased locally, then you might not need to bring any at all.
7. 2-in-1 or multipurpose soap
Bringing a small bar or bottle of multipurpose soap can save you a lot of space in your luggage by cutting down on how many toiletries you need to bring.
We used a drugstore 2-in-1 shampoo and body wash for our kids, but I have minimalist friends who swear by Dr. Bronner's castile soap, which has up to 18 uses, including shampoo, body wash, laundry detergent, dish soap, and more!
8. Go for simple matches and fabrics
If you already have a minimalist wardrobe, then you know one of the best ways to reduce the total number of clothing items you own is to choose versatile pieces that can be mixed and matched to create a variety of different looks.
The same principle applies to packing for minimalist travel.
Choose clothing items made from simple fabrics that can be easily washed and opt for neutral colors that can be paired together so you can easily swap tops and bottoms.
Don't forget to keep the climate in mind when making your choices. Cotton and linen are breathable and excellent for warmer temperatures, while wool and fleece can keep you warm in cooler weather. Synthetics are more resistant to wrinkles.
Take all of these factors into consideration when you are packing!
9. Wear your heaviest clothes on the plane
Wearing your heaviest clothes on the plane will save you a lot of space in your suitcase. Bulky coats, heavy boots, and big hats can quickly eat up all the room in your luggage, so it's best to put them on your body instead.
This minimalist travel habit has the added benefit of keeping you warm on the plane. Airlines keep cabin temperatures on the low side, which purportedly reduces the risk of passengers fainting, so you'll be less likely to feel the chill.
10. Two pairs of shoes
When packing minimal for travel, it's important to remember that you can usually get away with only bringing two pairs of shoes, at maximum.
One pair should be comfortable walking shoes, and the other should be more casual that can be dressed up or down. Extreme minimalist travelers can wear one pair of shoes while globetrotting for years, so two isn't that big of a stretch!
Check out this extreme minimalist travel video – it's unbelievable!
11. minimalist folding hacks
When trying to fit a lot into a small space, it's essential to utilize every inch. Rather than lying items flat in your suitcase, try standing them up on their side.
This will help you make the most of the limited space and keep everything more organized; read the complete guide on how to fold clothes vertically here.
You could also try "ranger rolling" your clothes to save space and reduce wrinkles.
Ranger rolling is a military folding technique that's found its way into mainstream use because it's so practical; it's accomplished by folding clothes into thirds and then rolling them from bottom to top.
12. Use packing cubes
Packing cubes are a minimalist traveler's best friend. By compartmentalizing everything in your suitcase, you can make the most of the space and keep your belongings organized. Not to mention, it makes unpacking a breeze.
This minimalist travel hack is a lifesaver if you're a frequent traveler.
13. Dirty laundry bag hack
This is one of my favorite minimalist packing tips! Particularly if you travel with kids who are messy eaters like mine, it's helpful to be able to keep soiled or stinky clothing apart from the rest.
In that case, bring a laundry bag like this one along with you. They are lightweight and fold up easily to store in your suitcase, taking up barely any space. When clothes get stinky or dirty, you can plop them in the bag to wash at your leisure and keep them separate from the clean clothes until it's time to return.
We took one of the largest laundry bags from our set with us and only filled it up about halfway. Which brings me to the next point on this list…
14. Wash clothes in the sink
When my minimalist family of 4 traveled to Spain for two weeks, I packed half the amount of clothes, KNOWING that I would need to do some laundry while we were there.
The Airbnb amenity list informed us there was on-site laundry, but when we got there, we found there wasn't any laundry detergent actually to wash our clothes. This was no problemo for us because I used another of my favorite minimalist travel hacks, which is to wash clothes in the sink, after which I hung them on the balcony to dry.
While I went low-maintenance and used dish soap that our Airbnb provided, you could also bring your own in a small bottle.
15. Experiences over souvenirs
It's like the popular minimalist quote says: "Collect memories, not objects."
Instead of buying a bunch of cheap tchotchkes that will end up in the back of a drawer or cluttering up your bookshelf, spend your money on unique experiences. For example, go zip-lining through the rainforest or buy tickets to take the kids to the local zoo or aquarium.
After all, experiences make the best souvenirs!
16. Save money by cooking yourself
This minimalist travel tip is to help you save money on food. Eating out can be expensive when traveling, so the more you cook and eat at home, the more money you will save!
Most of the time, when we travel, we pick a location with a kitchen we can cook in, so that we can eat two meals each day at home. This allows us to save money and splurge on one excellent dining-out experience every day – which is essential to us as eating good food is one of our top priorities when traveling!
We prepared for this trip by doing a no-spend challenge and keeping our budget on track.
✈️ Want to travel, but you're short on cash? If you have trouble saving money, grab this FREE 2-page budget planner to help you spend less and save more. You can also read this guide on the best tips and ideas for budgeting like a minimalist here.
17. Portable charger
If you're going off-grid or might find yourself in situations where you don't have access to electrical outlets to charge your devices for a while, you might consider taking a portable charger with you.
This lightweight device can be a lifesaver, especially if you rely on your phone for GPS; just remember to keep it charged up before you go!
18. Minimalist travel with kids
If you're traveling with kids, it helps to pick a place to stay with amenities you need for feeding, travel, and sleep.
While our kids are older, we did appreciate that our Airbnb had strollers, car seats, Pack' N Plays, high chairs, and other family-friendly items that would make traveling with kids easier. (You can find a list of such amenities on the website or app listing.)
We did bring our own waterproof and foldable picnic blanket for the beach, but our host provided sun umbrellas, sand toys, and chairs to enjoy the beach to the fullest without needing to bring or buy these bulky items ourselves.
READ MORE: 10 Minimalism with Kids Tips That Can Save Your Motherhood
19. Pack a few medications
No matter where you're traveling, it's a good idea to pack some medications and first-aid items in case of an emergency. We packed a few band-aids, acid reflux tablets, pain relievers, etc.
20. Downsize your to-do list
One of the best things about minimalist travel is that it encourages you to consider what's important to you and your loved ones. When material possessions do not bog you down, you can focus on experiences and making memories.
While it might be tempting to try and pack your schedule with a million different activities, it's often better to choose a few key experiences you really want to have and savor them.
Downsizing your to-do list will help you be more present and better appreciate your vacation. It gives you space to be intentional with how you spend your time, reduces stress, and allows you to slow down.
When it comes to minimalist travel, less is definitely more!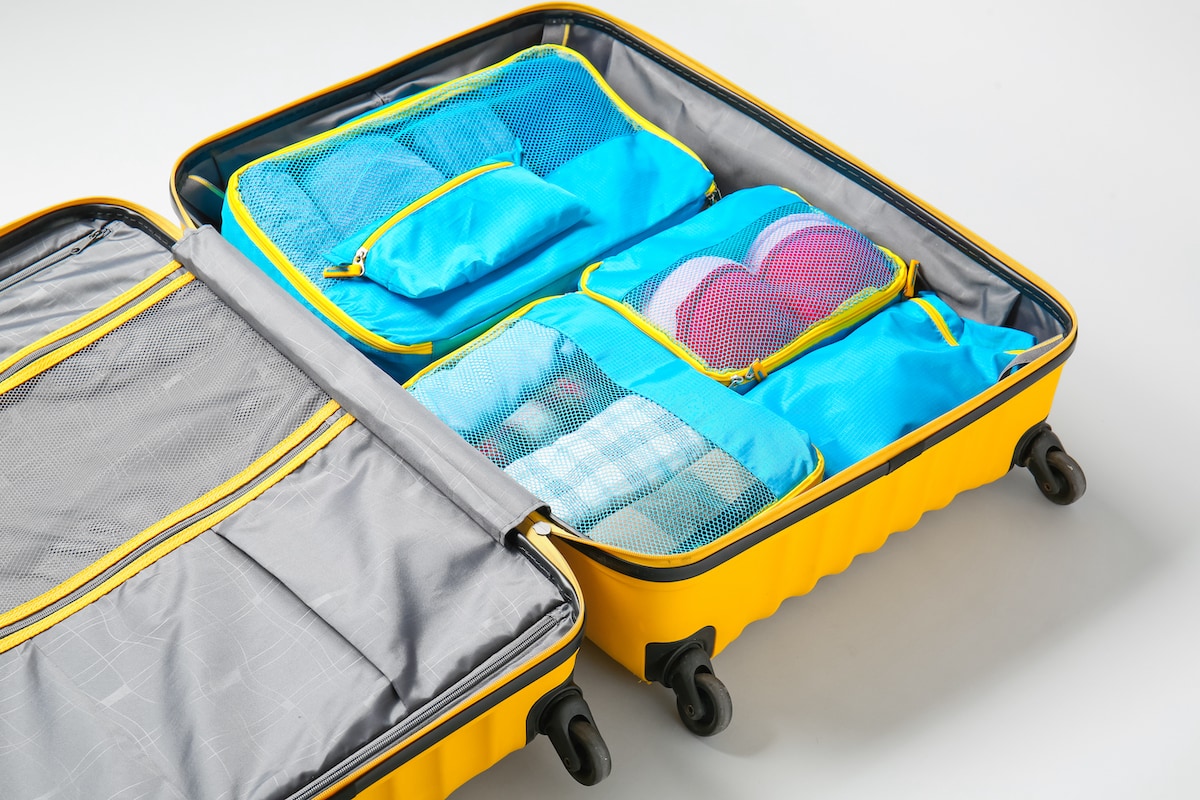 Minimalist Packing Lists + Essentials
I'll let you in on a dirty little secret: there's no such thing as a one-size-fits-all minimalist packing list because minimalist travel essentials vary widely from person to person and trip to trip.
What one minimalist traveler dubs an essential on their must-pack list might be completely disregarded by someone else.
Please keep that in mind as you read through this list of ideas for packing light.
We consider this an ultralight packing list that still includes everything we need to be comfortable traveling as a minimalist family of 4 for two weeks in Europe with carry-on luggage only. This is NOT an extreme minimalist packing list, but more of a guide to minimal packing for normal people. 🙂
You can also watch the pack with me video linked below from our trip to see us in action.
Minimalist Packing List for Women (2 Weeks)
Here is the exact packing list I used for our two-week trip to Valencia, Spain; it's a summer packing list because it was mid-July when we traveled there.
The next time we travel in cold weather, I will update this blog post with a winter packing list!
1 pair of linen pants
1 light linen jacket
2 dresses
3 bottoms (2 skirts, 1 pair of shorts)
3 tops
1 tanktop
7 pairs of underwear
1 bra (strapless, nude color)
1 hat
1 purse
1 pair of sunglasses
1 pair of socks
2 pairs of shoes (one pair of flats, one pair of waterproof sandals)
1 bathing suit
1 sarong
sunscreen (Shiseido)
1 pair of pajamas
contacts + glasses
hairbrush
2 ponytail holders
face wash
deodorant
travel-sized moisturizer
travel toothpaste
toothbrush
mascara
eyebrow pencil + shadow
lip balm (Aquaphor)
Minimalist Packing List for Men (2 Weeks)
1 light hoodie jacket
4 shorts
5 shirts
5 pairs of underwear
1 pair of swim trucks
2 pairs of shoes (sandals + sneakers)
5 pairs of socks
razor
glasses
travel hair spray + creme
toothbrush
belt
Minimalist Kids Packing List (2 Weeks)
1 pair of pants
1 light jacket
4 bottoms (shorts)
5 tops (T-shirts)
7 pairs of underwear
1 bathing suit (bottom + sun shirt)
1 sun hat
1 pair of goggles
2 pairs of shoes (flip flops + sneakers)
3 pairs of socks
1 pair of pajamas
kids sunscreen
2-in-1 shampoo + body wash
Our Minimalist Travel Essentials
1 laundry bag (to hold dirty laundry)
facemasks x 8 (may be required to board airplane)
medicine (acid reflux tablets, medicinal tea, etc)
1 extra large beach towel
smartphone (I have the iPhone XS Max in Rose Gold)
camera + accessories (optional)
Final thoughts about minimalist traveling
Packing light doesn't mean you have to skimp on the essentials – in fact, minimalist travelers often find that they enjoy their trips more because they're not lugging around tons of stuff in a heavy suitcase or cluttering up their hotel room.
Following these minimalist packing and travel tips, you can learn how to pack smart and travel lightly without sacrificing comfort or convenience.
Do you have a minimalist travel tip to share? Drop it in the comments section below; you might help another aspiring minimalist in the future!
Pin this minimalist travel guide to save!