Scandinavian Wooden Christmas Tree with Edible Ornaments
This post may contain affiliate links for your convenience. That means that if you make a purchase, I will receive a small commission at no extra cost to you. Read more here.
Ah, Christmas, the most wonderful time of the year. All is calm, all is bright — until you are scrambling at the very last second to decorate your house and serve wonderful food to your hungry Christmas party guests. Why not kill two birds with one stone?
This minimalist Christmas wooden dowel tree is easy to assemble and features edible ornaments that are sure to be a sensation!
Decorate your house and feed your guests all at once with this clever take on a Scandinavian-style minimalist wooden dowel Christmas tree.
It beats those tired old charcuterie boards any day!
Wooden Dowel Christmas Tree with Edible Ornaments
Bored with ho-hum party food trays for holidays?
Serve up your guests snacks and appetizers as they've never seen them before with this wooden dowel Christmas tree, complete with edible ornaments.
Easy Wooden Dowel Tree for Christmas
The idea for this wooden dowel tree came up in a conversation between my friend, Laura from Little Yellow Wheelbarrow, and I.
Just like the Sawyer Brown song, I got to give credit where credit is due, so thanks to Laura for being my muse (and what an amusing muse she is folks! 😉 ).
If you aren't very handy, this easy wooden dowel Christmas tree kit is the perfect wooden Christmas tree for you!
It comes with all the holes and do-hickeys ready to assemble and takes less than five minutes to set up.
LIMITED EDITION: This modern dowel Christmas tree kit is a limited edition item – if it is sold out, you can also try other tree kits from the same store or view this adorable Christmas tree kit on Amazon!
Where to get a wooden dowel tree
My wooden tree came from this Etsy shop @Modern Pine Tree. The seller was fantastic about answering all my questions.
I almost didn't order it because I wasn't sure there would be enough time to get it before Christmas and share this post with you, but she reassured me that it would arrive with plenty of time left for me to share by my deadline.
Oh boy, it sure did arrive on time!
To my LOCKED townhouse community office, nicely out of reach for days during their unexpected closure.
Lucky, lucky me, right?
Happily, the office opened, I got the holly jolly tree out, and now I can present you with this playfully modern take on serving up some holiday cheer via dangling edible ornaments.
This wooden dowel tree came in an adorable canvas bag, complete with a cheery Christmas card and five tiny wooden stars.
Like I said, assembling this Scandinavian-style beauty is a piece of cake.
It comes with instructions but you practically don't need them — I bet my six-year-old could do this easily. In fact, he loved assisting me with the DIY felt ball garland we created the next Christmas!
READ MORE: 20 Lovely Minimalist Christmas Tree Ideas for a Simply Elegant Holiday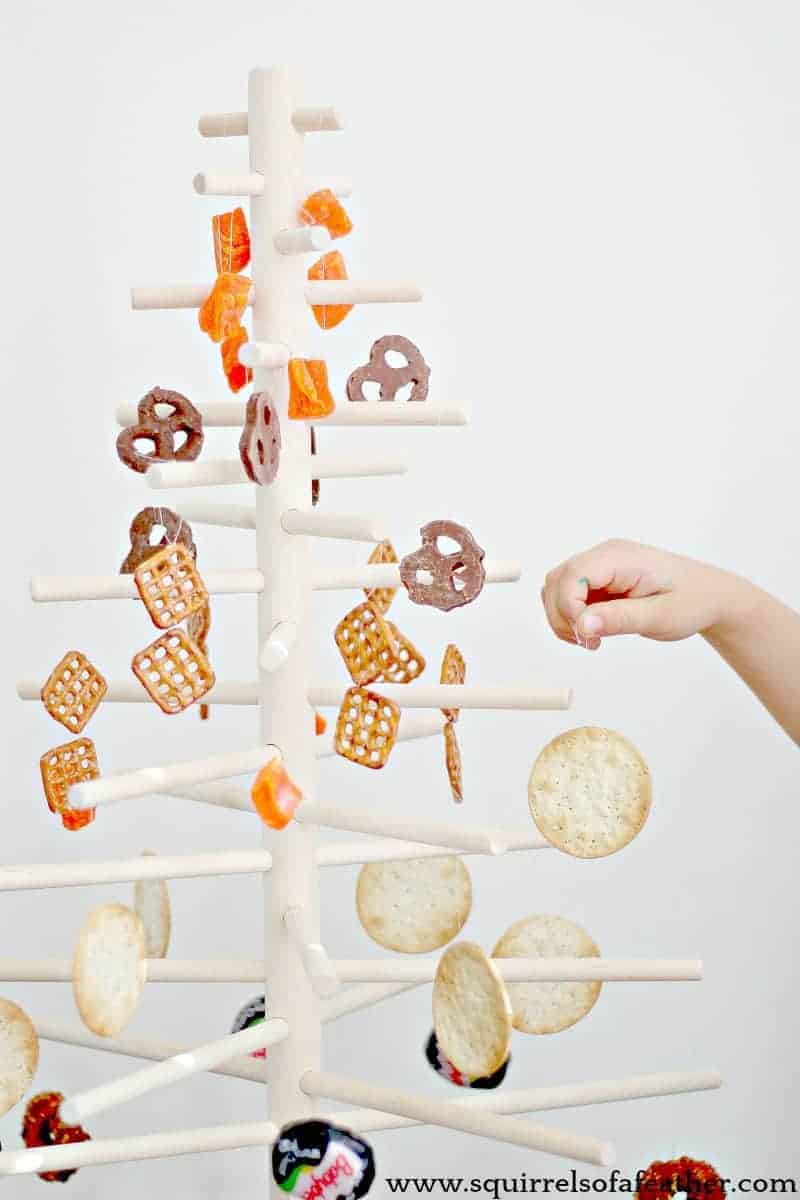 How to assemble your wooden dowel Christmas tree kit
1. Remove all the pieces from the bag and place on the floor or workspace
Take all of the pieces out and carefully place them on the floor. Make sure you find all the pieces and don't miss any.
2. Sort the branches by size
Arrange the "branch" rods from small to large on the floor. It helps if you press one of the ends against the large wooden "trunk" part of the tree.
No two sizes are the same; each one will be larger than the next, and so on.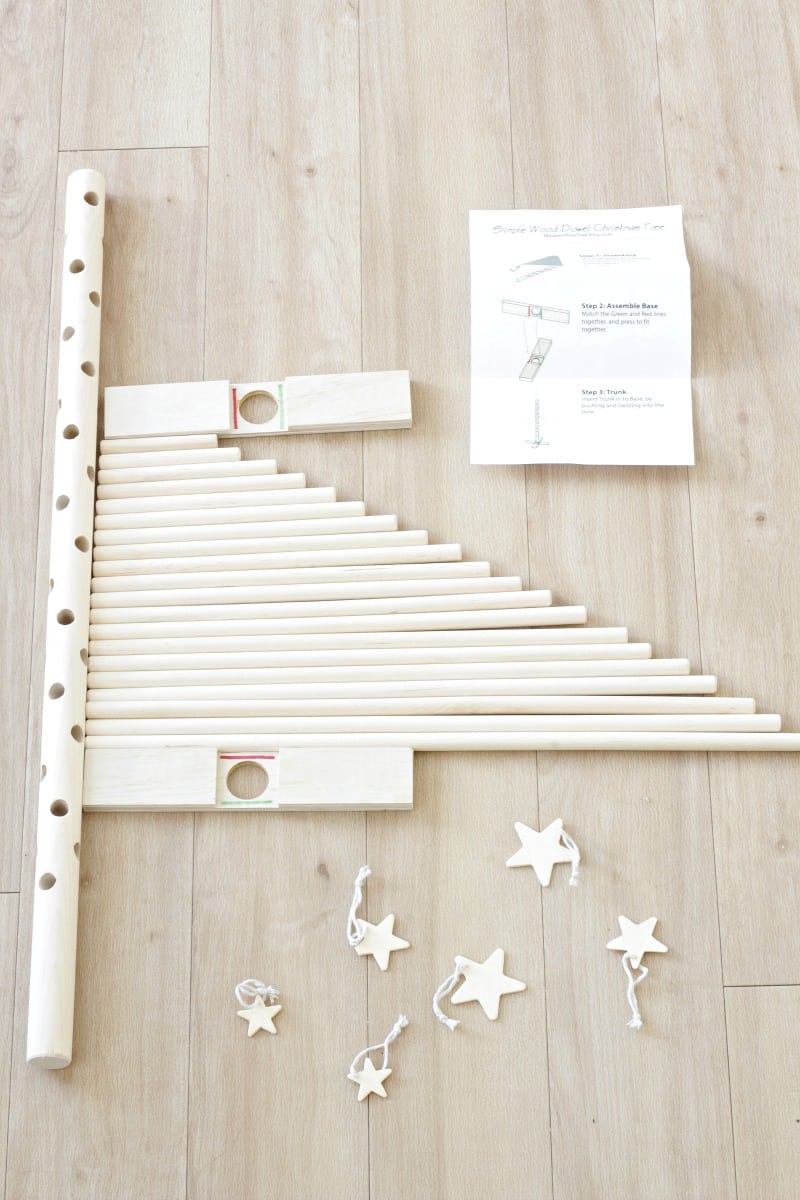 3. Assemble the tree stand
Take both of the rectangular wooden standing frame pieces and push them together, cut side in.
This will keep the stand locked in place; there is a hole at the bottom which the trunk will fit through.
4. Insert the wooden dowel tree's trunk
Now, take the longest dowel, the one with the holes in it, and place it into the wooden stand.
Push down firmly, twisting gently if needed, to get the trunk to stay firmly in place.
5. Add the dowel tree branches
Once you have the dowel tree trunk in place you are ready to add the branches.
Start with the smallest, and place that at the very top. Then work down, moving from the smallest at the top to the largest at the bottom.
Don't get them mixed up when you are sorting. I noticed when I was grabbing them I missed a hole and I had to pull a bunch out and redo from the middle.
Continue adding all the branches until all have been placed. Then, it's time to decorate your tree!
How to make the edible ornaments
Once you are ready to decorate your Christmas tree with edible ornaments, you simply need to thread them with either cotton twine or fishing line.
The size of the thread will be determined by the types of food you decide to hang on the dowel Christmas tree.
I used fishing line for this tree, but cotton twine would also look amazing if you have foods with larger holes!
You can see how I threaded the pretzel onto the fishing line, which I then snipped and tied off.
I tied the fishing line by grabbing both end threads and tying in a knot.
Don't leave too much space or your food will be hitting the branch below it.
Best foods to use for decoration
Don't feel limited to making only dangling ornaments!
If the cookies you chose have large enough holes, for example, you could simply slide them onto the tree branches several at a time.
The same goes for donuts!
Marshmallows and popcorn could also be threaded on a fishing line or thread as an edible garland.
Your imagination is your only limit!
Just make sure you don't leave things like cheeses and meats out for too long — don't want to make yourself or your guests sick!
You can also use these foods for Christmas decor:
Dried fruits (apple rings would work marvelously but weren't available in my store; I used papaya)
Cookies
Gummy candies (these are so festive, perfect for Christmas!)
Crackers
Pretzels (chocolate, yogurt, or plain)
Small cheeses
Cured meats like salami or prosciutto (tied up in a little bundle would be a nice effect)
Marshmallows
Popcorn
Donuts or mini donuts
I hope you enjoyed this post with ideas on how to serve edible ornaments on your wooden dowel tree for Christmas!
If you have any questions leave them in the comment section below.
Any awesome food ideas that I overlooked?
Pin this!