53 Thrifting Tips the Pros Use to Score BIG!
This post may contain affiliate links for your convenience. That means that if you make a purchase, I will receive a small commission at no extra cost to you. Read more here.
Reader beware: you are on the verge of entering the highly addictive world of thrifting –a world where the quick-handed rejoice and triumphantly hoist $500 Ralph Lauren jackets and the hesitant droop sadly over empty carts. Ah, the thrift store — a magical place where modern-day treasure hunters can find insane deals on valuable goods for pennies on the dollar!
So read these 53 thrifting tips, grab your ride-or-die, and head to the thrift store!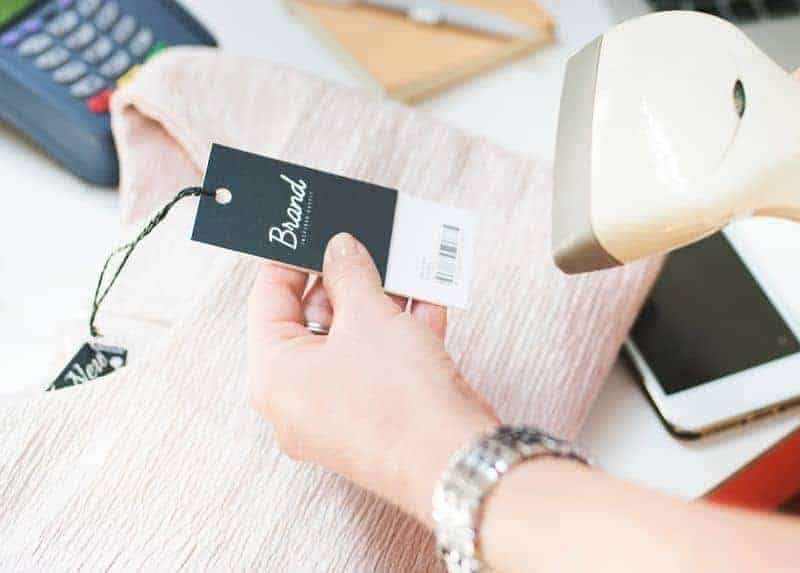 What is "thrifting" and why do you need thrifting tips, anyway?
First of all, what does it mean to go thrifting?
To put it simply, a thrift store is a cluttered nirvana at which savvy shoppers can score unique and valuable items for a fraction of the cost of buying them brand new.
Thrifting is the act of shopping for intriguing items being offered for low prices at locations such as thrift stores, flea markets, garage sales, church sales, estate sales, shops of charitable organizations, or other secondhand discount locations.
Don't let the "secondhand" moniker fool you though — there are plenty of opportunities to find brand-new items with the tags still attached!
There are two main 'types' of thrift stores:
bigger national brands, which have locations all over the country
smaller thrift stores available only to local residents
Well-know thrift stores include Goodwill, The Salvation Army, and Savers/Value Village.
Smaller thrift stores can be found in places like the basement of your local church, tucked down a city alley, or in small downtown antique shops.
Both newbie thrifters and seasoned thrifters will find these thrifting tips helpful – these are pro-level thrift shop tips that will help you score great deals!
Why thrift shop instead of purchase stuff brand new?
Here are four excellent reasons you should shop at the thrift store instead of buying brand new.
1. Thrift store shopping is good for the environment
Unfortunately, our culture of fast fashion has had a terrible global environmental impact; billions of tons of textile waste is generated every year by being thrown out as garbage.
Thrift shopping is considered much more environmentally conscious and supports sustainable shopping by creating everything from less textile waste to fewer carbon emissions from clothing products.
2. Shopping at thrift stores allows you to support charitable organizations
Organizations like The Salvation Army and other secondhand stores support families in need with donations and proceeds from sales.
3. Thrift store shopping helps you save money (or even make money)
Not only are you supporting a lifestyle of sustainability, but thrifting is also very frugal!
Thrift flipping has become a super popular side hustle and helped many people save money and pay off debt.
Sometimes you can even find amazing products at bargain prices, even the occasional diamond such as Louis Vuitton or Dior!
There are plenty of savvy thrifters that have even turned their love of thrifting into full-time careers as professions thrift flippers who sell thrifted finds on sites like eBay or Poshmark or even become YouTube famous by sharing their amazing thrifting hauls!
4. Thrifting is so much fun!
Seriously, so much fun – watch out or you might get addicted!
---
How to find the best thrift stores in your local area
The best way to find thrift stores in your area is to run a web search for "thrift store + your zip code/city".
This will pull up local results for thrift stores in your area.
So for example, if you live in Brooklyn, NYC you would run a search for "thrift store Brooklyn" (a query which pulls up over one hundred results on Yelp).
Another way to find thrift stores is simply word-of-mouth. Ask around with friends and neighbors to see if they know any great thrift stores.
53 epic thrifting tips to use at the thrift store
One does not simply walk into a thrift store — you need to have a plan. You need to have rules.
You need to know what you are doing or the thrift store will chew you up and spit you out, holding nothing but your own tears back.
(I'm kidding — mostly.) 🙂
On to the thrift store tips!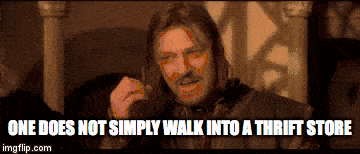 1: Have a plan before you thrift
Remember, one does not simply walk into a thrift store.
You need to have a plan, otherwise, you may blink and realize that three hours have passed and all you have to show for it is a moth-eaten wool suit and some cracked glassware.
(Some say that the laws of space and time cease to exist in thrift stores.)
In all seriousness, it does help to identify what you are looking for beforehand and set a time limit for yourself.
If you are looking for shoes, head straight to the shoe section and find what you need.
If you have a little bit of time left over after you find what you want (or don't) then you can go and check the other sections.
2: Set a timer
If you are really the type to lose track of time while shopping at the thrift store, set a timer on your phone so that you get a notification when time is up.
I'm not saying that I have been late to appointments because I was thrifting — but, yeah.
3: Accept that you don't need #allthethings
You need to make peace with the fact that you don't need to buy everything in the thrift store. There will always be other days and other great deals.
There is a dangerously thin line between loving thrift shopping and becoming a hoarder.
When shopping at the thrift store, you should always ask yourself two questions:
Exactly what place does this item have in my home?
Can I flip this item online for a profit?
The first question is for people who are shopping for themselves (or a gift for someone else).
The second question is for people who are interested in thrift flipping to make money selling online at places like PoshMark and eBay.
(Find out how I started making $1,000+/month by selling old junk on eBay!)
4: Know your local thrift stores
Not all thrift stores are created equal. Some thrift stores are a mishmash of miscellaneous items; others have a clear specialization.
Even between various Goodwills, you can find different kinds of goods and levels of quality; you really need to go in person several times to get a "feel" for the character of each thrift store.
Goodwill and The Salvation Army often have a hodgepodge of clothing, home goods, books, etc.
Whereas if you are shopping for furniture, Habitat for Humanity ReStore might be the best place to start.
💡 TIP: Get to know your local thrift stores so you know where to go first, depending on what you are hunting for that day.
5: Save money by traveling
Love saving; will travel.
It pays to travel to other neighborhoods to explore thrift stores. Smaller neighborhood Goodwill thrift stores don't always have the inventory to support their business and so will have inventory shipped in from other areas.
The wealthiest area isn't necessarily the best place to shop, although it's definitely worth checking out — when you go to thrift stores in wealthy areas you can ask the staff if they ever distribute inventory to other thrift stores and which ones!
Basically you just need to explore and find the best ones in your area through your own research.
6: Never shop on a weekend
Weekends are the WORST time to go thrift shopping.
Most people work during the week and have time to go on the weekends. By the time Saturday rolls around thrift stores are crowded and the best items have already been picked out.
7: Know the best days to thrift
If you can make it, the two best days of the week to go to the thrift store would be Monday and Wednesday.
Monday morning is an excellent time to shop because that is when the store will discount a new color (more on that in a minute) and inventory that people drop off over the weekend will begin to roll out.
Wednesdays are also good because it does take some time to sort through the weekend goods; new items often come out around Wednesday.
8: Shop by color
Okay, so we talked about how every Monday most thrift stores will change "colors".
So what does that mean?
At certain thrift stores (like Goodwill), each item that is put out on the floor will have a tag with a certain color. Each week, a selected color will be discounted off the labeled price by an additional 50% — that means bigger savings off already low prices! (You can now check which colors will be going on sale in advance at the Goodwill website here.)
Goodwill tag colors are:
Blue
Green
Yellow
Pink
Purple
As soon as you walk in, note the color of the day which will be discounted 50% and be on the lookout for items with that tag.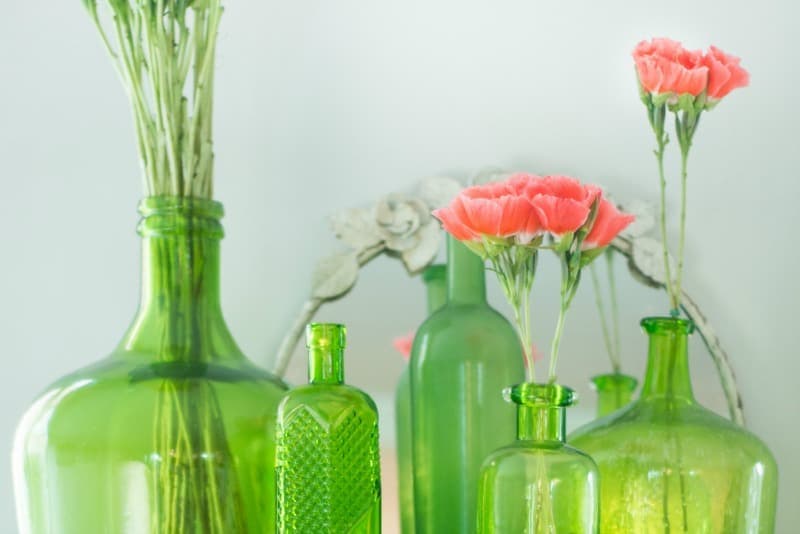 9: But don't wait too long to buy
Buying items that are discounted by 50% on their color day is always a smart strategy, but highly desirable items won't be around that long!
If you see something you really love or a great deal on a name brand item, don't put it back on the shelf thinking you can grab it on the discount day — chances are someone else will scoop it up before then!
Every thrifter has a story about the one that got away. Thrifting remorse is real, people!
I once hesitated over a gorgeous solid wood tray with giant silver turkeys at each end — real silver! Thanksgiving was coming up and I thought it was quirky and adorable, but a little pricey for a secondhand tray (no color discount).
I left that day only to hurry back the next; my turkey tray was long gone by then (sob).
10: Beware price gouging
Even Goodwill is subject to price gouging.
If a higher-end brand has a very recognizable name (like Ralph Lauren or Gucci) you can almost guarantee staff will slap a more expensive sticker on that item.
Keep your eye out for deals on high-end or lesser-known name-brand items that fly under the radar, like Allen Edmonds leather shoes or Thomas of Bavaria ceramics, for example.
11: Put on your thrifting game face
Know that thrift stores are lawless wastelands where items you like might be snatched right out from under your nose by ruthless fellow thrifters.
One of my friends even had a vintage birdcage taken off the shelf even as she was looking at it!
Put your game face on.
12: Never leave your cart
As I said, it's a jungle out there; in fact, I have had items "liberated" from my shopping cart
I made the mistake of walking away too far from my cart and had a gorgeous and coveted vintage pink Pyrex set scooped out while I wandered.
I don't know if it was done maliciously or if the person who took it simply thought it was a staff stocking cart but in any case, it was gone *poof*.
Never, ever, EVER leave your cart
13: Hide your finds
Along with never leaving your cart, you might also like to try and hide your finds from prying eyes.
I recommend finding an oversized dress right upon entering the store so that you can hang it inside and use it to cover your items.
14: Be prepared
Particularly if you are shopping for furniture, you need to make sure you have the space to haul your finds home!
Clear enough space in your trunk so that you can fit in bags and items.
If you have car seats installed in an SUV you may need to remove them and lower the seats to make room for any furniture.
Have some blankets to protect the trunk/truck bed from scratches and dust. Be prepared!
15: Bring measuring tape for furniture
Speaking of furniture, if you are shopping for times like chairs, tables, dressers, picture frames, etc make sure and bring some measuring tape with you!
Measure out the dimensions that you are looking to fill at home and have an idea of the space before you head to the thrift store, then measure the item in the thrift store before you buy.
Nothing is worse than buying a piece of furniture and hauling it home, only to find it doesn't fit!
16: Dress for thrifting success
Thrift store changing rooms are in short supply and often occupied (and sometimes of questionable cleanliness).
Rather than waiting for a fitting room to try on thrifted clothing (and leaving your cart unattended), dress so that you can try items on right in the aisles or any nearby mirror.
How to dress for thrifting:
Wear a tank top so you can slip tops, blouses, and dresses on easily
Wear a dress or skirt so you can try on pants and skirts modestly in the aisles
17: Wear the correct socks and shoes
Match your shoes and shoe inserts to the occasion for which you are shopping. In general, wear shoes that can be easily slipped off/on if you are on the prowl for shoes.
If you are searching for a dress that requires heels, wear heels — and visa versa, if you are searching for heels to go with a dress, wear the dress!
No-show shoe liners like the ones pictured below will help keep your tootsies so-fresh-so-clean while you are shopping.
18: Always try on clothing if shopping for yourself
Always try on clothing in the thrift store before purchasing. Trying on items in the thrift store will ensure you really like the item and prevent you from having to run back and make a return.
Don't trust the size on the tag, since clothing sizing is notoriously unreliable.
Trying the item on also makes it easier to inspect the clothing for any damage, such as holes or missing buttons.
19: Make it a family affair
If you have relatives or friends who also love thrifting why not bond while spending some quality time together!
The family that thrifts together, stays together.
20: Get friendly with the staff
Become friends with the staff.
They may let you know when things are going on sale, what's being sorted in the back, and even may set aside items they know you will like!
21: Find out when items get marked down
Find out when items get marked down in your particular store and look for special deals on those days.
22: Watch out for sales and coupons
Goodwill and other stores run promotions at various times during the year — sign up for their email list to get beforehand notice of upcoming deals!
Our local Goodwill had a huge Halloween blowout with prices at 50% off. Another store had a huge sale when they liquidated the entire furniture store — everything was under $20!
23: Download the Goodwill app 
The Goodwill app is like your own VIP pass to saving money at the thrift store.
You can use the Goodwill app to find and filter local stores, score great deals, scope out donation locations, and even get the latest news from their blog.
24: Make sure your phone is charged before you go
Make sure your smartphone is charged before you head to the store — it's going to help you score the best deals (I will explain in more detail in the next tip).
If you are traveling far or plan a long day of thrifting and are afraid you might run out of battery, get a portable phone charger like this one. (This little beauty saved my life when I was attending a conference out of state.)
25: Use your smartphone to spot the best deals
How do you know if you are getting the best deal on something at the thrift store or if it's seriously overpriced?
You check the eBay app!
Download the eBay app and have it pulled up on your phone when you head to the thrift store. You can comparison shop for similar items by looking at the "Sold price" in the advanced search filter.
READ MORE: How to make $1,000 a month thrift flipping on eBay
26: Run a reverse image search for unknown labels or marks in foreign languages
Google reverse image searches can be used to identify maker marks for unknown brands or even items in foreign languages. Just take a clear picture of the item or maker's mark and then enter it into a reverse image search engine.
If you aren't sure of the orientation of the writing (particularly for characters in Japanese or Chinese) you can try and flipping the item around to see if that gets you a result.
27: Know your labels
Label Resource is a website that can help you identify unknown brands; it can also help you figure out if you might have an authentic bag versus an imitation. Search for labels alphabetically to help you find what you are looking for.
If you can't find what you are looking for that way, just try running a Google search; you can also use the image search to see if anything matches what you are looking for.
28: Keep an eye on your profit margin
Thrift flipping for profit?
You need to pay attention to your bottom line.
Professional flippers look for high-profit margins before dropping a single dollar.
Take Rob and Melissa, who made a staggering $133,000 their first full-time year flipping after Rob's health insurance was cut from his job!
We planned to only flip items that make us a minimum of $25 profit, and not mess with the smaller profit items. Our first year full-time, we made $133,000 in sales!
Check what items like yours are selling for on eBay, Poshmark, etc and see if the price is worth your time before buying. (Don't forget to take shipping costs into account!)
(People who thrift to make money will especially benefit by shopping on discount color days.)
29: Shop off-season for clothing and sporting goods
Forward-thinking thrifters can scoop up great deals on deeply discounted goods by shopping offseason. Start shopping two seasons early for clothing and sporting goods to get the best deals.
Look for winter coats in summer and baseball mitts in winter, for example.
30: Know what not to buy
Some things will never be a deal, no matter how cheap they are.
You don't need secondhand swimsuits or underwear, for example.
Beware furniture with upholstery, as these can hide creepy crawlies like bedbugs (happened to a family friend — very expensive to treat her home!)
31: Learn how to spot the best items fast
Thrift store scanning is an art form. If you try to physically lay hands on every single item on the racks to sort through them you may never leave.
Learn to let your eyes wander, left to right, top to bottom, scanning for anything that stands out in terms of appearance and quality. It might be a color, pattern, shape or texture that draws your eye.
Once your eyes land on something they like, move to the next step.
32: Spotting quality items at the thrift store
Once your peepers land on something they like it's time to take a closer look. Reach out with your hand and give it a feel. If it's clothing, does it feel luxe or flimsy? If it's wood, is it heavy and solid or lightweight and covered with veneer?
With practice, you will be able to quickly identify quality items with a quick scan and a touch.
33: Don't be afraid to dig deep
Those who dig deep often find buried treasure!
If you see stuff piled up high, gently lift items and shift them around so you can see what's underneath — sometimes you stumble upon other thrifter's hidden stashes, which they were trying to hide for the color discount day.
34: Say "no" to fast fashion
Thrift stores receive tons upon tons of clothing each year; do you really want to sort through all that and come out with some already cheap Forever 21 gear?
As a rule, try to avoid fast fashion that will wear out or go out of style quickly in favor of classic and quality goods, unless you find something you are truly in love with and can't live without.
BE SMART: 15 Minimalist Shopping Tips That Will Save You a Ton of Money
35: Inspect closely for any damage
Congratulations! You found something you like.
But wait! Before you add that item to your cart, take a moment to inspect it closely for any damage or wear.
Are there any visible holes? Are all the buttons still sewn on? Do the zippers work? Any stains?
Take a close look at everything before you hand over those dollar bills.
36: Become Mr. Fix-It
Learn to sew, patch, paint, etc and you can turn your cheap finds into stunning statement pieces!
Tung oil can be used to restore old wooden bowls (this brand is food-safe approved by the FDA)
A regular sewing kit has everything you need for most clothing patch jobs
Wood filler can be used to patch holes in furniture
Paint can be used to freshen up outdated pieces (milk paint and chalk paint are two popular choices)
💡 SCORE: I scored a sweet deal on a gorgeous vintage camel coat I was able to use my nearly non-existent sewing skills to remove the shoulder pads and give it a fresh look!
37: Know what can be cleaned and what can't
Viscose and silk will be much harder to clean than cotton for polyester! I have used Oxi-Clean to clean yellow stains perfectly out of both colored and white collared shirts, but that might not work with all fabrics or stain types.
Know your cleaning capabilities and err on the side of caution when buying soiled goods.
38: Can't be fixed? Thrift online instead!
Find something you absolutely adore but it's beyond repair or doesn't fit? Take your thrifting online!
Photograph the item and any tags then see if you can find the same item online at places like eBay, Etsy, or Poshmark.
39: Test any electronics before you buy
If you are hunting for electronics, make sure to test them in-store before purchasing and save yourself a return trip if they don't work.
40: Carry batteries and a screwdriver in your purse if shopping for toys or games
Even if you aren't looking for them, you never know when you might stumble upon really cool electronics, like vintage boomboxes!
If you know you are going to the thrift store, it doesn't hurt to carry some batteries in various sizes in your purse so that you can test the items in the store to make sure they are working before you buy!
41: Don't be afraid to negotiate
There are times it is totally appropriate to negotiate on an item's price at the thrift store. You don't feel guilty that you are being "too cheap" — overpaying for an item is never smart, even when it's at a discount store!
Valid reasons to negotiate include:
An item has visible damage, but you would still be willing to purchase for a discount
The item's price exceeds the price of a brand new item (this has happened to me – check the stickers!)
If you're just feeling sassy and lucky 😉
I once found a lovely children's badminton set, still in the original box, priced at $5. However, the original price tag was still on the outside and it was originally only $3!
The manager agreed with me that it made absolutely no sense for the item to be priced higher than the original sale price and agreed to sell it to me for $1.
Just like that, having the courage to simply ask can make a difference!
42: Think outside the box
Question: When is a door not a door? (No, this isn't some crazy Stephen King joke.)
Answer: When you turn it into a table!
That's right, with a little imagination, nearly anything you stumble upon at the thrift store can be repurposed or upcycled into something spiffy.
DIY: Check out these 15 stunning thrift store home decor flips, perfect for home decor on a budget.
43: Make sure you aren't missing key components
So you have found a gorgeous Le Creuset Braiser in seemingly perfect condition — but wait!
Is it missing the lid?
Don't be afraid to research using the eBay app or run a Google search for the item you have found to double-check that it's not missing any original pieces.
If it is and you still must have it, be sure to negotiate a discount with a manager! Just have the information pulled up on your phone to share and you can nearly guarantee they will cut the price.
44: Keep your eyes peeled for new with tags or packaged goods
Otherwise know as "thrifters gold", new in box (NIB), mint in box (MIB), and new with tags (NWT) items are highly prized, particularly in the thrift flipping community.
Just check out these prices on vintage Pyrex sets! (Yes, I know I have a Pyrex obsession — Pyrex, FTW!)
45: Shop the "discard" piles
One of the best places to spot desirable goods? Fitting rooms, on top of racks, and next to the register!
These places are a landing zone for desirable items that people either decided they didn't want or didn't fit.
I once passed up a gorgeous and breezy Michal Kors summer dress that would have easily gone for over $100 on eBay (even pre-owned) because I couldn't quite squeeze myself into the XS size. 🙁
I left that baby right next to the dressing room and when I passed by a few minutes later someone had already pulled it off the rack!
46: Sign up for a store card
Sign up for a card at your thrift store and you can earn thrifting credit that may qualify you for discounts as you accumulate points!
I always enjoy hearing I racked up enough points to redeem for a discount at my local Goodwill. 🙂
47: Have cash on hand
While Goodwill and other national thrift stores accept credit cards, don't expect the local Mom & Pop antique store or the church's basement thrift store to accept your card!
Have cash on hand while thrifting just in case the thrift store doesn't accept credit cards.
48: Re-evaluate before checking out
Times up and you are ready to head to the checkout aisle.
Before you go, step to the side and re-evaluate everything you have pulled from the shelves to make sure you truly love them.
Sometimes you have to pull something off the shelf because you want to mull it over while shopping and don't want anyone else to grab it, only to decide it's not quite your bag — which is totally okay!
Sift through everything one more time to make sure you only bring home the winners!
49: Thou shalt honor the return window
Different thrift stores have different return policies, even for various items within the store!
For example, at Goodwill you have 7 days to return most items, but only 2 days for electronics; you also will only be eligible for store credit, so don't throw away that return receipt.
TIP: Pay attention to the fine print and always honor the return window!
50: Follow thrifting-related hashtags on Instagram
Hardcore thrifters know Instagram is an awesome place to connect with other thrifters just like you who are obsessed with thrifting!
Love Jadite? There's a hashtag for that!
Obsessed with Disney? There's a hashtag for that too!
Go on Instagram to connect with like-minded thrifters and find great ideas for repurposing or upcycling thrift store finds.
51: Take items to donate with you
Spread the thrifting love and keep your house from reaching hoarder status by donating a box or two every time you head to the thrift store.
Your closets will thank you.
52: Put your finds in the freezer?!
This is a fun little-known fact for people who love thrifting for wool coats and skirts but also live in fear of wool eating moth infestations!
You can kill any moth larvae that might be living inside wool goods by placing wool items inside a large Ziploc bag and leaving it in the freezer for 72+ hours at freezing temperatures!
Ice those pesky buggers!
(This works for wool yarn too, by the way.)
53: Always have fun!
The first rule of Thrift Club?
Always have fun thrifting!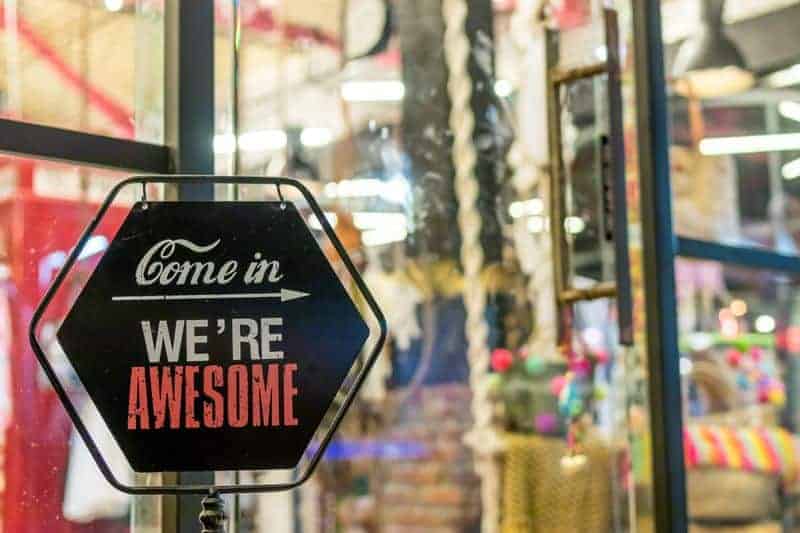 Ready to get started making money thrift flipping?
Sign up for our newsletter list and get immediate to our Resource Library where you can download and print off a FREE eBay listing checklist!
This checklist is a helpful tool that actually lays out the steps for how I started making $1,000/month selling my old junk on eBay.
You will also get access to other free printables that will help you save money, increase your income, and live a rich minimalist life!
---
Pin this amazing guide!