15 Minimalist Shopping Tips to Save THOUSANDS Each Year!
This post may contain affiliate links for your convenience. That means that if you make a purchase, I will receive a small commission at no extra cost to you. Read more here.
Who isn't guilty of spending too much money on clothing, shoes, makeup, and tons of other crap they don't really need or want? These life-changing minimalist shopping tips show how to swap bad money habits for good ones!
There are so many benefits to living minimally, and saving money is a HUGE one for many of us. Find out how to shop like a minimalist, be more intentional with your spending, and you can save THOUSANDS of dollars each year!
How to Shop like a Minimalist
To shop like a minimalist, you need to know the three shopping phases and start thinking like a minimalist in each stage.
Don't worry – it might seem challenging now, but when you get used to minimalist shopping, these frugal habits will become second nature to you.
You'll get to the point where you don't even think about them after a while!
The three phases of minimalist shopping:
The Pre-Buy Phase: the actions you take before shopping or buying an item.
The Buy Phase: steps to take when you are actively looking to buy something.
The Post-Buy Phase: any actions or behaviors you take after making a purchase.
There are five minimalist shopping tips in each of these three categories to help you practice mindful spending and intentional buying habits.
The Pre-Buy Phase of Minimalist Shopping
1. Maintain a shopping list
Before you go out and shop, please make a list of what you need and stick to it. This will prevent you from wasting valuable time and money looking at items that you don't want or need.
You can also use the 30-day rule in tandem with your shopping list.
Here's how it works:
If you find something you like, put it on a list – I use the Notes app on my phone to do this (make sure you write down the date).
Wait 30 days.
If you still want the item after 30 days, go ahead and buy it!
Add and subtract items from the list as you go.
2. Identify needs vs. wants
If you are a beginner minimalist, it can be hard to know what are needs versus wants.
To make minimalism work for you, your needs should be met while still leaving room in your budget and schedule for things that bring happiness into your life.
You might want that new book, but if you have ten more waiting at home that you haven't read yet, you need to think twice!
3. Calculate the actual cost of an item
As you start to get the hang of minimalist shopping, one of the best things you can do for yourself is calculate how much an item REALLY costs.
You might think that a $50 shirt is totally affordable because it's on sale, but when considering how many hours you would need to work at your job to buy that shirt, maybe it becomes less appealing.
Here are more actual costs for ownership:
storage and space costs
upkeep and maintenance costs
accessory costs
loss of opportunity to spend that money on something else (bills, debt, etc)
time and financial burden
mental burden and feeling overwhelmed by any of the above
and more…
TOP PICKS: 30 Life-Changing Minimalist Blogs to Follow
4. A place for everything
A place for everything and everything in its place – this concept can save you money if you think before you buy!
Before you purchase an item, think carefully about how it would fit into your home and life. Let's say you want to take up biking; do you have space for a bicycle, protective gear, bicycle maintenance tools, enough money to get the bike you want, etc.?
So many people buy things only to realize they don't have anywhere to put them, so thinking about where that thing will live first can reduce the risk of making a purchase you regret.
5. Shop your own home
Do an audit of your home and make sure you don't already own the thing you are thinking of buying. You'd be surprised how many people go shopping only to realize OOPSIE – I already have this thing!
Even if you don't already own that exact item, you might be able to find something in your home that can serve the function, such as using free shoeboxes to store folded clothing in your dresser rather than going out and buying fancy lingerie boxes.
START SAVING MONEY RIGHT NOW!
My CPA husband and I created this 2-page budget planner based on the tools and techniques we've used to:
notice and

REDUCE patterns of overspending

track daily and monthly expenses (for 12+ years)
afford an all-cash dream wedding
save up to 70% of our annual income
The Buy Phase of Minimalist Shopping
6. Avoid debt at all costs
Don't use credit cards unless you can pay them off every month.
If you can't buy something without going into debt – don't buy it!
If you have a true need, but an item is too expensive, you can probably find the same thing or a similar swap if you shop secondhand at thrift stores or online.
You might think you are saving money buying something because it's on sale, but remember that you save 100% of your money when you choose to buy nothing!
BE SMART: 53 Best Thrift Store Tips the Pros Don't Want You to Know
7. Do your research (and comparison shop)
Don't just walk into a store and buy the first thing you see or hear about.
Do your research to find out what's worth buying for both quality and price. Read reviews and talk to family and friends you can trust.
Questions to ask before you buy:
Does this item fit with my values?
Which brands are best?
How does this piece fit in with my home, wardrobe, etc.?
Can I get this secondhand or cheaper elsewhere?
How long does this last?
8. Be smart with your money
Don't spend money if you don't have to, but when you DO make sure to spend it wisely.
For example, if you are shopping online, you can earn cashback on almost any purchase with Rakuten – it's literally FREE MONEY! All my frugal minimalist mom friends swear by Rakuten.
Here's how it works:
Go to Rakuten here.
Sign up with your email and choose a password (make sure to use this special link if you are a US customer, and when you spend your first $25 you get a $10 bonus cashback credited to your account.)
Add the Rakuten Google Chrome extension to your browser or use the app before you look to buy and you can find sales and also earn money back on any purchase.
FIND OUT MORE: You can read more about Rakuten here – it used to be called "Ebates" and I've been using it FOREVER!
9. Search for sales and deals
Nowadays, it's easy to find deals and coupons with a quick online search.
Before you buy anything, take the time to scout for sales or coupons – it doesn't hurt to check!
START NOW: 50 Money Hacks to Save Money Like CRAZY in 2021
10. Prioritize true value
Don't prioritize sales or coupons over getting what you want.
After all, there's a lot more to value than a price tag!
If you have to choose to buy a cheap item that you don't want or a more expensive item that is just what you are looking for, it's probably better to go for the latter – even if you have to wait or save up for it.
BE INSPIRED: 120 Minimalist Quotes That Will Inspire You to Embrace Simplicity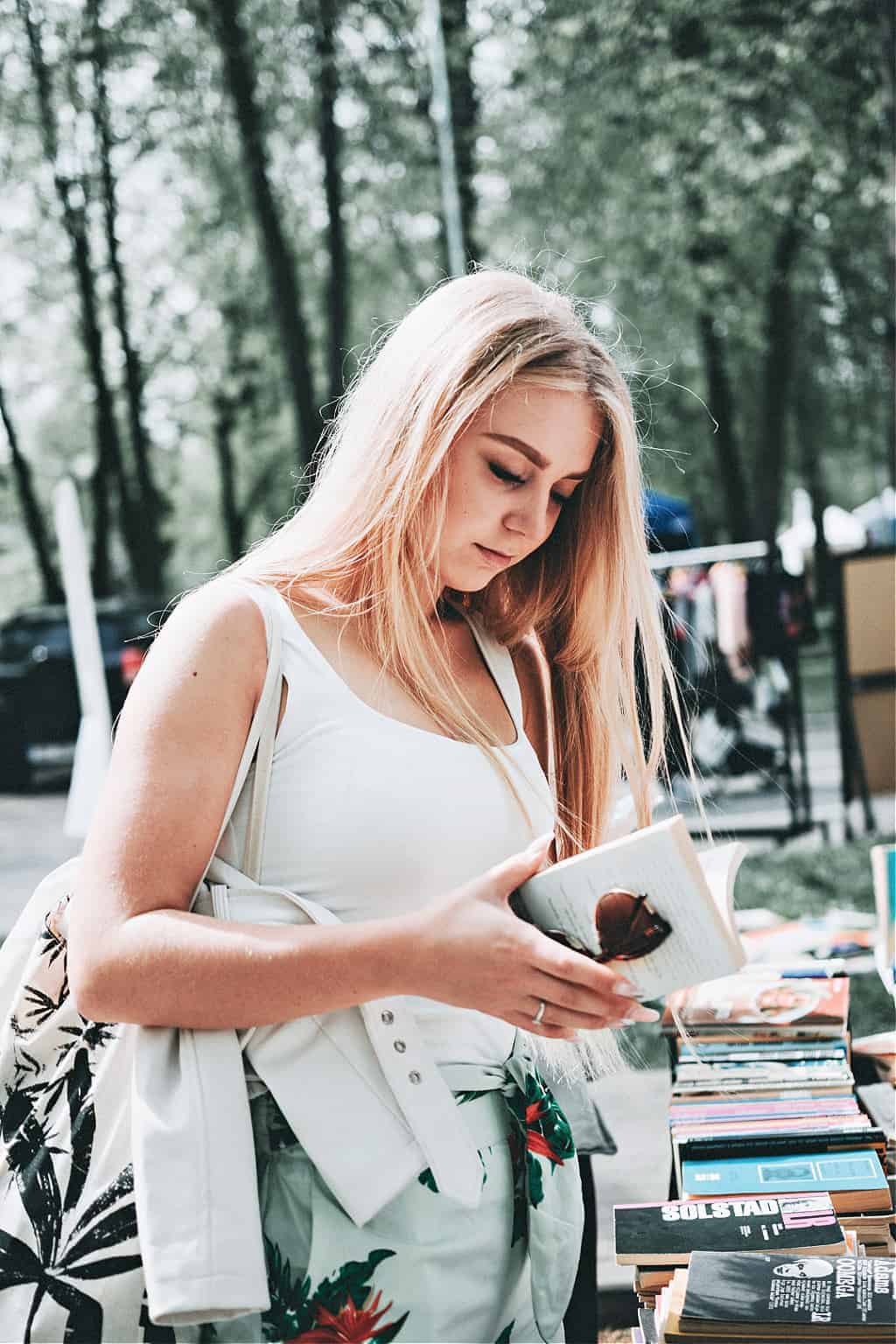 The Post-Buy Phase of Minimalist Shopping
11. Unsubscribe from brands
If you've ever made a purchase – which most of us have – you have probably ended up on a brand's email list.
Those $5 off coupons and sales notifications are a sneaky trick that brands use to get you back into their store to spend money.
If there's a retailer that continuously sends you advertisements every day, it may be worth unsubscribing from them so that they don't tempt you into buying something you don't need.
Make the choice not to buy a lot easier by simply removing the temptation from your inbox!
12. Reflect on your emotional spending habits
You might be surprised to find out that both positive and negative emotions can make people want to spend money.
If you've ever bought something because you were bored and scrolling social media or treated yourself to ice cream after a tough day because "you deserved it," then you've practiced emotional spending.
A few treats and rewards aren't bad, but when it becomes your fallback to spend money when you're happy or sad, then you're in danger of making a bad money habit worse.
What makes you want to spend money?
The key is to know yourself; once you can identify the emotional spending triggers causing you to impulse buy and waste money, you can work to reduce and avoid them.
TAKE A LOOK: 10 Toxic Fantasy Self Items to Declutter in 2022
13. Avoid high-risk shopping
Can't resist filling your cart every time you walk past the Target discount aisle?
Or maybe you can't help but stop at the makeup counter every time you walk past it on your way home from your mall job?
If so, it's time to avoid high-risk shops for a while. At least, until you've got your spending under control again, don't walk down aisles that make you overspend and don't look at stuff you don't need to buy.
14. Practice spending freezes
A spending freeze is a fun way to challenge yourself not to spend money on non-essential items during a pre-determined period.
Common lengths for spending freezes include:
7-day spending freezes
30-day spending freezes
One-year spending freezes
If you think it sounds impossible to go a year without buying anything, you'd be surprised! Check out the book My Year of Less by Cait Flanders to read the experiences of a young woman who stopped buying things (and decluttered 70% of her stuff!) in one year.
15. Use the one-in-one-out rule
The one-in-one-out rule is a minimalist shopping tip that people use to prevent clutter from accumulating.
It's simple: if you buy something new, try to get rid of something in your home. Often the items are in the same category (buy a new book, get rid of an old book), but you can also declutter across categories (buy a new pair of pants, get rid of an old basketball).
When I purchased a new winter coat that was more suited to the chilly winters in our new country, I donated my old coat to a local women's shelter.
This simple rule can help you maintain balance and order in your home.
CHECK OUT: 50 Mindful Ways to Get Rid of Clutter (That DON'T Include a Trash Can!)
Final thoughts on minimalist shopping
Listen, no one is perfect, and there will be times you make mistakes, buy something you regret, forget to stick to your list or any number of minimalist shopping snafus.
Remember, minimalism is not about perfection but rather about creating space for what matters to you and allocating your time, money, space, and resources towards that!
You can also check out my YouTube video on this topic or pin this post on Pinterest to remember for later. Cheers!