25 Best Hygge Gifts That Are Cozy & Unique (for Him or Her)
This post may contain affiliate links for your convenience. That means that if you make a purchase, I will receive a small commission at no extra cost to you. Read more here.
This season, why not give presents that people will actually look forward to enjoying? These hygge gifts are not only the epitome of cozy winter feels, but they are meant to be practical and meaningful too.
From warm woolen socks to cozy blankets to cuddle up beneath, this selection of hygge gifts is sure to make your loved one's winter much more enjoyable.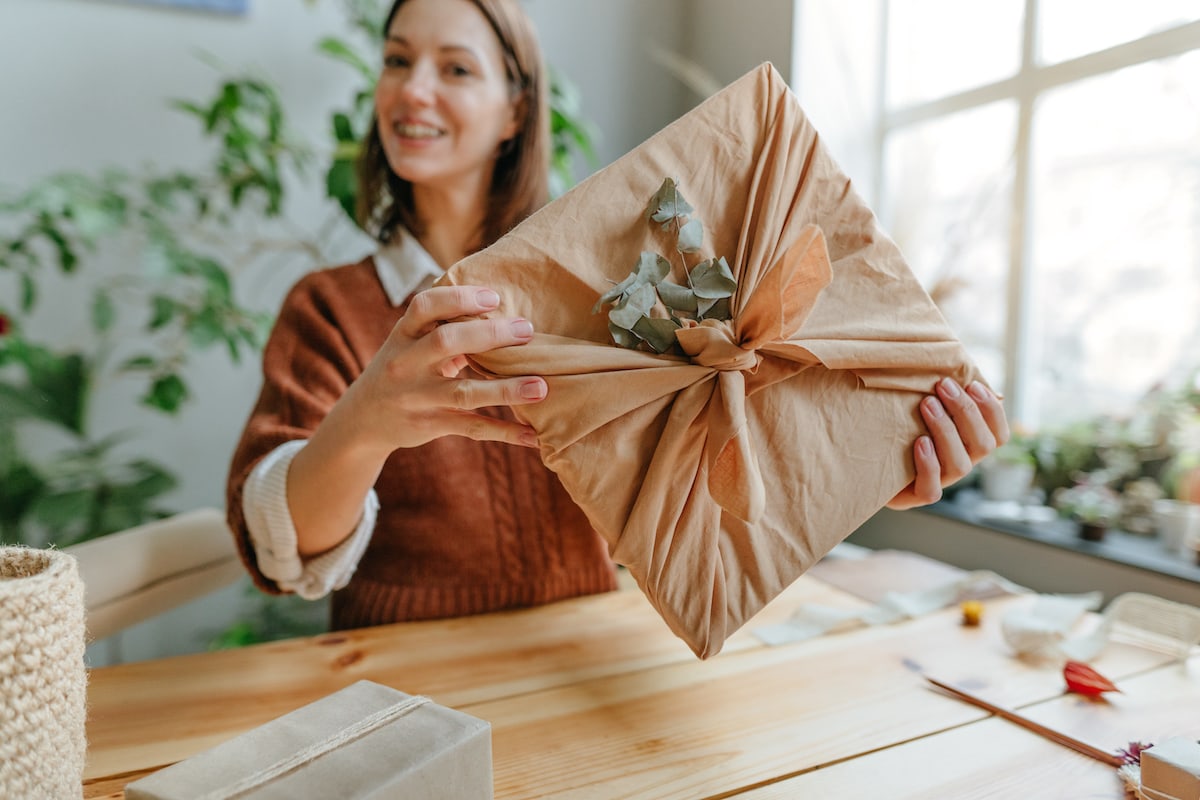 What is hygge (and why it's especially great in the wintertime)?
Before we get to the gifts, you may be wondering what on Earth is this hygge thing we're talking about. Let me explain.
Hygge is a Danish lifestyle concept that has gained international popularity in recent years. It can be loosely defined as a lifestyle focused on comfort, warmth, and contentment.
Those who practice hygge do so to create warm atmospheres that encourage enjoying the simple joys of life. That doesn't mean it's a solitary activity, either. People often talk about how hygge brings friends and loved ones closer to one another – without any pressure or complicated activities.
A few examples of the hygge lifestyle are:
spending time with good friends
enjoying cozy comfort food meals
evenings snuggled up with a cup of hot cocoa or tea
reading a book under a soft blanket by the fire
making baked goods from scratch
taking an extra-long bubble bath in the evening before bedtime
The wintertime is particularly suited for the coziness that is hygge since the colder months encourage us to slow down and spend more time indoors. Rather than rushing from event to event, you may spend your evenings with lit candles and calming routine ending in an earlier bedtime.
In short, with a little effort, you can create an environment of peace and relaxation that invites you (and your loved ones) to appreciate the small pleasures of life.
And yes, while the colder months do make hygge sound exceptionally good, this lifestyle isn't just for wintertime – it's something you can put into practice all 365 days of the year!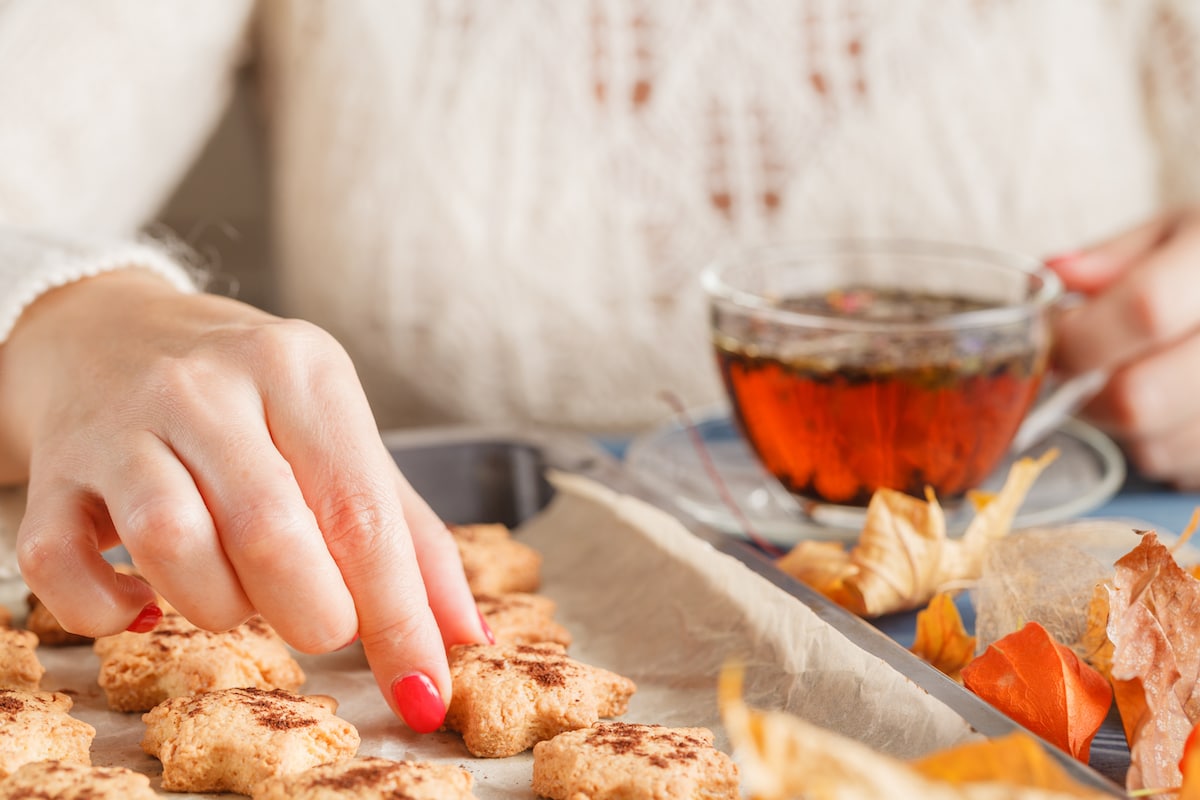 Hygge and minimalism
Unsurprisingly, hygge and minimalism go hand and hand.
Minimalist living is all about finding what's essential to you and making more space for that by getting rid of the rest. Applying that to hygge involves simplifying your life so you can focus on things that make you feel at ease.
This could include decluttering your home, setting boundaries for yourself, or scaling back on obligations and commitments. When you're able to cut out the excess "noise" in your life, you can have more time and energy for the things that are most important.
In this way, hygge and minimalism both help us focus on what really matters: authentic relationships, meaningful experiences, and personal growth. It helps us create a simple and sustainable lifestyle that makes us content and fulfilled.
By combining hygge and the principles of minimalism, we can find joy in our everyday lives, no matter the season! What better theme to gift your loved ones with this year?
READ MORE: 70 Simple Living Quotes to Embrace the Joy of Slowing Down
The Best Hygge Gifts
Remember, hygge is all about creating a cozy and comfortable atmosphere, so giving a gift with that purpose in mind can make for a thoughtful and meaningful present that anyone in your life will appreciate (minimalist or not!).
Read even more gift ideas here:
There are two options here that I recommend. The original Snuggie is good, but the shorter option might be better for kids or people with mobility issues who are at risk of tripping.
Whichever you choose, grab this cozy blanket in your choice of colors. I like the pink wearable blanket, but the gray version is also nice if you want something a bit more neutral!
Looking for an easy way to add hygge into your social life? Invite friends over to play this hygge-inspired conversation game. With more than 300 conversation starters, you're practically guaranteed a meaningful night in.
What's cozier than enjoying breakfast in bed? This bamboo bed tray allows you to do just that. Whether they want a full meal or simply want to enjoy a coffee in their PJs, this is a gift that keeps giving.
Know someone who LOVES warm baths in the winter? This bathtub caddy is a good second tray option as it can be used in the bath or out.
There is truly nothing like a warm pair of fuzzy winter socks. Having cold feet in the winter is my least favorite thing, so I always love a good pair of soft socks. The receiver will also appreciate that these are grippy on the bottom so that they are less likely to slip.
Keeping a thankfulness journal is one of the top ways to slow down and enjoy life more.
A pretty gratitude journal like this is one of the best ways to help a loved one stay on top of their daily gratitude list (and enjoy their life more).
Know a fellow hygge fan? Gift him or her with this hygge printed sweatshirt. Not only does it come in 4 neutral shades, but it's oh-so-cozy, living up to its namesake.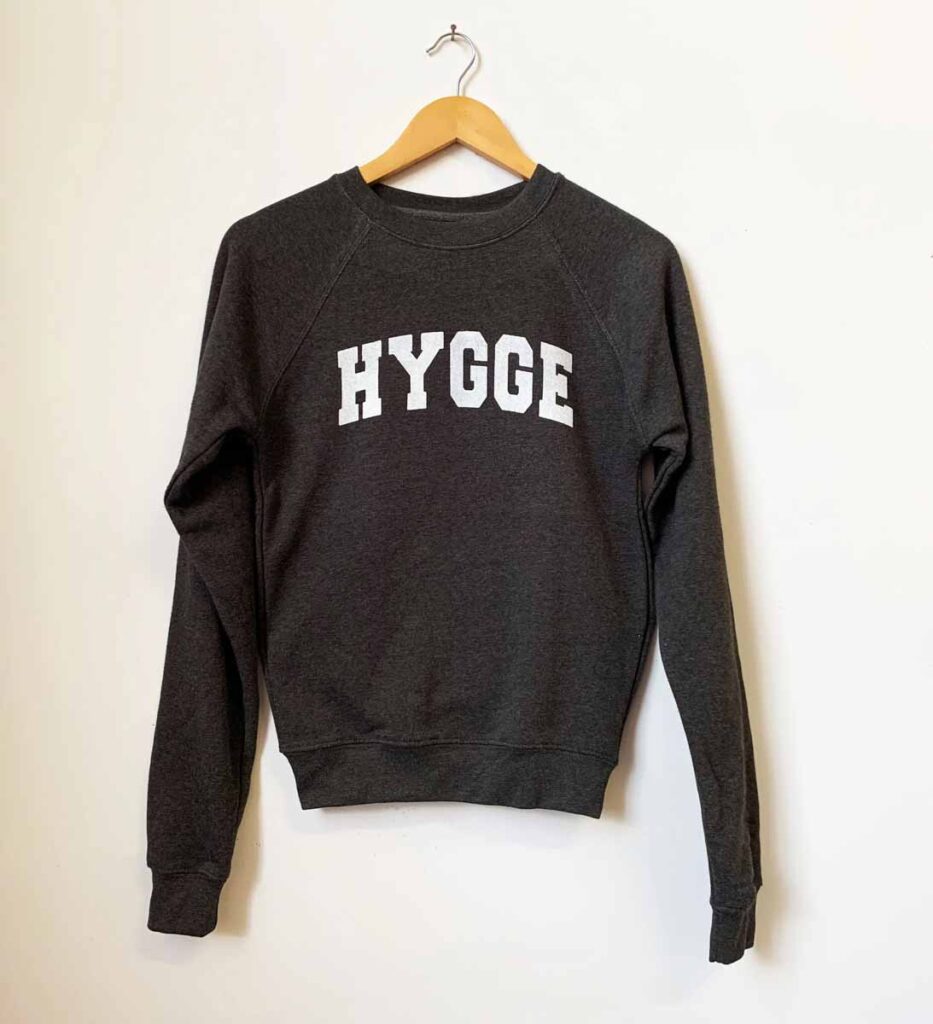 Houseplants are having a major moment. Pretty much anyone in your life would appreciate this modern plant stand for one of their plant babies.
Right in line with the theme of cozy gifts is this Sherpa throw blanket. It's available in 7 different shades and is practically guaranteed to be a hit gift.
Even the act of making coffee can help get you into the hygge mindset. This glass pour-over coffeemaker offers a stylish look and also makes a phenomenal cuppa for those cold winter mornings.
Low-quality candles can put you at risk of inhaling toxic chemicals they release into the air – so NOT hygge! Luckily for those of you who love candles, this fall-scented candle smells amazing while also being non-toxic.
What better gift to give someone than a good night's rest? This ultra-soft weighted blanket is what dreams are made of. Many reviewers reported they experienced deeper rest and added comfort when sleeping with this weighted blanket — and this one is super soft, too, so you get the best of both!
I just got these fleece-lined sweatpants, and I ADORE them! Our 100-year-old home has hardwood floors, high ceilings, and so-so insulation. These babies keep me warm and cozy on even the chilliest mornings.
However, please keep in mind that the fleece lining means they might fit tighter than usual. Check the sizing chart carefully and consider sizing up if you prefer a looser fit.
Give the gift of an upgraded charging station with this handmade wooden docking station set. Not only can your loved one charge his or her devices, but they can also use it as a spot to store small office items such as pens and clips.
This soft terry bathrobe is the perfect item to lounge in on chilly evenings. I personally think the hooded option is great for extra warmth, but there is one without the hood as well.
Lamp makers claim the negative ions released by these natural salt lamps can cleanse and purify the air around you, improving everything from mood to sleep. The soft, warm glow of the lamp and the natural texture of the salt adds a warm ambiance to any room.
If you are trying to come up with a great gift for your partner, look no further than this essential oil massage set. This gift set comes with 3 scents to choose from: a sore muscle massage oil with chamomile and lavender, a frankincense oil for soft skin, and a calming lavender massage oil.
Pair these with the promise to give a massage, and it's a gift that's hard to beat.
One of my favorite simple pleasures is spending time working on a puzzle. Whether I have hours to devote or just a few minutes, it's fun to have a tangible analog challenge.
If you know someone who could also use a break from digital media, this coffee-themed jigsaw puzzle is a welcome distraction. Bonus points if you pair this with the pour-over coffee maker from number 10 on this list!
These gorgeous circular ceramic vases are so chic and pretty! Gift them on their own or add some foraged flowers and greenery for added effect.

Nothing says "comfort" like a matching set of winter pajamas. I like that this plaid pajama set is just festive enough to work for the holidays while also being simple enough to enjoy any time of year.
Another great option is a chunky knit blanket. It's the perfect accessory to stay warm and cozy while spending some quality time at home with friends or family.
I appreciate that this one comes in 4 different color options, including sage green, buttercream, sandstone, and graphite. Think of this blanket as functional art—it will look great in your living room while also providing added warmth and comfort.
If you're looking for a gift that will inspire your loved ones to practice hygge for years to come, this Little Book of Hygge is a perfect choice. It's filled with tips on how to create a cozy and content lifestyle through simple activities like baking or crafting.
Know someone who loves to make hot tea or cocoa? Gift them this pretty stainless steel electric kettle Not only does it look beautiful with its modern minimalist design, but it also boils water in minutes so you can enjoy your favorite beverages quickly and easily.
Tea is a quintessential part of any hygge-inspired lifestyle. This organic tea sampler has 8 different flavors to enjoy and makes the perfect gift for anyone who loves to savor a nice cup of tea while they slow down and relax.
As a minimalist, I love a good multi-purpose gift! These 16 oz stoneware mugs are good for warming soups or a big cup of tea and come in 4 charming colors, including a soft blue ombre reminiscent of a winter ocean and a misty mountain forest shade. They are also dishwasher and microwave safe and come in a set of 2, perfect for enjoying with someone yo love for a long-lasting gift he or she will cherish for years to come.
Final Thoughts on Hygge Gifts
Hygge is a beautiful concept that we can all benefit from. It's a chance to slow down, appreciate life's simple pleasures, and create an atmosphere of comfort and coziness.
By combining hygge with minimalism, you can focus on what really matters: relationships, experiences, and personal growth. And with a few thoughtful gifts, you can give someone in your life the opportunity to practice hygge (and all the peace that comes with it) all year round.
📌 Pin this list of the best hygge gift ideas to read again!