15 Extra-Fresh Laundry Room Organization Ideas to Stay Tidy & Clean
This post may contain affiliate links for your convenience. That means that if you make a purchase, I will receive a small commission at no extra cost to you. Read more here.
Upgrade your laundry room organization techniques with these easy ideas. Soon, your laundry area will become your favorite room in the house!
Like it or not, laundry is something we spend a lot of time on – washing it, folding it, and storing it. The more kids we have, the more laundry we do, so it's important to make your laundry room a space that feels welcoming and inviting.
When you create enough storage for your cleaning and laundry supplies, it will be a lot easier to find what you need. Plus, if your room is clean and organized, you won't dread this chore nearly as much. In fact, you might just begin enjoying it.
I can't promise that these laundry organization tips will make you fall in love with doing laundry, but I can assure you they will turn your laundry room into a more efficient place.
Extra-Fresh Laundry Room Organization Ideas
These are 15 of the best and smartest laundry organization hacks you will ever find.
Not only will they give you new places to store your cleaning and laundry supplies, but they will make the entire room look organized, fresh, and lovely!
You don't even need a laundry room to implement these ideas. Whether you have a laundry closet, laundry in your hallway, or a laundry corner, you can drastically improve your laundry organization.
READ MORE: Top 10 Organizing Blogs to Follow for a Tidier Home
1. Use Matching Storage Containers
You don't have to spend a lot of money at a fancy home organization store to have a beautiful laundry room. Just make sure your containers match. These DIY storage containers from DIY Candy are such an easy and perfect solution.
It's always a good idea to label your containers and that way you don't have to constantly pick up each one to find what you're looking for. When you label them, use matching labels and this will keep everything uniform.
2. Use A Small Jar For Pocket Finds
So many things get lost in the washing machine. Save them by going through everyone's pockets and pulling out all the loose change, phones, batteries, and anything else random you find.
Then, keep them safe in this DIY mason jar sign like Burton Avenue did!
If you really want to take your organizing to the next level, make a separate sign and jar for money, keys, pens, and other random things.
3. Store Detergent In Glass Jar
Whether you make your own laundry detergent or buy it premade from the store, put it in a glass jar with a lid like this one from One Crazy Mom.
Not only does this look polished, but you can see when you need to buy/make more.
You can store detergent pods in a glass jar too. Some people label their glass jars. This adds charm and beauty to your room, but isn't entirely necessary. Glass jars already show you what is inside of them.
FIND MORE: 55 Spring Cleaning Tips & Hacks to Deep Clean the Easy Way
4. Laundry Basket With Wheels
Even if you have a really tiny laundry room – or just a laundry closet – using a basket with wheels — like this photo from A Night Owl — is a fantastic idea. This makes the entire thing mobile so you can move it from the washer to the dryer and back to the bedroom without any trouble.
You can even label the laundry baskets with tags for either laundry sorting or to give each person in your house their own basket. The best thing about these laundry baskets is that the bags are removable. If you live in a house with stairs, you don't have to lug the entire basket – wheels and all – up and down the stairs.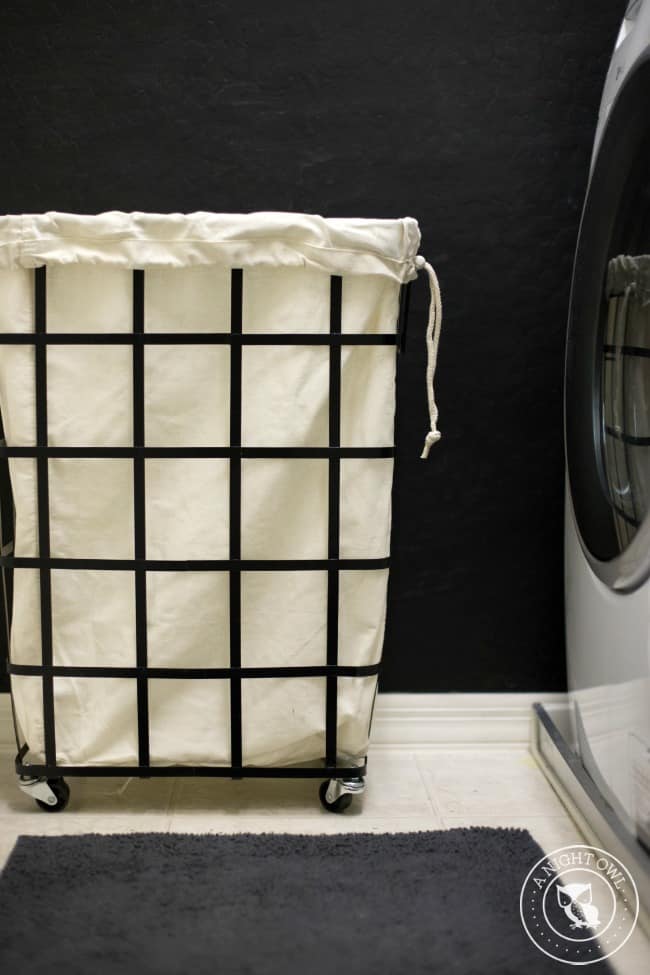 TIP! It's easy to keep things clean when there is less to clean. You can start by decluttering your entire home – we did it and it feels AMAZING!
5. Use Complimentary Colors
As you create storage solutions and begin to decorate your laundry room, use complementary colors. Lil Luna used yellow and teal and the colors make the room feel so much more spacious.
Another thing I love about the yellow and blue laundry room above is the matching baskets on the shelf. When you invest in laundry room storage containers, buy a matching set, and then label them.
When your storage containers match, it creates unity and cohesion in your room, increasing the feelings of tranquility.
6. Establish Room For Hanging Up Clothes
Some clothes can't be dried and others need to be hung up as soon as they come out of the dryer. For situations like this, hang up a curtain or closet rod of some sort. Lydi Out Loud installed one between two storage cabinets and it's a genius idea.
Also, look at the lack of clutter on that shelf. Only keep what you need and use on a regular basis. Any extras you can store in a long-term storage area.
Open shelves do tend to attract clutter, so you must be vigilant and put things away as soon as you place them on an empty shelf.
7. Build A Laundry Organizer Out Of Pallets
This frugal idea reuses discarded pallets and turns them into an easy way to store three laundry baskets. You can use this DIY pallet laundry shelf to sort laundry or you can label them and give each family member their own basket.
The top of the laundry organizer is the perfect place to fold your laundry too.
If you don't want to stack three different laundry baskets at once, you can store just one vertical basket underneath it or attach shelves and create your own storage cabinet. It's amazing what you can make out of pallets.
8. Embrace Empty Space
As you organize the cabinets in your laundry room, spread the tubs out, and create an even amount of space on both sides. When you try to cram too much into a small area, you risk making it look cluttered.
In fact, if you don't have any room to do this, go through your cabinets and begin to declutter.
Throw away anything that is broken or you don't use. Only keep the things you really use.
Then, store things in baskets or bins together. Label the bins so that you know what's inside. This will give you more space than you even knew you had.
9. Hang Up Floating Shelves
Floating shelves are perfect for small laundry rooms. This tutorial shows you how to create your own custom floating shelves that will fit perfectly in your space.
The best thing about floating shelves is that there is a lot of space underneath to add multiple levels.
Floating shelves also let you see the artwork on the wall. When you use cabinets or built-in shelves, you can't see the art. Use this wall space wisely and add some inspirational artwork.
10. Use Open Shelves
Another way to make a small laundry room feel larger and have more storage space is by installing open shelves instead of using cabinets with doors. This farmhouse laundry room is absolutely stunning. They replaced cabinets with these open shelves and the result is perfect!
Plus, when you use open shelves instead of closed-off cabinets, you are forced to keep everything organized because you see it every day.
Look on top of their washer and dryer. They used serving trays to group things together, and it has two purposes – to look lovely and add more levels to the decor.
Pretty trays are one of the best ways to keep visual clutter at bay on countertops and surfaces.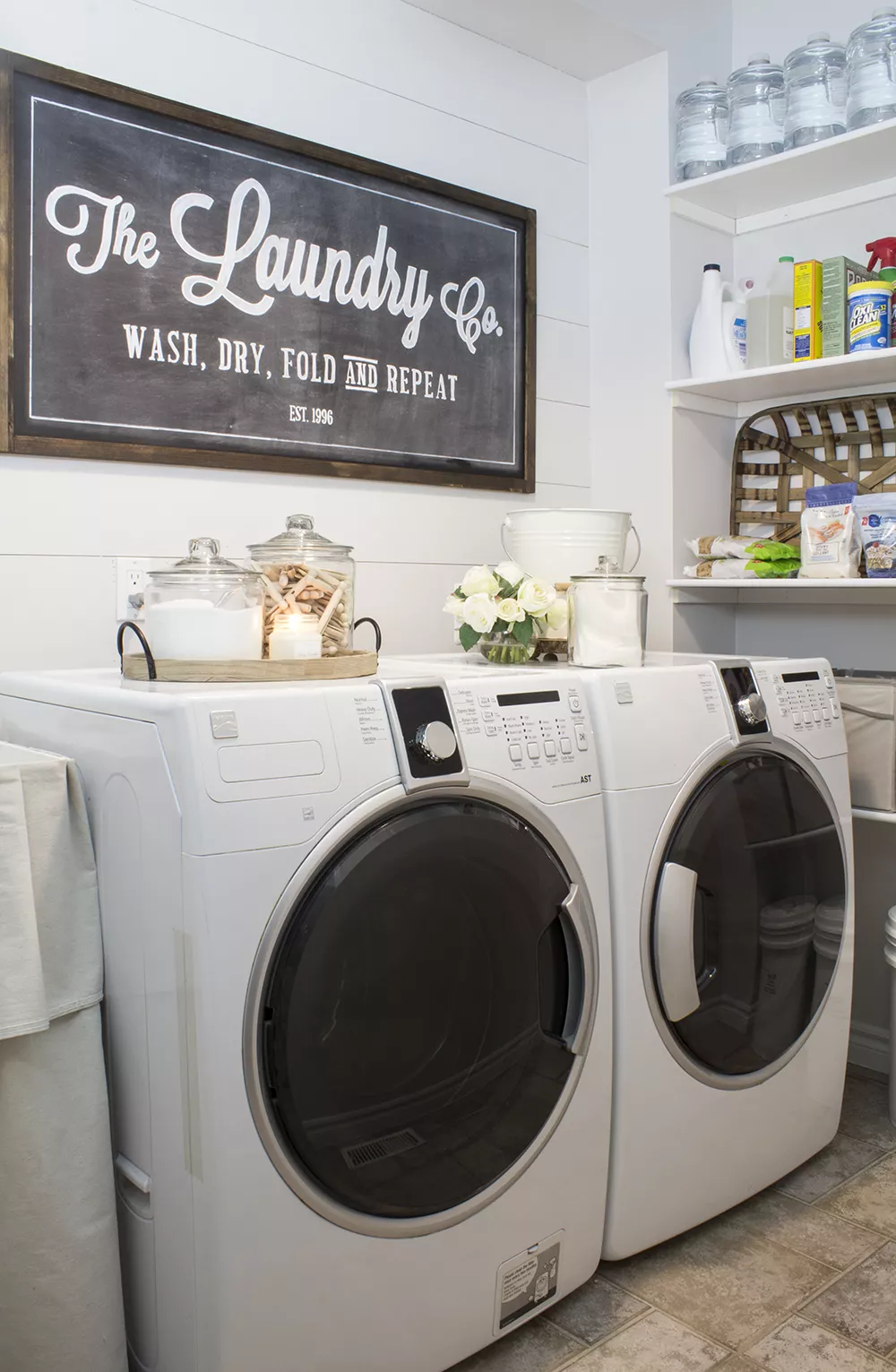 11. Make A Place To Fold Clothes
Since you will fold a lot of laundry in your laundry room, install or build some sort of a table. I love the idea Charlson Crafted created when they basically put a board on top of their front-loading machines.
They also used matching baskets on the open shelves.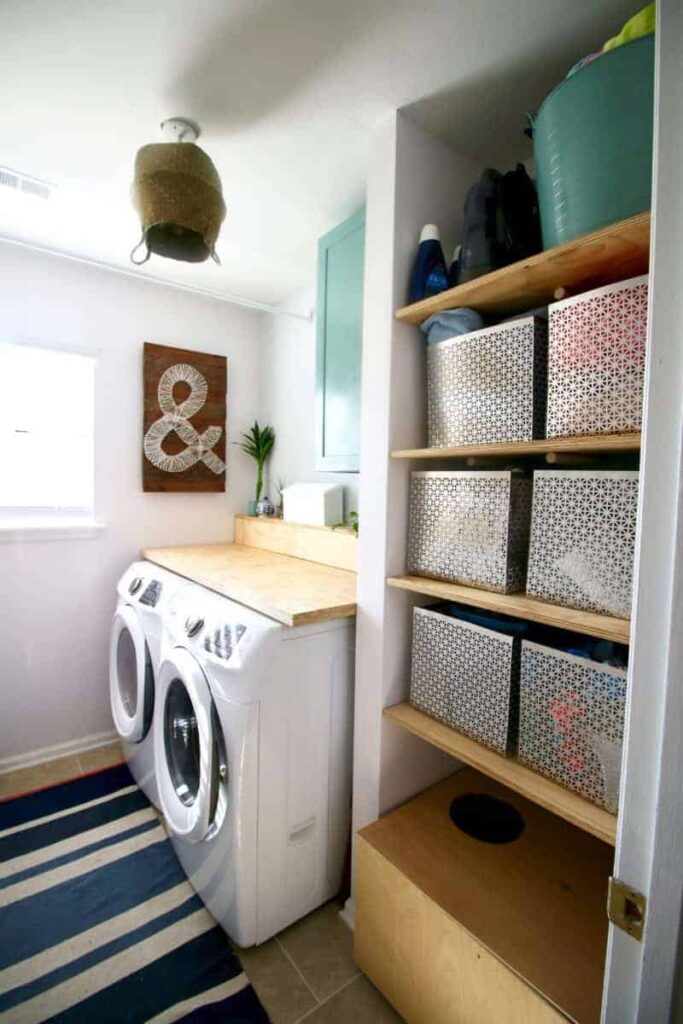 12. Create A Sign For Missing Socks
How many times do you find mismatched socks in your laundry? Finally, give these socks a home with a DIY lost and found laundry sign. Now whenever you find a random sock, you can hang it up until you find its mate!
This sign is pretty small, but you can make it as large as you need. Once a sock has been hanging out for a month, you'll know you can either turn it into a rag or throw it away.
13. Hang Up A Folding Drying Rack
Something else you will use pretty frequently in a laundry room is a drying rack. This laundry room makeover is stunning and doesn't even look like the same room! One of the best parts about it is the folding drying rack on the wall. It's barely noticeable.
As much as I praised open shelves in this article, I have to admit that cabinets with doors have their place too. In really large laundry rooms, use cabinets to store extra deep cleaning supplies and other overflow storage.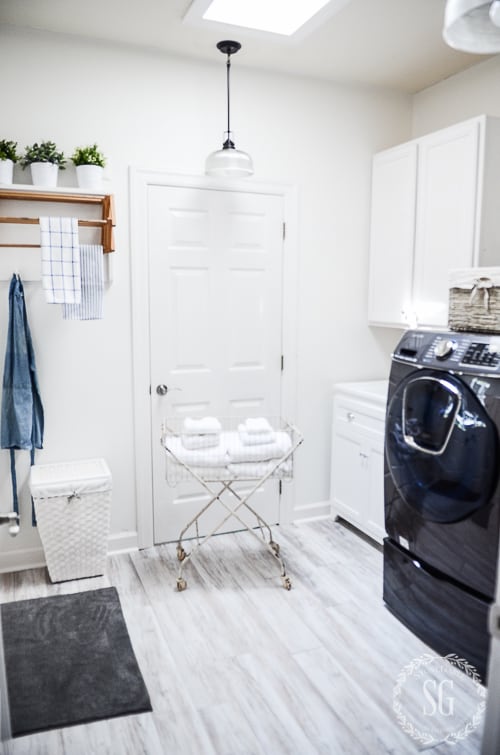 14. Create Storage For Laundry Baskets
The laundry room from Duke Manor Farm is absolutely beautiful. They have storage for every single item they use. The best part of their room is how they created a place for the laundry baskets to sit when they aren't being used.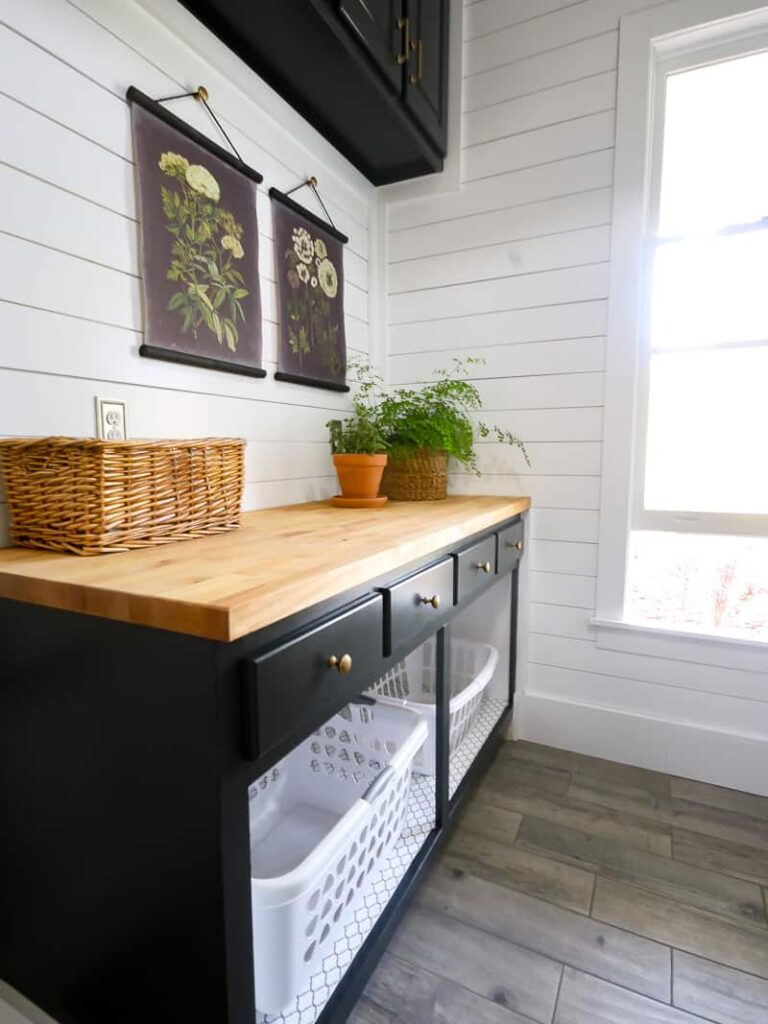 15. Don't Forget A Trash Can
Finally, every laundry room needs a trash can. I love the slick and stylish one from Nourish And Nestle. It fits in perfectly with the rest of the laundry room decor and it has a lid to keep everything contained.
CLEANING HACK: 5-Minute Stainless Steal Cleaning Hack to Make Your Appliances Sparkle!
Laundry Room Organization: Final Thoughts
It's easy to create a laundry room that is bright, cheery, and inviting! All you have to do is make sure you establish storage for the many things you use on a regular basis.