How to Make a DIY Memory Box in 5 Simple Steps (for Kids OR Adults!)
This post may contain affiliate links for your convenience. That means that if you make a purchase, I will receive a small commission at no extra cost to you. Read more here.
Do you have special mementos or keepsakes and want to know how to make a memory box to protect your precious treasures? Then read on to find out how to make a DIY memory box in five simple steps!
Are you keen to find out more about memory boxes and why they are important?
Make sure to read until the end of this post to get all your memory box questions answered by a minimalist mom and expert speech-language pathologist with both personal and professional insight into this topic!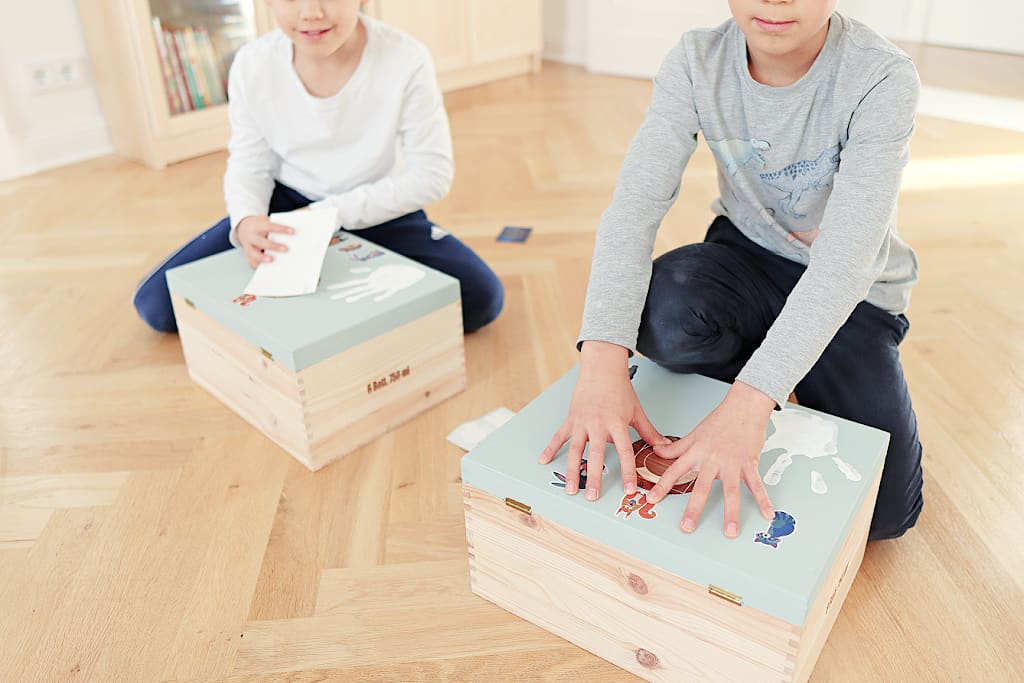 How to make a DIY Memory Box in 5 Steps
1. Pick a memory box theme
What kind of memory box do you want to make?
There are memory boxes for all sorts of occasions, so clearly identifying what kind of memory box you are making is an excellent place to start.
Are you looking for something to store your wedding memorabilia after the big day? Or are you looking to create a memory box as a gift for a child?
These memory boxes would look very different than, say, a bereavement memory box that you would create to honor and remember a loved one that had passed away.
Upcycled kids DIY memory box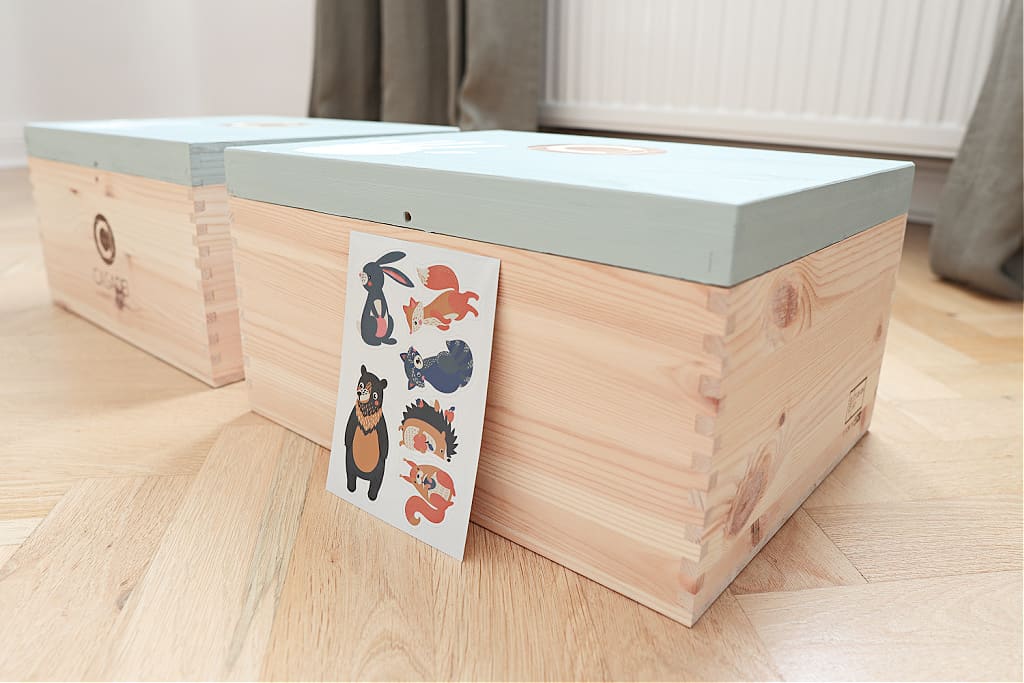 READ MORE: 20 Signs You Might Be a Sentimental Person – Good or Bad?
2. Choose a box
The next step is to choose a box.
The most important thing is to choose a box that feels special and meaningful to you or for the person you will be presenting the box as a gift.
There are so many beautiful memory boxes available for purchase, or you can upcycle almost anything that's box-shaped into a keepsake box for your precious treasures!
My memory box is a simple, practical, and sturdy craft box that holds all the sentimental items that are left after decluttering 95% of my stuff.
Meanwhile, the DIY memory box that my children and I created together is made from an upcycled wood wine box, which we painted in their favorite blue hue and decorated with adorable animal stickers.
✨ BE INSPIRED: Check out this list of the ten most popular memory box ideas!
My adult memory box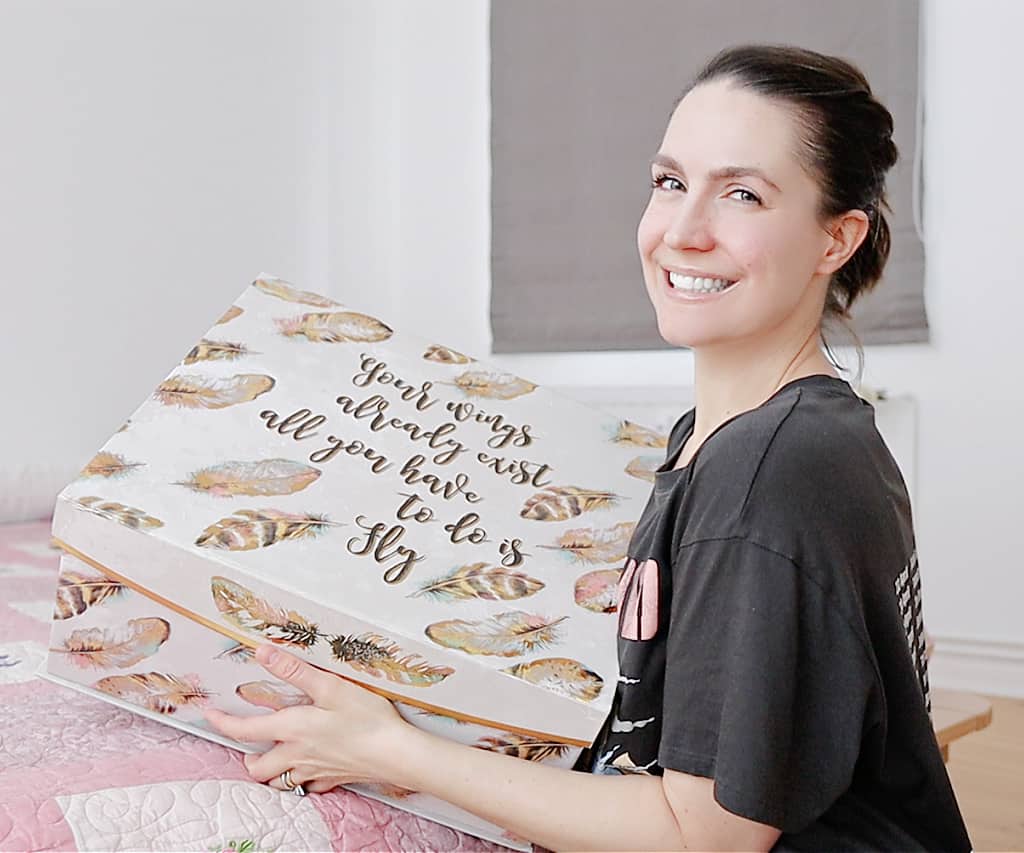 3. Decorate your box
If you are going the DIY memory box route, then you can now decorate your memory box!
How to decorate a memory box?
Here are popular ideas for decorating your memory box; feel free to mix and match any of the ideas below!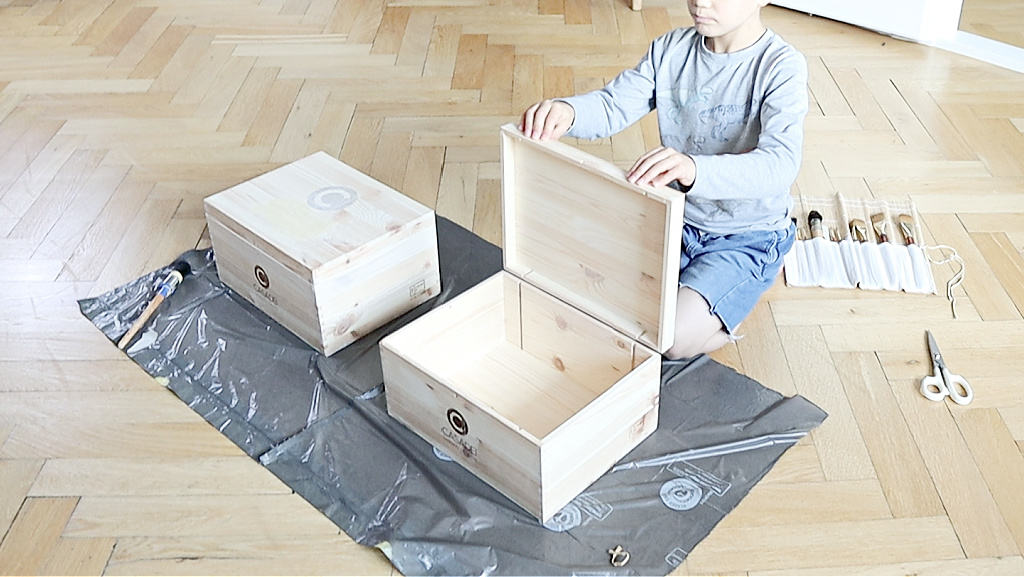 4. Put stuff inside your box
Now that you've decorated your memory box, it's time to put stuff inside!
Just remember, memory boxes should be a well-curated place to store your sentimental items.
Don't let your memory box turn into a catchall for clutter!
Memory boxes are for those more private memories, a place where you can store unique treasures to revisit every once in a while for a trip down memory lane.
"Just because something made you happy in the past doesn't mean you have to keep it forever."

Melva Green
READ MORE: 120 Minimalist Quotes to Simply Live Your Best Life in 2022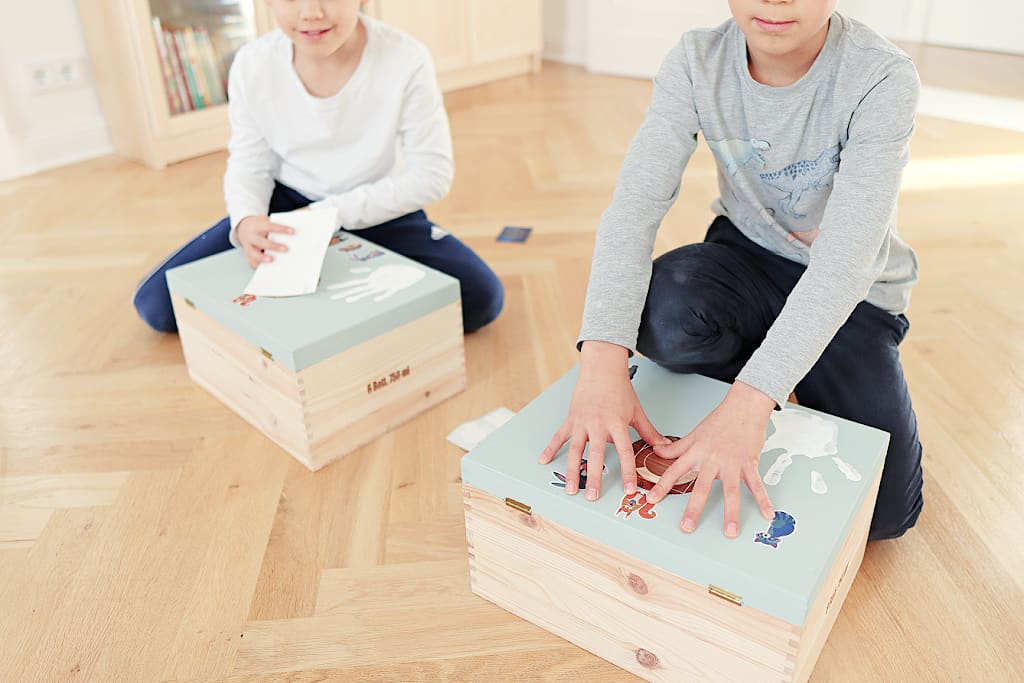 5. Organize your memory box
Keep your memory box tidy by using vertical storage or smaller boxes or bins to organize the inside.
After all, you don't protect and honor your cherished memories by stuffing them willy-nilly into a box!
You can use special organization boxes designed for this purpose or upcycle any boxes, tins, or small containers around your home.
In fact, I've had great success with using old iPhone boxes for storage.
If you can, store things like cards, books, videos and DVDs, and other items upright so that you can easily see everything at a glance when you open the box. This will prevent you from digging around and making a mess when you need to look for something inside your box.
💡 PRO-TIP: If you need more tips to declutter and organize your memory box, make sure to check out this helpful video guide!
Memory Box FAQs
Want to know more about memory boxes and why they are important? Here are a few of the most common memory box questions.
What is a memory box?
A memory box is a special container created to store and organize memories and mementos of people, places, or events.
Memory boxes can also be called keepsake boxes or treasure boxes.
Why make a memory box?
Memory boxes are important because the things that we put in memory boxes act as an anchor.
They help give us a concrete keepsake that functions as a window to a specific memory, be it a particular person, place, or time in our life.
That's because our memories are surprisingly fallible.
According to one study, while our brains can store 2.5 petabytes of data, or the equivalent of 4,000 256 GB iPhones, our memories are already beginning to fade in childhood, with children between the ages of five and seven remembering 60% of early life events and eight and nine-year-olds remembering less than 40% of the same memories.
There are no right or wrong answers when it comes to making a memory box
I never want to hear someone say, "I regret getting rid of X or Y" after decluttering their home because they feel like they "needed to" if they want to become a minimalist.
So it's essential to be intentional and find the balance that works for you!
What to put in a memory box?
What you put inside a memory box will depend on the purpose of the box. These can be mementos from a specific event, keepsakes from loved ones, travel souvenirs, etc.
Remember, you can have a single memory box that includes all of these items or multiple boxes with different themes.
Ideas for things to put in a baby or child memory box
Memory boxes are a fun DIY for your child at any age! Many parents start collecting memories as soon as their baby is born, but you can also make it a fun DIY project to bond over.
You can also make adding or removing items from the memory box an annual family ritual to reminisce together about the year!
Be clear if the memory is for you or them, and keep it in the appropriate memory box.
Pregnancy ultrasounds
Baby books
Their hospital hat or wristband
Special toys, blankets, or outfits
First tooth
A lock of hair from their first haircut
Report cards
Artwork or schoolwork
RELATED POSTS: Minimalist Baby Registry Checklist (for Moms Who HATE Clutter)
Ideas for things to put in an adult memory box
Adults can have all of the items mentioned above in the child memory box section, as well as any of the following.
Photographs
Trophies and awards
Concert, movie, or travel tickets
Yearbooks
Love notes
Wedding memorabilia
Diaries or journals
Ideas for things to put in a wedding memory box
Wedding album
Bouquets or corsages
Veil
Shoes
Wedding invitation
Cake toppers
Photographs
A video or DVD
CD of special songs played
Guestlist or greetings book
A copy of your vows
Ideas for things to put in a travel keepsake box
Plane tickets
Souvenirs or tchotchkes
Travel maps
Photographs
Sand, shells, or small keepsakes
CDs of local music or language
Ideas for things to put in a memory box for someone with dementia
As a speech-language pathologist who has worked with plenty of adults with dementia, I have witnessed the power of memory boxes firsthand!
I will never forget the tears of joy shed by my severe dementia patient and his wife after they realized he still remembered how to play checkers the day that she brought his old set to our therapy session.
Memory boxes are a simple way to comfort, support, and connect with loved ones whose memories may be fading away.
Childhood keepsakes
Photographs of their past
Games they enjoyed playing
Maps of places they've been
Favorite clothing or accessories
Pictures of family members
Hobby items (if they liked cars, knitting, etc.)
Ideas for things to put in a bereavement box
A bereavement box is a place to collect special memories of a loved one who has passed and help the living cope with and adjust to the grief of their loss.
Photographs
Videos or DVDs
Clothing items
Jewelry or accessories
Favorite home decor or keepsakes
Cookbooks or recipes
Notes, letters, or journals
Funeral cards
Newspaper clippings
Dried flowers from their funeral
READ MORE: 90 Quotes on How to Let Go of the Past and Heal
Final thoughts about memory boxes
Hopefully, you found this helpful information on making a memory box. The things you put inside a memory box can be cherished for years to come and will remind you of the good times.
Pin or share this post!