Top 10 Minimalist Mom YouTube Channels to Follow
This post may contain affiliate links for your convenience. That means that if you make a purchase, I will receive a small commission at no extra cost to you. Read more here.
Think minimalism with kids is impossible? Think again! These minimalist mom YouTube channels not only prove minimalism with kids is possible, but it's also amazing! Here are the top ten best minimalist mom YouTube channels to inspire you in 2022.
10 Best Minimalist Mom YouTube Channels
Minimalism as a family is just different.
It can be tough to find relatable minimalism videos on YouTube because a lot of the most popular minimalism content is from young, single, or child-free creators who didn't have a lot of stuff in the first place.
The best thing about these minimal moms is that they are not only inspirational, but they are also SO REAL!
Seriously, if you've ever looked at a decluttering or minimalism video and wondered, "Where the heck do these people put their shoes/umbrella/coats/etc…?" then you need these practical minimalism moms in your life.
FIND MORE: Family Minimalism: 20+ Pros, Cons, and Tips on Simple Living as a Family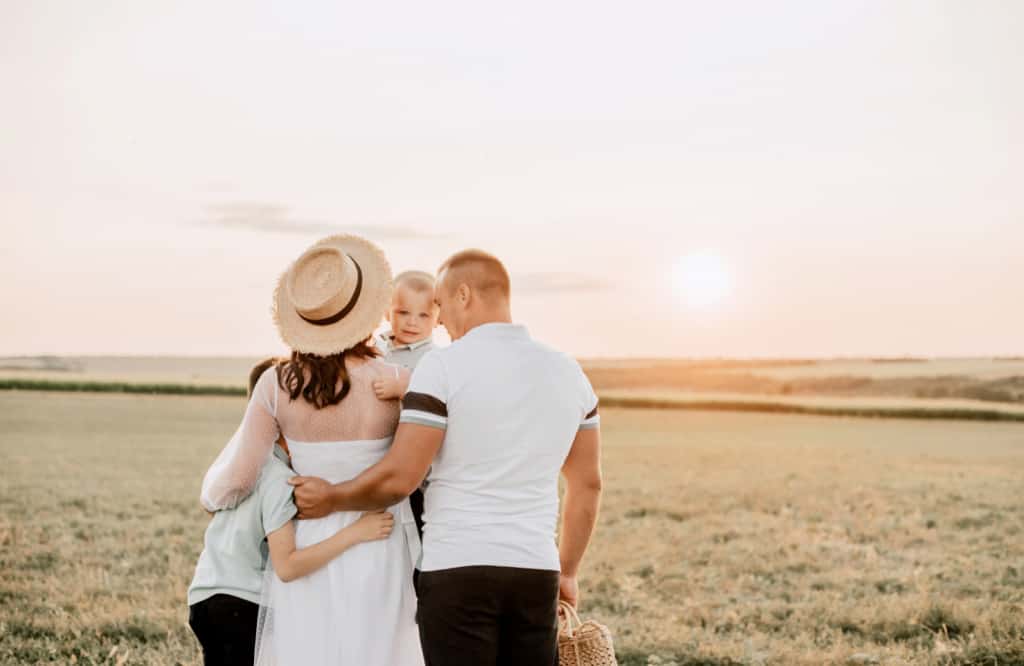 Dawn from The Minimal Mom is one of the best YouTube channels to follow if you need practical advice on decluttering and simplifying your life.
Follow along with Dawn, her husband Tom, their four kids, and occasionally her twin sister, Diana, for excellent decluttering tips, family minimalism ideas, and good storytelling each week.
Watching a video from Dawn is like sitting down with an old friend for a chat over a nice cup of coffee – you'll feel like family in no time!
Top video: 57 Things We Don't Buy Anymore | Family Minimalism
Average video length: 10 – 20 minutes
Content release days: Tuesdays and Fridays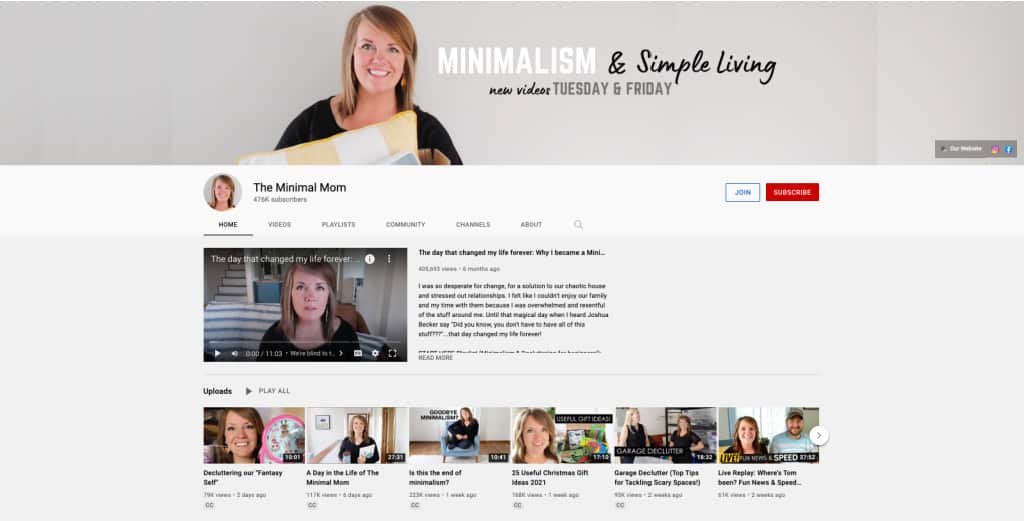 For over six years, Natalie has been a mom YouTuber but started sharing videos about her journey to declutter her home and move towards minimalist living at the beginning of 2020.
Natalie's Messy to Minimal series was a huge hit, and she ended up getting rid of 80% of her family's stuff after extreme decluttering their entire home! If you love cozy, aesthetic, and relaxing decluttering, minimalism, and mom life vlogs, and still want to decorate, celebrate holidays, and give Christmas gifts as a minimalist, then you'll love Natalie.
Top video: NEWBORN MUST-HAVES + REGRETS! | Natalie Bennett
Average video length: around 25 minutes
Content release days: Mondays
Yep, that's me!
After losing my mother to cancer when I was nine years old, then my father, my childhood home, and eight more people that same year, I became a sentimental hoarder.
All I had was my memories and the clutter from lost loved ones – as well as $25,000 of debt – to my name!
Then, I accidentally started down what would become a 5-year journey towards minimalism, which culminated in us extreme decluttering our entire home down to eight suitcases and moving to Europe to buy our dream home!
Minimalism changed my life, and now my passion is helping you to do the same!
Top video: Extreme Declutter Results (👋 95% is GONE!) | Before & After » HOARDER TO MINIMALISM Family of 4
Average video length: around 15 minutes
Content release days: Fridays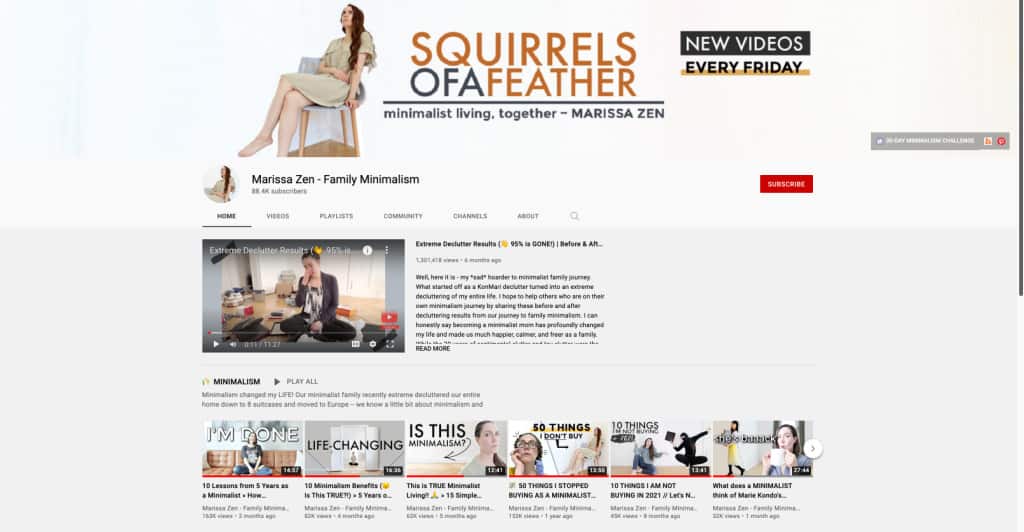 Shannon is a mom of three who started her decluttering journey back in 2016, and she decided to create a YouTube channel to document the process!
You can join Shannon and her family as she answers your decluttering questions, and shares fun organizing, minimalism, simple living, and fun DIY projects.
Top video: Decluttering Results – A Year Of Decluttering – Minimalism Family of 4
Average video length: around 10 minutes
Content release days: new videos each week
BE INSPIRED: How to Declutter Toys (and Make Your Kids SMARTER) with the KonMari Method
Erica Lucas is a minimalish minimalist, a mom of three, and a military wife to her sweet husband, Andy.
Her journey to her minimalish life started around two years when she started the massive – and I mean MASSIVE – journey to get rid of stuff and reclaim space, happiness, and freedom in her home.
Erica is so open and honest about sharing her hurdles, along with the tears, laughs, lessons learned, and successes in getting rid of so much stuff along the way.
She's one of my favorite minimalist YouTubers!
Top video: EXTREME DECLUTTER – Before and After – Beginner Minimalist – [Extreme Declutter Series Part 1]
Average video length: around 15 minutes
Content release days: Mondays and Saturdays
In 2008, Rachel was struggling to keep up as a busy mom of six, leaving her feeling stressed out and overwhelmed.
That year she got started decluttering and got rid of 2,008 items in 2008, and she kept up this yearly decluttering habit for the next several years! Now to date, Rachel says she's gotten rid of over 10,000 items and loves the freedom that living with less brings.
If you are someone who struggles with stress and anxiety, feel overwhelmed by your home, or have a large family, you'll love Rachel's raw and honest take on minimalism as a mom.
Top video: If you're overwhelmed with your home, do this.
Average video length: around 10 minutes
Content release days: new videos each week
Candice is a mom of three who shares tips each week about decluttering, minimalism, cleaning, getting organized, and simplifying life as a busy mom.
Candice has a unique minimalist style.
There's lots of white, sure, but also pops of bright colors, like blue and PINK, and she likes a bit of sparkle here and there. She isn't afraid to wear bold lipstick, printed or patterned shirts, and funky hats, so her style definitely stands out among minimalist mom YouTubers – that's the value of being yourself!
Top video: Clean with Me Using BAKING SODA!!! 13 Amazing Baking Soda Hacks Everyone Should Know!
Average video length: around 10 minutes
Content release days: new videos every week
Read More: 10 Toxic Fantasy Self Items to Declutter in 2022
Noemi is an absolute treasure; her calm voice and aesthetic minimalist videos are so soothing to watch – it feels like your soul is healing just listening to her!
If you love Scandanavian minimalism, day-in-the-life vlogs, clean with me videos, decluttering and organizing videos, yummy recipes, and natural cleaning tips, you should check out Noemi.
Top video: AFTER DARK CLEAN WITH ME 2021
Average video length: around 20 minutes
Content release days: new videos every week
BE INSPIRED: How to Make a DIY Memory Box in 5 Simple Steps (for Kids or Adults!)
Okay, Joshua Becker might not exactly have a minimalist mom YouTube channel, BUT he is a minimalist dad!
Joshua's minimalist YouTube channel deserves a spot on this list since he has literally written five books on minimalism (and because dads are just as important as moms!)
This man knows what he is talking about when it comes to minimalism as a family! Between his blog and YouTube channel, he helps inspire MILLIONS of people to live more minimally each year.
Top video: 7 Daily Habits for a Clutter-Free Home: Declutter for Good
Average video length: around 10 minutes
Content release days: new videos each week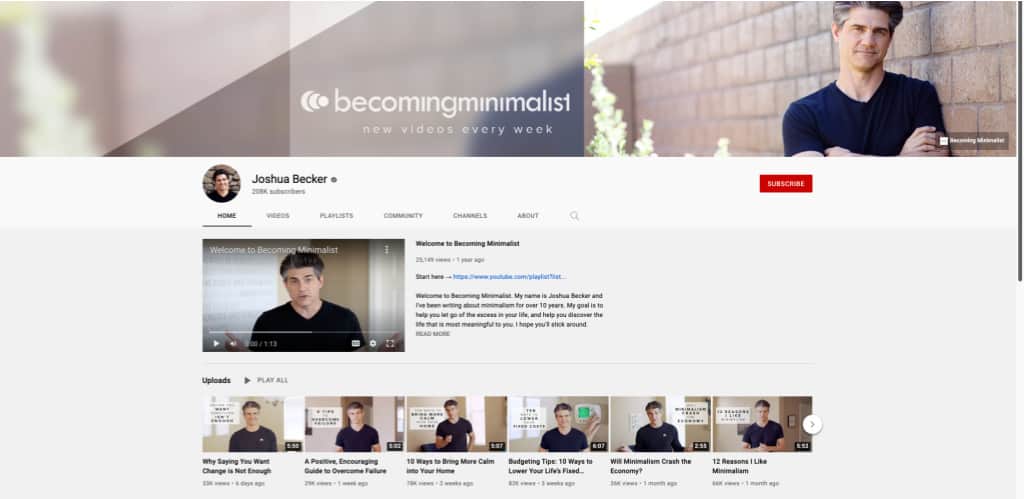 This former beauty YouTuber trashed over 200 videos and switched up her niche. Now, she has over 1 million followers that tune in for her aesthetic videos on minimalism, simple living, motherhood, thrifting, and family life vlogs.
Sarah isn't shy about sharing her struggles and the weird stuff that comes with being a mom; in fact, her top video is her home water birth!
Top video: HOME BIRTH VLOG | Water birth & Surprise Gender
Average video length: around 20 minutes
Content release days: new videos every week
Like this post on the best minimalist mom YouTubers?
I hope you enjoyed this roundup of the top ten minimalist mom YouTube channels.
No matter what stage of life you are at or what aesthetic you love, your new favorite minimalist family lifestyle YouTuber is definitely on this list!
Want to know more about minimalist mom life?
Check out any of the helpful blog posts below (and don't forget to pin this post on Pinterest to remember!)
You can also check out this list of the top ten organizing blogs and 30 life-changing minimalist blogs to follow this year.
FREE 10-PAGE DECLUTTERING CHECKLIST!
Need more help with decluttering your home?
Grab this FREE 10-page decluttering printable checklist + guide which will help you declutter every square inch of your home.