FREE 30-Day Minimalism Challenge (Declutter Your Life in 2022)
This post may contain affiliate links for your convenience. That means that if you make a purchase, I will receive a small commission at no extra cost to you. Read more here.
Have you been feeling drained by all the clutter in your life? Overwhelmed with constantly trying to tidy your home and maintain all the stuff inside of it without losing your mind? Feeling the urge to just throw everything out the window? It's time to hit the reset button and rediscover your happiness with this free printable 30-day minimalism challenge!
Make 2022 the year you start finally decluttering your life and reclaim your time, space, and sanity!
Be sure to grab the FREE 30-day minimalism challenge printable PDF included at the end of this post, so you can follow along day-by-day and see how just a few minutes of your time each day can be spent to rejuvenate you as you unclutter your physical, digital, and mental spaces.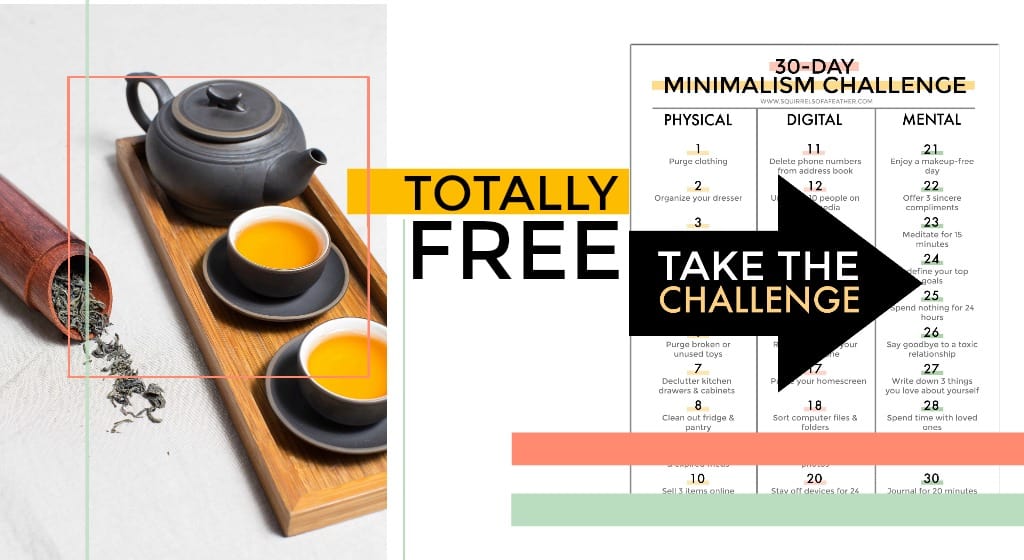 Why participate in this 30-day minimalism challenge?
Good question!
Allow me to respond to your question with another; "Why does anyone do anything?
I'm sure you and I could probably sit down over a cup of tea and discuss this topic for hours, but in the end, it all boils down to happiness.
That is to say, you do the things you and acquire the things you acquire because you believe that they will make you happier and your life better — but is that true?
Over and over research has shown that acquiring things doesn't make us happy; so what will?
Who should participate in this 30-day minimalism challenge?
This minimalism challenge is for people who:
Does minimalism actually make you happier?
Speaking from my own personal experience, I would say yes, minimalism does make one happier.
Decluttering sentimental clutter that I had been hoarding for nearly three decades has helped me let go and move on after the early deaths of my parents; every object I joyfully passed on felt like a small weight being lifted off of my shoulders.
Living more minimally has also helped my children become smarter, happier, and more creative little creatures.
Instead of throwing temper tantrums when they receive only one gift for birthdays and holidays, they are delighted.
I spend less time cleaning and tidying and more time doing the things that make me happy, such as going to the park with my children, cooking delicious meals, and sharing my love of minimalism with my YouTube followers!
Minimalism is all about freedom.
Clutter has a tendency to creep up on you; having a cluttered life is a lot like being the proverbial frog in the frying pan.
Little by little, year after year, you buy and acquire new stuff and put off getting rid of the old, until one day you look around and you are surrounded by piles of dusty figurines, broken toys, and drawers overflowing with empty pens and junk.
You don't even remember what it's like to sit in a space that is clear, bright, and free of clutter.
Even worse, clutter and the stress that comes along with it can affect mood and physical health.
Among older adults, clutter problems are more frequently associated with reduced life satisfaction.
Meanwhile, people —especially women — who feel that their home is cluttered or needs work have been found to have higher amounts of the stress hormone, cortisol, which has been linked to negative moods, stress, and even weight gain.
Minimalism is all about freeing yourself from these things.
Freeing your space of clutter and junk.
Freeing your time since you won't need to tidy and maintain so many items.
Freeing up your money when you opt-out of the endless cycle of consumerism.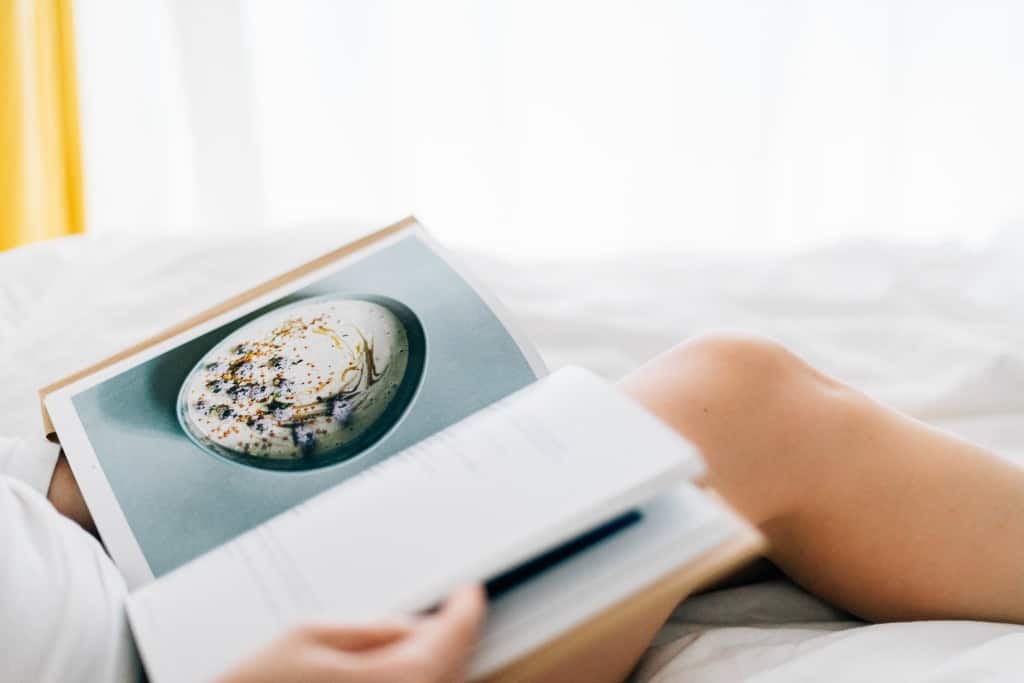 Why you need to declutter more than just your home
If freeing up your time, space, money, and sanity sound like something you would like to do, you should take this challenge.
This 30-day minimalist challenge is a little bit different than the original 30-day minimalism challenge shared by The Minimalists.
Their minimalist challenge focuses on clearing physical clutter; you start by decluttering one item on day one, two items on day two, three items on day three, and so on, and so forth.
It's a great place to start, but minimalism is about so much more than just tossing out your unwanted junk!
The reason I want you to look beyond simple physical clutter is that there is often more to decluttering than meets the eye.
Think of the clutter that you see around you as the tip of the iceberg — 90% of the clutter may actually be lurking beneath the surface in your emotions and mindset.
There's a saying that goes:
External clutter is internal clutter on display.
That's why I want you to challenge yourself to tackle not only your physical clutter but also your digital and mental clutter.
With the advent of the Internet, social media, and infinite accessibility, these three realms of clutter have become interwoven in complex ways.
That's why this 30-day minimalism challenge is going to focus on decluttering your life across the three of the most common and most stressful clutter categories:
Physical clutter
Digital clutter
Mental clutter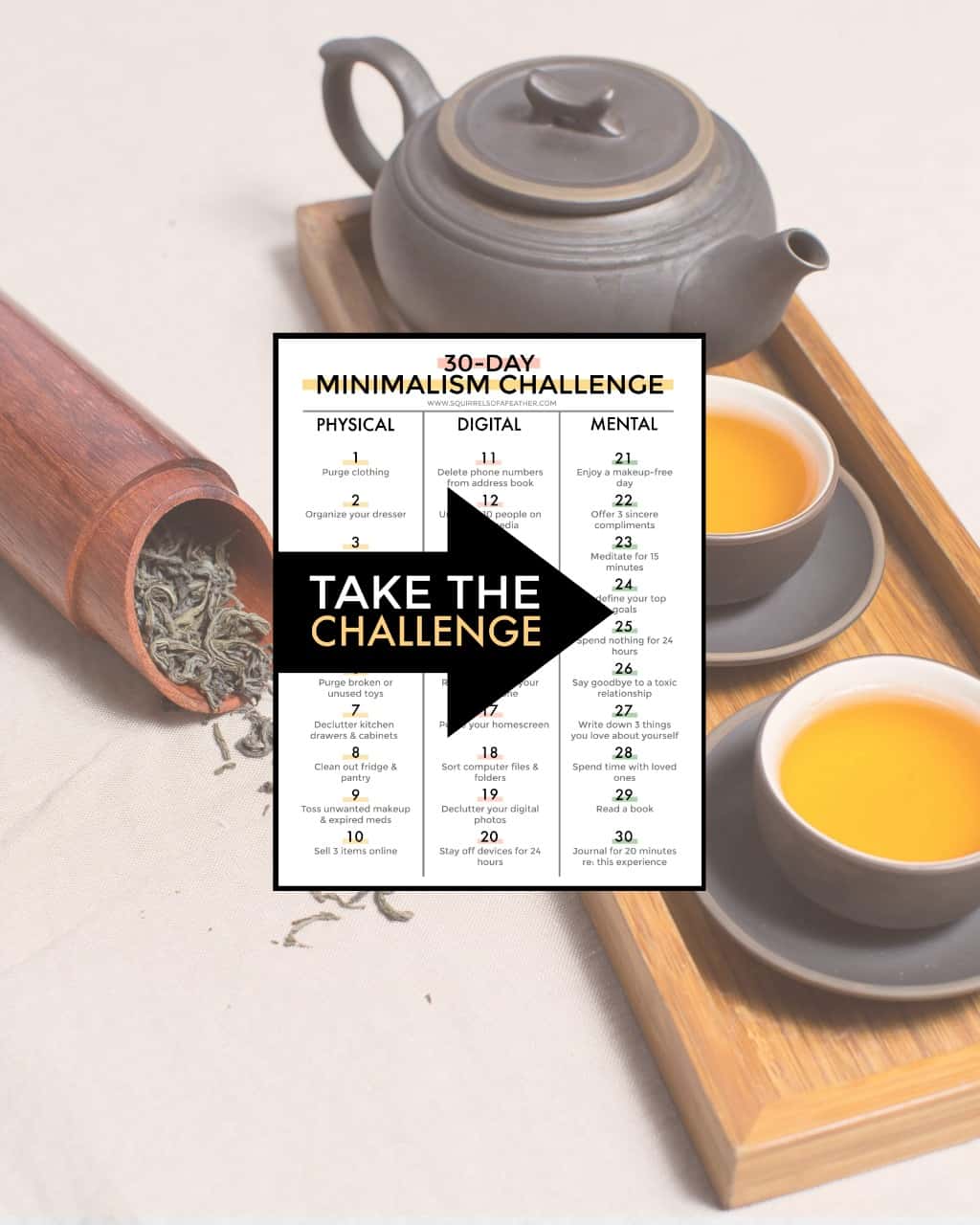 30-Day Minimalism Challenge Rules & Set-Up
Here are the rules for the 30-day minimalism challenge.
Make a commitment, however small — even 15 minutes each day is enough!
Be consistent.
Don't skip any days.
One of the biggest reasons people say they have trouble sticking to challenges like this is time.
(Which is ironic, because this minimalism is all about creating more time for yourself and your happiness.)
This minimalism challenge has been divided into bite-sized pieces and actionable segments so that you don't feel too overwhelmed when trying to complete the activities.
How this minimalism challenge works.
Each day you will be asked to focus your energy and attention on one simple task.
The tasks are divided into three 10-day phases; physical clutter, digital clutter, and mental clutter.
📚 Days 1-10: physical clutter
📱 Days 11-20: digital clutter
🧠 Days 21-30: mental clutter
The goal of these daily tasks is to help you declutter the various physical and mental spaces in your life so that you can be happier, less stressed, more focused, and more present!
The 30-day minimalism challenge includes:
A beautiful 30-day minimalism challenge printable PDF
30 daily email reminders to help you stay focused & accountable
Two optional modification levels; do more or less depending on how much time you have
Additional resources and tips so you can explore more about minimalism day-by-day
Access to even MORE amazing free printables that can help you live your best life
Are you ready to unclutter your life and make room for happiness?
Then let's get started!
Sign up to take the 30-Day Minimalism Challenge
Sign up in the box below and let's get started decluttering your home and life.
Check your email inbox right away and confirm that you want to receive further emails – check your SPAM or junk folder if you don't see it within 5 minutes.
You will get a welcome email with further instructions and then a daily email check-in every 24 hours after you sign up.
Follow me on YouTube where I share weekly videos about how our family lives minimally, frugally, and happily IRL. ✨❤️✨
Pin this to read again.