50 Wasteful Things I Stopped Buying After 5 Years of Minimalism
This post may contain affiliate links for your convenience. That means that if you make a purchase, I will receive a small commission at no extra cost to you. Read more here.
How far are you along your minimalism journey? No matter if you're just embarking along the path or have been decluttering your home for months, at some point you have probably stopped to wonder: are there any tips about what kinds of things to stop buying as a minimalist?
While my husband and I have always lived frugally, both separately and now together, we started our minimalist journey around 5 years ago.
Flash forward to 2021 and our financial minimalist family has accomplished SO MUCH together, from paying off $250,000 in debt to decluttering our entire home down to 8 suitcases and moving to live in Europe!
I can honestly say that minimalism has made my family much happier, my children calmer, and we have more money to put towards activities and things we enjoy rather than spending it accumulating possessions.
Now I want to spread the peace, joy, and wealth of minimalist living to other families.
I watched so many YouTube videos about young, single, childless people living minimally in vans, homes with no furniture, or traveling the world with one backpack — I got tired of not seeing a female minimalist I could relate to as a mom!
If you have ever wondered, is minimalism with kids even possible, I am here to tell you, not only is it possible it is truly amazing.
Want to see how a REAL minimalist family lives? Follow me on YouTube now and peek into our lives as a frugal ex-pat minimalist family of four! We are crazy, we are colorful, and we would LOVE to connect with you!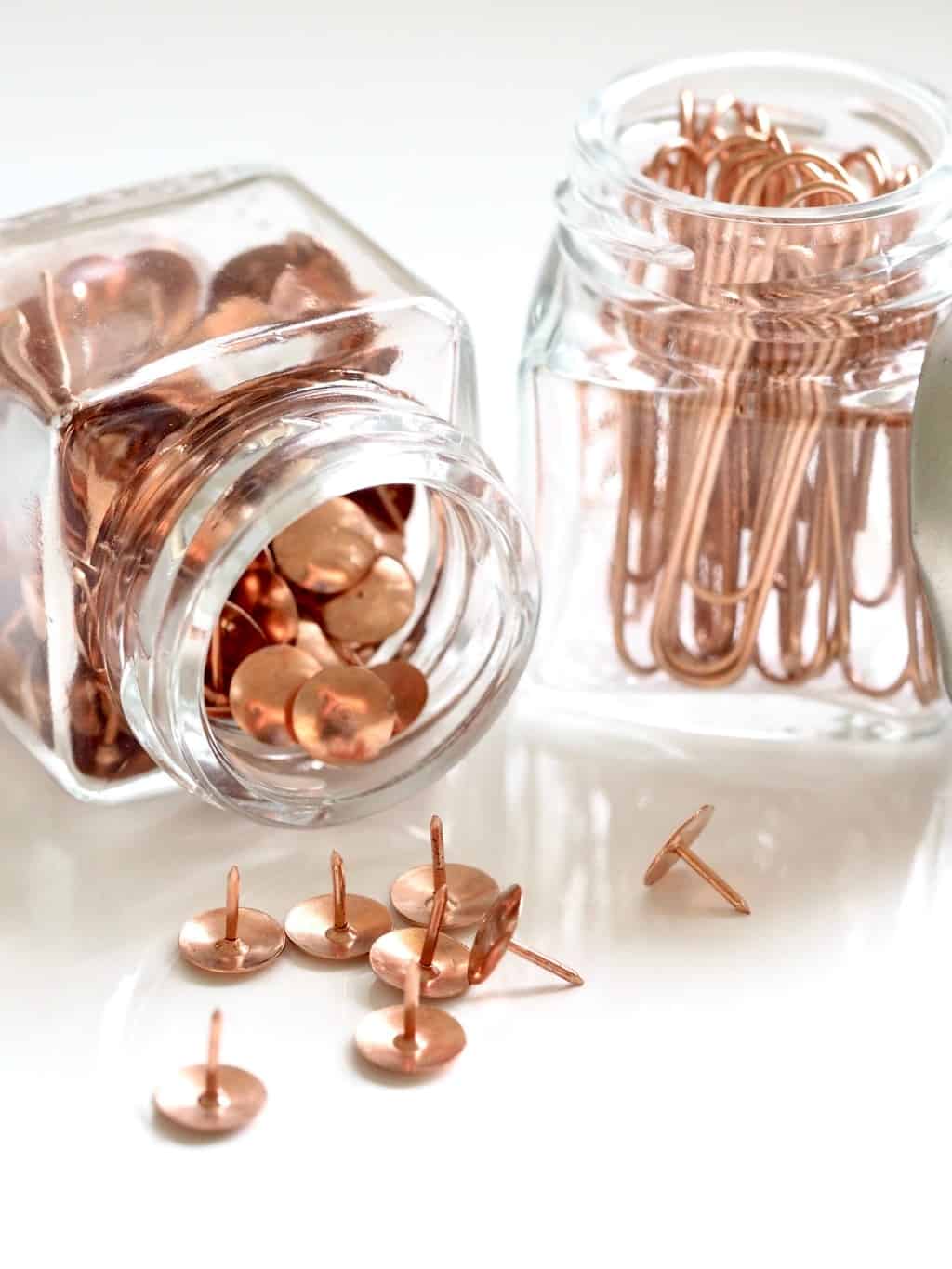 How to stop buying things and become a minimalist
Have you decluttered your home yet?
If you have already started decluttering you know that sense of relief, accomplishment, and joy it brings.
Looking around, seeing the drawers filled with beautifully folded clothing, the spaces opening up, and the pleasure of seeing only items that bring you happiness is truly rapturous.
You surely didn't spend all that time clearing your clutter only to reintroduce it back into your home, right!?
Turns out decluttering is only the first baby step towards minimalism; if you want to be a minimalist, you need to figure out how to stop buying stuff you don't need or want.
While being a minimalist takes conscious effort, it doesn't have to be deadly serious; these decisions are rarely black-and-white, immutable, or eternal.
Owning less is better than wanting more.

Joshua Becker
50 things I no longer buy as a minimalist mom
Please remember, the purpose of this list is not to shame you for buying these items – if you love makeup, by all means, please continue to buy makeup!
Rather, this list is to help you think outside of the box and see if there might be any other areas in your life you missed simplifying and you would like to re-assess and trim a bit more.
There are things that I no longer buy as a minimalist at all, there are things I don't buy anymore unless mine get worn out, and there are some things I stopped buying completely to save money or space.
A true minimalist focuses on surrounding themself with things that 1) bring value or 2) serve a purpose in their life!
READY TO START LIVING MINIMALLY BUT YOU AREN'T SURE WHERE TO BEGIN?
Take the 30-Day Minimalism Challenge! (Read more about this challenge here)
1. Anything I can get for free
The world is overflowing with abundant free resources, from free furniture to free money to free clothing — you just need to know where to look. You can shop for free goods on Freecycle, look in the free classifieds on Craigslist, or join a free Facebook Marketplace swap group.
In the past, I have also done things like cleaning out pickle jars to use as drinking glasses. Since they also come with lids, they can serve double duty for canning meal planning.
You would be ASTONISHED at the epic stuff people toss on trash day.
In fact, you should look up garbage pickup day for the richest areas in your neighborhood and you can cruise along and scoop up solid wood furniture to decorate your apartment, vintage bicycles, all sorts of awesome stuff; I even turned an old sign I found in our community trash center into a stunning necklace organizing hanger!
2. Full price items
If you can't find what you want for free, you still can avoid paying full price. It literally pays to comparison shop and planning ahead can help you save big and cut down on purchasing-regret.
If you like shopping on Amazon, for example, you can sign up for price alerts on camelcamelcamel and get notifications on sales. Another way to save is to find the best price for what you want online, print that page, and take it to multiple stores to see who will offer price matching.
This is especially helpful when making big purchases, like washer-dryer sets or larger appliances. You can even take that quote and use it to haggle at competitors; chose whichever store offers the best deal.
MONEY-SAVING PRO-TIP: On the rare occasion you DO decide to buy something, earn cashback by shopping through the Rakuten cashback portal get $10 free just for signing up. Just remember not to go overboard.
3. Cable TV
We canceled cable TV years ago and never looked back! Instead, when we want to watch cartoons we tap into our free videos included with Amazon Prime or watch on Netflix.
4. Movie theater tickets
The last movie we saw in theaters was Harry Potter and the Half-Blood Prince, which a quick search tells me was released in 2009, hahaha.
Going to the movies is extremely expensive, from the tickets to the food! Since we are more of homebodies anyway, we prefer to stay home and watch movies on Netflix and eat our own healthier snacks instead of dropping tons of cash at the theater.
5. Novelty or gag gifts
Gag gifts are so wasteful! Sure, you and the gift receiver might get a quick chuckle, but most gag gifts are tossed or forgotten quickly.
If you want to still have a playful gift exchange with friends, do something like a White Elephant party using only items found around your home!
GRAB BAG TIP: I know one mom who offered her child's outgrown toys at the end of his birthday party instead of grab bags – such a cool minimalist gift idea!
6. Anniversary, birthday, or Christmas gifts
My husband and I don't let birthdays or holidays designate the right time to give a gift. When we think of something the other might like or need, we just go ahead and get that.
Case in point, my husband randomly got me a glass water bottle the other day since I am horrible about drinking enough fluids. I was very happy to receive that thoughtful gift.
As far as gift-giving for kids, studies have shown that having fewer toys can actually make children smarter and more creative. My kids have been SO much happier since we decluttered 95% of our toys!
READ MORE: 10 Best Minimalist Toy Ideas to Raise Smarter and Happier Kids
7. Birthday cards
While we are not a fully zero-waste family we do try to create as little waste as possible. We stopped buying birthday cards or holiday cards to reduce paper waste.
READ MORE: 7 Simple Tips to Eliminate Paper Clutter Once and for All Time
8. Plastic containers (meal prep glass)
Instead of buying plastic containers for school lunches and food prep, we invested in high-quality glass or metal meal prep containers that will last a long time.
Here are our two favorite meal prep containers:
9. Pots and pans
We are currently living in a one-bedroom furnished rental while we look for housing overseas and it came stocked with pots and pans. Once we DO find a place for ourselves, we will need to buy a few more pots and pans – more on that in a bit!
10. Fancy dishes or fine china
Would you be shocked if I told you I have been eating off the same plates for nearly 40 years?
It's true!
Although I decluttered our kitchen a few years back, one thing I did NOT get rid of were the plates that my mother (RIP) received as a wedding gift. When they say Corelle plates are unbreakable, they really mean it!
I have to admit I am not in love with the pattern (blue and pink flowers are not really my style) but I am devastatingly in love with their sentimental meaning and quality. It means so much to me that my children can eat off the same plates I did as a child. Talk about a minimalist gift that can last for generations!
11. Paid phone games or apps
We focus on using free educational apps or easy apps that help us save or make money!
PRO-TIP: Instead of wasting time and money paying for apps, find apps that pay YOU. SurveyJunkie is top-rated app that you can use you can earn from $2-$75 per survey.
12. Hair products
Outside of shampoo, conditioner, and must-haves like ponytail holders and a brush, I don't purchase any hair products.
I also don't have any hot irons, curlers, or styles beyond the typical hairdryer; even that I try to use as little as possible to keep my hair healthy.
13. Expensive haircuts or dye jobs
The last time I dyed my hair was when I was 18 years old in high school. The pretty red I picked out turned into a ghastly purple, ha!
Again, not trying to shame anyone about spending money on looking good or taking care of their hair! I am definitely aware that certain races and hair types need more care than others.
While I am able to cut my hair once a year and my children's hair every 3-4 months myself, my Chinese husband's hair is extremely hard to cut. Therefore, he goes to professionals every 4-6 weeks to keep himself looking sharp. 🙂
14. Lotions and body spray
I buy the plainest of the plain Jane moisturizers on the block — Cetaphil — and it works great!
15. Makeup
Most days I don't wear makeup, but when I do I use a simple drugstore makeup, including a BB cream, mascara, and matte brown eyeshadow for my eyebrows. Makeup was never a strong interest or skill of mine, so it's not something I enjoy investing time, money, or space towards.
16. Perfume
I prefer a natural scent so I don't wear perfume. I do still, however, wear deodorant!
17. Expensive skincare products
On the rare occasion I have the time and inclination to treat myself to a spa day I am more likely to make my own sugar scrub or DIY a facial mask out of egg whites and lemon.
18. Disposable razors
Instead of buying disposable razors over and over, I buy a nice quality razor and just switch the razor blades as they wear out.
19. Dryer sheets
My choice on this subject was taken entirely out of my hands as most homes in Germany do not have dryers!
If we do eventually find a home and it has a dryer, I would love to try those wool dryer balls, have you tried them?
20. Nail care or nail polish
The only nail care item we own are nail clippers.
21. Excessive craft or hobby supplies
Hey, I love crafting as much as the next girl, but after having kids I found myself with too many craft supplies and not enough time! Now, I focus on one project at a time and only buy enough crafting supplies for that one project.
However, I do still keep home DIY staples such as a hot glue gun, glue sticks, needle and thread, and other necessities on hand.
READ MORE: How to Make a DIY Fox Tail Out of Yarn for Your Kids
22. CDs
The way the world is nowadays you don't need to have physical CDs on hand to listen to music. Instead, we create YouTube playlists, stream our favorite songs on Spotify, or listen for free with Amazon Prime music.
23. DVDs
Just like CDs, DVDs have become mostly irrelevant. We use the Amazon Prime video included with our Prime membership (you can even download movies to watch offline while traveling, a total lifesaver!) or Netflix when we want to watch movies.
24. Books
Instead of buying books for myself, I go to the library or download books on a Kindle.
I do make an exception for children's books.
MY RECOMMENDATION: The Kindle Paperwhite E-Reader, with twice as much storage and over 34,000 positive reviews on Amazon! Go and read the complete specs here.
25. Magazines
The last magazine I bought was 10 years ago before our wedding; I was so excited to see an AM/WF (Asian male/white female) couple on the cover of a wedding magazine, I HAD to scoop it up. Let's just say that doesn't happen often, hahaha.
I still have that magazine, but I have never read another since; tons of magazines now offer digital versions instead of printed, or you could just follow their social media or YouTube accounts to get your fix.
26. Souvenirs
We take pictures instead.
27. Jewelry
I already have all the jewelry I could ever want or need and do not buy new necklaces, bracelets, rings, earrings, watches, etc. I wear my mother's diamond wedding ring alongside my wedding band.
28. Fast fashion
The clothes in my wardrobe are extremely old — in fact, most of them are older than my children! Even when I was buying maternity dresses 7+ years ago, I intentionally purchased dresses that could be worn after giving birth.
The most important thing to remember when clothing shopping is to know thyself.
If you don't like wearing dresses, don't buy dresses. If you don't feel confident and comfortable in tank tops, then don't buy tank tops. I have definitely purchased clothes I didn't feel happy in because magazines or friends told me I need to "expand" or "diversify" my wardrobe or look.
Guess what?
Those clothes sat unloved for years until I finally got smart, decluttered my closet, and sold them off – some of them even still had tags!
Your comfort and happiness should be priority #1! Now I do most of my shopping at the thrift store.
TIP: See if you have any of these 75 high-price items laying around your house.
29. Special occasion outfits
I don't buy fancy outfits for special occasions like weddings or holidays – the only exception being if I was chosen to be a bridesmaid, in which case, of course, I would cater to the bride!
After the event, I would simply sell my bridesmaid dress online, just like I did my own wedding dress.
30. Purses
I have a canvas purse that I have owned since high school, the "nice" Marc Jabob's handbag my husband got me 10 years ago, and a super awesome diaper bag (8 years old) that has since been converted into a camera bag for my blog!
Proof that if you take care of things they can last a LONG time!
READ MORE: How to Clean Your JuJuBe BFF Diaper Bag So it Looks Brand Spanking New
If you are in need of a diaper bag, I HIGHLY recommend the JuJuBe BFF diaper bag. It's lasted 8 years, toured 5 countries with us, and is super easy to clean – this is the color I would choose now.
31. Shoes
I wear my shoes until they are totally worn out, then I turn them into home decor (DIY leather boot upcycle coming soon!)
32. Bottled water
Disposable water bottles are one of the biggest scams on the planet. Buy a nice reusable water bottle to stay hydrated; if you are worried about the quality of your water, Brita makes really great pitchers with built-in water filters.
33. Cheap hangers
Okay, this is a weird one, but I love my clothes and I want them to feel loved in return.
When I shared my minimalist closet decluttering video I gushed about my absolute FAVORITE hangers, which are the neutral-colored non-slip velvet hangers seen here. I can talk about these velvet hangers like an extreme couponer that can talk about the price of hot dogs!
34. Takeaway coffee
Takeaway coffee can be a nice experience, but you can save money and waste by creating a do-it-yourself home coffee station.
Making morning coffee together is a time-honored minimalist family tradition! My boys love to help me push the buttons on the coffee grinders and makers; so much FUN to be had at 6 am, amirite?
35. Brand name foods
Grocery stores use all kinds of tricks to get you to spend more money, such as putting the most expensive name-brand foods at eye level.
Drop it down low, touch your toes, and look to the right – that's where the savings are to be found!
36. Fast food
Once upon a time, there was a girl and she loved Taco Bell.
Sadly, she found that Taco Bell didn't love her back and they had to part ways. Now she is much happier, healthier, wealthier, and her skin is MUCH better.
37. Frozen and microwave dinners
Not only are frozen and microwave dinners expensive, but they tend to be higher in sodium and other preservatives.
Learning to meal prep at home has saved us so much money and we feel healthier – with smart planning and a little kitchen know-how, you can eat fantastic dinners for $1 – $5 per serving!
38. Pre-sliced veggies and fruit
Save cash and plastic/paper waste by clicking your own fruit and veggies at home.
39. Soda
We don't need the extra sugar or plastic. We drink water, tea, coffee, and sometimes watered-down fruit juices if we feel fancy.
40. A car
This is a hot-button issue in my household.
We sold off both our cars when we moved to Europe. My husband currently has a company car, but I would like us to be a car-free family. We walk or take public transportation almost everywhere, so I feel having a car really doesn't make much sense.
My husband considers himself a "car guy" and would love to have a nice car — for him, a nice car is something that adds value to his life.
I know I MYSELF don't want a car, but not sure what we will do when the company car contract expires — stay tuned!
41. Candles or air fresheners
Candles are one of the first things I decluttered long ago and I never looked back.
42. Notebooks & planners
Don't get me wrong, I LOVE planning! As a minimalist though, I have found myself gradually moving towards digital planners as a way to stay productive and plan my day.
Creating a to-do list is an essential part of my day, but now instead of writing down a to-do list, I use the free Google Keep app on my phone! You can even color-code the various checklists to keep track of things.
43. Knickknacks & collectibles
I spent too much time getting rid of old knickknacks to ever want to buy any more. The items that we kept after our massive decluttering session are the most beautiful and meaningful to me; I don't need more.
44. Candy
We try not to eat much candy but now that we live close to grandparents it seems every time they drop by they bring gummies or chocolates. We never run out, so we never have to buy.
45. Toys
As I said above, we are extremely minimalistic when it comes to toys. My children pick out one toy per birthday or holiday and that is all they receive – and they are SUPER grateful and happy!
However, we do still buy items on a basis of need, such as the scooters we recently purchased to help with our 1.5-hour daily commute in Germany (we take several buses and trains and still do a lot of walking!)
We like to focus on activities that use items we already have around the home to get creative AND cut down on clutter!
READ MORE: How to Make a DIY Air Fort Out of Stuff You Already Own
46. Lip balm
I don't buy lip balm anymore, instead, I use a huge jar of Aquaphor that I carry with me constantly. Not to be gross or TMI mom, but it completely cured my monthly cold sore outbreaks years ago, and I have used Aquaphor on my lips religiously ever since.
47. Bulk food items
As a minimalist and especially as a minimalist living in Europe we don't feel the need to buy bulk.
Not only are German refrigerators half the size of their American counterparts, but they also go to the store several times each week. We have 3-4 grocery stores within a few minutes' walk in any direction, quite unlike in the USA where you might have to drive 15-30 minutes to go shop for food.
We have found that we spend about 40% less money on groceries each week and enjoy the walkability. Instead of buying huge amounts in bulk, I either carry reusable grocery bags and do a small shopping haul or I take my rolling cart for larger purchases.
48. Late fees on bills
Ugh, bills have a way of creeping up on you, don't they? From late fees on FREE library cards to utility bills and rent, companies love to charge late fees and they are NOT cheap.
When I started tracking our spending and really started rocking our budget, I made sure to keep track of our bills and due dates so that I would never miss a payment.
You can write them down in a budget tracking printable (this one is FREE!) or you can simply set an alert in your phone's calendar! Whatever works to help you stay on top of your bills.
49. Expensive phone plans
I use a $25 pre-paid phone plan and my husband has a phone through his company – cheap!
50. Lottery tickets
Lottery tickers a little slice of hope. Most people don't think twice about dropping a dollar or two on a lottery ticket, especially when the prize pot gets outrageously huge.
However, your money is often better off when it's placed in a high-yield savings account, invested in the stock market, or put towards a money-making side hustle.
WATCH THE YOUTUBE VIDEO: 50 THINGS I STOPPED BUYING!
Whew, that was a big list of stuff to stop buying!
If you made it all the way down to the end, kudos to you!
I wish you all the best and much success as you embark upon your journey to living more minimally.