10 Best Places to Sell Clothes Online (and Get Paid MORE!)
This post may contain affiliate links for your convenience. That means that if you make a purchase, I will receive a small commission at no extra cost to you. Read more here.
It's easier than ever to sell clothes online! Instead of letting that little black dress you only wore once or those expensive jeans with the tags still on collect dust in your wardrobe, maybe you should cash in and sell the clothes online instead? But what is the best place for selling clothes online?
Fear not because this is the perfect place to start if you're done purging your closet and are on the hunt for apps and sites to sell your used clothes online.
Here is a list of the ten best places for selling unwanted clothing online and helpful tips and hacks to ensure you get paid the MOST for your old clothes.
Are you ready to get selling? Read on!
Or, if you haven't started decluttering yet but are keen to begin, read this post on how to clean out your closet or the complete guide to decluttering your entire home.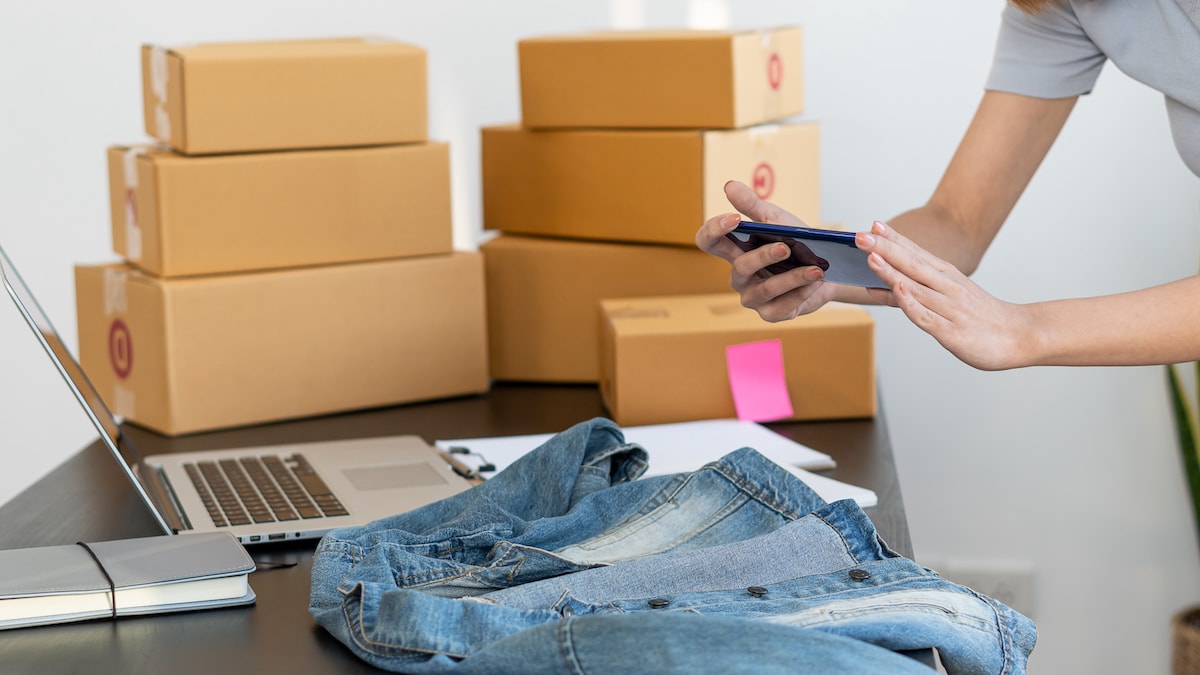 💻 Where To Sell Clothes Online
Here is a list of the best apps and sites where you can sell clothes online. Each site has its unique feel, pros and cons, and selling and shipping fees.
Scroll through and pick the best site for you and your unwanted clothes.
1. Poshmark
One of the most popular sites to sell clothes online is Poshmark. You can sell men's, women's, and children's clothing and accessories here, but their main focus will be anything in excellent condition and with brand names people recognize.
Poshmark sellers and buyers tend to be on the trendier side, as you would expect when selling and buying name-brand clothing.
To sell on Poshmark, take great pictures of your clothes, upload photos, and create a description. As the seller, you have complete control of the price. This means you can immediately change it to make a deal with someone, and haggling is an acceptable practice on Poshmark. You can also offer discounts on bundles of items.
It's free to list items on Poshmark, and the buyer pays the shipping fees – but you can offer to pay for shipping to sell items faster.
Shipping items once they have sold on Poshmark is simple; when an item sells, the company will send you a prepaid shipping label, making it easy to pack, ship, and track your package once you send it to the buyer.
Poshmark FAQs
Effort level to use? Low-medium
Who should use Poshmark? Casual or serious sellers who own trendier or brand-name items.
Countries available: Poshmark is only available in the United States, Canada, Australia, and India. You need to have a billing, shipping, and IP address in the USA, Canada, Australia, or India to use Poshmark.
Poshmark fees and payments:
For all sales under $15, Poshmark takes a flat commission of $2.95.
For all sales of $15 or more, you keep 80% of your sale, and Poshmark earns a commission of 20%.
Seller earnings are available once your package has been delivered to the buyer.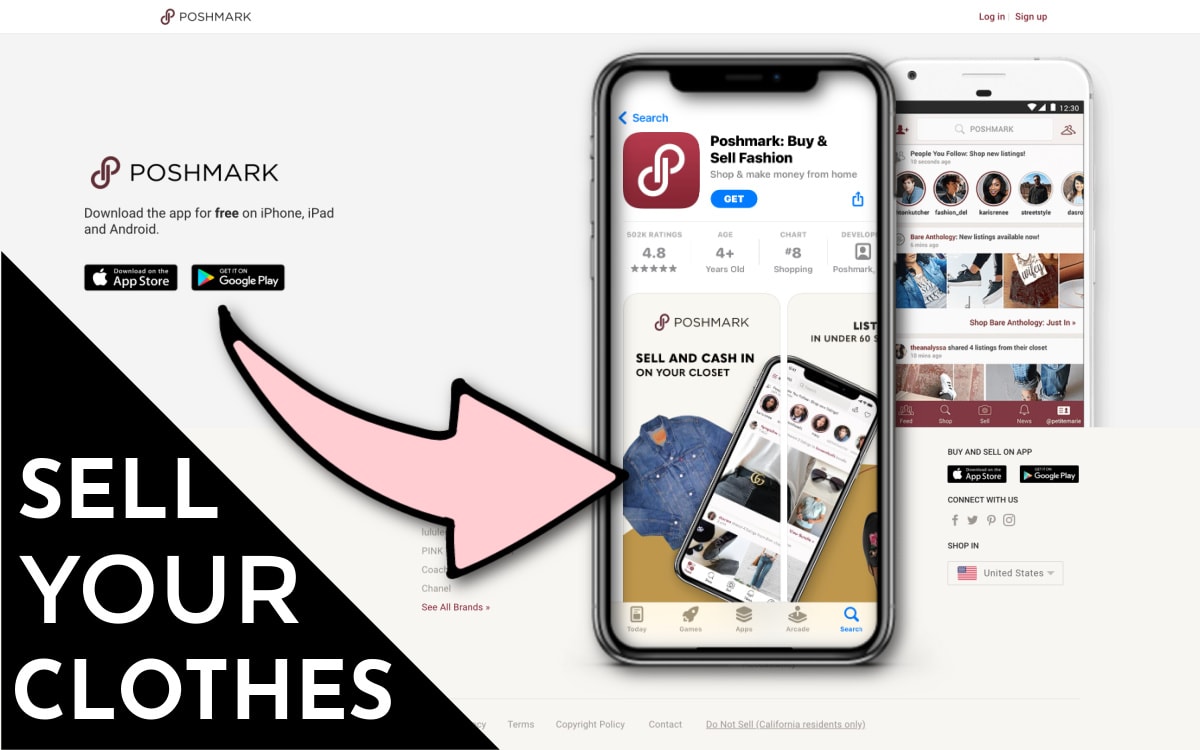 2. Depop
If you have something vintage or unique or that fits a particular aesthetic, you can list it on Depop. This app sells everything from well-known designers to independent brands. Top-selling categories are visible on the Depop homepage and currently feature categories such as vintage, y2k, streetwear, Urban Outfitters, and more.
Depop looks and feels like a mashup of Instagram and eBay, so it tends to attract younger buyers. Additionally, this clothing resale website uses hashtags to organize listings, so if you know how to use them well, your stuff will sell faster.
Depop FAQs
Effort level to use? Medium
Who should use Depop? Sellers who cater to young and trendy buyers.
Countries available: Depop is a UK-based company but offers worldwide shipping and has an expanding global presence in countries like the USA, New Zealand, Italy, Australia, and more. Depop's biggest markets are the US and UK, followed by Australia and Italy.
Depop fees and payments:
Depop will automatically charge a 10% fee on the sale price once the item sells.
Also, there's a PayPal transaction fee of 2.9% + $0.30 in the USA and 2.9% + £0.30 in the UK. You may also be charged an additional 1.29% seller service fee for UK-EU transactions.
Are you using a Ship With Depop label? The cost of the shipping label will also be taken removed along with the Depop fee.
When you sell an item using Depop Payments, you should receive payment typically within 1-2 days. Depending on your bank, you might see a 2-3 day difference in processing times.
3. ThredUp
Another popular site for selling any kind of used clothes – men's, women's, or kid's – is ThredUp. Think of it as an online thrift store. The best thing about ThredUp is that you don't have to take your own photos or list the items, which means you save time and effort.
Here's how it works; just order a free Clean Out Kit, and once you get it, all you have to do is pack and send your clothes to them. ThredUp will then inspect, photograph, and list the items on your behalf.
If you want them to send you back any clothes that the company won't accept, you have to pay a $10.99 fee. Or you have the option of telling them to donate any clothes that don't sell and receive $5 for each kit you donate.
Once your items sell, ThredUp earnings are paid via Stripe or PayPal. It's important to cash out your earnings within one year of the sale; otherwise, the earnings will be converted into an e-gift card to be mailed to you. Then, the funds on the e-gift card are only usable for buying on ThredUp.
ThredUp FAQs
Effort level to use? Low
Who should use ThredUp? Busy clothing resellers who want a hands-off approach.
Countries available: ThredUp operates and ships in the USA and Canada.
PayPay fees and payments on ThredUp
Cash outs can be made up to $1,000 at a time.
There is a $0.25 transfer fee for withdrawing earnings with PayPal.
PayPal earnings will be deposited in your PayPal account in 24-48 hours.
Stripe fees and payments on ThredUp
Cash outs can be made up to $3,000 at a time.
Earnings are transferred to your Stripe account minus $0.25 and a 1.5% transfer fee.
It can take 1-3 business days for your deposit to transfer to your bank account and up to a week if it's your first time using Stripe.
RELATED POST: 10 Signs You Have Too Many Clothes (and What to Do!)
4. Vinted
People are flocking to buy and sell old clothes on Vinted, and this is good news for sellers because there are no fees or expenses to sell here. That's right – you keep 100% of the money you make when you resell clothes on Vinted!
After you set up an account, you just have to take pictures of your clothes and set the price. Then, you wait for people to become interested and buy them.
It might sound too good to be true, to the point where you're asking yourself: "Is Vinted a scam?" After all, how can a clothing reselling website make money if they aren't charging fees?
Don't worry; Vinted isn't a scam!
Of course, it takes money to run a company, and they make their money via a buyer protection service; here's how it works. No commission is paid for the sale of items; however, the buyer pays a small percentage of the price plus a flat fee for each purchase (see fees listed below).
They also offer Wardrobe Spotlight, a feature that helps users boost the visibility of their items to buyers.
Vinted FAQs
Effort level to use? Medium-high
Who should use Vinted? Busy sellers who want a hands-off approach or are looking for way to sell clothes for free.
Countries available: Vinted is available in nine countries: the USA, the UK, Germany, France, Spain, the Czech Republic, Poland, Austria, and Lithuania. The biggest user markets are Germany and France.
Vinted fees and payments
The buyer pays 5% of the item's price for "buyer protection costs" plus a flat rate of 0.70€ for each purchase made.
Wardrobe Spotlight costs £6.95 (around $8.37 as of this writing). This price includes applicable tax (VAT).
Your payment is available within 24 hours after the order is finalized. The amount will be transferred directly to your bank account if your identity has already been verified on Vinted. If not, the money will be held by Vinted's payment provider.
Payments can take up to 5 business days to be deposited into your bank account, depending on your bank.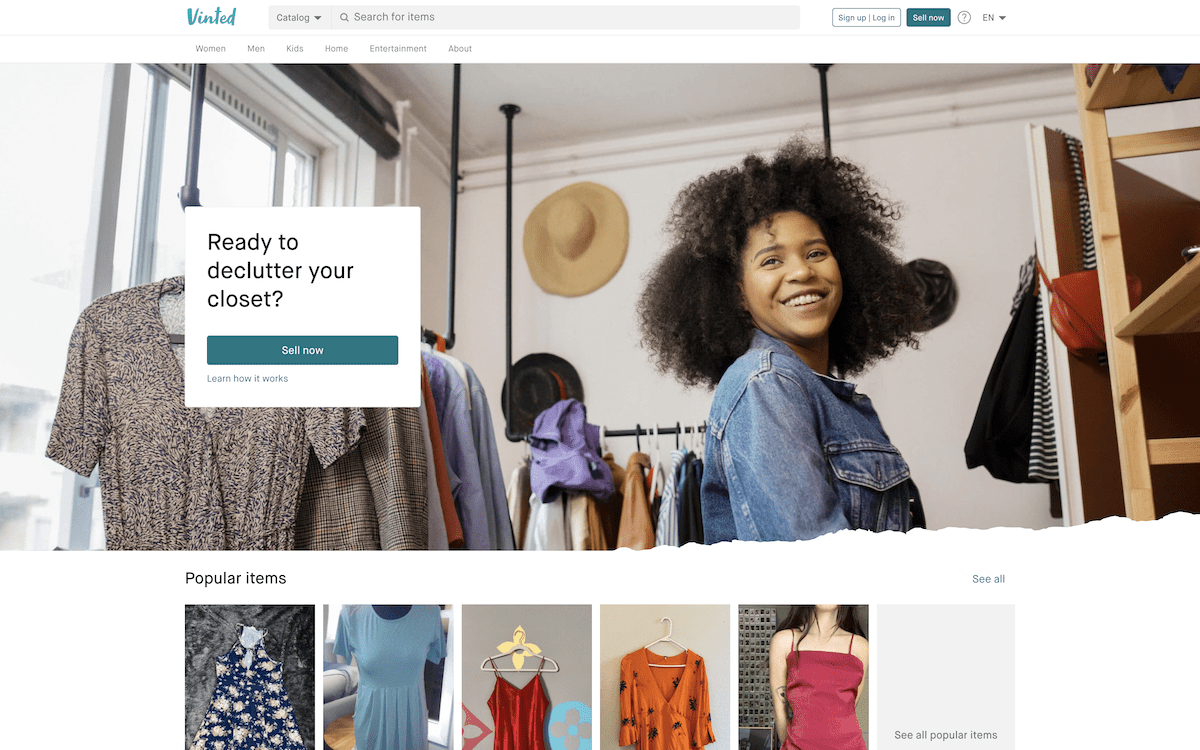 5. Tradesy
Do you have some high-end clothing, bags, shoes, or accessories that you want to sell? Then check out Tradesy. This resale website is sleek and polished, specializing in lightly-used items that generally cost a hundred dollars or more.
Think brand-name goods like Hermes, Coach, Gucci, Burberry, or Louis Vuitton; if you own luxury brands with higher price tags like this, consider selling them here.
Regarding shipping and listing, a few perks make selling easier. While the seller is responsible for writing the description, setting the price, and taking the photos, Tradesy can help sellers boost the quality of the display image for the "shop."
You also can save money by DIY-ing packing and shipping yourself, or you can have Tradesy mail you a "shipping kit," which includes a prepaid USPS shipping label. Simply print the prepaid label and attach it to your package, and you're all set to ship!
Tradesy FAQs
Effort level to use? Low to medium
Who should use Tradsey? High-end and luxury resellers for women's fashion and accessories (now offering some menswear as well).
Countries available: According to the Tradesy Terms of Service, only people who reside in the USA can sell on their platform.
Tradesy fees and payments
Commission of $7.50 per piece under $50 and 19.8% for anything over $50.
Earnings can be redeemed for cash or store credit.
A 2.9% fee is applied to PayPal, debit card, or checking account transfers.
No charge for in-store credit usage.
6. The Real Real
Another reselling site that specializes in designer clothing is The Real Real. As an "authenticated luxury consignment" online shop, The Real Real aims to be the go-to place for trendsetters searching for clothes from designers such as Gucci, Prada, Chanel, Burberry, and more.
The Real Real employs hundreds of experts, like brand authenticators and gemologists, to inspect the products they receive and ensure they are legit. They have served 27+ million shoppers and sold over 2.5 billion in luxury merchandise online – wow!
Selling on The Real Real is simple because they take care of all the inspections and authentications, photograph the items, price them for sale, and sell them for you. It's a done-for-you experience from start to finish!
As far as getting your items to them to post in their online consignment store, you can either mail them using a prepaid envelope from The Real Real or schedule a free in-home pickup if you have a larger collection you are looking to sell.
The only downside is that the commissions you pay to The Real Real for this premium concierge consignment service can be quite steep.
The Real Real FAQs
Effort level to use? Very low
Who should use The Real Real? People who have luxury items to sell and want a completely hands-off service.
Countries available: The Real Real only accepts consignments from inside the United States but offers shipping to over 60 countries for buyers.
The Real Real fees and payments
Commissions vary by item but require a flat listing fee and commission from 20-80% – read more here.
Payments are issued by direct deposit, as site credit, or as standard checks after your item sells.
Payments are issued on the 15th of every month, following the month in which the item/s were sold.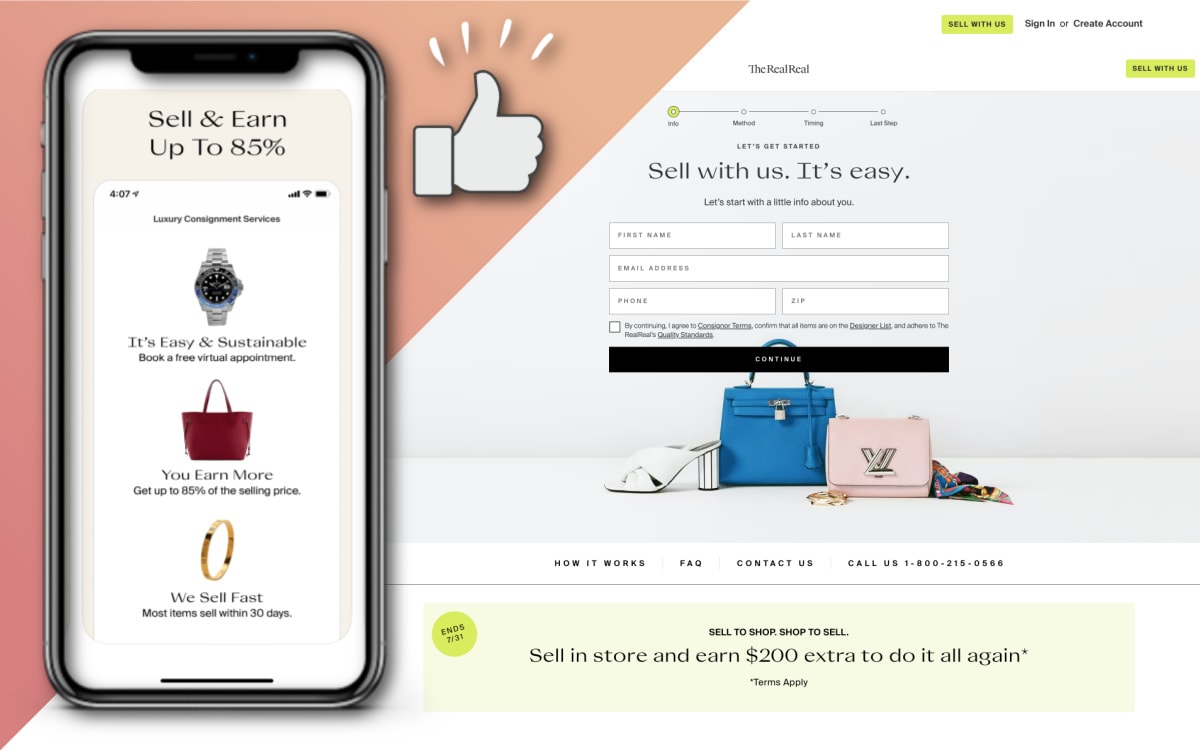 7. Mercari
Mercari is one of the most popular reselling websites, with over 50 million downloads and 19 million active users on its platform as of 2021.
Not only can you sell new or used clothing on Mercari, but you can also sell things like collectibles, CDs and DVDs, pet supplies, crafting supplies, home decor, and more. It's like a one-stop online flea market!
To sell on Mercari, you need to be able to take your own pictures, write your own descriptions, and list the item yourself. Sellers can then choose between a prepaid label from Mercari or shipping themselves (tracking number required).
While other reselling websites might specialize in high-end luxury items, Mercari is more of a mixed bag; you find budget brands like Old Navy and Target mixed alongside name brands like Dolce & Gabbana and Bottega Veneta. However, there are much more of the former and fewer of the latter.
On the whole, Mercari sellers and buyers favor more budget-friendly and affordable fashion than sites like Tradesy.
Mercari FAQs
Effort level to use? Medium
Who should use Mercari? Casual sellers who own affordable fashion brands and people who have more than just clothing they want to sell online in one place.
Countries available: Mercari is available in the USA and Japan; while previously available in other countries, Mercari UK and Mercari Europe have closed their doors.
Mercari fees and payments
0% fee to create a listing
A minimum seller's fee of 10% is taken from the final price for a completed sale.
2.9% plus $0.30 per sale is charged based on the completed sale price of the item.
Cash-out transactions are typically processed within five business days and sent to your bank via direct deposit.
No fee for deposits of $10 or more; there is a $2 fee if your bank can't process the request or if the amount requested is under $10.
8. eBay
Did you know that eBay is one of the oldest websites on this list? People have been selling clothes – and more – on eBay since it opened its virtual doors in 1995!
There are many features and options that make eBay an excellent platform to sell clothes on, such as the advanced search feature that allows you to see the final price of items that have sold and the ability to open an eBay store to save on fees.
This is one of my favorite places to sell clothes online because I had a lot of stuff to sell after extreme decluttering my home: kid's clothes, women's clothing, collectibles, kitchenware and appliances, and more.
In total, I made $50,000 selling my old stuff online, and the lion's share of that was done on eBay over the course of three years. Read more about that and my best tips here.
Because I had 30 years worth of stuff I was selling on eBay, I found it worth it to open a shop, but research and see if the savings are good enough for you to offset the fees. You can take pictures, pack, weigh, list, and print shipping labels from your phone.
eBay FAQs
Effort level to use? Medium
Who should use eBay? Casual sellers and pros alike, both for niche markets (like stores that only sell Nike shoes) and general sellers who want to offload clothing and other stuff they decluttered in their home.
Countries available: With 20+ country-specific sites and shipping offered to over 100 countries, eBay is one of the most prolific worldwide platforms for clothing resellers! If you're in the USA, the eBay Global Shipping Program makes selling to over 60 million buyers worldwide an absolute breeze.
eBay fees and payments
New sellers have a selling limit of up to 10 items with a total value of up to $500/month.
Up to 250 free listings per month.
Selling fees on eBay can vary by category and quantity of listings, so check this page for more details.
Money earned on eBay can be paid out in a variety of ways and timelines; see this post on their website to find out more details.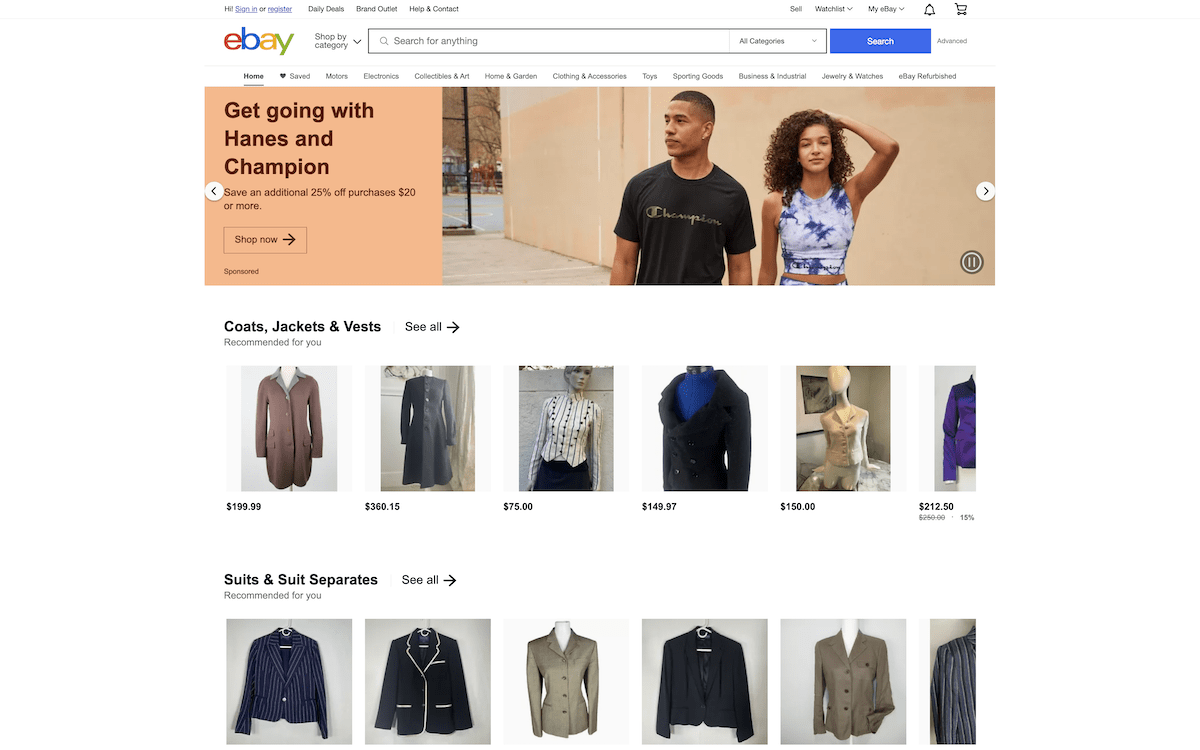 RELATED POST: 75 Best Things to Sell on eBay and Make $1,000 a Month
9. Facebook Marketplace
Facebook Marketplace is great if you've decluttered and have oversized items you want to sell or get rid of stuff quickly in your local area. It's also one of the few places you call sell clothes for free – there is no charge when you sell to local buyers!
If you already have a Facebook profile, you just go to the Marketplace tab to start listing items. You can also join zip code-specific or interest-specific selling groups on the Facebook marketplace, such as groups that specifically sell women's clothing or kids clothes.
Selling on Facebook Marketplace is excellent because you can share in multiple groups with a few clicks and avoid seller fees; the downsides are that you sometimes get lookie-loos who message you to ask a billion questions (that you probably already answered in the listing) and then ghost you.
Also, if you choose the local-focused selling option, please stay safe.
If possible, arrange to meet in a public place instead of inviting people to your home. In certain counties and districts police stations have specific parking spots for sellers and buyers to perform their transactions under the watchful eye of the law.
Facebook Marketplace FAQs
Effort level to use? Easy to medium
Who should use Facebook Marketplace? People who want to sell faster, stick to selling in their local area, or want to sell clothes for free online.
Countries available: 70 countries with over 800 million monthly users worldwide.
Facebook Marketplace fees and payments
No fees with an in-person selling option.
Items can now be offered with shipping on Marketplace; find out more about their fees and policies here.
10. Grailed
Grailed is the largest online market to buy and resell menswear. If you are a man looking to sell his stuff or a woman helping your boyfriend, husband, or son declutter, this is a great place to sell their sneakers, shoes, belts, or clothes.
Grailed FAQs
Effort level to use? Medium
Who should use Grailed? Anyone wanting to sell menswear.
Countries available: Grailed is available internationally.
Grailed fees and payments
Grailed is free for buyers; a 9% commission is charged to the seller.
The seller is responsible for paying the PayPal fees.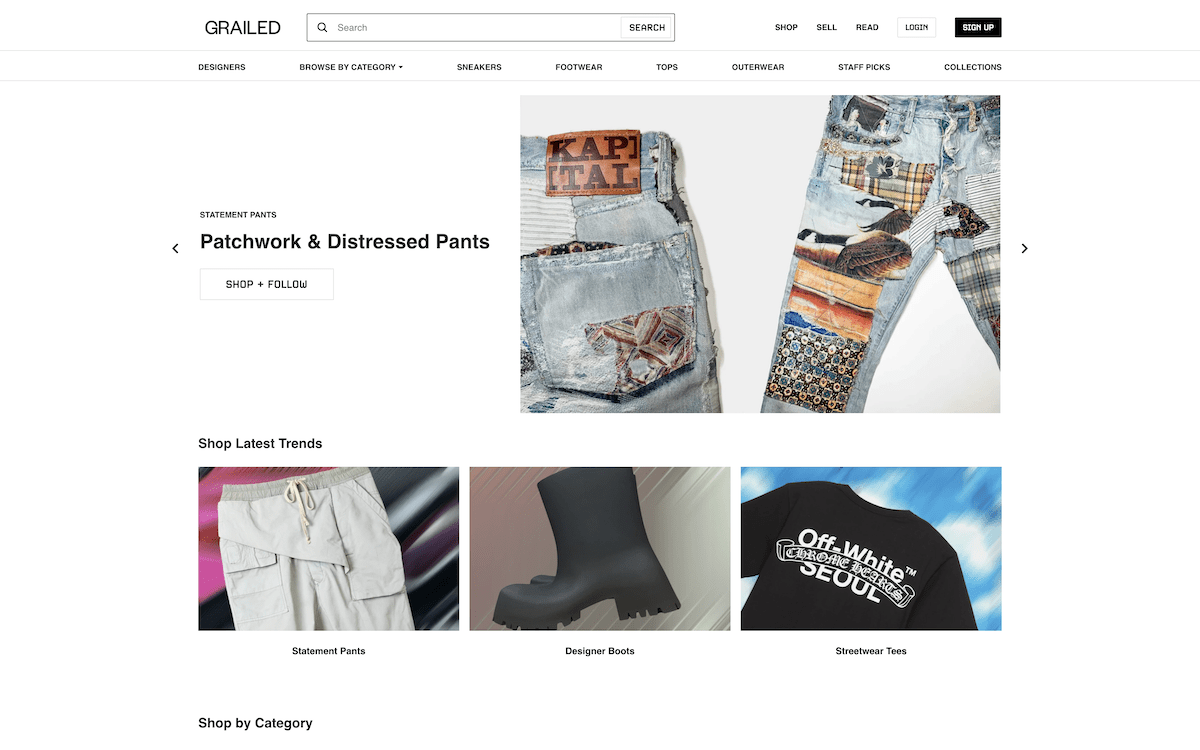 💰 How to Sell Clothes Online (7 Tips)
If you want to make money selling clothes online, there are two principles you need to know:
keep fees as low as possible
price your listing to sell high while still being competitive
This might sound simple, but there are a lot of things to know when it comes to selling your old clothes for higher prices, and keeping selling feels low. These tips will still help you get the most money.
1. Take Clear Photos
Photos are the most critical part of selling items on apps or online. Display them in a distraction-free area and make sure the clothes look as new and clean as possible.
Iron or steam them if you must, because clothes that look wrinkled or dirty will be passed by without a second glance.
Pay attention to the lighting, too. If you don't have amazing natural lighting in your home or apartment you can use a free app like Snapseed or PicTapGo to adjust the image before you upload it. (Just don't edit it to the point that it alters the reality too much.)
2. Stage your clothing for selling
Model or use mannequins to show your clothes in the best light
Photograph from multiple angles
Take close-ups of any defects (and describe them in detail in your listing!)
3. Use Catchy Descriptions
The next thing people look at after the photos grab their attention is the description. Descriptions are also important for helping people find your listing – if you don't used the right words, buyers are unlikely to find you.
Be detailed. If you don't know what to write, look at items that have already sold and use that as a script to write your own listing.
4. Price Your Items Right
Before you list your item, look at what other similar items sell for and price your items competitively. If your products are much nicer than others or you have a lot of positive reviews (50-100+), you can probably afford to give them a slightly higher price tag.
If you price it too high, buyers will skip over it, looking for cheaper stuff.
5. Offer Free Shipping
Offering free shipping will grab a buyer's attention and make them more likely to make the purchase.
If you want to offer free shipping, you can increase the price of the item slightly so you can still sell at a fair rate while making a little bit of a profit. Just check the listing prices for similar items because you can't charge more than the competitive rates – especially if you are a brand-new seller with a 0-star rating!
6. Keep your shipping costs
The less you spend on shipping, the more money you'll have going into your pocket! There are a few ways to do this.
First, you can use lightweight packaging materials like poly mailers to keep shipping weight as low as possible. Sourcing free boxes and shipping materials is another great way to keep the price down, so save all your extra Amazon boxes and ask friends, family members, and neighbors to share theirs. (Bonus tip: it helps to collapse the boxes flat for storage in your home.)
You can also take advantage of USPS Flat Rate shipping options which allow you to ship items for a set price no matter the weight or try to keep items under 13 oz to qualify for the free and speedy First Class Mailing option.
7. Bundle items to save time and money
Time is money, and you can save both in one fell swoop by bundling similar items together for reselling your clothes.
If you have several items in the same category, you can photograph, list, and sell all of those items together. You spend less time than you would photographing and listing everything individually, and you can clear a lot of clutter at once.
Bundling can also save on shipping costs.
Here are examples of listings that would bundle well:
Women's Zara Summer Dress Lot, Size XS, (12 Pieces)
4T Boys Toddler Fall Clothing Bundle Boys Pants Boys Shirts (20 Pieces)
NEW! Lot of 15 Lululemon Women's Workout Gear Size M
👖 Final Thoughts on selling your clothes
The best way to sell clothes online is to look at what you are selling and list it in the appropriate place.
Donating is generous and worthwhile, but if you can make a few extra dollars by selling your stuff, why not go for it – especially now, since prices and inflation are through the roof and forcing us to stretch our money further.
Check out these ideas if you're looking for more ways to save or make extra money.