Top 20 Closet Cleanout Tips to Make Purging Easier!
This post may contain affiliate links for your convenience. That means that if you make a purchase, I will receive a small commission at no extra cost to you. Read more here.
There's no such thing as the right or wrong time for cleaning out your closet. Whether you're doing a bit of spring cleaning, tidying up for the New Year, or just ready to reset your wardrobe, right now is the perfect time to purge old clothes and do a complete closet cleanout!
But while it can be so refreshing to get rid of clothes you don't wear, decluttering your clothes can be daunting – especially if you don't know where to start or how to clean out your wardrobe.
If that sounds like you, never fear because these tips for cleaning out your closets are here to guide you! And if you could use a little extra cash, be sure and check out this list of the best places to sell unwanted clothes online.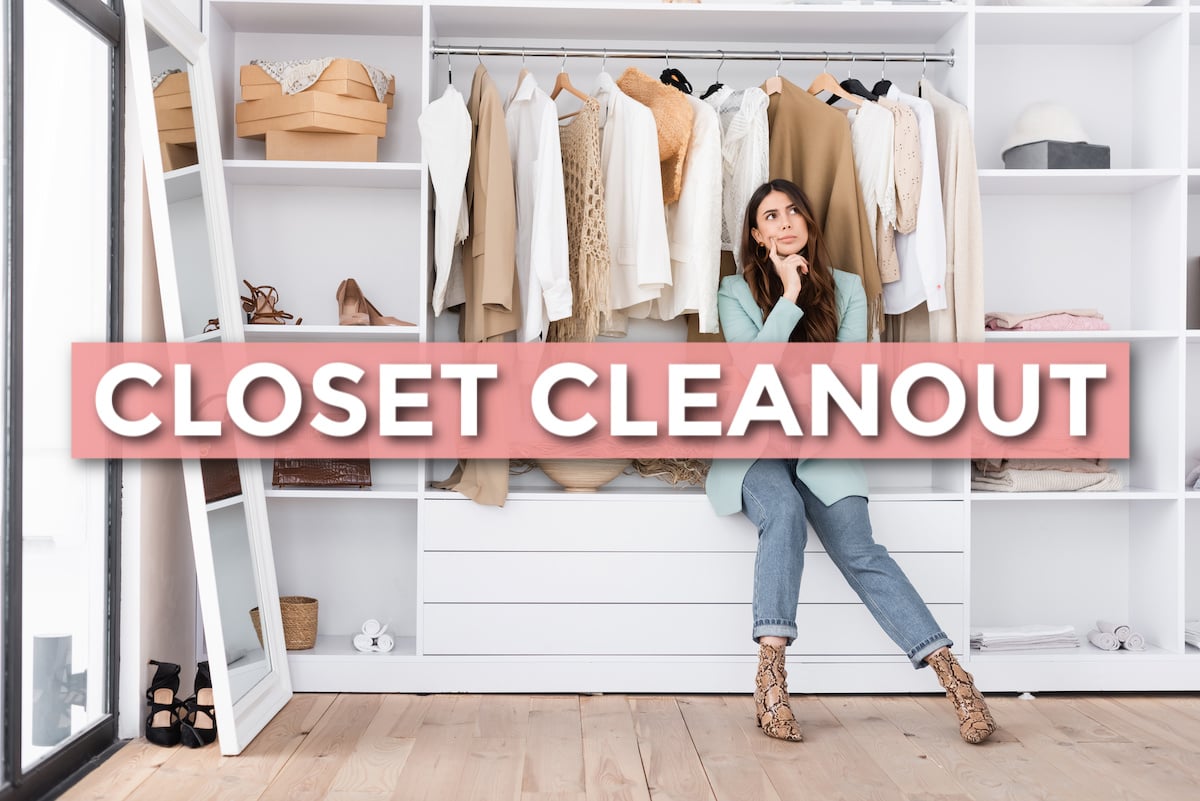 When Should You Clean Out Your Closet?
Many people wait until their closets, dressers, and wardrobes are overflowing with too much stuff before they start clearing out clothes and minimizing their wardrobe.
If you're up to your eyeballs in closet clutter and feeling stressed enough that you're ready to throw it out the window, that's a good indicator that it's time to declutter.
However, you don't have to wait until you reach that point to start clearing your closet. Here are more ideas on when to do a wardrobe cleanout.
Signs you need to get rid of clothes
Here are a few ways to know if you need to get rid of clothes; read all ten signs in this blog post.
You can't find stuff in your messy closet.
Your clothes don't fit you anymore (too small or too large).
There are always piles of clothes on your closet or bedroom floor.
Looking at your closet makes you feel stressed out.
Your drawers or closet doors don't close.
How to Clean Out a Closet (Step-by-Step Guide)
Here are all the steps to help you clean out your closet, no matter how messy it is.
If you're looking for even more help, you can also download the free 10-page declutter checklist and planner down below, with helpful questions to help make purging easier and a 5-step visual guide.
Steps to cleaning out your closet
Prepare boxes and bins for sorting.
Take out all your clothes.
Hold each item and decide if you want to keep it or let it go.
Sort into the appropriate location.
Get rid of unwanted clothes.
20 Best Tips for Cleaning Out Your Closet
Now that you know the basic steps, here are some closet cleaning tips, hacks, and ideas to help you sort through your clothes, minimize your wardrobe, and create an authentic style you love.
1. Pick your favorites
This clothing decluttering technique benefits people who are new to decluttering or tend to get overwhelmed when deciding what clothes to keep and what to get rid of.
It might be the cozy Pink Floyd T-shirt that you wear at least five times a week or your go-to dress that you fall back on when you can't decide what to wear in the morning.
Starting with the clothes, you adore sets the tone for your purging session and can help make choices easier – it's like a compass or a roadmap to creating your perfect wardrobe! When you know what colors, fabrics, and styles you love the most, letting go of things that don't align with your favorites becomes much simpler.
PRO-TIP: Taking note of what your favorite clothes have in common can also help you be more intentional with shopping, which can save you money and closet space in the future.
2. Ask the right questions
After you've pulled out your favorites, you can ask targeted questions to help you decide which clothes to get rid of and what to keep.
Here are some of my favorite questions to ask:
Is it a FAVORITE? If you love it and wear it, you can keep it – guilt-free.
Does it FIT me? You deserve to own clothes that fit you, so don't keep too-small or too-large items "just in case."
Do I like the FABRIC? If you find a fabric uncomfortable to wear or too high-maintenance when it comes to laundering and ironing, you might want to let it go.
Will I wear it in the FUTURE? Sometimes you might want to keep things you don't often wear, such as special event clothing or holiday gear. (I own a favorite Christmas tree sequined sweater that transforms into a pizza when you stroke it.) It's okay to keep things you don't wear that often as long as you actually use them. Reassess each year to decide.
Do I feel FABULOUS when I wear this? This is the most important question of all. If you don't feel great in something, why keep it around? You want your closet to be full of clothes that make you look and feel great. It's not about feeling drop-dead gorgeous either; sometimes, what you need is to feel warm, cozy, and comfortable while lounging around watching Netflix – that is a fantastic feeling as well!
3. Put keepers back right away
Many popular decluttering experts will tell you to put your favorites inside a "keep" box, but it's usually easier to just put them right back in the closet. That saves time, gets them out of the way, and helps ensure that you don't accidentally toss the clothes you love most.
4. Start with last season's clothes
The start of a new season is a great time to declutter clothes and refresh your wardrobe. Let's say winter is over and you're ready to spring clean your closet; take a close look at your winter pieces and ask yourself, "Is there anything I didn't wear the entire season?"
If you've finished up an entire season without wearing an item once, what do you think the chances are that you will wear it when that season rolls around again? Let go of the things you didn't reach for and make room for clothes you use and love.
5. Declutter duplicates
Do a quick scan of your closet and look for any duplicates. If you have two black blazers, three pairs of jeans in the same wash, or five white button-downs, it's time to purge the extras.
Not only will this make getting dressed each day simpler (less choice = less time spent), but it also frees up extra space in your wardrobe with less effort.
6. Say no to fantasy self clothes
If you bought a pair of Jimmy Choo shoes because you wanted to dress like Carrie Bradshaw from Sex and the City, but your go-to style is more Phoebe Buffay from Friends, you've probably fallen victim to the fantasy self trap.
You can read more about what a fantasy self is and how it can be toxic to your happiness in this blog post, but suffice to say that it's important to pick clothes that you feel comfortable in, love to wear, and that match your authentic style.
7. Take out the trash
If your clothing is full of holes or too stained to go out into public without feeling embarrassed, it's time to let go. There's no shame in admitting that something is too far gone to be saved or mended, and after all, you only have so much time in your day and space in your closet.
Make it more sustainable by taking advantage of textile recycling programs or turning old socks, underwear, or worn-out clothes into extra rags for cleaning your home! You can find 50+ eco-friendly ideas on this topic here.
8. Keep a clutter bin in your closet
This is a fast and easy way to keep your closet clutter-free if you don't have much time to declutter.
Keep a bag, bin, or basket inside of your closet and when you come across something that you realize you don't want anymore, all you have to do is drop it in the "clutter bucket." Then, you can dispose of the items there at your leisure.
READ MORE: 20 Genius Tips to Declutter Faster (That Are Low-Effort and Stress-Free)
9. Put the "maybes" in time-out
If you're on the fence on whether to keep an item or not, you can create a time-out box. A time-out box is a bit different than a clutter bin, which is for stuff you've already decided to get rid of.
Putting things in a time-out box means you set them aside for a set period, around 3-6 months, and then if you don't find yourself going back to "rescue" the item, you can go ahead and get rid of it.
10. Challenge yourself
Setting up challenges for yourself is one way to make it more fun to keep your closet clean. Popular wardrobe challenges can involve everything from no-buy challenges to creating capsule wardrobes.
I myself completed a one-year clothing low buy after getting rid of 95% of my clothes; watch the video below to find out more!
Popular minimalist wardrobe challenge ideas
Create a 20-piece or 33-piece capsule wardrobe.
Wear the same outfit for 100 days.
Do a clothing low-buy or no-buy (7-day, 30-day, or one year).
Extreme Minimalist Closet Cleanout Video
READ MORE: How to Do a No-Spend Challenge and Save More [PDF Guide]
11. Say no to trends
One closet cleanout tip that can save you a lot of time and money is to avoid following trends. It can be tempting to want to keep up with the latest fashion, but frequently, these items are only worn for a season or two before they go out of style.
If you focus on building a closet full of timeless pieces, you'll save time by shopping and decluttering less, spending less, and saving space in your wardrobe for the clothes you love.
12. Set boundaries
If your closet is overflowing and crammed full of clothes, it might be time to set some limits for yourself. If you're someone who thrives on rules, you can set boundaries for how much clothing you can own.
You can accomplish this by promising yourself that you won't buy new clothes when all your drawers are full, or all the hangers in your closet are in use. If you feel tempted to push past these boundaries, remind yourself that you already have all the clothes you need.
13. The one in, one out rule
But what if you do want to buy new clothes? You could consider using the one-in-one-out rule to maintain balance in your closet.
If you want to bring a new item in, you must identify an item to get rid of in your closet or wardrobe. Or, if you don't have set boundaries for how many clothes you can own, you can also get rid of items across categories – more about this minimalist rule here.
14. Treat clothes with care
Once you have clothes you love and that fit your closet and body, treating these items with care is essential. This means taking the time to hang up or fold clothes properly instead of just throwing them in a drawer or piling them up on the floor.
When you know how to maintain and care for your clothes, they will look great for a lot longer.
Ideas to make clothes last:
Know the correct laundry settings for colors and fabrics.
Wash delicates inside laundry bags like these.
Learn basic sewing and mending techniques.
Find out how to remove different kinds of stains.
Use fabric shavers to remove piling.
15. The reverse hanger trick
One of the most effective closet cleanout tips is also one of the easiest: the Reverse Hanger Trick.
To do this, simply take all the hangers in your closet and turn them around so that the hooks face backward. Then, over the course of a month or season, as you wear items and put them back into your closet, turn the hangers the right way.
At the end of that period, you can see which clothes went unworn during that timeframe and get rid of those!
16. Use velvet hangers
Velvet hangers like these are one closet cleanout tips that can make the biggest difference in terms of closet space and aesthetics.
They take up far less room than bulky wood or plastic hangers, look prettier, and prevent clothes from slipping off, which can save you a lot of time and frustration.
Oh, and they are also gentle on the fabrics, resulting in less wear and tear!
17. Hang in rainbow order
Hanging your clothes in rainbow order not only looks pretty but also makes it easier to find what you're looking for. You'll always know exactly where each piece goes in your closet and where to find clothes when you're looking for them.
It makes getting dressed in the morning a breeze!
No color in your wardrobe? No problem! Instead, try arranging clothes from lightest to darkest shades if you have a monochromatic minimalist wardrobe.
18. Organize with boxes and containers
How can you keep clothes organized if you don't have closets or wardrobes in your home? This is more common than you think, especially in 100-year-old Europen homes like ours.
One way to keep dressers and drawers tidy is to use boxes or containers to organize the inside of your drawers. This is particularly helpful if you keep items besides clothes in your drawers, such as makeup, jewelry, and accessories.
Compartmentalizing items by category corrals the clutter and can help keep things from sliding around, especially if you utilize vertical storage – which happens to be the next tip!
19. Fold clothes vertically
Vertical folding is life-changing! If you're not familiar with the KonMari method of folding, you can see the complete step-by-step visual guide here.
This will help you maximize your drawer storage space and make it easier to find what you are looking for instead of having to dig through everything and make a big mess.
20. Create a minimalist wardrobe
Do you know what's better than decluttering your closet? Creating a minimalist wardrobe that keeps your bedroom clutter-free for good!
Here are the ten steps to build a minimalist wardrobe you adore if you're ready to start!
Final thoughts on Wardrobe Cleanouts
Cleaning your wardrobe can be daunting, but it doesn't have to be! By following these simple tips, you can make the closet cleanout process much easier.
And once you're done, you'll feel much better knowing that your closet is clean and organized!
Did I miss anything? Share your favorite clothing purging and organizing tips in the comments below.