Ultimate FREE Comprehensive KonMari Checklist [5 Page Printable]
This post may contain affiliate links for your convenience. That means that if you make a purchase, I will receive a small commission at no extra cost to you. Read more here.
So you've read Marie Kondo's book The Life-Changing Magic of Tidying Up: The Japanese Art of Decluttering and Organizing and you're ready to get started, well, changing your life. But perhaps you've realized you would love something to guide you on your journey; a comprehensive KonMari checklist perhaps?
Fear not, my friend — here you can find the best KonMari checklist available, with five pages of pure decluttering pleasure to help you start sparking joy in your life, today.
Read on to find how to get the most out of your decluttering journey and grab your free KonMari checklist.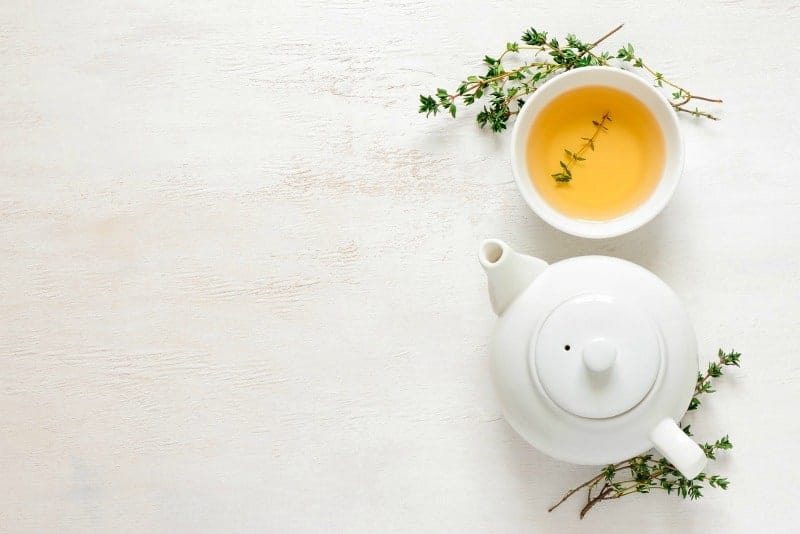 The BEST KonMari checklist
Marie Kondo's decluttering method isn't just a method; it's an entire philosophy. According to Marie Kondo herself:
The approach is rooted in a single question: Does this item spark joy? Identifying what sparks joy leads to a tidy home filled only with items you cherish. It's also a path to self-discovery, mindful living and fulfillment.
That's what makes the KonMari method so special.
You see, whereas most other minimalist philosophies focus on the getting rid of part, the KonMari Method is all about mindfully choosing to keep things that spark joy.
By focusing on what to keep rather than on what to discard, the process becomes positive and empowering. You might even experience grand moments of self-discovery while tidying up!
(Indeed, it's not called The Life-Changing Magic of Tidying Up for nothing; it has literally changed my life and helped me move on after decades of grief.)
The ONE problem I have with the KonMari method
However, while the book will get you hooked on the philosophy, there is one small weakness. The KonMari categories are painted in very broad and general strokes; there is not a complete list of items to sort in each category.
I searched high and low for the perfect KonMari checklist, but all of them seemed to have a lot of items missing in each category.
I was afraid I would forget something — one page is just not enough! (Why, yes I am a hot mess — thank you for asking!)
That's why I decided to create my own checklist! The BEST KonMari checklist.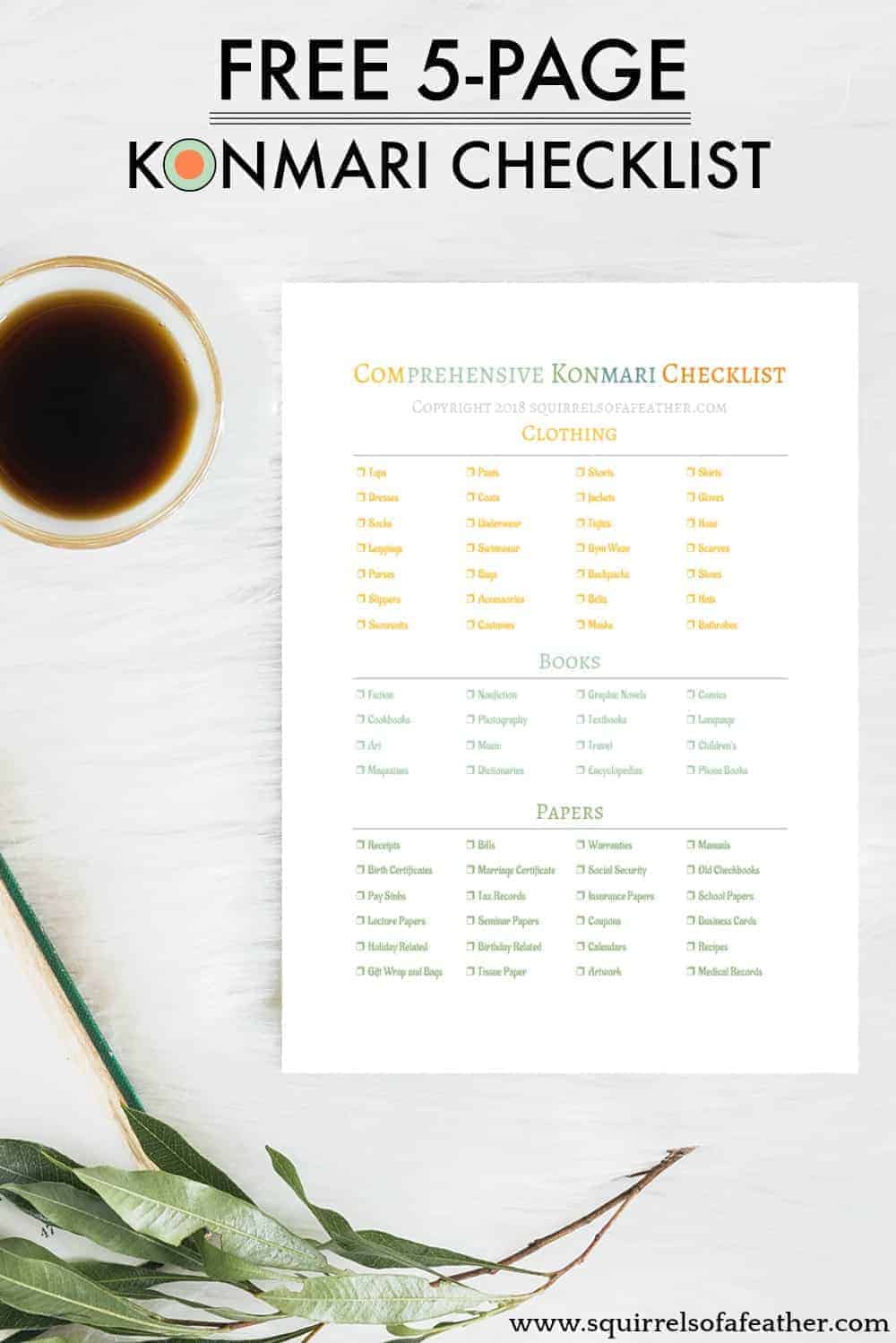 How the KonMari Method works
Before we get to the checklist, let's briefly address how the KonMari method works.
We already discussed how it places emphasis on discovering which items bring you joy — but how do you go about discovering those items?
Below is a list of the ten basic principles of the KonMari method; put them all together and you get a complete decluttering system that will guide you gently from start to finish.
Again, this process is meant to be mindful and empowering.
Tips for using the KonMari method:
Visualize your ultimate goal
Set a time frame (maximum is six months)
Make tidying a special occasion
Sort by category, not location
Hold every item and ask, does this spark joy?
Thank discarded items and let them go
Don't let your family see
Discard and then organize
Designate a place for everything
Use simple storage solutions
For more details and tips on how to use the KonMari method, check out this post with all the essential KonMari method do's and don'ts.
Print off your checklist first so you can follow along and begin to process the steps and methodology to make you KonMari journey smooth!
Remember, you have about 6 months to complete the process!
Free KonMari checklist
Your FREE Comprehensive KonMari Checklist will have everything you've thought of (and loads of things you haven't) in each of the KonMari categories.
The KonMari categories are in a very specific order. Don't attempt to change up the sequence or you risk undermining your ability to completely declutter and tidy your home.
The KonMari categories are, in order, as follows:
Clothing
Books
Papers,
Komono
Mementos

What is the KonMari komono category?
Komono is the KonMari term for miscellaneous items and it covers everything from couches to towels to cups.
Because the sheer quantity of items covered by komono is so broad, I further sub-divided komono into the following categories:
Komono: Office and Family
Komono: Kitchen and Pantry
Komono: Bath and Laundry
Komono: Tools and Garage
Komono: Children
Komono: Animals
As you can see, there are plenty of items that fall under the broad umbrella of komono! Sometimes we busy mothers just need to divide and conquer. 😉
This is where my KonMari checklist really shines in comparison to other decluttering checklists; this is the most complete decluttering checklist available.
* Update: you can read all my other KonMari method posts, including:
What to do with all your stuff after KonMari'ing your entire life?
You might also need to think about your decluttering end-game; what are you going to do with all this stuff after you finish decluttering?
Marie Kondo gives no instructions for how to discard the items, simply that they should be discarded.
Obviously, you are going to have a lot of stuff you are going to need to get rid of after decluttering. If you want to find out all the eco-friendly places that will take your old junk (torn clothing, old toothbrushes, worn shoes, EVERYTHING) check out this post that lists 49 eco-friendly ways to discard items after decluttering.
Also, because we all know that shoeboxes can't solve all of our storage issues, get this list of the most popular organization tools that will have your home in sparking joy shape ASAP!
Interested in making some money off your unwanted items? I have made over $15,000 selling unwanted items online — let me show you how.
How to get your FREE KonMari checklist
Finally, on to the KonMari checklist!
At the end of this post, you will find a newsletter sign up box. Just enter your name and email to sign up for my newsletter and get access to my exclusive Resource Library with this awesome free printable KonMari Checklist!
It's five pages of pure, unadulterated decluttering joy in checklist form!
Here is a snapshot of the first page, with the categories of clothing, books, and papers. Komono is the biggest category and takes up the next three pages!

Stay tuned!
Please tune in periodically to Squirrels of a Feather if you are interested in updates on my KonMari journey, my handy KonMari tips, and PLEASE feel free to share your own progress in the comments section!
Sign up HERE to get your free printable KonMari checklist PDF — you can also print the instructions in the how-to card below to use on your decluttering journey.
Pin this!