15 Simple Phone Organization Tips to Be Productive & Aesthetic!
This post may contain affiliate links for your convenience. That means that if you make a purchase, I will receive a small commission at no extra cost to you. Read more here.
Most of us don't realize how disorganized our phones have become until we are swimming against a tsunami of digital clutter – but no more! Find out how to organize your phone in minutes with these helpful phone organization tips and strategies.
If you want a clean and tidy phone, you'll love these practical ideas to declutter your phone and keep it organized.
You'll be feeling like a professional organizer by the time you're done with this tidy-up!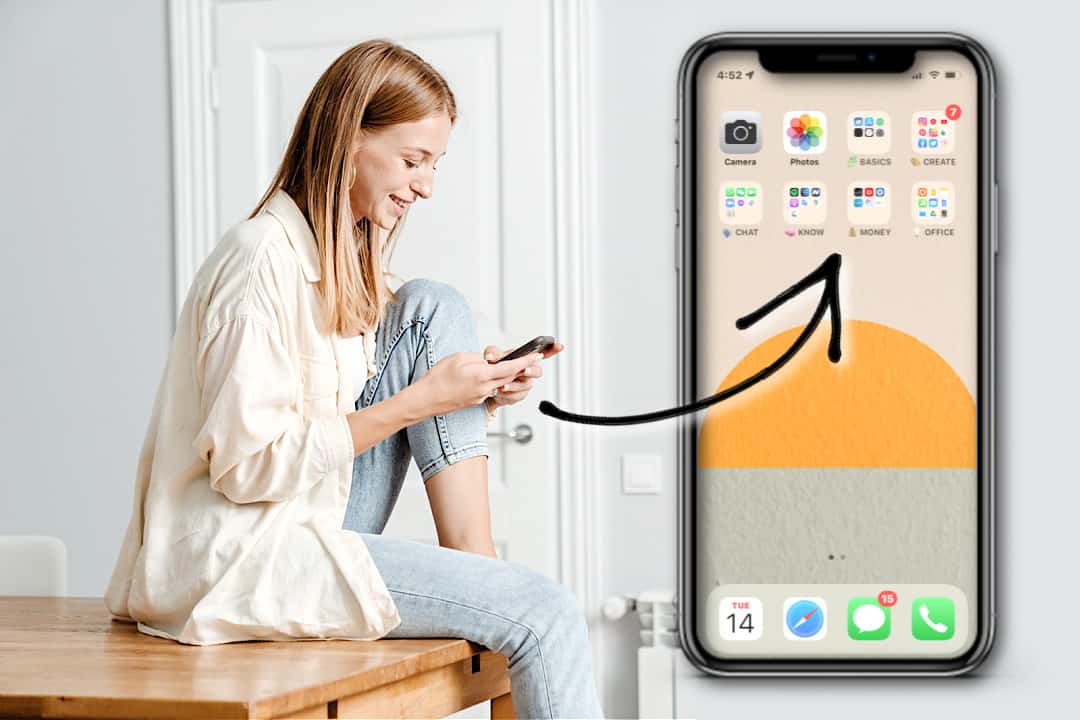 How to organize your phone
Most of us use our phones for both work and play; a smartphone helps us keep track of our schedules, get more done, and stay connected with friends and family.
That's why it's essential to keep your smartphone tidy and clutter-free so that you can be more focused and productive!
These powerful tips on how to organize your phone for productivity can help you streamline your digital life and declutter your phone, even if you just have a few minutes here and there to spare.
While there are plenty of benefits to reducing clutter, most of us continue to need our smartphones on a daily basis, so it pays to keep things simple!
BE INSPIRED: 100 Ways to Simplify Your Life and Be Happier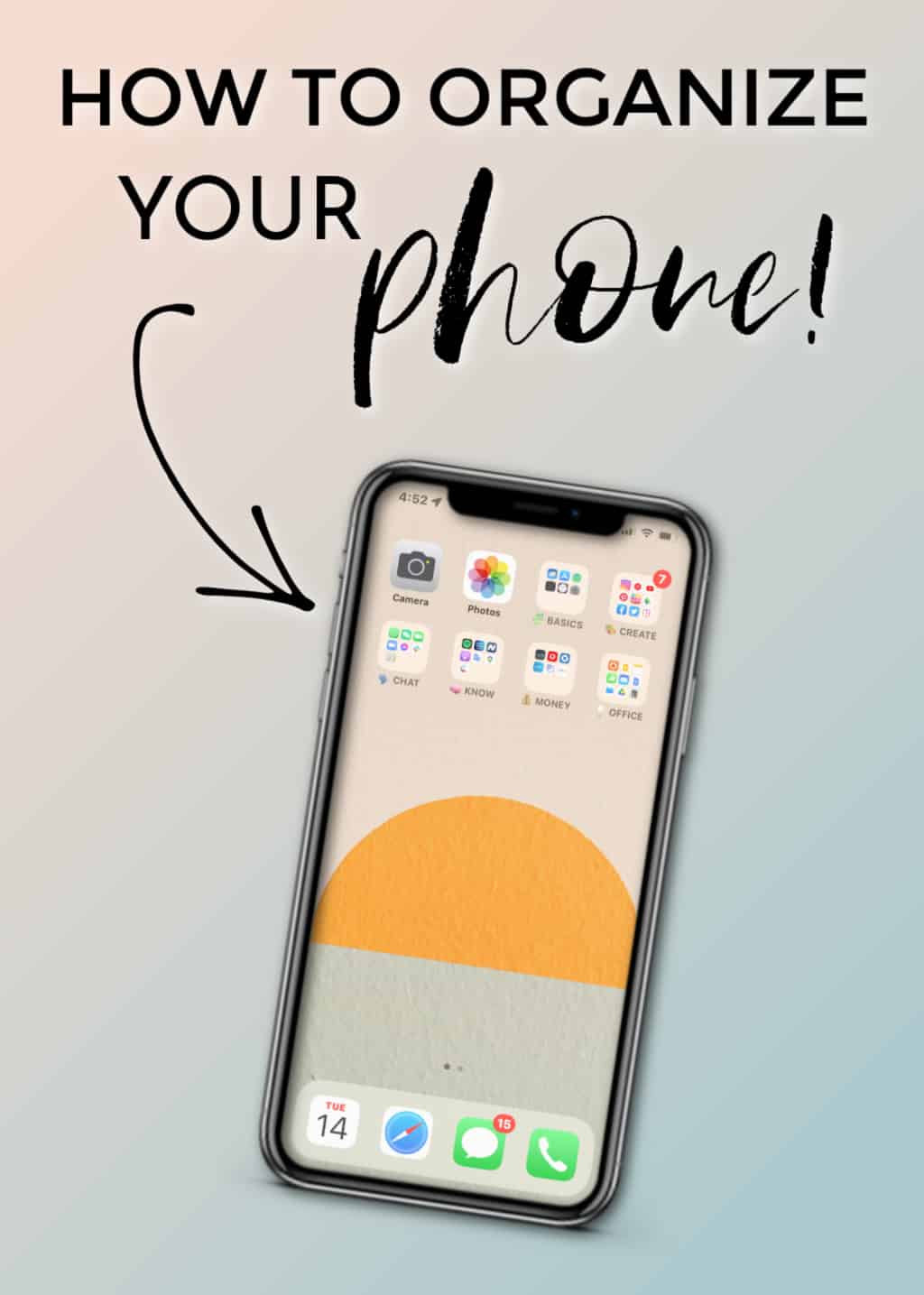 15 Phone organization tips & ideas
"For every minute spent in organizing, an hour is earned."

– Benjamin Franklin
1. Delete unused apps
The first step to phone organization is deleting any unused apps. Unused apps take up storage space and can slow down your phone.
Delete any app that you haven't used in the past month – chances are, you don't need it!
Don't feel guilty or regretful even if it's something you spent money on but you found out you don't enjoy or never used it. You want to make space on your phone and in your life for things that add VALUE!
RELATED POST: What is Minimalism? 10 Simple Principles for Beginner Minimalists in 2022
2. Delete old notes
I love using my Notes app to keep track of ideas and remember things as they occur to me!
The Notes app makes it easy to remember all sorts of things, like that lunch bagel you forgot to save the receipt for so that you could add to your budget later, or jot down an idea about that project for work.
But sometimes, it can be hard to remember to go back and get rid of the notes after I'm done with them.
It's okay to keep notes you haven't addressed yet in your Notes app, but you can delete them from your phone when you are done or they have been completed.
READ MORE: 100 Personal Goal Examples to Set for Yourself in 2022
3. Purge old contacts
Be honest with yourself; how much of your contacts list do you talk to on a regular basis?
Treat your contact list like you would physical clutter and ask the same decluttering questions, such as have you spoken to them in the last year, and are they people that you enjoy talking to?
Set boundaries for yourself; maybe decide if you haven't talked to someone in 1-2 years, you can feel free to purge their information from your phone.
Contacts to declutter from your phone:
Old boyfriends or girlfriends
High school classmates
College roommates
Former landlords
Toxic "frenemies"
Neighbors and friends from before you moved
Children's playdate families
Former service providers (doctors, dentists, plumbers, etc.)
One-time acquantiences
Duplicate contacts (multiple numbers, same person)
Loved ones who have passed away**
**SPECIAL NOTE: Please, do not feel like you MUST delete the numbers of loved ones who have passed away if you are not ready! Their old phone number can be considered a sentimental item and should be decluttered with care, only when you are prepared to let go.
4. Clean up your calendar
If you use your phone to keep track of your schedule, it's essential to keep it organized and tidy!
Go through and delete old events, outdated invitations, duplicate entries, or other calendar items that you no longer need.
Pay special attention to re-occurring events that you schedule in the past that you no longer need.
That will cut clutter now and in the future!
5. Remove and backup photos and videos
How amazing is it that your phone can be used to take photos and videos? If you've captured many memories on your phone, you need to store all of those photos and videos somewhere so that if something happens to your phone or tablet, they are safe.
One of my favorite ways to do this is to hook my phone up to my laptop and transfer the files to an external hard drive. External hard drives are a safe way to store precious memories, and they are incredibly affordable – make sure to pick a good one (my favorite is the Seagate with 1 TB of storage!)
Another method you can employ to back up photos and videos is by using a Cloud storage service. This is great if you don't have a laptop or an external hard drive because the files will be stored off-site. Some popular cloud storage services are iCloud, Google Drive, and DropBox.
After you've backed up your photos and videos, you can remove the ones you don't want to keep on your phone to look at, so you can free up more storage space.
6. Declutter your bookmarks bar
The bookmarks bar can be a great way to store your favorite websites, but if it's cluttered, it can be more of a hindrance than anything else.
Open up your browser of choice and declutter your bookmarks bar by getting rid of any website you don't visit regularly. This frees up space and makes navigating to the bookmarks you actually use easier.
7. Clean out your trash
Whew!
All that purging and decluttering of notes, photos, videos, and contacts might have left you with a lot of digital files still hiding on your phone as trash.
Make sure to remove the files you want entirely gone by cleaning the trash files from your phone. I cleared out the "Recently Deleted" folder on my Notes app and my iPhone storage folder in my Settings app.
READ MORE: 50 Wasteful Things I Stopped Buying After 5 Years of Minimalism
8. Do a factory reset
If you want to go all out with your decluttering, consider a factory reset of your phone.
A factory reset is a great way to clear out sneaky phone clutter, especially the stuff that hides as the "Other" files in your phone's storage.
Try to declutter as much as possible and make a backup of your phone before you do a factory reset to streamline the process and ensure you don't lose the critical information you WANT to keep.
Then you can use the backup to quickly put everything you actually want on your phone back in place.
READ MORE: 10 Decluttering Mistakes to Avoid at All Cost!
9. Turn off notifications
Now that your phone is clutter-free, it's time to reduce the flow of incoming clutter! Let's start by turning off unnecessary notifications that suck your attention away when you need to get things done.
A good rule of thumb is to keep notifications that you need to be enabled, like text messages or apps that connect to work, but to disable the ones that disrupt your focus, like social media notifications.
To disable notifications for an app, open the Settings on your phone and select Notifications. From there, you'll be able to toggle which apps can send you notifications and how loud they play or appear on your phone screen.
If disabling notifications altogether is too drastic for you, try turning off sound effects or vibrations for specific apps instead.
BE INSPIRED: 25 Simple Ways to Be Intentional in Your Life and Habits
10. Unfollow people
If you find that scrolling through your Instagram or TikTok feed only makes you feel bad about yourself, it might be time to unfollow some people.
The people you follow should inspire and motivate you, not make you feel like you're lacking in comparison.
I for one vastly prefer to follow minimalist moms that keep it real and share their struggles versus ones that seem to have the "perfect" life and home.
So if any accounts make you feel less than or unhappy with your life, hit the "unfollow" button!
READ MORE: 10 Toxic Fantasy Self Items to Declutter Right Now!
11. Unsubscribe from emails
Are you subscribed to a bunch of email lists but never actually open them?
Or even worse, do you get emails that make you want to constantly buy things you don't need just because you see words like "Sale" or "buy-one-get-one-free" in your inbox?
Those emails are simply cluttering your inbox and making you feel stressed out and overwhelmed when you see all the unread messages and temptations to spend more money.
Go through and unsubscribe from lists and brands that you don't enjoy or that cause you to impulse buy – you'll be happier and have more money in your pocket!
SAVE MORE MONEY: 15 Minimalist Shopping Tips to Save THOUSANDS Each Year!
12. Organize your apps into folders
This little tip is LIFE-CHANGING!
Before I completed a phone app declutter, I had three swipe screens full of apps – most of which I used once or twice and forgot about!
There are tons of cool ways to organize apps on your phone, such as:
color-coded folders
in A to Z order
with cute emojis titles
Check out the video below for more helpful details on how to do this!
READ MORE: 8 Genius Ways to Declutter & Organize Your Phone Apps Right Now
13. Put important apps at the bottom
If you're using an iPhone, make sure your most important apps (like phone, messages, and your calendar) are at the bottom of your home screen.
That way, you'll always see them when you pick up your phone, and they are the closest to your thumbs when you open up your phone for maximum efficiency.
14. Update your wallpapers
Your phone has two wallpapers, the home screen, and the lock screen. You can set them to be the same image or have two different wallpapers if you prefer.
Considering that the average person checks their phone 262 times each day, this is prime real estate to feed your peepers with images or quotes that inspire you.
Choose a wallpaper that fits your aesthetic or keeps you motivated, and don't be afraid to change things up as you go.
You can even use your phone wallpaper like a vision board to help you focus on goals you want to achieve!
BE INSPIRED: 8 Incredible Vision Board Examples for 2022 (Copy These NOW!)
15. Set boundaries to stay clutter-free
Your phone is only as cluttered as you allow it to be. Surely after you used all these phone organization strategies you want to keep your phone nice and tidy, right?
By setting some simple boundaries, you can avoid having your phone become a mess.
You can set time boundaries, such as committing to only spending a certain amount of time each day on your phone. You can also set physical boundaries, such as only keeping enough apps to fit on a single screen, and once it's full, it's full.
You can even use the one in, one out rule to keep your phone clutter-free!
You only have a certain amount of time in your day and space on your phone, so make sure to fill both with items and activities that add value or joy to your life and forget the rest.
READ MORE: Why Always Wanting More is Bad – and How to Quit!
Final thoughts on phone organization
There you have it!
I hope you enjoyed these simple phone organization tips to keep your phone aesthetic and productive.
Follow these tips, and you'll be well on your way to having a more organized phone – and life! 🙂
If you are looking to declutter more areas in your life, make sure to grab this FREE 10-page decluttering checklist + planner before you go.
Grab your free decluttering printable now!